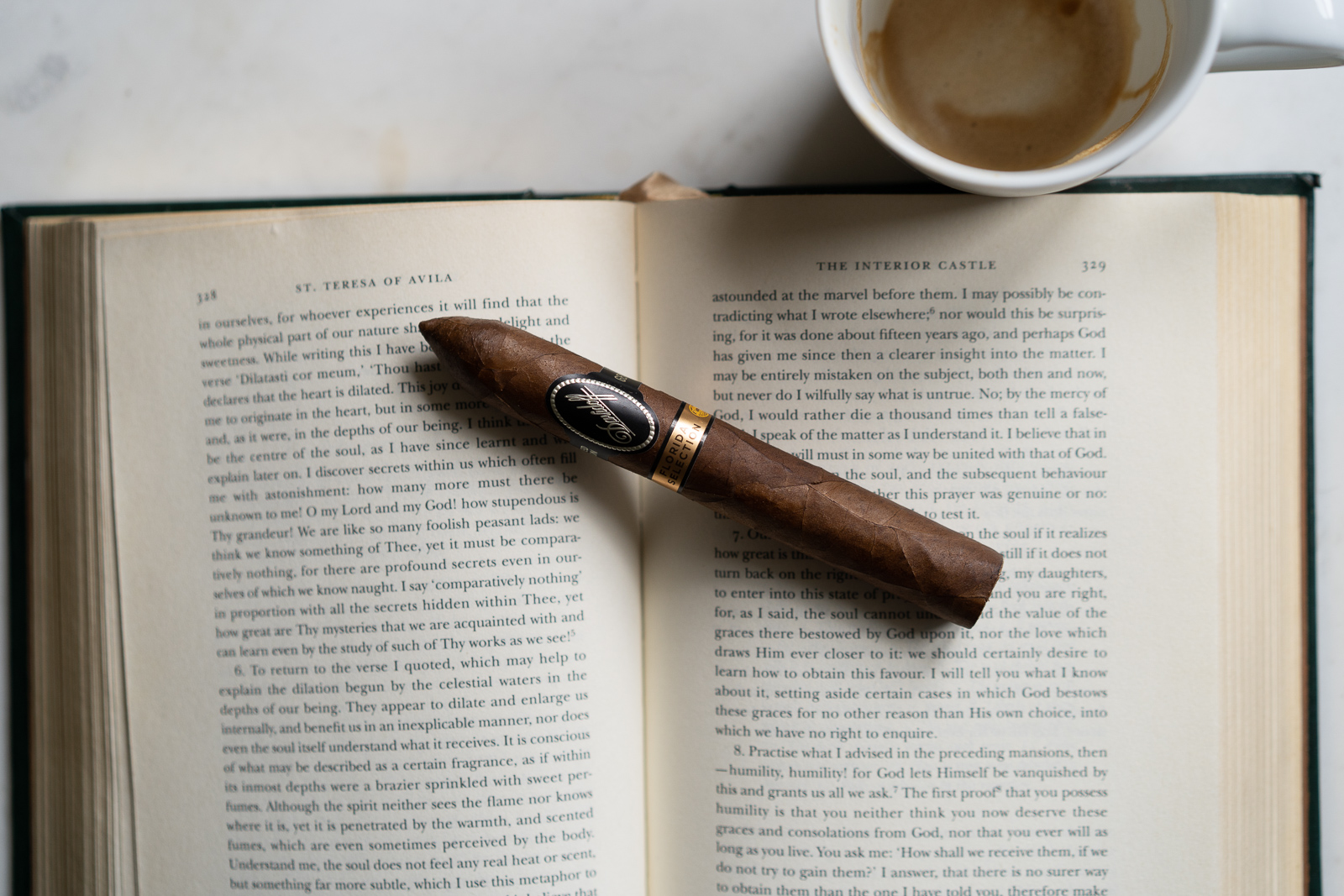 What's better than a cigar and a book?
Answer: a Davidoff cigar, and a fantastic piece of religious writings (Wellsprings of Faith: The Imitation of Christ / The Dark Night of the Soul / The Interior Castle pictured above).
Today we review a very special cigar: the Davidoff Florida Selection, a 2018 Davidoff release that features Floridian tobacco. Before you too excited, you should know that contrary to what the name of this cigar might suggest, this isn't a cigar that utilizes much Floridian tobacco. No Floridian wrapper or binder – just a bit of Floridian seco in the filler. More on that from Tobacco Business:
Made with a blend of Ecuadorean Habano 2000 wrapper, Nicaraguan binder grown in the Jalapa Valley and filler tobaccos from the Dominican Republic, Nicaragua and including Florida Sun Grown from Jeff Borysiewicz's Clermont, Florida, farm, Florida Selection 2018 presents a flavor profile that is intense, spicy and sweet that offers notes of licorice, fruit, oak, honey and spices.
To me, a bit disappointing that the name of the cigar bears such small proportional significance. Still, it is Davidoff, which means it demands attention, especially since production is limited to just 2,500 boxes of 10 for 25k total. So let's get to the review.
Product Specifics
Cigar Reviewed: Davidoff Florida Selection
Wrapper: Ecuadorian Habano
Binder: Nicaragua (Jalapa)
Filler: Dominican (piloto viso, San Vicente seco, Yamasa ligero) / Floridian seco
Size: 6 x 52 Belicoso
Appearance & Construction
The Davidoff Florida Selection features a rustic, textured Ecuadorian Habano wrapper with a few very prominent veins and a marbled brown color. On closer inspection, the cigar is packed pretty tightly and seems to be packed consistently, with very little give when squeezed.  The aroma off the foot of the cigar is divided evenly between hay bales, dry grass, oak, light coffee and assorted nuts. The pre light draw is packed with long lingering spiciness, cayenne pepper, and Oak.

Flavor & Smoke Characteristics
The Davidoff Florida Selection opens very much like a standard Davidoff.  Excellent smoke production, cool temperature, with notes of dominant cedar, mild white pepper, touches of cream and an overall dusty sort of texture on the nose. But four or five puffs later, the flavor on the palate shifts substantially, favoring heavy leather, cedar, and red and white pepper activating the tip of the tongue. Overall, the profile at the beginning leans toward bitter and spicy, with the retrohale split between wood, grass and white pepper.  It's enjoyable, but noticeably out of balance. Flavor and strength here are both above medium, and it's apparent that I'll need a glass of water on hand for this cigar.
At half an inch in, a building cream note begins (thankfully) to balance out the dry wood and pepper, though spice still lingers on the tongue. The burn has begun to stray, requiring a touch up with a match. By an inch in, the cigar has found an excellent balance between notes of cooking spices, cedar, and cracked pepper and sweeter notes of cream, floral, and grass. Smoke temperature is cool and production remains voluminous. The ash, on the other hand, is pretty flaky and can't seem to hold longer than 3/4 of an inch.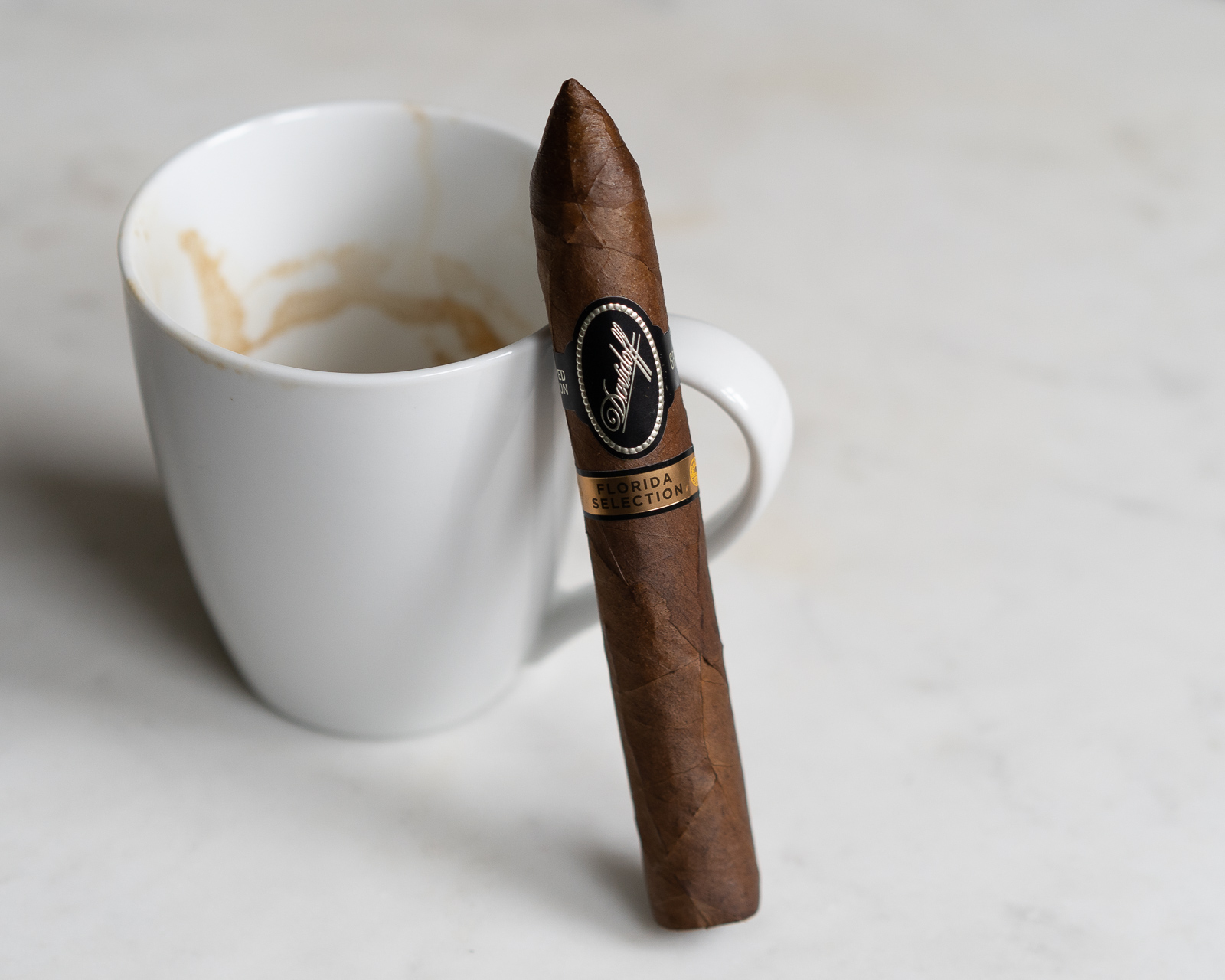 As the Davidoff Florida Selection moves into the second third, the burn wavers again and more substantially, requiring two more touch ups with soft flame. The flavors develop nicely, with lemon peel, toasted bread, and black pepper on the palate.
It's in the beginning of final third though that the Davidoff Florida Selection finally hits its stride. Strength and body remain just above medium, and the dry cedar shifts to a creamy, sweet oak note which reduces the bitterness substantially. Alongside is black pepper, toasted bread, lemon meringue, and leather. Unfortunately, and the final inch and a half sees the heat of the smoke increase, and the flavor is reduced to just pepper, cedar, and burnt bread.
Not the ending I was hoping for.
Conclusion
The Davidoff Florida Selection has a lot going for it, but it doesn't achieve the level of quality I expect from Davidoff cigars. Construction is lacking, as is balance for much of the smoking time.
Don't get me wrong. The Davidoff Florida Selection smokes like a good $15 – $20 cigar. But no way does it smoke like a $35 cigar.
I'll grab something a bit more interesting (and less expensive) for my next reading session.
Final Score: 86