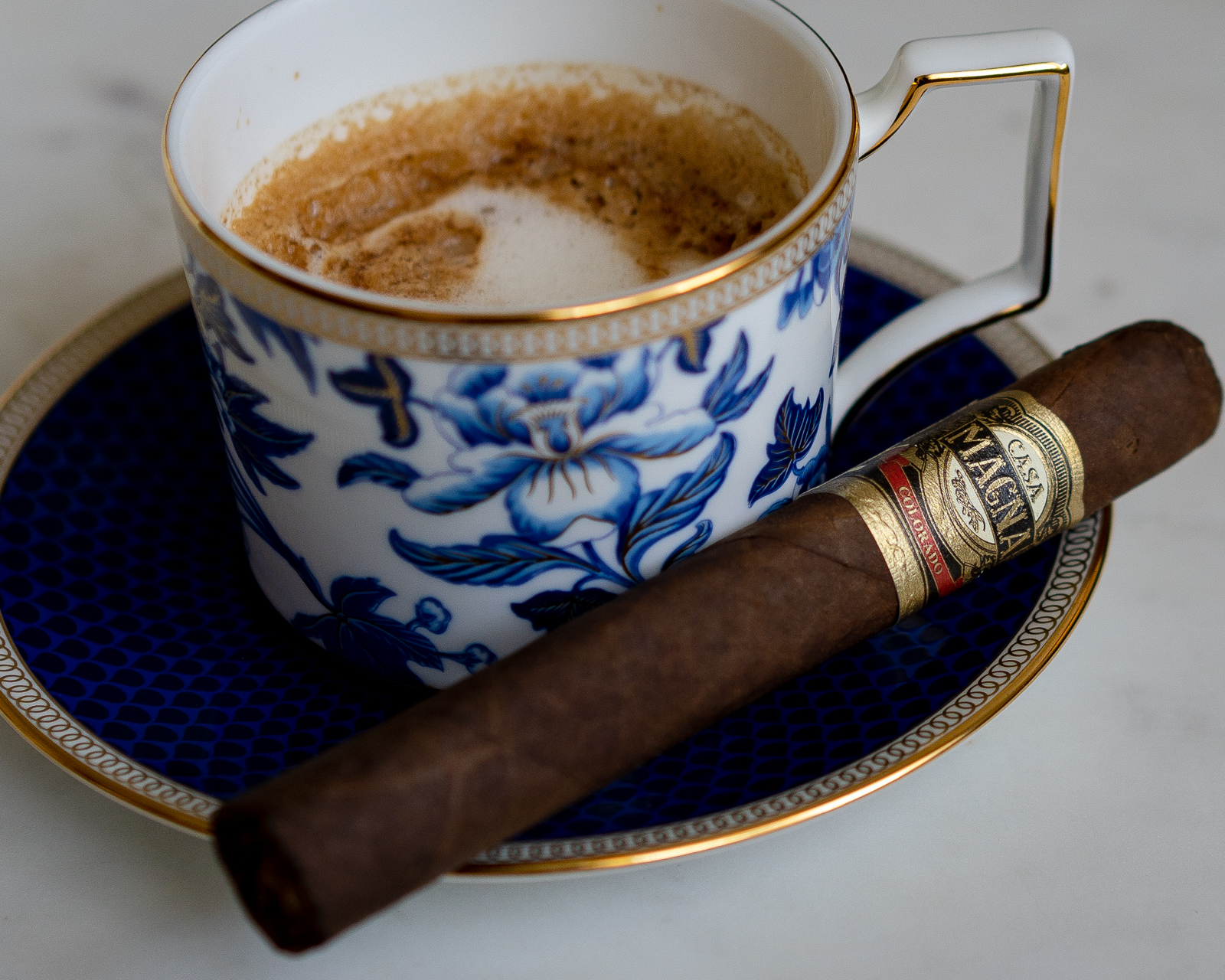 The Casa Magna Colorado brand is a joint blend by Manuel Quesada and Nestor Plascencia. It's a Nicaraguan puro created to deliver lots of flavor and a full bodied smoking experience. Both cigar makers are true craftsman and adhere high quality standards in their individual blends and the Casa Magna Colorado is no exception. I was looking forward to revisiting this smoke as it has been a while.
Blend Specifics
Cigar Reviewed: Casa Magna Colorado
Wrapper: Nicaraguan
Binder: Nicaraguan
Filler: Nicaraguan
Size: 5 ½. x 53 Robusto
Appearance & Construction
The Casa Magna has a dark wrapper with few veins although it's smooth to the touch. The Casa is an expertly crafted boxed press cigar with a soft spot in the middle. The label is stunning with gold adorning the top and bottom with "Casa" emblazed in gold behind a white backdrop and "Magna" underneath in gold inside a black banner. The words "Colorado" are at the bottom in a smaller font with gold and red. A well-made cigar band that grabs your attention.
Flavor & Smoke Characteristics
Using a straight cut, I light up the Casa Magna and am instantly met with a blast of black pepper. During the first few puffs, lots of leather coat the mouth. I detect some earth, and notes of cashews and other nuts on the retrohale.
At the halfway point, the Casa Magna changes profiles to reveal cocoa and cedar. A bit of Swiss chocolate and cream resonate on the finish as the light gray ash and razor sharp burn develop at the foot of the cigar. A few puffs later, some dark cherry comes to the forefront, but quickly dissipates into sage and cedar. This is quite a complex cigar.
Towards the final third of the Casa Magna Colorado, the leather returns, along with a heavy dose of cedar and spice on the retrohale. The intensity of the cigar at this point is full bodied and the flavors really are "in your face." Coffee on the mid palate builds up to espresso bean and some oak. Leather rounds out the profile with a rich, creamy finish.
Conclusion
It's been a while since I've smoked a Casa Magna Colorado and it was a pleasure to have the opportunity to try it again. Manuel Quesada and Nestor Plascencia have a reputation for quality and their Casa Magna continues to demonstrate what master blenders can do. The Casa Magna Colorado gives you a full bodied smoking experiences encased in leather, pepper, cedar and espresso. It was a wonderfully balanced cigar and if you haven't tried  one you need to pick up a few or a box.
Final Rating: 90
Reviewers note: this is a non-blind review.