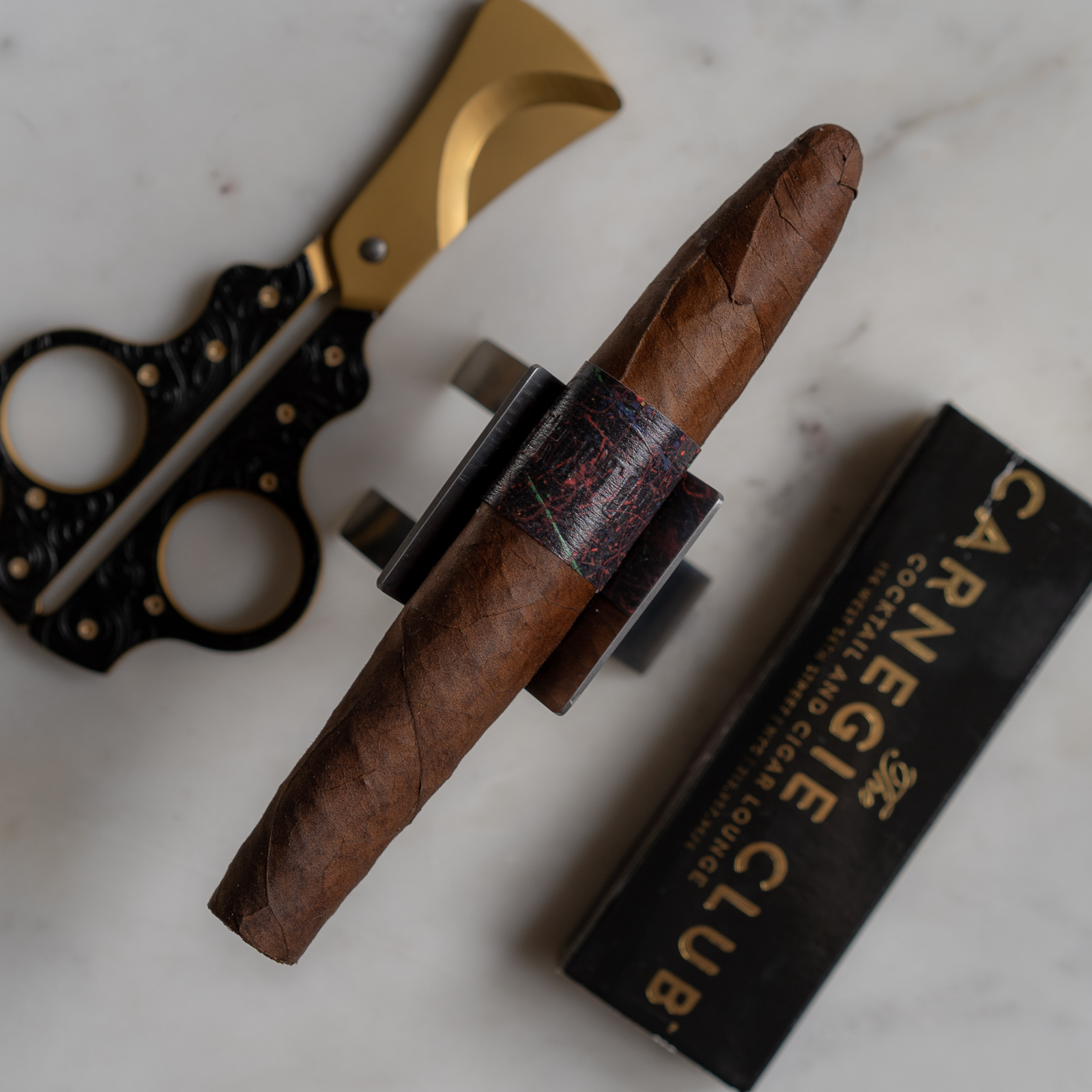 Up for review today is another cigar from Aaron Saide and La Instructora Cigars. The company made a splash in the industry a couple of years ago, standing out for a number of reasons. First, the branding on these cigars is fascinating in that it's actually quite difficult to read the name of the company which is debossed onto a modern art inspired band. The same is true for Aaron's second company Sans Pareil, with bands that have literally no mention of the brand name. Second, the brand received a lot of attention for Saide's assertions that the company only uses the absolute best tobaccos, specifically tobaccos from Jose "Jochy" Blanco's farms, which no doubt do contain some of the most expensive tobaccos around.
I've smoked a number of cigars from both companies owned by Saide. In my experience, they've been somewhat hit and miss. But when they hit, they are some of the most complex and innovative cigars I've smoked, ever. The Limited Edition La Instructora blend I reviewed last year, for example, received a 94, a score which only two other cigars that year received. Saide's cigars take up some of my most valued humidor space, so I'm always excited to review a blend I haven't had yet.
And so it is with the La Instructora Perfection Invicto. It's a cigar I haven't had before, so I'm itching to get started. So on to the review.
Blend Specifics
Cigar Reviewed: La Instructora Perfection Invicto
Wrapper: Ecuadorian Habano Rosado
Binder: Dominican Criollo '98
Filler: Dominican Criollo '98 and Dominican Piloto
Size: 5 3/4 x 56 (perfecto)
Appearance and Construction
The cigar's outer wrapper is dark brown with a bit of a reddish hue to it. It has minimal veins, an oily sheen, and a strong texture similar to fine sand paper.  After clipping with a straight cut, the draw reveals itself to be perfect, with just the right amount of restrictiveness. Smelling the foot of the cigar I pick up notes of woodsiness, granola, and coffee. The cold draw on the other hand delivers a bit of the same but with some bright, spicy citrus.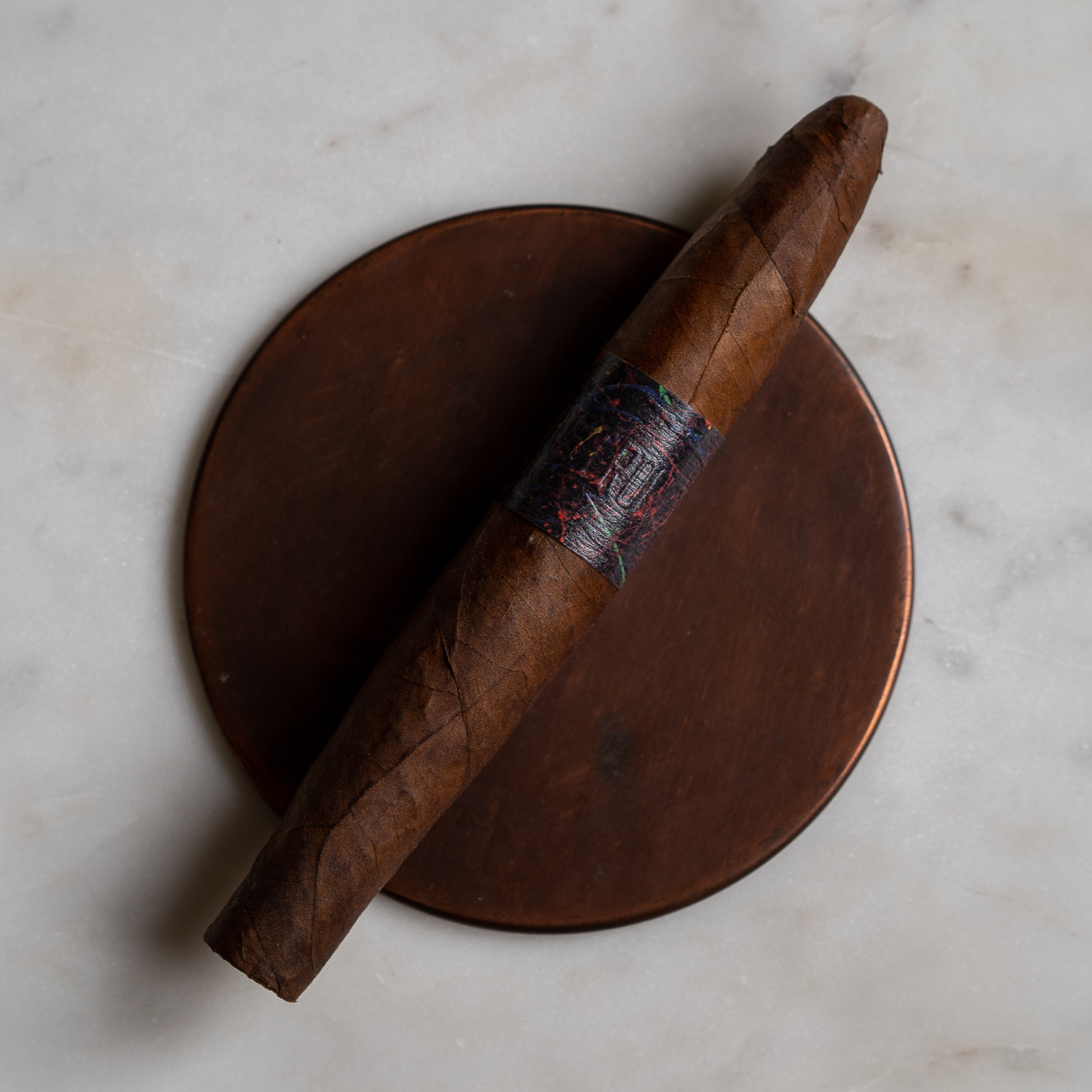 Flavor and Smoke Characteristics 
When the La Instructora Perfection Invicto kicks off, there's a lot going on. The first few puffs are chock full of aggressive but very complex flavors, balanced between sweet, bitter, and savory flavors broadly speaking. After a few minutes of fighting for center stage, savory notes of cured meats, grilling spices, and leather take center stage. The smoke has a spicy texture, and the retrohale reflects and magnifies it. Overall I'd put the cigar at medium in terms of strength and body. The retrohale is another story entirely, offering up a blast of aggressive white and red pepper. 
By an inch in, it's clear there's a construction problem. The cigar is requiring many puffs in a row just to get a real draw of smoke, and the burn is starting to stray significantly. As the first ash drops, I can see why: there's a fairly significant tunneling in the filler tobacco, creating air flow issues. This requires a long touch up to address. I'm hopeful it will sort itself out because I really want to experience this cigar to its fullest. 
At this point, the cigar is burning towards the end of the first third. I notice a stark decrease in intensity on the retrohale, and some new flavors make an introduction: cream, milk chocolate, and sweet nuttiness. The sweetness of these flavors pair very nicely with the spicy, savory notes that still take up most of the space. Unfortunately, as enjoyable as this development is, it's nearly derailed as the burn again begins to stray. Is the cigar over humidified? Is the rosado wrapper just too thick? Or is it just a common rolling error? I wish I knew. 
As the La Instructora Perfection Invicto burns past the halfway mark, it seems as if the construction issues may finally be starting to resolve, but it sure has taken a lot of work. And it's too bad, because from a flavor standpoint, it's a great cigar. The spicy and savory notes have come into near perfect balance with the sweet, chocolaty flavors introduced in the second third—the kind of complexity you really have to have on a cigar to justify the ~$18 price point. 
In the final third, the ring gauge is tapering down, and there's a marked resurgence of the spice on the palate and retrohale. The chocolate and cream give way to a woody core, and the finish is remarkably clean for such a strong showing in flavors.  
Conclusion 
This is a frustrating conclusion to write. The rosado wrapper creates a uniquely flavorful experience, with lots of red pepper and spice on the tip of the tongue, while cream and chocolate occupy the palate. But the issues with construction put a real damper on the experience as a whole, making it impossible for this cigar to achieve the score it would otherwise deserve. 
Final Rating: 84