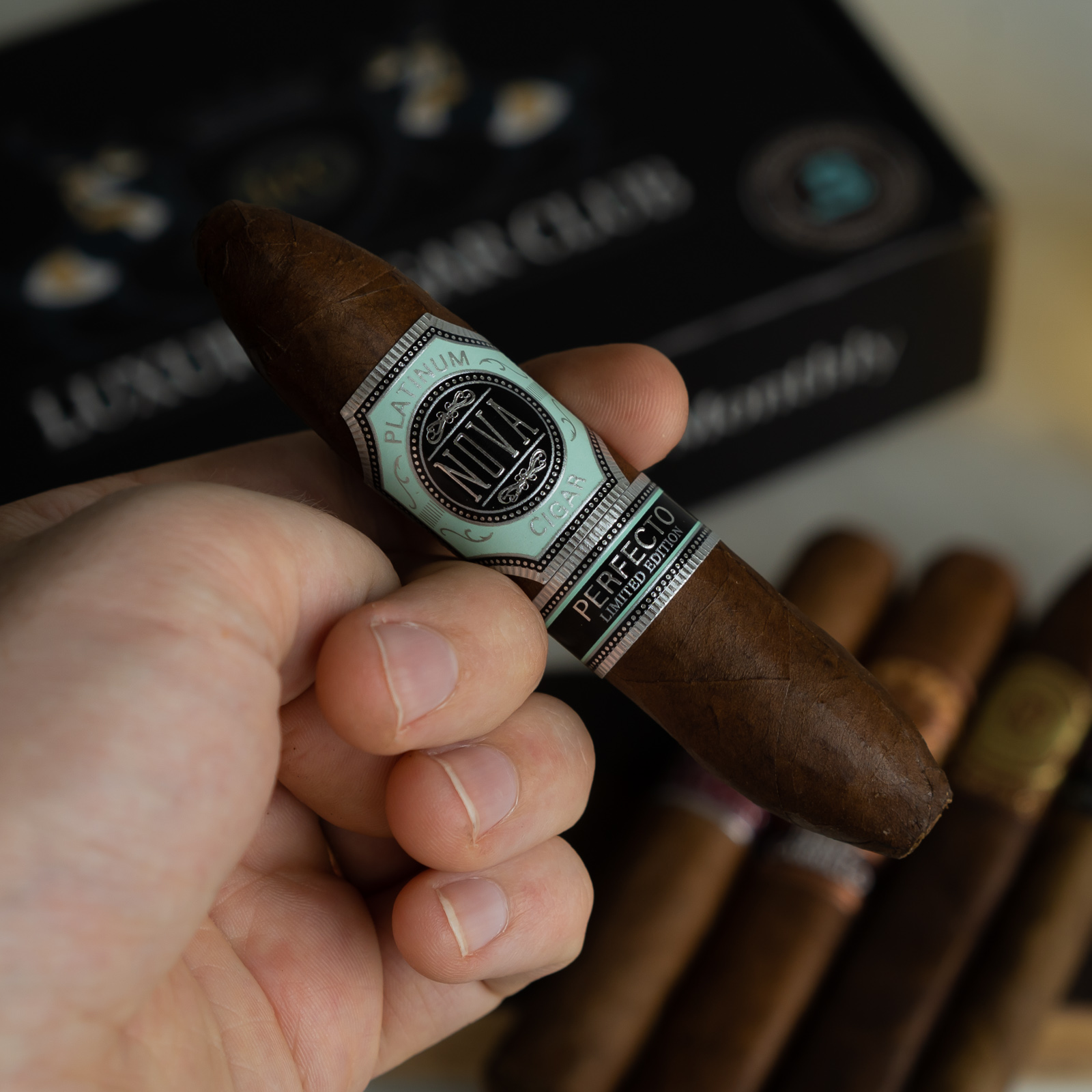 Up for review today is a cigar from one of the few new boutique brands on the market, Nova Cigar company. Thanks to halfwheel's coverage of IPCPR 2019, you can get a glimpse of the company and some info on the leadership here. But this isn't a news site, it's a cigar and spirits review site. So let's talk about the LE Perfecto.
The cigar features a Nicaraguan Rojiza 2000 wrapper, which I can't say I know much about, but it is an attractive wrapper. The standout fact about this cigar though is its price tag. At about $25 per cigar, it is priced… let's say.. aggressively.
Blend Specifics
Cigar Reviewed: Nova Limited Edition Perfecto
Wrapper: Nicaraguan Rojiza 2000
Binder: Nicaragua
Filler: Dominican Republic
Size: 4 1/2 x 56 perfecto
Appearance & Construction
Inspecting the Nova Limited Edition Perfecto, it is clear that it is beautifully constructed, and has a very attractive band. I love the combination of silver, black, and Tiffany blue (almost identical). The outer wrapper as well is nice, with a chocolate brown color. The perfecto-shaped cigar is consistently packed over its length, with just a bit of springiness when squeezed.
The outer wrapper leaf smells of barnyard, pepper, and espresso beans, and with the foot adding just a touch of sweet hay. The draw is about a 7/10 in terms of restrictiveness (e.g. just right). Let's light up.
Flavor & Smoke Characteristics
The Nova Limited Edition Perfecto kicks off with loads of toasty, mild to medium bodied smoke. It produces about an average amount of smoke, and I notice touches of pepper and spice hitting the palate first. I'd say the bulk of the flavor profile is a balance between bitter and sweet notes. On the bitter side: bitter wood, fresh grass, and black espresso. The sweet side is less dominant, with notes of cocoa, cream, and baking spices. Overall, it's a decently enjoyable opening, but the dominant bitterness does (I think) betray the youth of some of the tobaccos involved.
At about an inch in, some construction issues are becoming evident. First, there seems to be a small hole through the wrapper and binder, leading to air flow issues. Second, maybe as a result of the air flow issues, the cigar has trouble staying lit for more than 20 or so seconds after a puff. Both issues degrade the experience considerably.
The second third of the Nova Limited Edition Perfecto is unfortunately more bad news. Where the flavor profile was at least somewhat balanced in the first third, the second third veers into what I can only describe as bitter blandness. Wet paper, bitter woodiness and sharp spice dominate the experience, with a touch of sweeter baking spices evident on the retrohale.
In the final third, the strength and heat of the smoke pick up considerably. Strength goes up past medium, and the smoke hits the palate hard. There's not much to say on the flavor side of things – there's little development save for a hot spiciness which dominates all of the other flavors. Unfortunately, the rapid increase in temperature of the smoke means I set this cigar down early.
Conclusion
The Nova Limited Edition Perfecto is a bit of a head scratcher for me, mainly because the Nova website lists a box of 12 cigars for $300. Given the lackluster flavor, near non-existent complexity, and substantial construction issues, this cigar doesn't come close to competing with other cigars in that price range. I think a more reasonable price would be $8 – $10.
I realize that sounds harsh, but those are my honest thoughts.
All that being said, I do think the cigar has some promise. I'd probably purchase the Toro size next, let it age for about three months, and then give it another try then.
Final Rating: 73