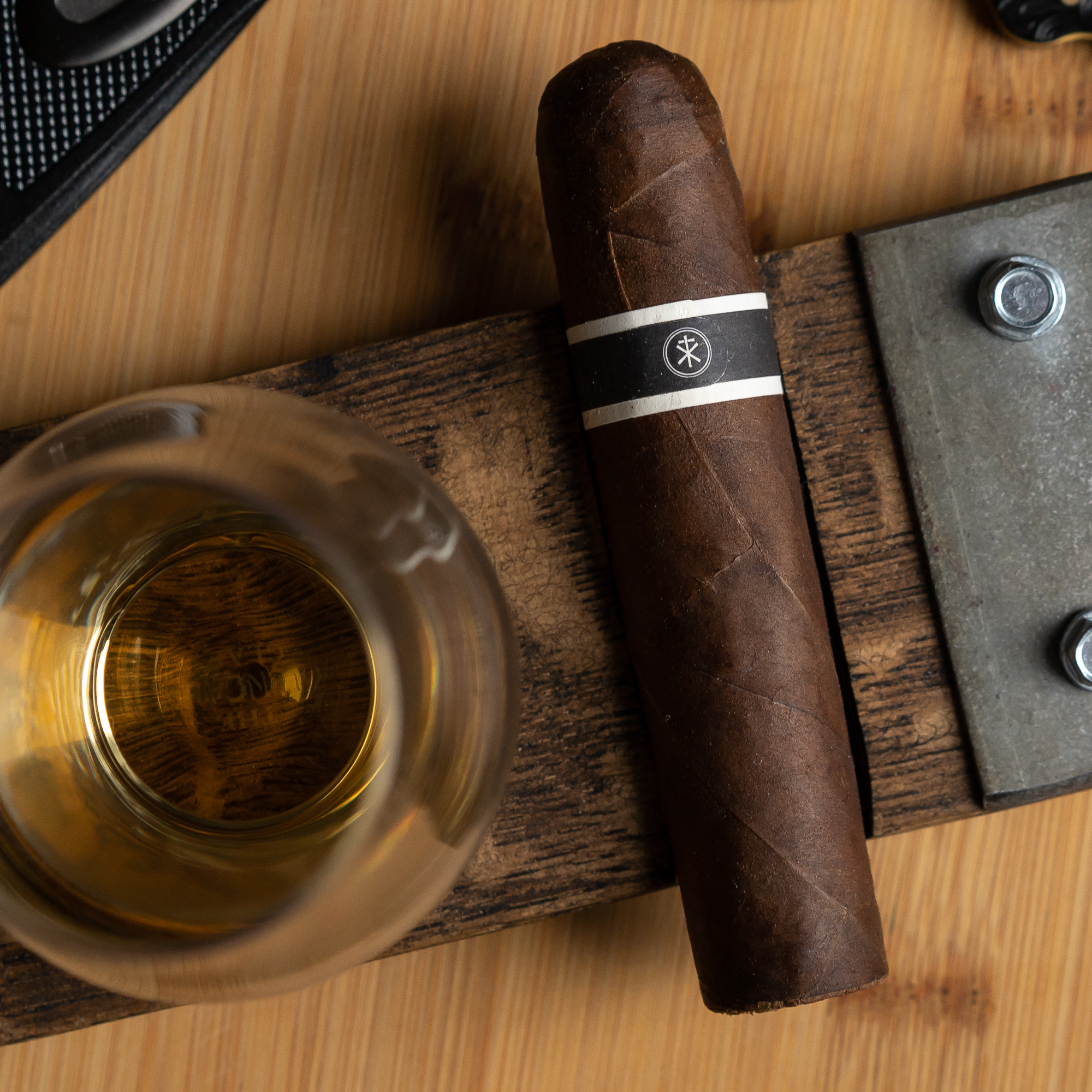 Up for review today is another cigar from RoMa Craft Tobac, a brand I became a fan of after finally deciding to review the Intemperance BA XXI Ambition which is a downright enjoyable smoke.  Today, we'll look at the Cromagnon "Mandible," which features a USA Connecticut Broadleaf Maduro wrapper (yum), and produced in the large 60 ring gauge format–I size I typically find pretty unappealing. But, today I'm up for something new, so let's get to it.
Blend Specifics
Cigar Reviewed: Cromagnon Mandible by RoMa Craft Tobac
Wrapper: USA Connecticut Broadleaf Maduro
Binder: African Cameroon
Filler: Nicaraguan (Esteli, Condega, Pueblo Nuevo)
Size: 4 1/2 x 60
Appearance and Construction
The outer Connecticut Broadleaf Maduro wrapper has a dark complexion and a leathery feel, and the cigar is packed tight its entire length. The band has a cool, sleek look as well, though it's hard to read the brand name because it's debossed in black. 
Taking a whiff off of the foot brings a blast of spice, sweet granola, and mustiness. The draw is perfect, a 7/10 in terms of amount of restrictiveness. 
I'm very excited to light up.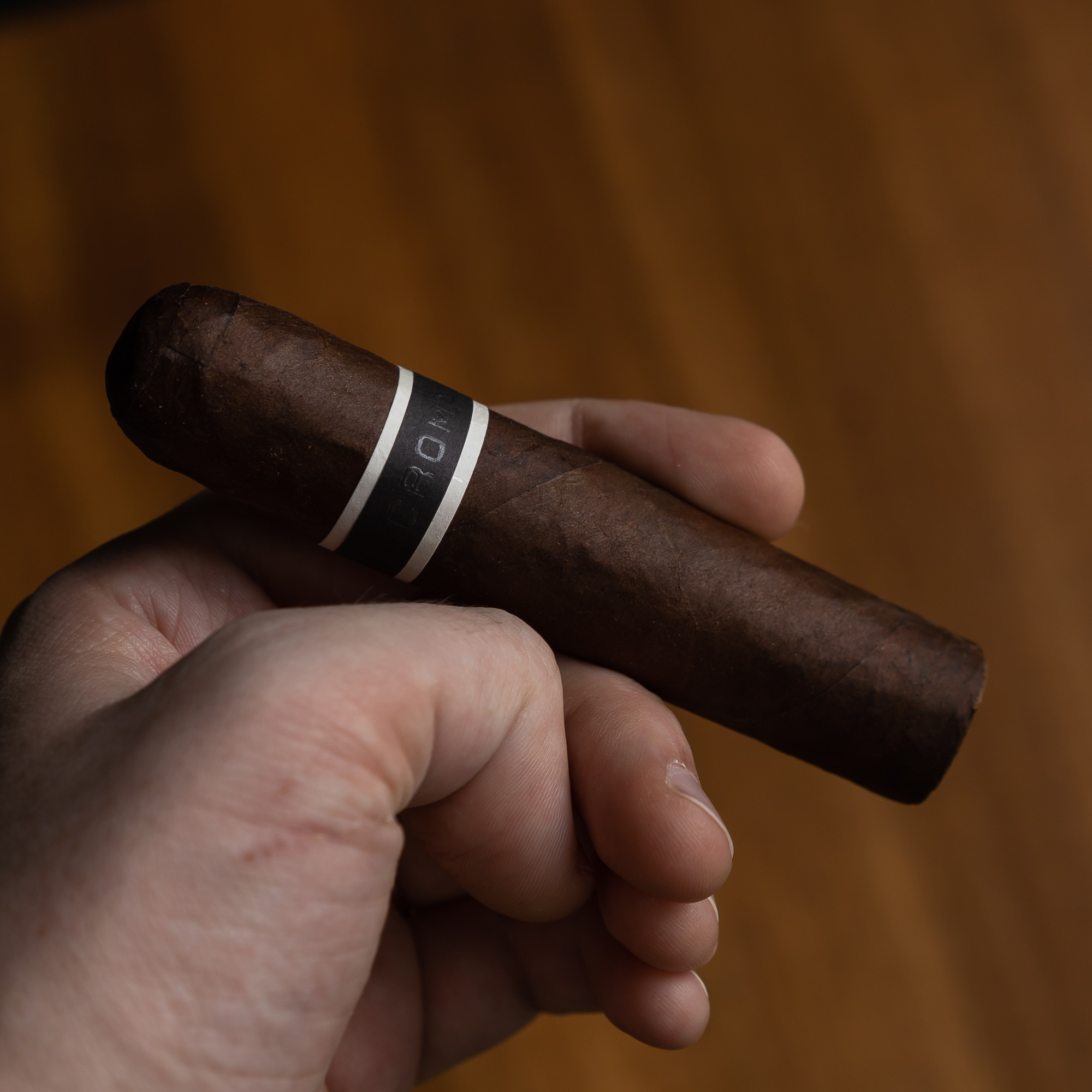 Flavor & Smoke Characteristics
The Cromagnon Mandible opens with thick smoke that's chock full of bitter espresso, coarse black pepper, grilling spices (mainly red pepper), and some charred wood. It's at about medium in terms of strength and medium to full body, and damn it's good. Only drawback: smoke production is adequate, but not quite as voluminous as I expected. 
At an inch in, the Cromagnon Mandible takes a significant turn toward a more savory profile, with some leather and smoked meats joining the grilling spices that are still heavy on the tip of my tongue. Interestingly, a quick purge brings out a new, creamy cocoa flavor in the smoke.  At this point, it's clear this is a special cigar, and one I'm glad I purchased to review. 
The second third develops the themes established in the first, with the flavors finding even more balance, and the body ramping up to medium full. Flavors include charred wood, Mexican chocolate, salt, smoked meats, and heavy red and black pepper. It's the kind of flavor profile that tricks your brain into thinking that you're eating a full meal. The retrohale is surprisingly tame, with black and red pepper. Construction wise, the Cromagnon Mandible never falters, with the all white ash falling in one inch increments and the burn remaining razor sharp. Smoke production also improves near the end of the second third, with the cigar producing opulent amounts of smoke.
The final third of the Cromagnon Mandible is just as stellar as the first two. There are no notable flavor changes, but the smoke remains remarkably cool even as the cigar continues to deliver big flavors of wood, spice, and bitter chocolate. 
A truly excellent cigar. 
Conclusion 
The Cromagnon Mandible is a fantastic cigar. With full bodied smoke and big flavors of black and red pepper, charred wood, cocoa, and more, it's just about as close as you can get to a perfect cigar following a big steak dinner. 
If you're a fan of rich, flavor bomb cigars like Padron, you'll love this blend. 
Final Rating: 94