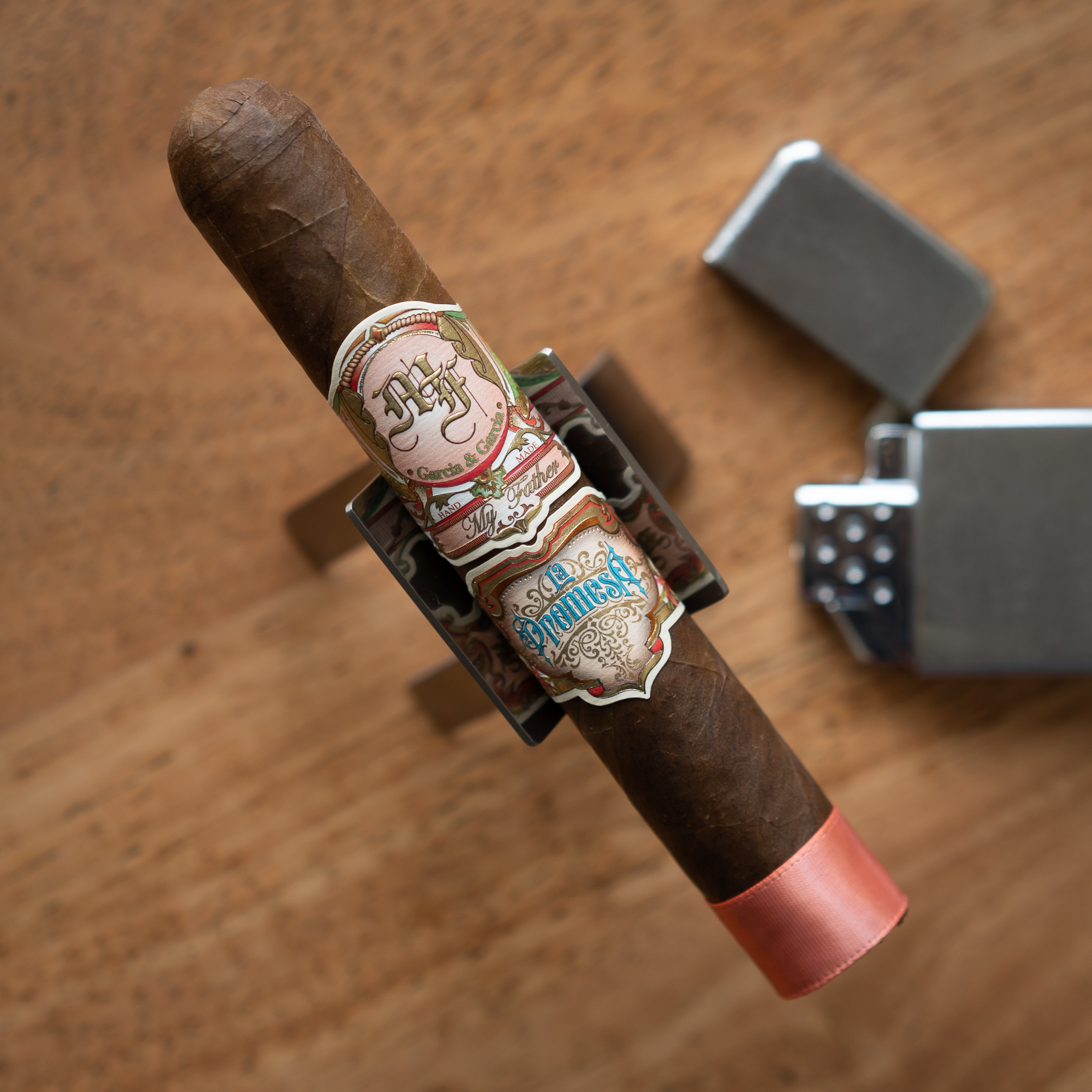 It's September, and that means we're continuing to work through 2019 new releases. Personally, I've smoked a number of releases that seemed to be duds, but the cigar we're reviewing today thankfully breaks that mold. La Promesa ("The Promise") from My Father Cigars is dressed like so many other MF releases, but the story behind the cigar is unique. According to Cigar Aficionado, "the promise" refers to the promise that José "Pepín" García made to his family when he left Cuba in 2001 to be successful in the cigar industry and make his family proud.
The cigar is produced in five sizes:
My Father La Promesa Robusto Grande (5 1/2 x 54)
My Father La Promesa Toro (6 x 52)
My Father La Promesa Lancero (7 1/2 x 38)
My Father La Promesa Petite (4 1/2 x 50)
My Father La Promesa Corona Gorda (5 1/2 x 48)
Product Specifics
Cigar Reviewed: My Father La Promesa
Wrapper:  Ecuador Habano rosado oscuro
Binder: Nicaragua
Filler: Nicaragua
Size: 5 1/2 x 54 (Robusto Grande)
Appearance & Construction
My Father cigars almost always feature extremely expensive bands, and this is no exception. Both of the double bands are highly ornate, with high def printing, debossed lettering and framing, gradient coloration (which can be particularly expensive because of the number of colors) are just a few of the features of the band.
The outer wrapper has a few veins and a very visible layer of oil coating the entire cigar. A whiff off of the foot brings forward aromas of old barn, tree bark, coffee, and some light baking spices. The pre-light draw on the other hand is bright, with some lemongrass, cooking spices, and light cocoa.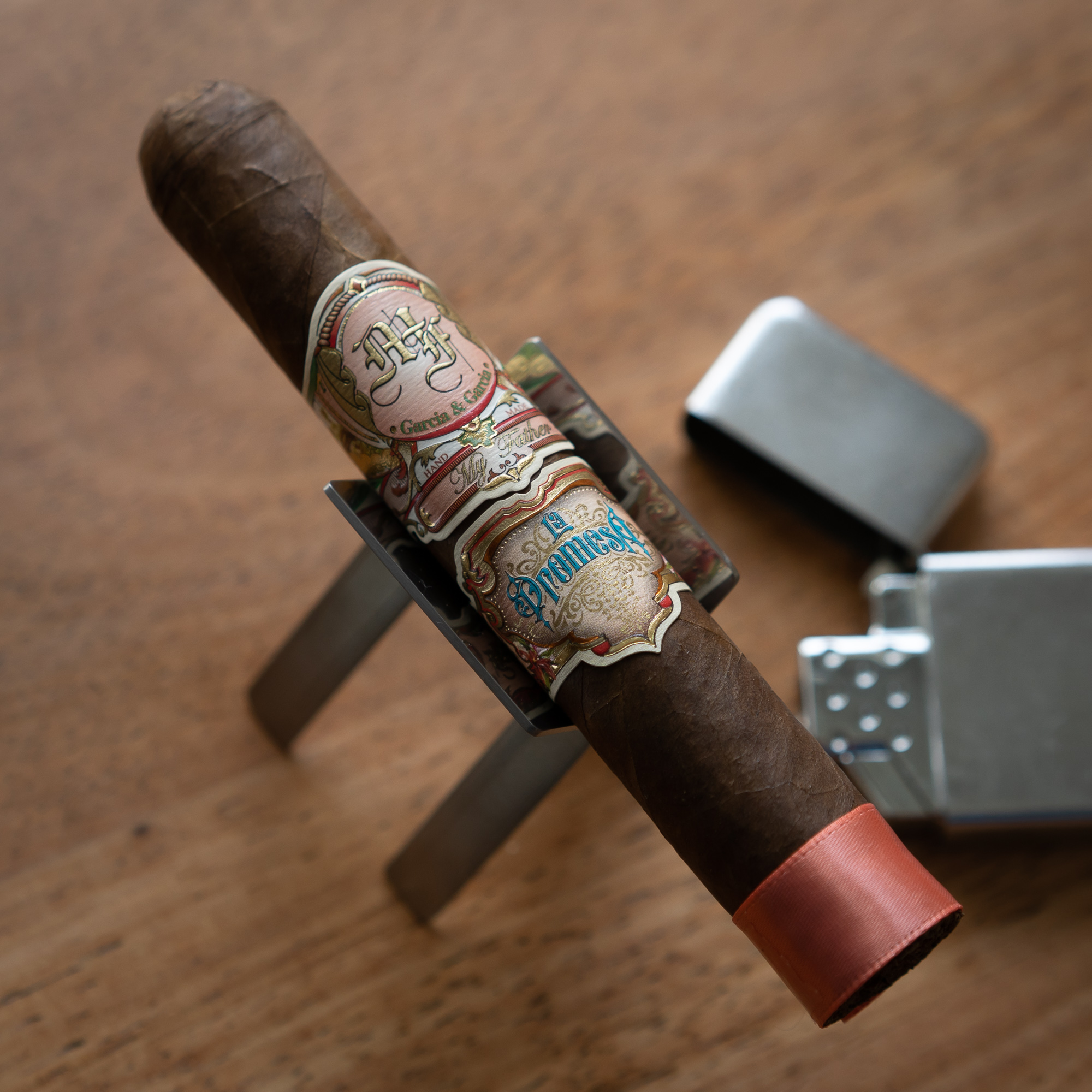 Flavor & Smoke Characteristics
A couple of things of note come to mind when I light up the La Promesa from My Father Cigars. First is the texture. The mouthfeel of the smoke is great. Silky smooth but with tinges of spice and some textured cedar that help the cigar make a distinctive entrance. Second is the aroma: the cigar is extremely aromatic with a combination of cedar, grass, floral, cafe au lait and cocoa. Puffing the cigar generates billows of cool, smooth smoke, and the retrohale is nicely balanced between toasted bread, paprika, and baking spices. Strength-wise, the cigar is somewhere in between mild and medium in both strength and body.
So far, a great entrance, and lacking the blast of spice that is so characteristic with My Father blends.
As the La Promesa burns through the first third and into the second, the ash holds steady and the burn stays straight. Strength and body don't budget at all, continuing to hold halfway through mild and medium. There's some change to the flavors, but the cigar mostly retains its initial texture (i.e. very smooth, with almost no spice). On the palate, some almond develops alongside baking spices, powdered sugar and cake dough. It's an enjoyable, mostly sweet profile.
Thankfully, at halfway the La Promesa starts to pick up a bit more oomph, with some spice re-entering and the smoke taking on a toastier texture. The trend continues well into the second third, with some distinctive cedar entering the mix and bringing the overall profile away from sweetness and more toward a more bitter profile. Great development and a nice added complexity.
By the final third, the transformation of the flavor profile is complete, with a wood-forward character that also has a decent amount of spice and black pepper mixed in. Still, it's very balanced, and the sweeter flavors haven't totally disappeared. The only negative is that near the end the heat of the smoke picks up a bit, prompting me to smoke a bit slower.
Conclusion
La Promesa is an excellent addition to the My Father product lineup. It's a lot more subtle than other offerings, and features a velvety smooth smoke full of elegantly sweet flavors of toasted bread, cake dough, powdered sugar, cedar, floral and cafe au lait.
This cigar would pair very well with a mild rum which could bring out a bit more spice and wood early on.
Final Rating: 91