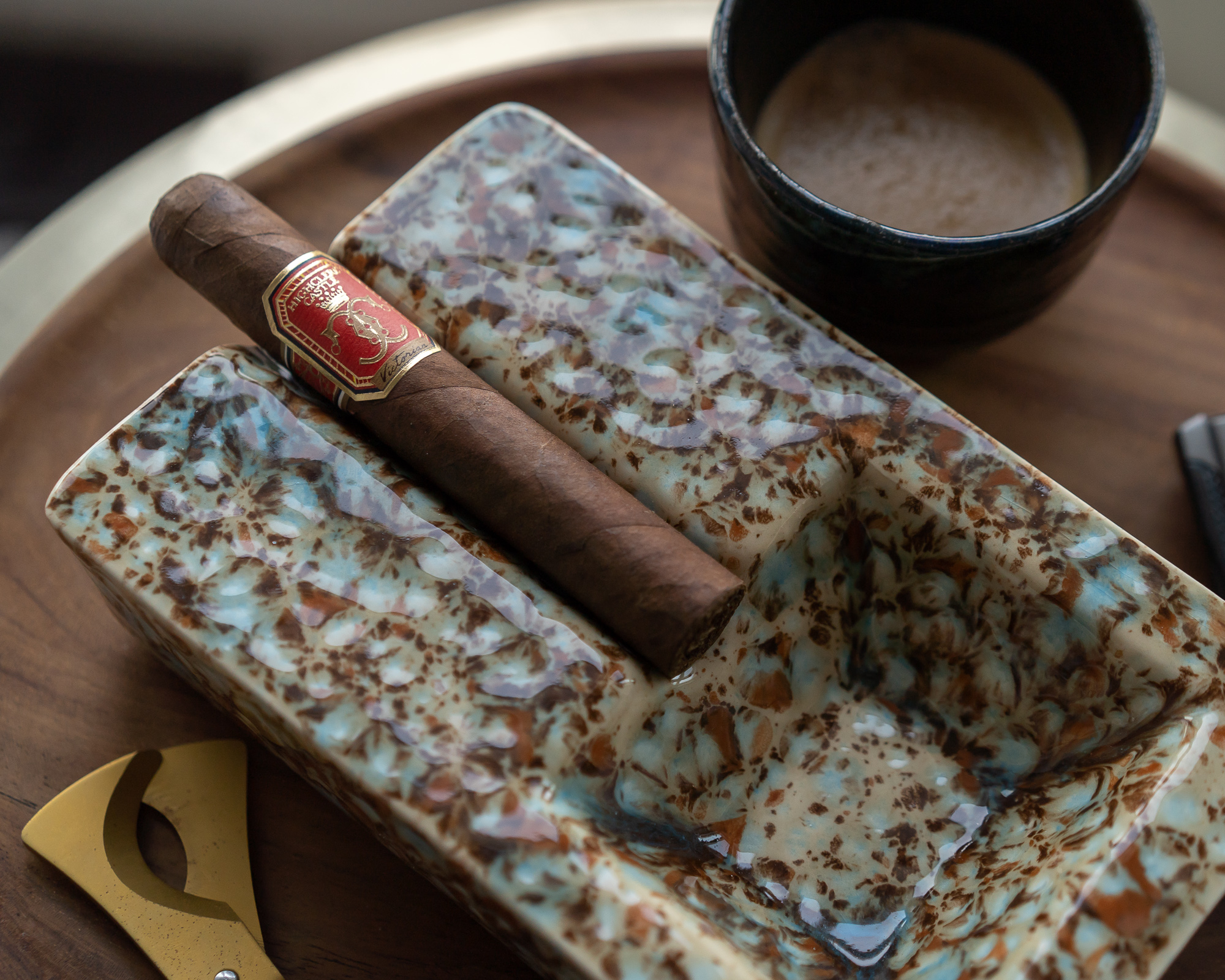 Up for review today is the Highclere Castle Victorian from Foundation Cigar Co. The cigar is a maduro version of the initial Highclere Castle cigar which was released in September of 2017 and which we reviewed (favorably) here. I've been a fan of just about every blend that Nick Mellilo and the Foundation Cigar Co team have put together, so it barely needs said that I was excited to review this cigar.
Blend Specifics
Cigar Reviewed: Highclere Castle Victorian
Wrapper: Ecuadorian (Habano)
Binder: Brazil (Mata Fina)
Filler: Nicaragua
Size: 5 x 50 (robusto)
Appearance & Construction
The Highclere Castle Victorian robusto sports a reddish-brown, oily maduro wrapper. There are a handful of visible veins, but otherwise the surface of the cigar is smooth. From a branding standpoint, I dig the combo of red and gold, but it doesn't make for an easily readable band and isn't as attractive as the original Highclere Castle from Foundation Cigars.
When squeezed, the cigar has a moderate amount of give, about as much as I'd like any cigar to have, though there don't seem to be any soft spots in the packing.  Taking a whiff off of the foot, I pick up aromas of seasoned meat, cedar plank, and a touch of sweet natural tobacco. The draw is excellent, about a 6.5/10 in terms of amount of restrictiveness, and the cold draw has a spicy and savory character.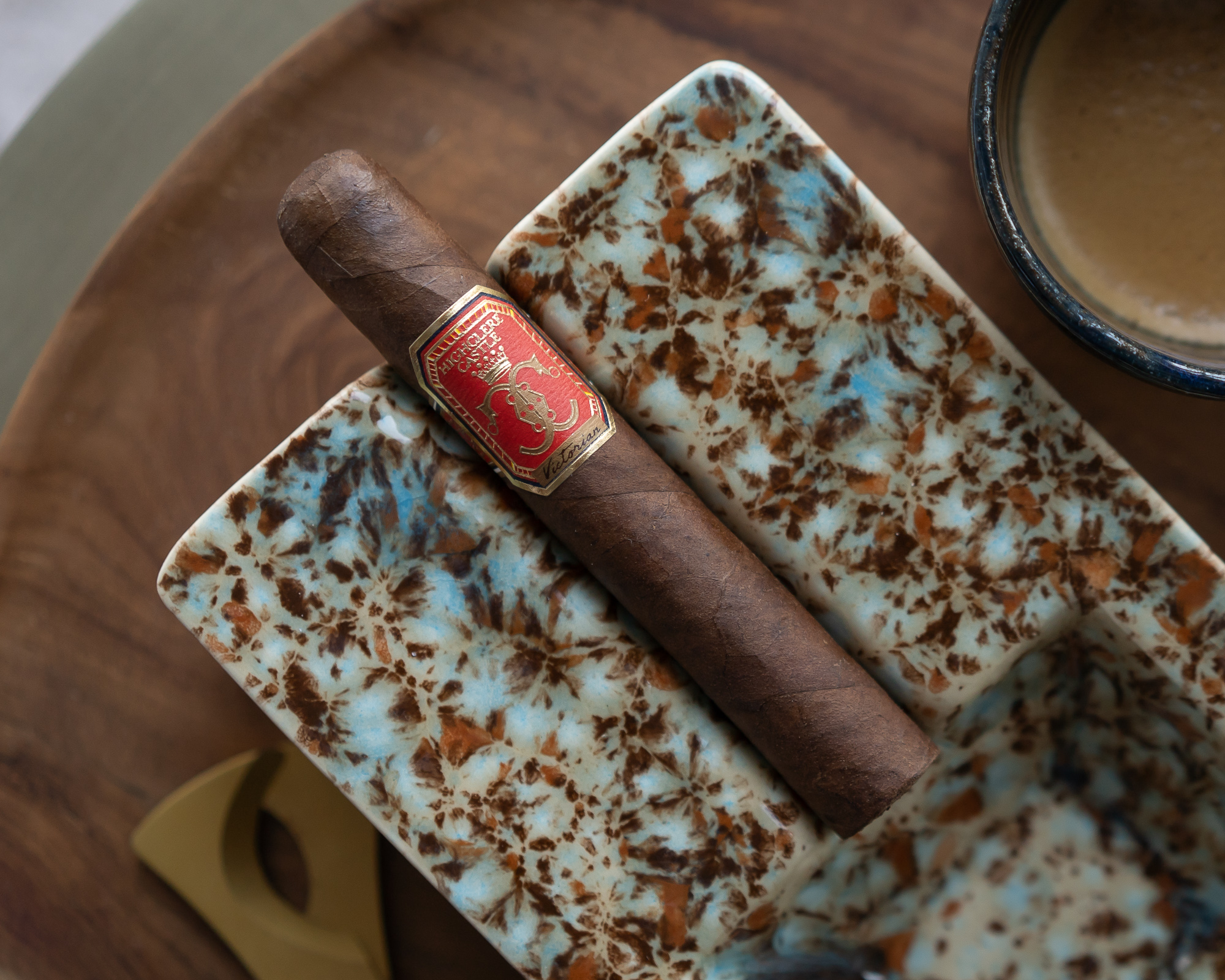 Flavor and Smoke Characteristics
The Highclere Castle Victorian opens with huge, aggressive plumes of smoke—a real punch in the mouth. There's quite a bit of pepper and hot spiciness on the palate, as well as earth and a touch of sweetness (spicy hot chocolate comes to mind). The retrohale is similarly aggressive—any more pepper and I'd be afraid of even going there to be honest. As my palate adjusts to the surprising strength, I start to notice that there's actually a lot more subtlety going on than I thought. The sweeter notes start to take on more prominence, and, now equally balanced between sweet and savory notes, the cigar is very pleasurable to smoke. In fact, I'd say the overall experience is similar to some of my favorites from Padron, like the Family Reserve 50 Years Maduro: lots of concentrated flavor, but subtlety and smoothness to go along with it.
As the Highclere Castle Victorian moves into the second third, the pepper from the beginning takes on new vitality and moves to the fore alongside charred wood and earth. The sweetness that dominated for a good inch pulls way back, and hay and barnyard make up most of the background. There's less strength now on the retrohale, which narrows down on charred wood and some pepper.
In the final third, the Highclere Castle Victorian continues to produce assertive smoke, dishing out lots of charred wood, earth, seasoned meat and both black and white pepper. It isn't the nearly jaw dropping combo of sweet, savory and sweet that was the first and part of the second thirds, but it's still very good, if a bit imbalanced. The construction impresses all the way to the end, with great smoke production and a straight burn.
Conclusion
Maybe my palate has shifted or just become a bit more prejudiced, but a cigar that can balance multiple flavor categories (in this case sweet, savory and spicy flavors), and then go on to develop the notes throughout the smoke, is what I gravitate more and more to. Such is the case with the Highclere Castle Victorian robusto, which puts fourth an amazing array of savory, spicy, and sweet flavors including black pepper, charred wood, spiced meats, hot cocoa, and more. The only negative came in the final minutes of the cigar, where I found the cigar to be at times out of balance.For ~$14, it's a wonderful smoke and one of the best new releases I've smoked this year.
Final Rating: 93