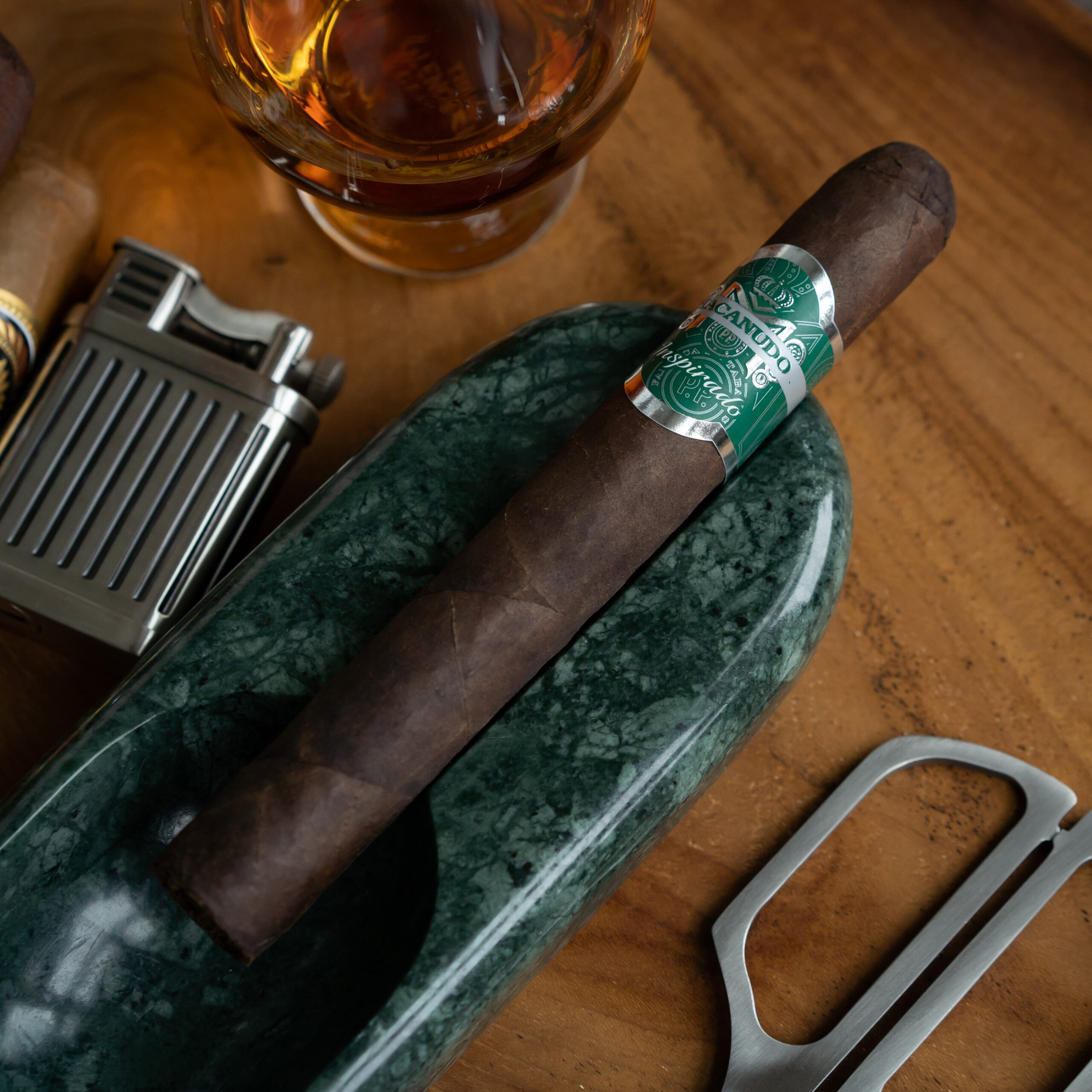 Macanudo from General Cigars is known for offering blends in many styles and tastes using tobaccos from regions all over the world. Their new Inspirado Green released earlier this year is billed as a fuller flavored cigar featuring a Brazilian wrapper, Indonesian binder and Dominican fillers. This was the first chance I had to try this cigar and, smoking this cigar blind, the flavors offered a unique though less than harmonious profile. Read on.
Blend Specifics
Cigar Reviewed Macanudo Inspirado Green Toro
Wrapper: Brazilian
Binder: Indonesian
Filler: Dominican
Size: 6" x 50 (Toro)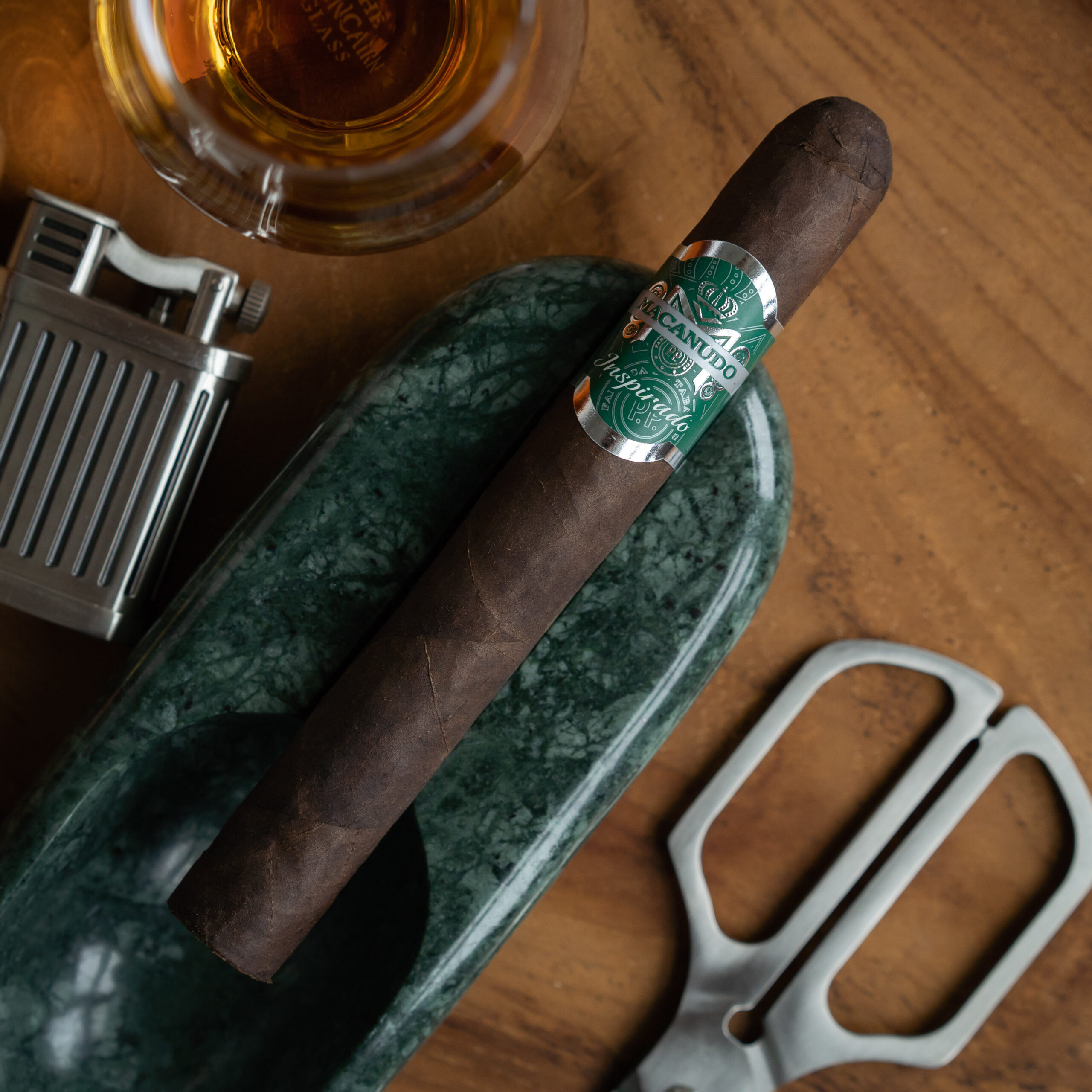 Appearance & Construction
The Macanudo Inspiratdo Green Toro sports a veiny maduro wrapper that is dry to the touch. As I squeeze the cigar, it is very firm and almost over-packed with tobacco. The roll is solid and the foot smells of white pepper and rustic notes.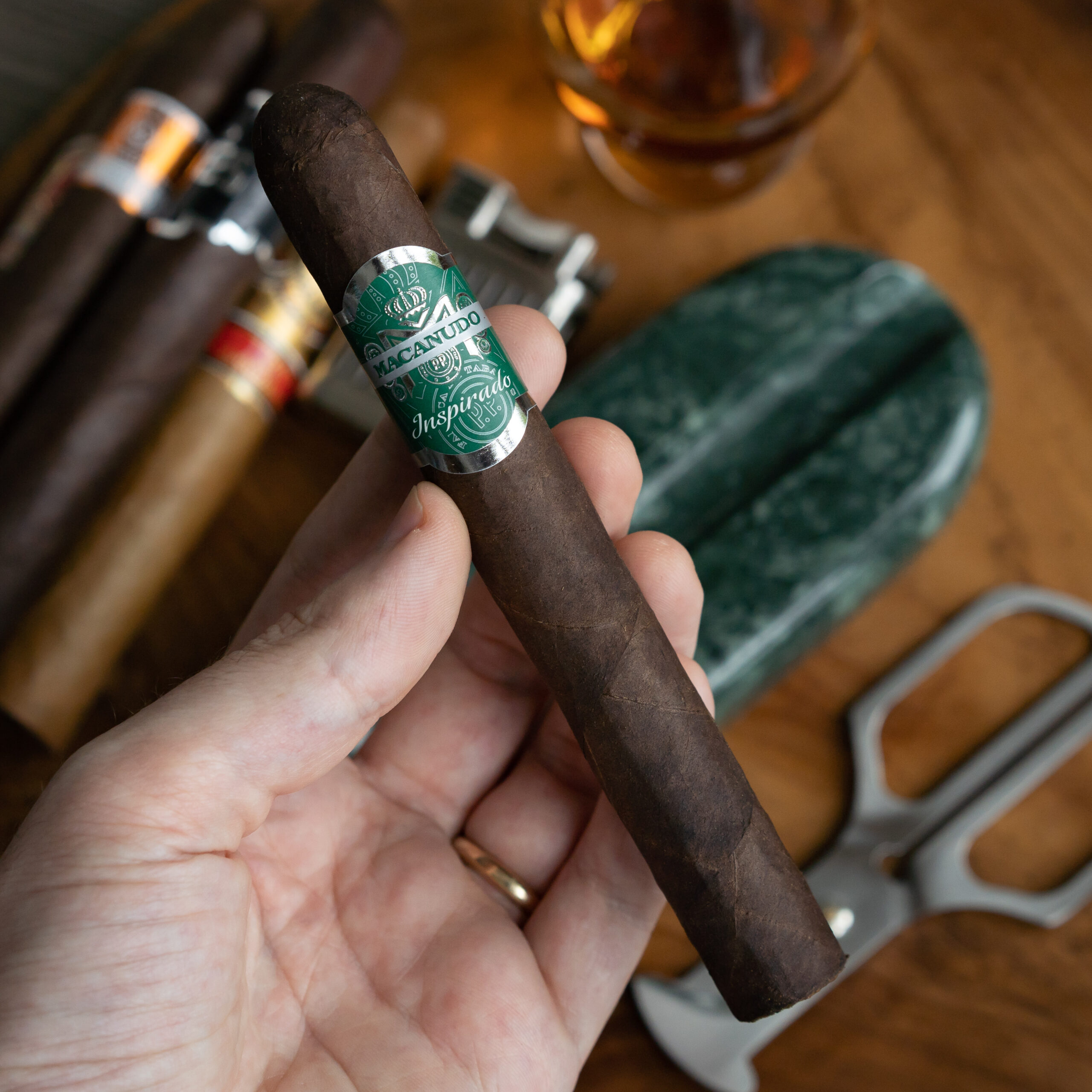 Flavor & Smoke Characteristics
Using my Colibri V-Cutter I cut the cigar and with an airy cold draw some dark chocolate and pepper is evident. I bring flame to the foot and the initial puffs give earth, fruits and graphite. Despite the maduro wrapper, the cigar begins mild in body with stone and minerality on the finish. The retrohale delivers wood and smoky notes along with cedar. The body becomes more medium with coffee and earth on the palate, though the flavors are not very pronounced.
At midway, the burn line is straight, with a weak, flaky ash. The white pepper that I smelled on the foot comes on strong along with more earth and a medium finish. Another retrohale falls short on taste with just a bit of hay and a slightly sour note. The stony minerality is strong and unappealing absent any secondary flavors to balance it out. As the cigar burns at a steady pace, coffee and earth emerges which helps give a little more heft to the smoke on the mouthfeel. At this point the cigar maintains a solid medium body.
In the final third, the Macanudo Inspirado Green Toro starts to rally with spice and chocolate that delivers a longer finish than before. There's an additional toast and black pepper note that intermingles with dried fruit and nuts. The body on the Macanudo Inspirado Green Toro is consistently medium with more wood, cocoa and earth in a subtle fashion. As I reach the final puffs of the smoke the wood and smoke linger to a surprising lengthy finish.
Conclusion
If the Macaudo Inspirado Green is indeed intended to be full bodied, it never came through in what I smoked. The cigar began mild and then maintained a medium body with stone, minerality and earth at its start. These flavors of earthiness and stone did not complement one another throughout most of the cigar. The Macanudo Inspirado Green Toro was at its best when it developed chocolate, dried fruit and toast. Unfortunately, it only happened in the final third, which is too long to smoke a cigar to garner pleasant flavors. Perhaps another size may yield better results which is what I'd recommend trying from this line.
Final Rating: 88