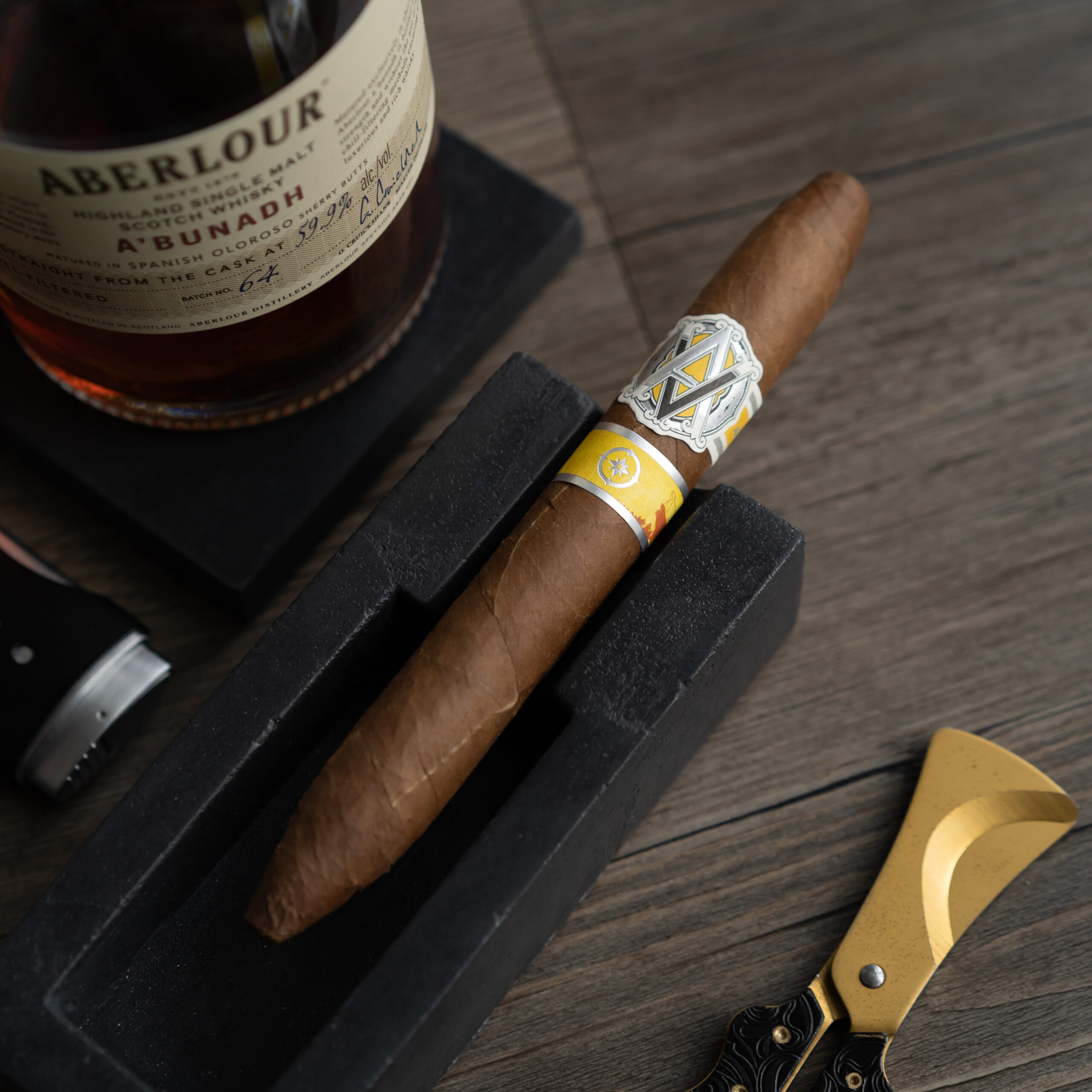 Even with Avo Uvezian'a passing in 2017 his legend continues to live on in smoke, especially in AVO's annual limited edition blends. The latest release from AVO Cigars is a regional blend that picks up where last years regional's East and West left off. The North and South regional editions were recently added to accent the areas they are named for. These days the AVO portfolio is extensive, some lines I've loved and others not as much. With this blind review I can only say it was a nice looking perfecto that needed to be smoked!
Blends Specifics
Cigar Reviewed: AVO Regional Edition North Perfecto
Wrapper: Dominican
Binder: Dominican
Filler: Dominican, Honduran, Peruvian
Size: 6 5/8x 50 (Perfecto)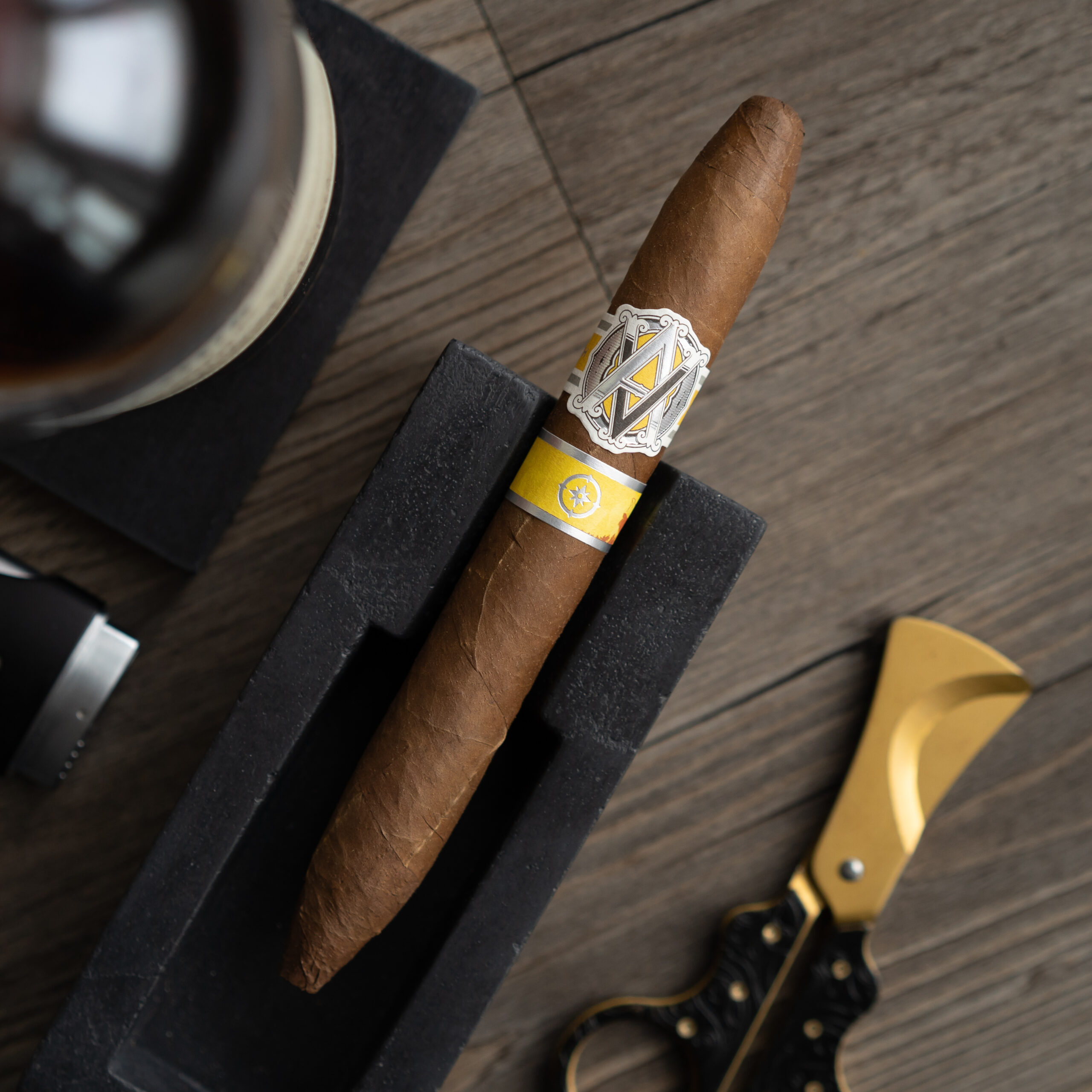 Appearance & Construction
Looking at the cigar, it is long and tapered on both ends and the construction is spot on. As I touch the Colorado claro wrapper, it is silky with some veins along the sides. I give the smoke a squeeze and it seems packed with tobacco. The tapered foot doesn't allow for much exposure to the filler tobaccos however as I give it a smell I'm getting some slight barnyard notes and must.
Flavor & Smoke Characteristics
I choose my Lamborghini guillotine cutter as I want a precise slice to this double tapered cigar. With a quick snap a small piece of the head comes off and I take a dry draw. The draw tastes of mushroom, must and cedar and I surmise this may be olor tobacco. I swipe a long Club Macanudo match and light the tapered end of the smoke. With a puff I'm getting maple, cedar and toast on my tongue as well as the sides of my mouth. The cigar thus starts off with a medium profile and with that I'm getting mushroom and truffle with a sweet finish. I will say with the tapered ends, the draw on this smoke is great so far. I take a retrohale and mushroom and earth waft through my nostrils with some secondary notes of pencil lead.
As I settle into the middle of this perfecto I see the dark grey ash is becoming a bit flaky. It does not appear to affect the flavor as I get toast, more mushroom and earth. With another retrohale, forest floor and nuts are coming out my sinus and through my mouth. I take a smooth draw and leather, cedar and coffee begin to develop. The body of this cigar continues to be in the medium range and quite enjoyable.
This smoke seems to be burning fast as I'm quickly into the last third where earth and spice are coming through. Surprisingly I now pick up maple mixed with truffle and mustiness. The construction on this cigar continues to be quite good as it's reaching end. As I take a final puff more mushroom, and toasted oak is coming through with a truffle like finish. A pleasing end to this cigar.
Conclusion
The AVO Regional Edition North is an expertly crafted cigar in appearance and smoking. The flavors were consistent throughout, with mushroom, truffle and cedar being the dominant flavors with secondary notes of forest floor, must and leather. When I found out this was an AVO I wasn't surprised. These are the tastes I've come to know from these blends and tobacco. I would recommend a box purchase or at least a five pack, you'll be pleased with the results.
Final Rating: 91