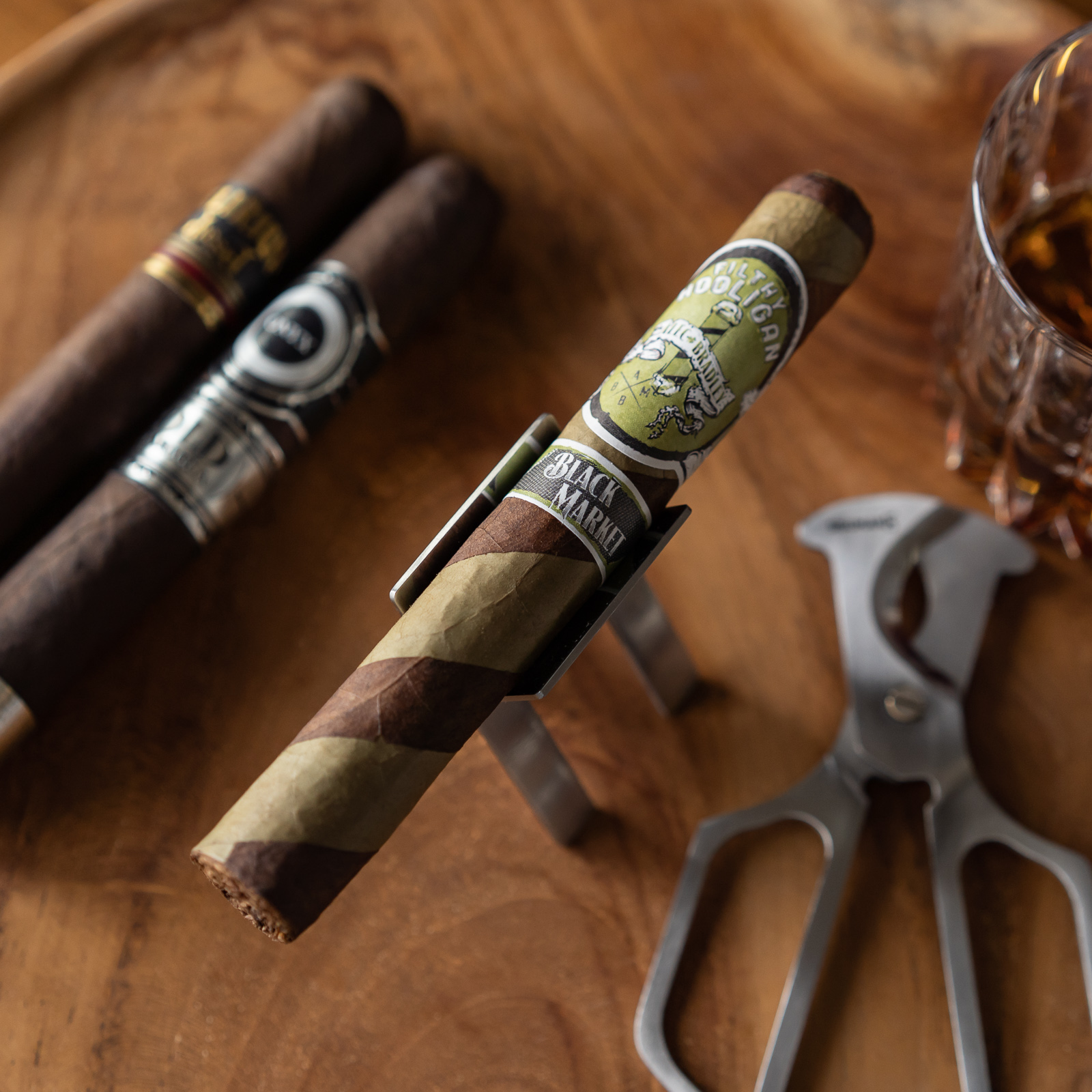 Barber poles for me have always been cigars that are more about visual oddities than a quality smoke. The contrast of a light and dark striped wrapper is drawing to the eye, but most of the time the blend and tobacco lends itself to a basic if not off putting smoking experience. One exception that comes to mind is the Fuente Hemingway Between The Lines perfectos that are consistently of excellent quality. Other than that, barber pole cigars have been favored as more fun than premium smokes.  
A few years back Alec Bradley created their Black Market Filthy Hooligan cigars to celebrate Saint Patrick's Day. The cigars received praise as a choice hybrid cigar. Still, I dismissed them as more of a gimmick and never ventured to try one. When I saw a cigar that was striped for this blind review, my expectations were low. Despite this I always leave a chance to be surprised when I'm about to try something new so here it goes…
Blend Specifics
Cigar Reviewed: Alec Bradley Black Market Filthy Hooligan 2020
Wrapper: Honduran candela and Nicaraguan
Binder: Ecuadorian Sumatra
Filler: Honduran and Panamanian
Size: 6"x50 (Barber Pole, Toro)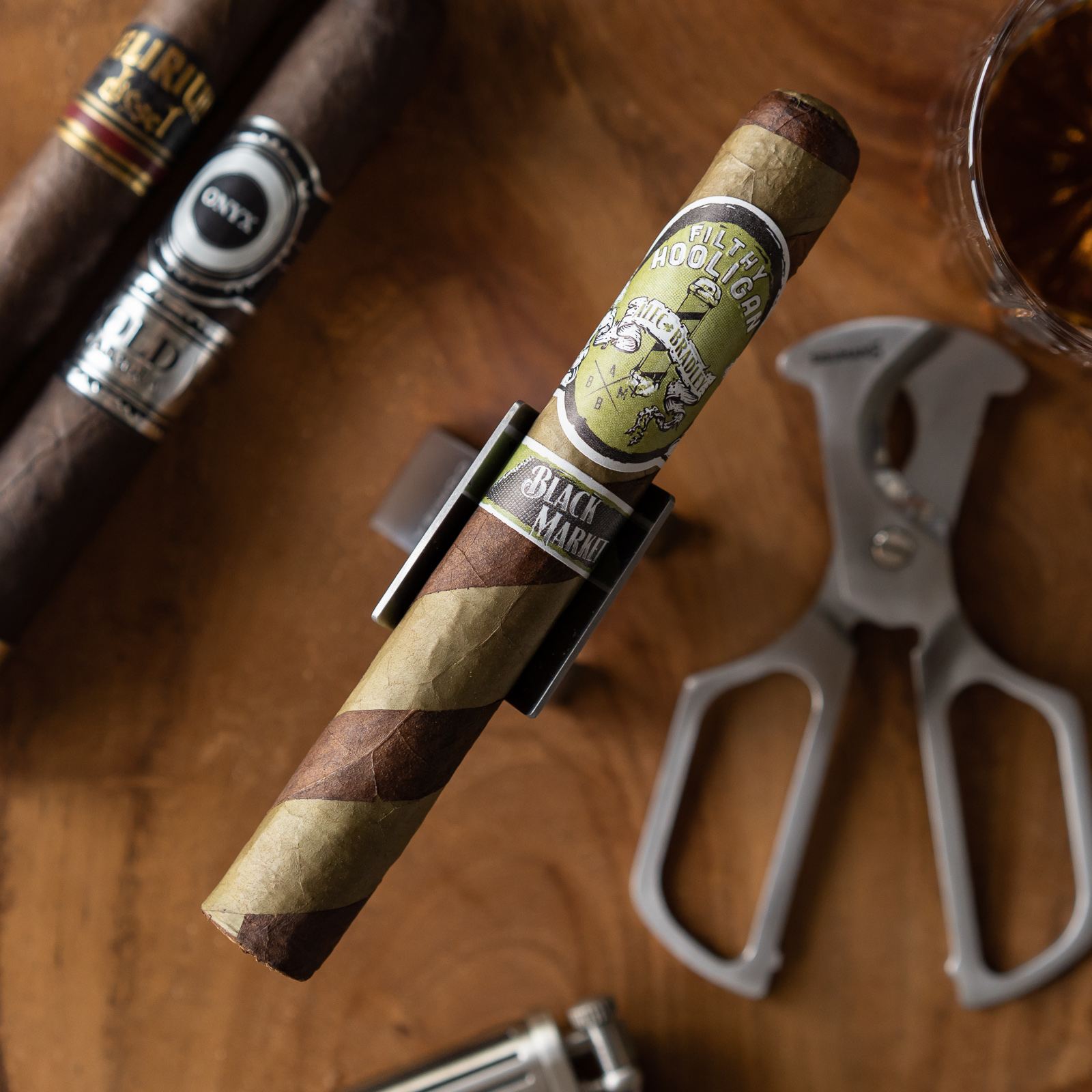 Appearance and Construction
This barber pole stick looks well-constructed sporting a pretty even match of candela and dark wrapper leaf. The cap has a piece of candela sitting on top and is put together quite nicely. There are minimal veins although as I'm squeezing the cigar there are soft spots towards the middle. The foot is spongy and as I give it a whiff there's lots of hay coming from it although not much else.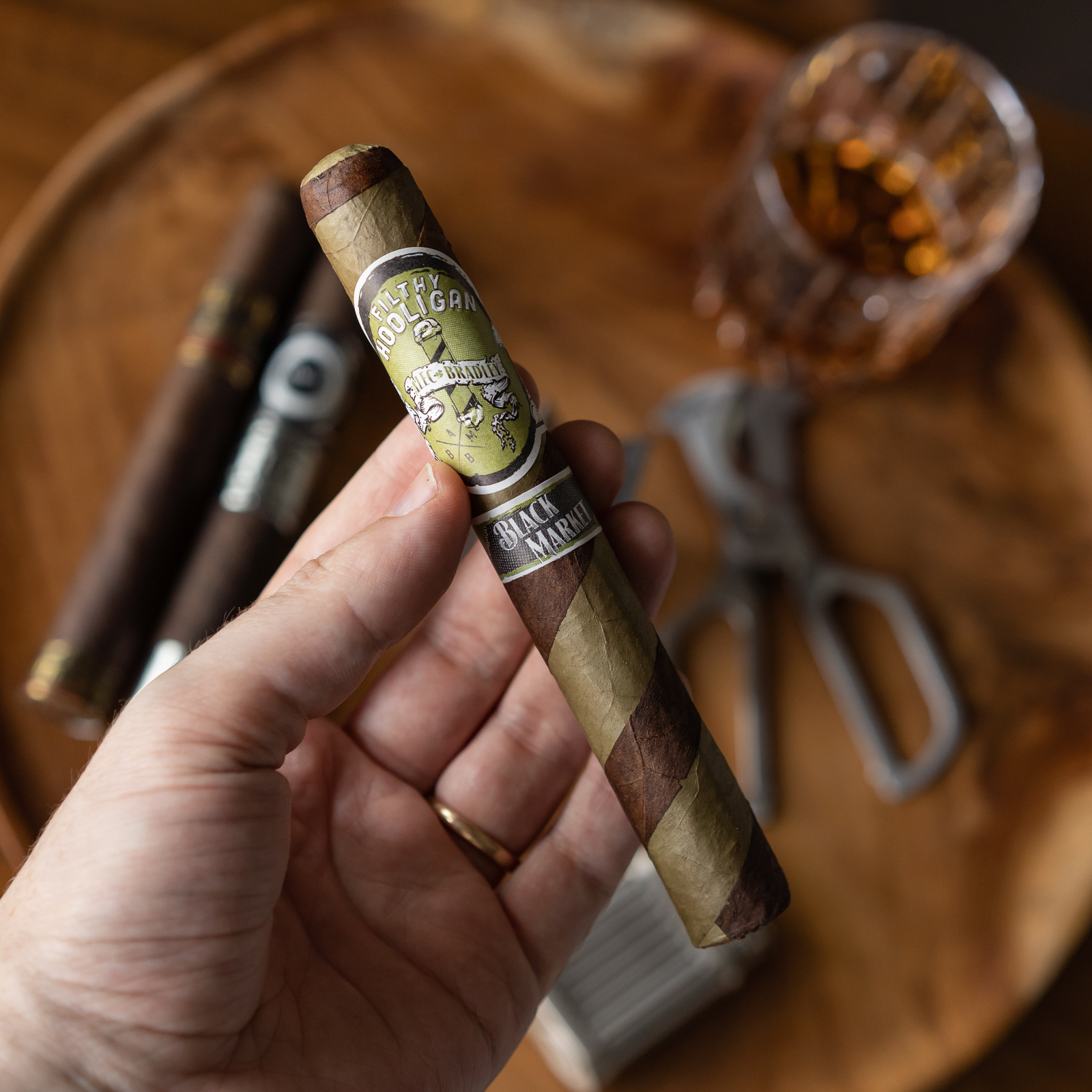 Flavor & Smoke Characteristics
Having my trusty Xikar Wooly Mammoth cutter with me I clip the candela piece off the top of the cigar. The cold draw brings hay, pencil lead, must and burnt wood. Using a long match I catch flame to the stick and the first puff has some loose tobacco that I'm catching on my teeth. As I remove the tobacco pieces the flavors start off with perfume and grassy notes. The start is rather mild and with a retrohale there's hay coming through the nostrils with a café au lait creaminess. As I get to the darker wrapper a bit of spice hits the tongue with some citrus. At this point I'm getting the contrast from green wrapper to dark which is a combo of earth, spice then hay and grass.
The cigar is burning fast as I'm getting midway into it and I'm tasting mint with a butterscotch sweetness.  The body is medium and the ash is white with a wavy burn line. With another puff there's earth and citrus on the forefront with a coffee finish. I take another retrohale where fruits and nuts rush through as well as a grassiness coming out of my mouth. The ash is firm as I attempt to gently remove it for fear of having it falling off into my lap.  The burn also appears to be adjusting and is looking pretty even.
As I'm rounding the last third of the smoke, earth and those grassy notes really seem to be picking up. These flavors are starting to become overwhelming and creating a fuller profile than previously.  I'm tasting the contrasts from the green to dark wrapper throughout and now hay mixed with cedar coats my palate along with a creamy finish. With another puff I get red pepper flakes that quickly transition back to grass and the perfume from the beginning of the stick. The cigar ends in the medium bodied range as I put it down. Although not too complex of a smoke the flavors were pronounced.
Conclusion
While I've always seen barber pole cigars as a novelty (and I've tasted more awful ones than good), I was happily surprised with the Alec Bradley Filthy Hooligan 2020. The construction was solid and the combo from candela to dark wrapper was well crafted. The filler tobaccos were a bit soft as I gave it a squeeze, but this did not affect the burn or flavor of the cigar at all. Though the blend was not sophisticated, the hay, earth, grass and creaminess balanced the smoke out rather nicely.
When I found out this was an Alec Bradley Black Market Filthy Hooligan the quality of the cigar certainly showed as I've enjoyed many lines in the Alec Bradley brand. So if you think this is a "novelty" smoke, it isn't and I can easily recommend picking at least one up and giving it a try.
Final Rating: 88