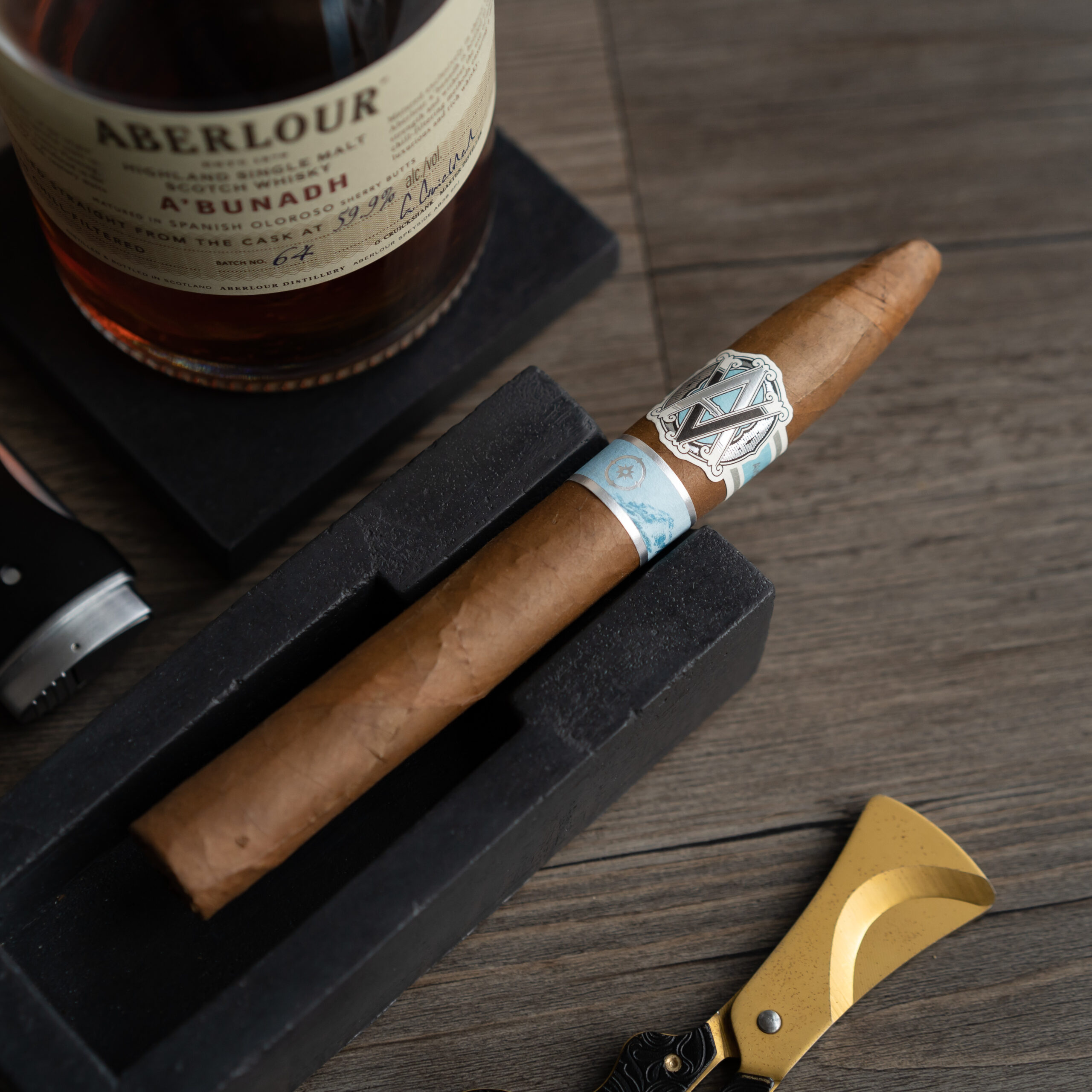 As a brand, AVO cigars carries many lines meant to appeal to different tastes and preferences. Despite the differences, the blends all adhere to one principle: quality.  Their limited edition regional blends in particular attempt to represent a theme or homage to specific region. The AVO Regional Edition South is a prime example of the company showcasing the flavor profiles that epitomize a region. Whether we agree or not, the company always seems to pride itself in the quality of the tobaccos and construction.
Because I reviewed this blind, the brand theme is of no significance. But visually the cigar looked great and ready to be smoked.
Blend Specifics
Cigar Reviewed: AVO Regional South LE
Wrapper: Ecuadorian Connecticut
Binder: Ecuadorian Connecticut
Filler: Dominican, Peruvian, Honduran
Size 7"x52 (Torpedo)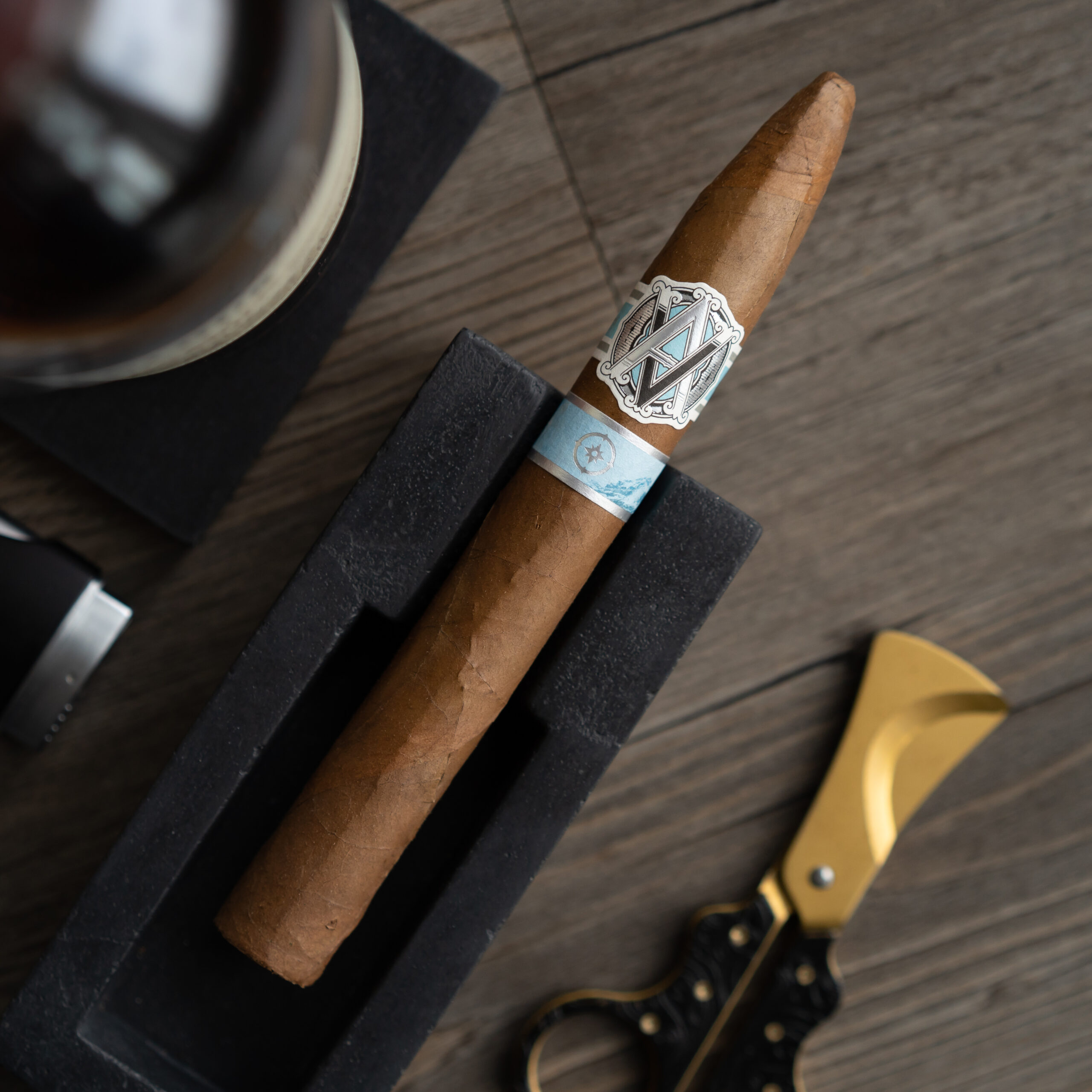 Appearance & Construction
This smoke has an attractive Colorado claro wrapper with few veins. It's long and slim with a tapered head and appears very well constructed. With a squeeze I can feel that its firmly packed with tobacco. As I smell the foot of the cigar I'm picking up must, earth and black pepper in my nose.
Flavor & Smoking Characteristics
Considering the tapered head, I think that my Palio cutter will clip this nicely. I take a quick cut and the top comes off effortlessly. With a cold draw I'm getting some mustiness, earth with a slight sourness. I've decided my Xikar Executive lighter will do the trick and as I'm toasting the cigar the draw seems a bit airy. My first puff brings a drying sensation to my mouth as well as notes of tanned leather. As I take a retrohale I'm getting sweetness and cedar coming through. Another puff brings mushroom and earth to the forefront with a tea like finish. The cigar appears medium bodied at present and is delivering some tasty flavors.
As I reach the middle of this smoke I see the burn line is a bit wavy. So far it's not affecting the flavors at all as I'm picking up cashew, vanilla and a creamy finish. With another retrohale there's a lot of roasted nuts and cream through the nose. The gray ash from this stick is solid and at present doesn't seem to be going anywhere. As I take another puff there's an earthiness followed by black pepper that tingles the lips. There's a noticeable turn around from medium to full bodied at the moment.
The smoke wafts a bit as I'm into the last third and the burn line that wavered initially seems to be straightening out. The cigar is developing savory notes of clotted cream along with that prevalent nutty characteristic. As I take another puff I'm greeted with a bit of mushroom, earth and wood. A retrohale delivers more of that sweetness with toasted oak along with truffles. Mushroom and pencil shavings intertwine as the smoke burns rather steadily. Taking a last puff, this cigar finishes with earth, toast and nuts. A satisfying smoke.
Conclusion
This cigar was all about balance. It began with leather, mushroom and earth followed but nuttiness and a creamy finish. The toasty notes throughout along with the black pepper midway amped the cigar up a bit into the fuller range. Towards the end , the cigar finished with mushroom, truffles and earth which brought it to a satisfyingly medium bodied end.
When I learned this was the AVO Regional Edition South I wasn't surprised. The construction and flavors were spot on for what the brand delivers. I would recommend trying the Regional Edition South or potentially even a box purchase.
Final Rating: 91