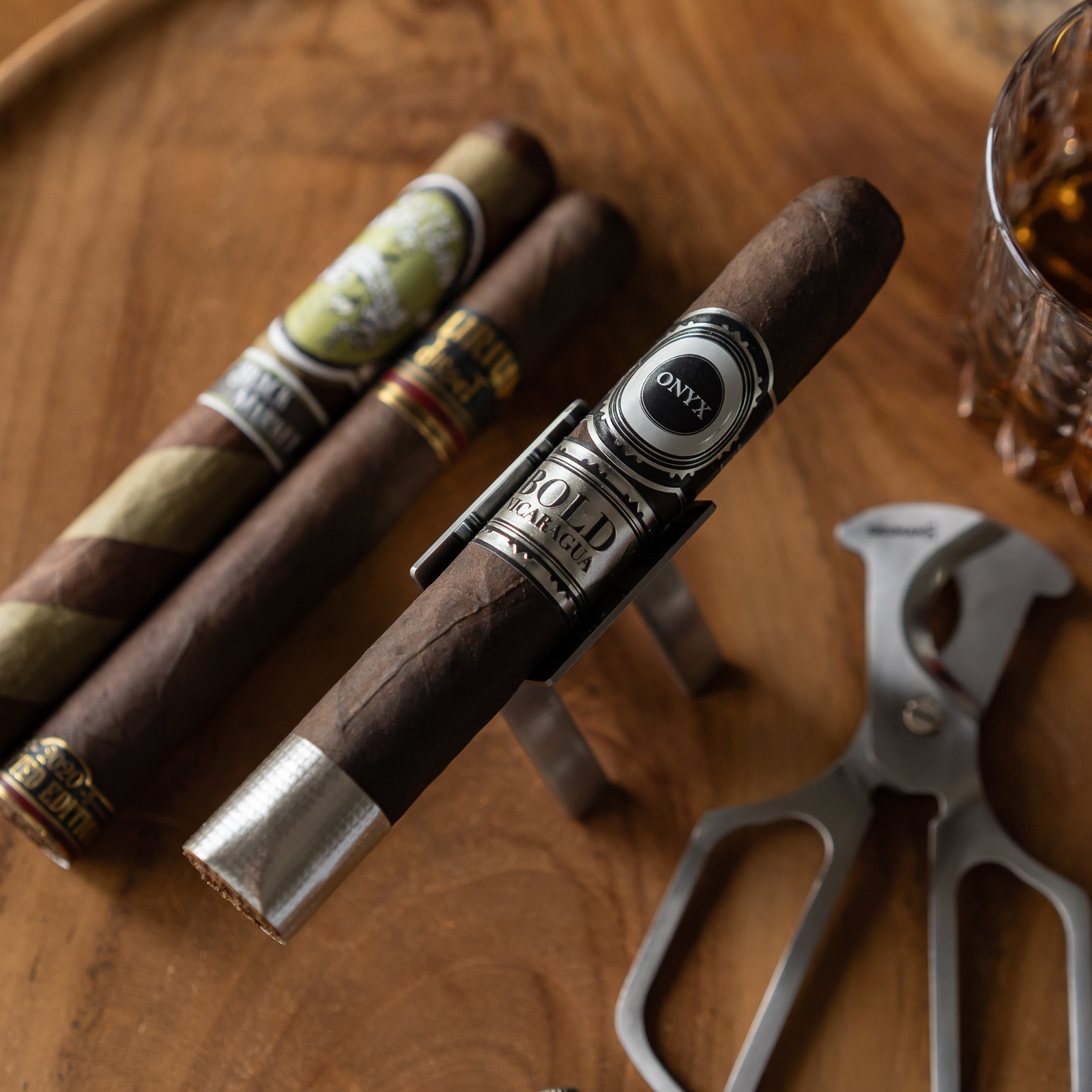 I remember the Onyx brand in the 90's when I first began smoking cigars. They were jet black smokes which I bought a 3 pack of from my local tobacconist. And they tasted awful. I quickly realized these were not smokes I would be purchasing again. Despite that, the cigars flew off of the shelves along with many others during "Cigar Boom" years. As they years went on they continued to sell mostly in catalog and online form.
Recently, Altadis enlisted renowned cigarmaker AJ Fernandez to re-blend and revitalize the Onyx brand. AJ has done a stellar job of refreshing stale brands and bringing lots more flavor and interest to them. With his skills and tobaccos on hand, he could certainly produce something substantial.
Fortunately I smoke these cigars blind as I may have turned away from an opportunity such as this. At first glance though it's the cigar's maduro wrapper that piques my interest…
Blend Specifics
Cigar Reviewed: Onyx Bold Nicaragua Toro
Wrapper: Mexican San Andrés
Binder: Nicaraguan
Filler: Dominican, Nicaraguan
Size: 6" x 54 (Toro)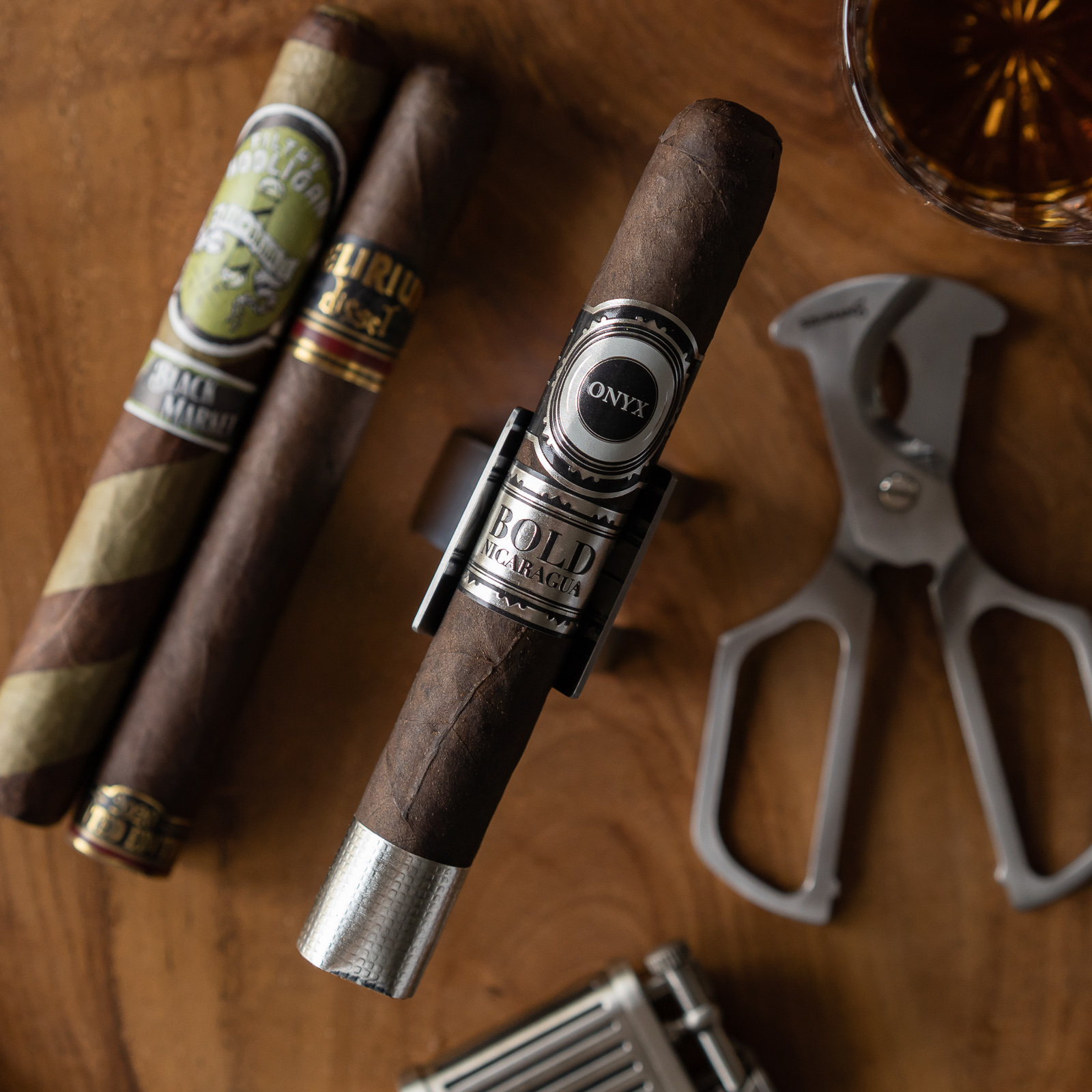 Appearance & Construction
This dark wrapper leaf has several veins and looks a bit gnarly. To the touch it's spongy and soft all over which is making me a little concerned out the gate. I give the foot of the cigar a smell which brings cocoa and a damp aroma along with a spicy note at the end. The smell of the smoke certainly seems more appealing than its look I'll say.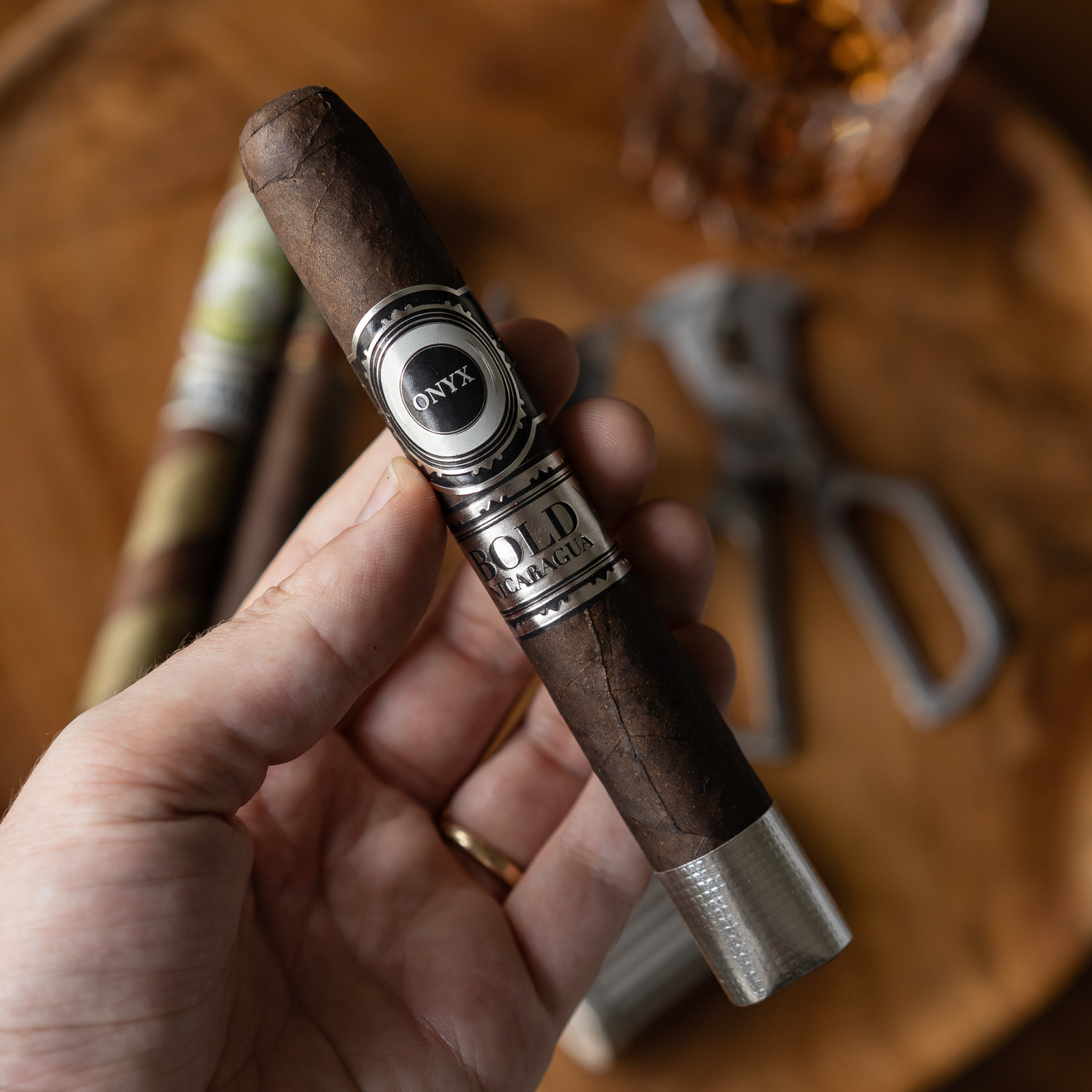 Flavor & Smoke Characteristics
For a change of pace I take my cigar scissors out of storage and make a calculated slice through the cap. The smoke cuts clean and I take a cold draw that's spicy and sweet. With my Xikar Executive single flame, I torch the cigar and with my first puff there's lots of spice on my lips and now hitting the back of my throat. This stick is coming off full bodied out of the gate and has a meaty and nutty character to it. Taking a retrohale, there's intense sweet and spicy notes through my nose. At present its shows a bit overwhelming however the flavors are coming through steadily. Another draw and I pick up leather, toasted almond and black pepper.
As I reach the second half, this cigar is starting to taste metallic. I take a slow draw and there's a chary note with a drying earthy sensation that's coating my palate. The cigar is producing a solid white ash with a sharp burn line so I'll say the quality is looking good in terms of construction. As I take a retrohale, black pepper and bitterness come through leaving a sharp displeasing taste in my mouth. The smoke continues on its full bodied trajectory albeit with less pleasing flavors than the beginning. There's an almost dirty/gritty quality I'm getting from this smoke which is making it rough to continue with. Another draw and there's freshly tanned leather with earth leading to a gritty finish. There's an unbalanced measure to the filler tobaccos while I take a puff as the sweetness from the wrapper is being overshadowed by the bitterness and metallic tastes.
I soldier on at this point reaching the final third and the ample smoke fills my study. The spice picks up as I take another puff and the full flavor tastes like fresh tobacco with an underlying earthiness. Unfortunately my next draw brings back that metal along with a sharpness that bites on the palate. The retrohale I take is charry and burnt which resonates in my sinus as I blow the smoke out. At this time I take a final puff of the cigar that leads to a meaty and earthy short finish. A lackluster smoke.
Conclusion
What began as a powerhouse of spice, meats and nuts ended up metallic and bitter. If the cigar stayed the course from its onset I would've saw it as just a one dimensional full bodied stick. However as I progressed the charry and burnt notes were quite displeasing. The metal and dirt which reverberated on my palate seemed a result of the filler tobaccos and wasn't a complimentary blend to the sweet and spice of wrapper. It was disappointing to hear AJ Fernandez was at the helm of this project as he has done well revitalizing several Altadis brands. Although this cigar was far superior to those cigars from the 90's, I still feel the blend needs to improve for me to recommend giving this version a try.
Final Rating: 85