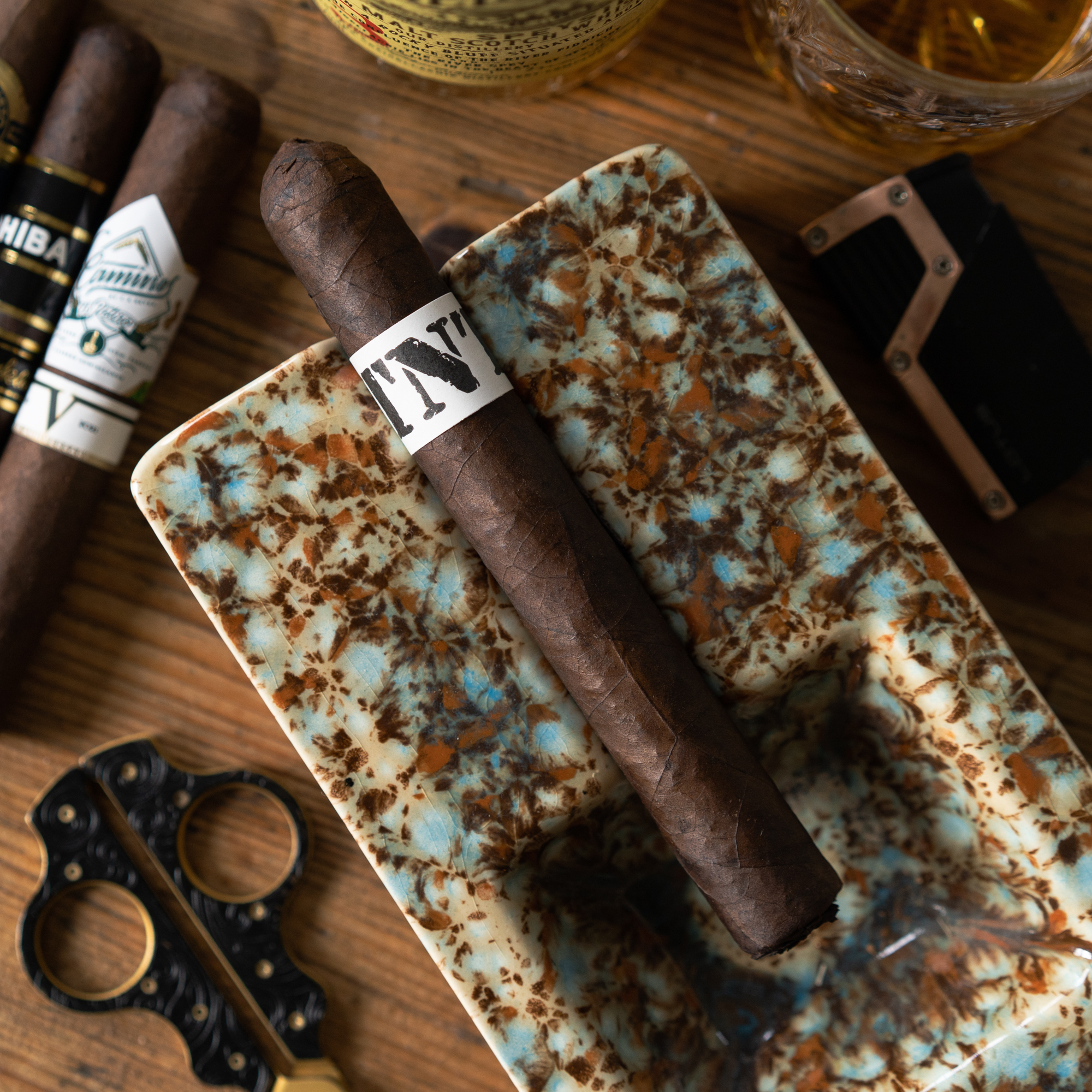 Andrew Farkas of Viaje has been creating exciting blends and themes for cigars for over a decade now. I've smoked a lot of these cleverly marketed smokes since Viaje first came on the scene. I enjoy the core lines Andrew has available as well as some of the more limited releases that range from Halloween, Christmas, Thanksgiving and even Fourth of July boutique blends for those occasions.
Blend Specifics
Cigar Reviewed: Viaje TNT 2021
Wrapper: Unknown
Binder: Unknown
Filler: Unknown
Size: 6'1/2 x 56 (Toro Extra)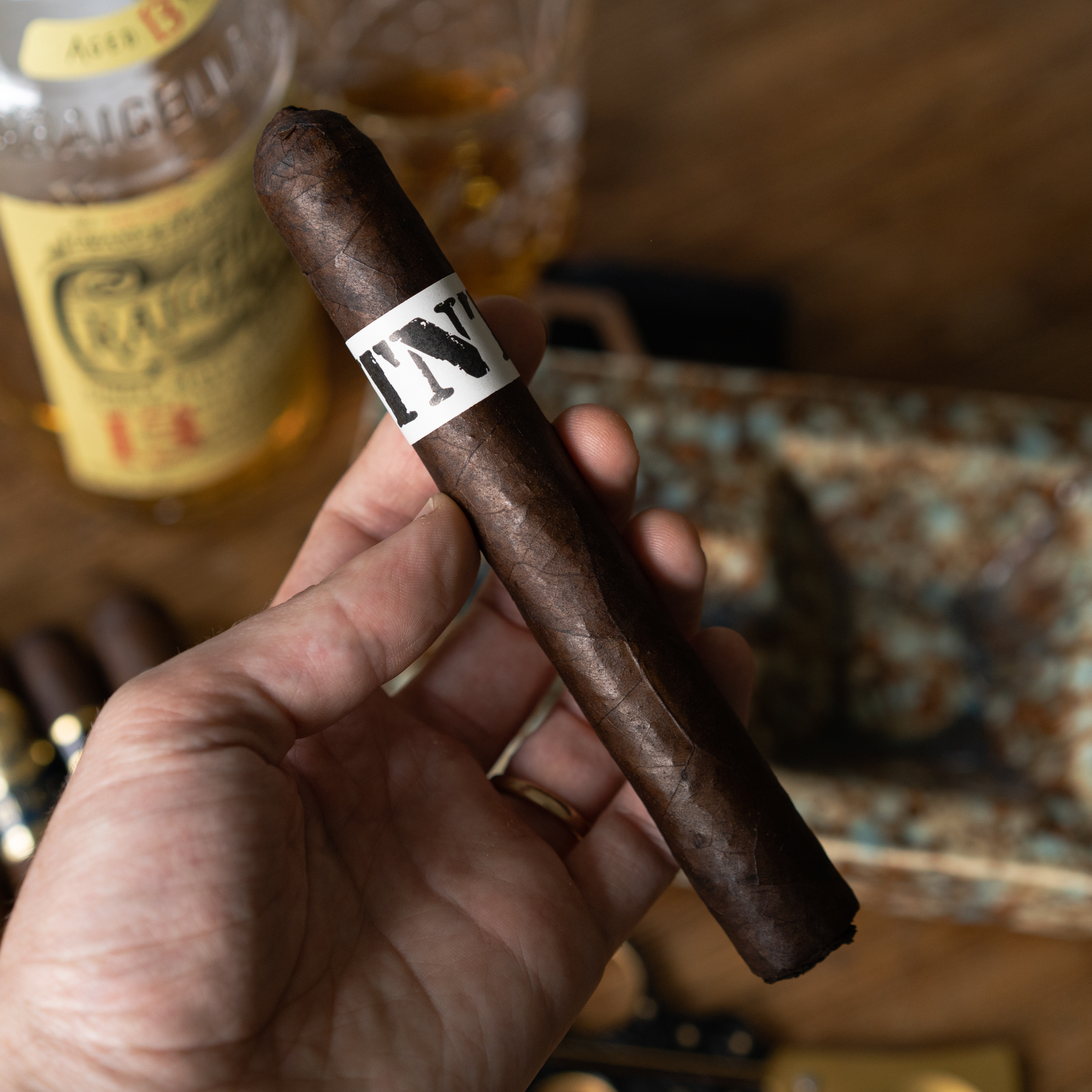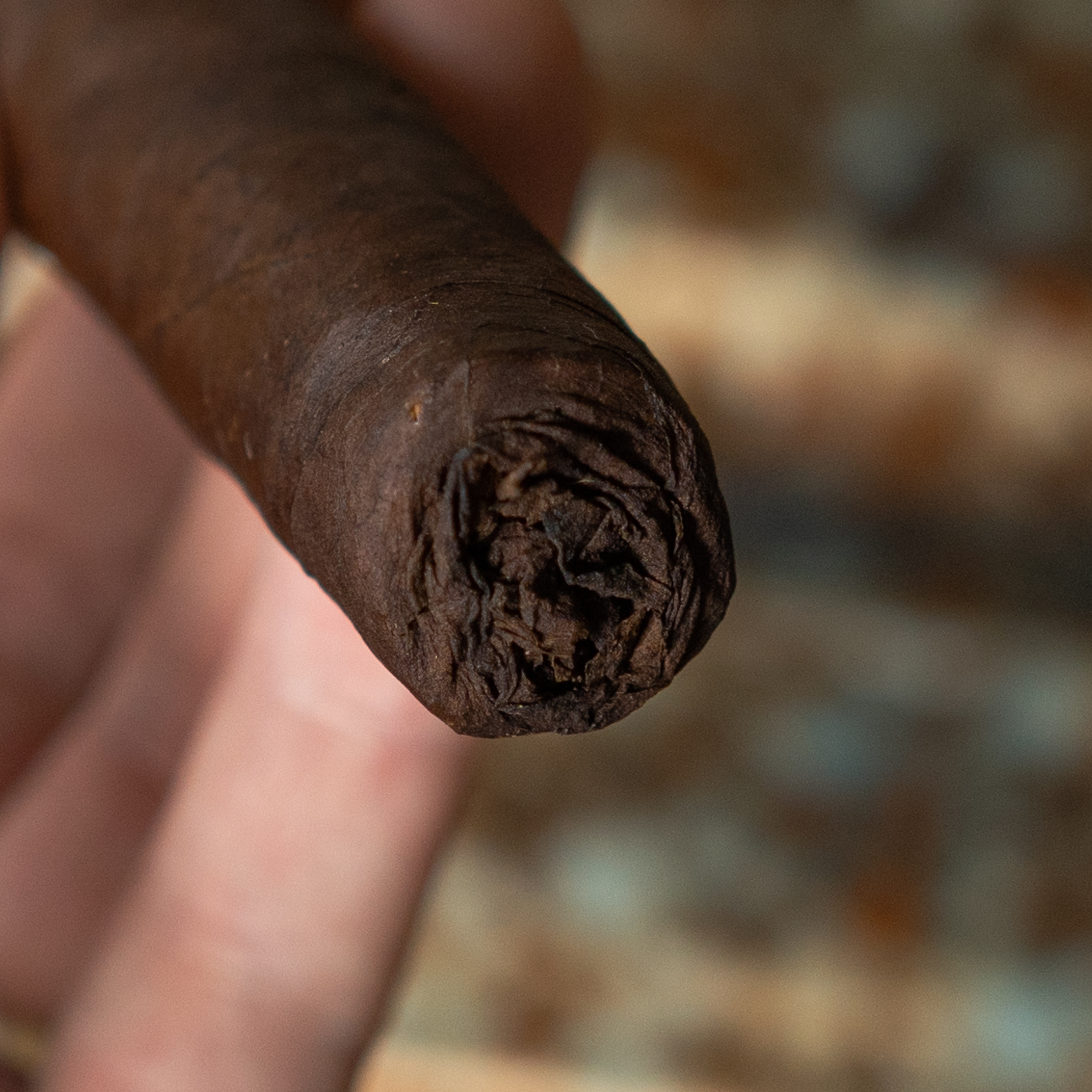 Blind Review: Viaje TNT 2021
Appearance and Construction
Glistening with oils, this dark wrapper practically shines. It has a long tail from the head running along more than half of the cigar much like a firecracker fuse. There are noticeable veins all over and to the touch this toro is fully packed. The foot is closed and there isn't much aroma as a result as I give it a smell.
Flavor and Smoke Characteristics
A straight cut clips the fuse leaving a slight hole to draw on. As I test it, I'm getting some good air coming through with prunes and toffee notes. With my cigar taper I toast the closed foot and the first draw I take offers me insight into the taste of the wrapper. Heavy layers of spice hitting my palate and hit the back of my throat. As the wrapper burns and moves to the filler tobaccos there's charry notes and barbecue with a smoky finish. I'm not surprised this cigar is delivering some full flavors and strength just by the look of it. I take a retrohale and cedar, espresso, and cream coat my palate. The ash is a solid white and thus far burning well.
Reaching the midpoint of this cigar I'm picking up biscuity notes along with cocoa powder and wood. The profile is medium full with flavors coming off bold and intense. The bright white ash is flaky and falling off slightly. Taking a retrohale cashews and coffee bean with a spicy release lingers on my tongue. Another draw, I notice the burn line wavering although the flavors do not seem adversely affected. The cocoa and nuts along with a savory finish give this large toro some nice complexities. Another puff and toffee and raisins rush through with a long finish.
There's a salty and sweet combination as I'm smoking through the last third which ends in a surprising spiciness as the smoke dissipates. A long draw brings out cedar and espresso with pepper that finishes short. With a retrohale there's dark fruit and earth that doesn't linger for that long on the palate. The cigar continues to be in the medium to full range with the flavors not staying around for too long. With a final puff earth and bramble mingle as the cigar goes out on its own.
Conclusion
The Viaje TNT delivers enough pop to warrant its firecracker appearance yet not too much where it becomes overly aggressive. The spice that began in the cigar was appropriate for what you get. The barbecue and smokiness would work perfectly to pair with food of the same on a summer outing. Funny since I'm smoking it in the winter where it would probably go well with a nice fire as it has the strength for the flavors to come through even in the cold. I enjoyed the biscuit and cocoa notes in combination with the wood all in a medium to full profile. The last third of the TNT was saltier and sweeter and the finish was shorter than at the start. If you can find any I would pickup a few to smoke with a nice fire or lay in the humidor until the summer months return and celebrate the season.
Final Rating: 90