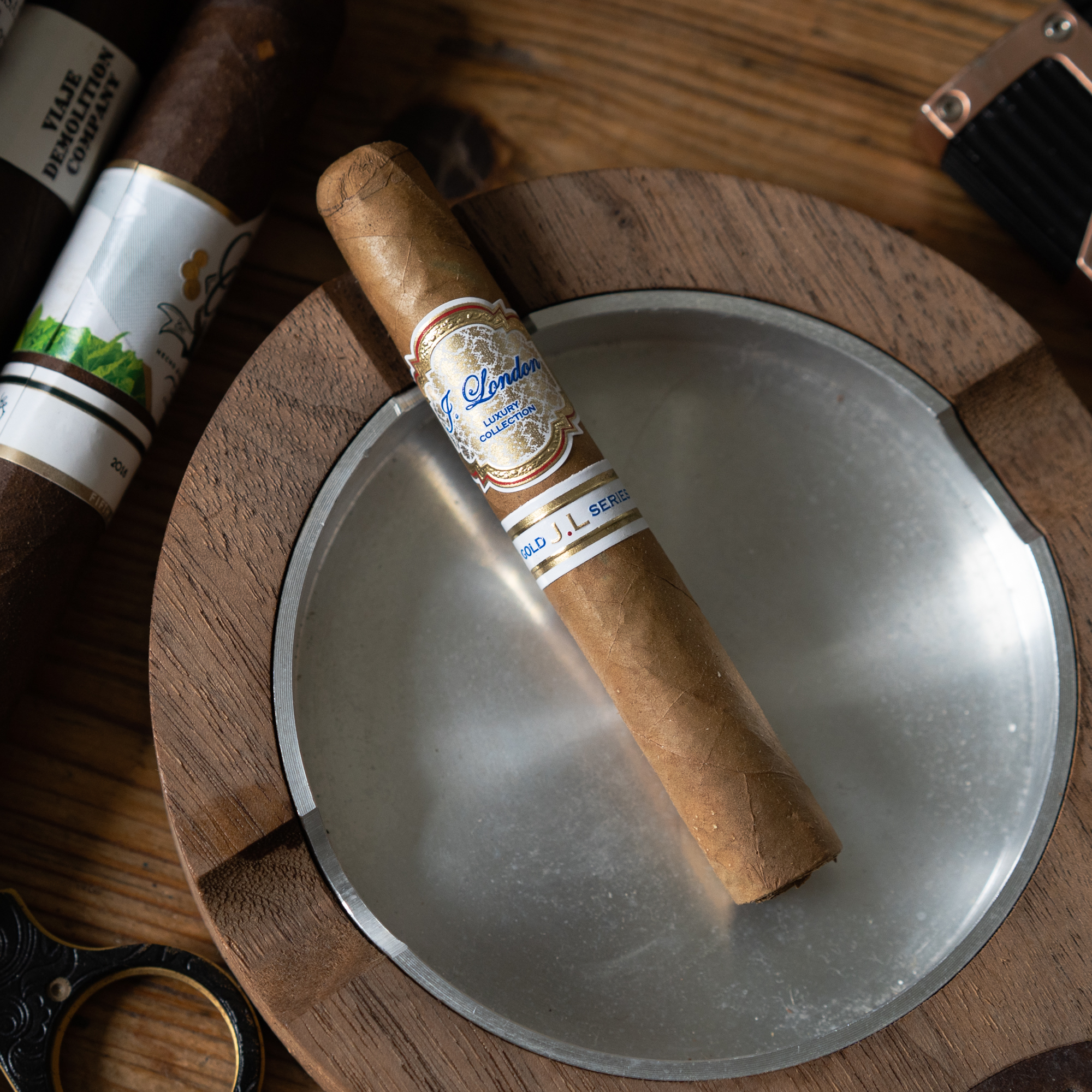 Jonathan Fiant has been developing his J. London brand largely under the radar since 2014. Truly a boutique blend made at the Tabcalera William Ventura, the Gold Series uses an Ecuadorian Connecticut Shade wrapper in its line. Admittedly I have little experience with this brand and what I've smoked from the William Ventura factory has been hit or miss. Fortunately, this was a blind tasting which gave the benefit of evaluating without the bias of knowing the brand, producer, or country of origin. I believe this is the only true and accurate way to discern a cigar if you are choosing to give it a rating. As a person who has Sommelier certifications, if would be laughable to rate a wine properly while having the luxury of knowing exactly what you are tasting. As far as I saw it, this was just a petit corona that I was looking forward to trying out!
Blend Specifics
Cigar Reviewed: J. London Queens Guard
Wrapper: Ecuadorian Connecticut
Binder: Ecuadorian Connecticut
Filler: Dominican
Size: 4 1/2x 38 (Petit Corona)
Appearance and Construction
This petit corona sports a tan, somewhat greenish wrapper. The roll is effortless and even in hand and feeling the wrapper I'm seeing it's a bit soft in certain areas. There are minimal veins and a silkiness that makes this cigar smooth to the touch. The heft is light which would account to the lack of packing in the filler tobaccos. Smelling the foot, I'm picking up vanilla bean and a faint earthiness.
Flavor and Smoke Characteristics
A straight cut with my Lamborghini guillotine cutter slices quick and clean. I take a dry draw and wood notes ala oak as well as mushroom and wheat come through. I figure this cigar needs a soft easy flame, so I take a long match and lightly toast it. With the first puff there's maple and leather with a dryness on the palate. Another slow draw brings about a fruitiness that does not last long. I take a retrohale and there's candy corn and a dampness on the exhale. This is a mild smoke to start with only a small uptick to a medium body. The ash is presenting itself as whitish/gray and thus far holding on.
The middle of the petit corona is showing some pealing in the wrapper which is concerning. Another puff delivers marzipan and cedar notes. With a quick retrohale that stings my nostrils, a bit of oak and some floral notes intermix ending with a short finish. The wrapper continues to peel slightly as the strength builds into the medium range. Another draw and I pick up a pleasant creaminess with rose petal that develops into an earthiness on the back end. There seems to be a bit more complexities at present which is making the cigar more interesting.
Coming to the last third there's fruit and nuts with a bite to the finish. I take a longer puff where there's more wheat and wood notes that cover the sides of my mouth and quickly dissipate. The retrohale seems to reveal a bit more from this cigar and as I take one there's vanilla and a nuttiness that lingers. The wrapper is still peeling although it has not unraveled completely and hasn't compromised the taste as much as I worried it might. The medium body seems to be where its staying and a last draw of this petit corona gives off a dying leathery finish that began the cigar. A roundabout ending to the smoke.
Conclusion
As I mentioned I haven't had a lot of experience with the J. London Brand. While I did enjoy the wrapper in this blend the filler tobaccos could have benefited from more complexity. There were drying leather, wood, fruit, and candied notes that satisfied, but the finish always came up short. When the wrapper began to peel, I was concerned the combustion and flavors would be adversely affected but thankfully that was not the case. The body developed into a solid medium range and the retrohale seemed to reveal floral and wheat notes, although again in short supply. I would certainly like to try other vitolas in the J. London series and see what the other sizes offer to this blend. I would pick one up as a quick day smoke or even on a fresh palate mid-morning.
Final Rating: 88