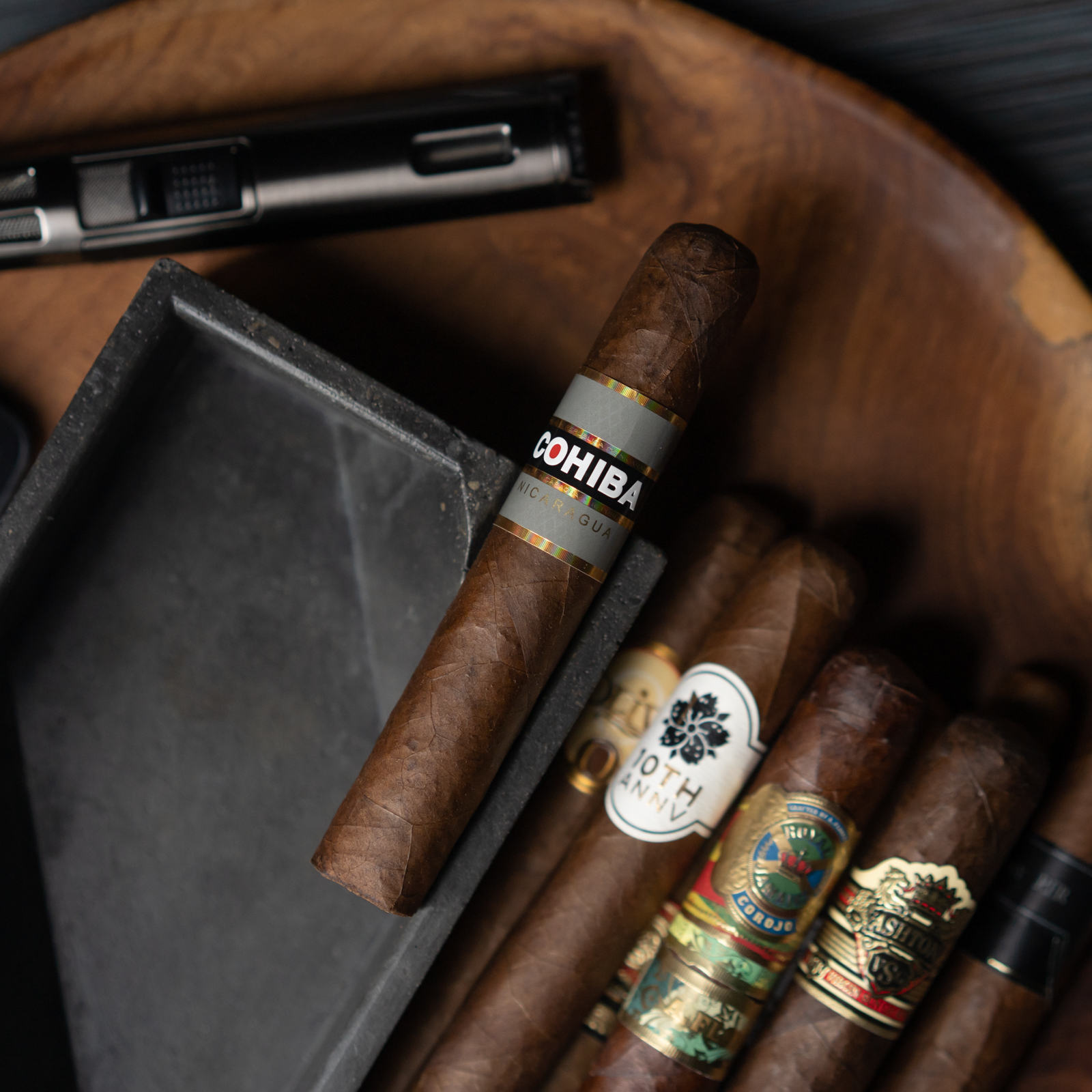 Cohiba Cigars USA, released by parent company General Cigars, is one of the many post-embargo Cuban brands reincarnated throughout various factories in the Dominican Republic and Nicaragua.  General Cigars has done a great job revitalizing the image of the Cohiba brand in the USA, despite its Cuban-tobacco-only heritage. To meet the increasing demand for fuller body smokes, it is good to see General Cigar finally taking its Cohiba label to task with embracing all the flavor profiles Nicaraguan tobacco has to offer.
Blend Specifics
Cigar Reviewed: Cohiba Nicaragua N54
Wrapper: Nicarauguan or Honduran Habano Oscuro
Binder: Nicaraguan (Jalapa)
Filler: Nicaraguan (Jalapa and Esteli)
Size: 5×54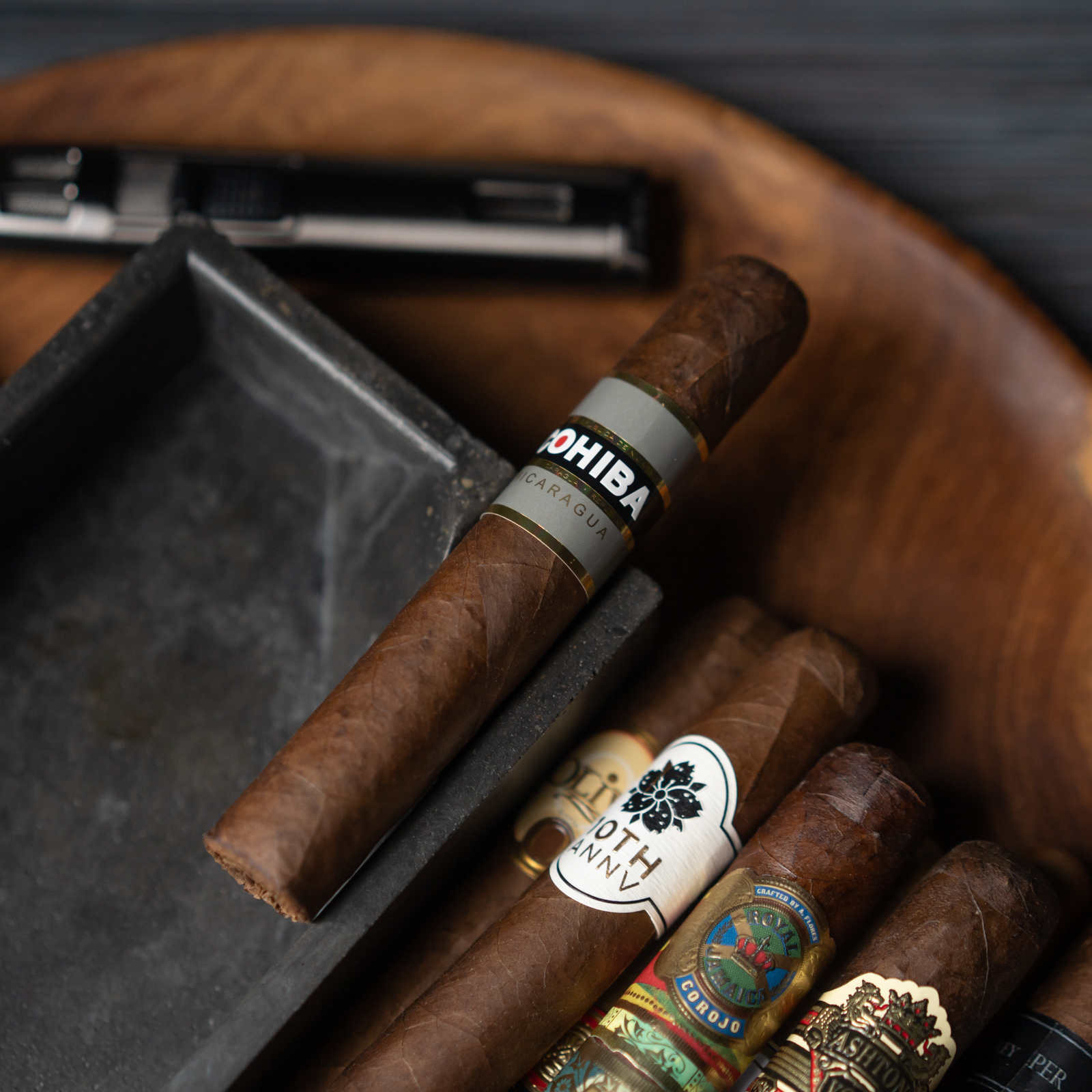 Blind Review Notes: Cohiba Nicaragua N54
Appearance & Construction:
Let me begin by saying, that as soon as I received this cigar, I was hyped! First and foremost, it is a robusto with a thick ring gauge.  Secondly, its a beautiful maduro with a toothy, oily, veiny, speckled wrapper.  It's light as a feather but feels packed firm from top to bottom.  This is a working persons cigar! The type of stick that any blue collar life-form stereotypically has hanging out of their mouths while performing an oil change or smacking a zombie in the head with a nail riddled baseball bat.  Long story short, "snowflakes" melt before cigars like this.  Even now, the hairs on my chest are growing thicker, and before you know it, adamantium claws are emerging from between my knuckles.
Flavor & Smoke Characteristics:
The cigar is very aromatic.  The foot and wrapper smell like raisins, cedar, and molasses- the holy trinity of well aged and fermented leaves.  I decide to go with a traditional guillotine cut. The cold draw is filled with more cedar and a spice that karate chops me in the throat. My smoking environment as of late is ideal.  The patio is warm with a summer breeze and the humidity level is perfect, so I'm going to light up with my butane soft flame.  Contrary to cigar snobs everywhere, super-dark and oily cigars will light fine under soft flame without you having to put a pyrotechnic expert on your payroll.  It toasts perfectly, but on combustion the cherried ash reveals some tunneling- Intro: funeral dirge…What a way to rain on my parade!  We will just have to see how it smokes regardless.
The first few puffs hit me with a psychedelic trip of flavors.  If I were Matt Booth, I'd compare this experience to a 4-way bukkake where the lead startlet didn't read the film script before shooting began…pun intended…I'm experiencing chocolate, hazelnuts, cedar and hot pepper all at once.  Good God! What sorcery is this?!  However, as satisfied as I am without the flavor profile, the flawed construction is proving to be more problematic then ever.  There is not just one tunnel, or even two…THERE ARE THREE!!! THREE TUNNELS! AH AH AH! Where's the Count from Sesame Street when you need him?!  The wrapper leaf is no longer combusting in tandem with the binder and filler.  I've had to relight it twice so far.  I am still able to make out the typical sweet maduro nuances and some hot pepper.  The retro is spicy.
Just before reaching the finish line of the first third, I break out my guillotine cutter and amputate myself somewhere into the second third.  Sometimes, this minor ER surgery can help bypass poorly bunched leaves.  For those that don't know, buncheros hold the filler in their hands as well as they can, but overcoming evolution isn't easy! Your opposable thumb is always stronger then your pinky and ring finger. Even after wrapping and molding, the bottom half of that filler bunch might still have gaps in the mix.
Anyway, removing Medusas' head helps a little bit. The second third proves to be almost Cubanesque.  Think: slightly fruity and floral on the retro.  There is also molasses and pepper hanging in the wings.
I get frustrated again because the initial tunneling set the cigar off-kilter.  I lop off a little more and time travel into the last third.  Yes, your dinky cigar cutter can actually defy orthodox quantum physics models! The final third appears normal upon inspection. This bunchero most likely only had a thumb and possibly an index finger… Don't look at me like you never saw a two-fingered bunchero before. THEY'RE EVERYWHERE!  As I smoke the remains of such a flavor bomb, I think about what woulda', coulda', and shoulda' been.  The nublet offers up burnt fruit, roasted hazelnuts, and espresso beans.  The retrohale is non-existent.
Conclusion:
It has been revealed to me that I just smoked the Cohiba Nicaraugua N54.  This cigar was actually on my "give-it-a-shot-sometime" list.  American Cohibas aren't that BAD!  I'm just glad that General Cigars decided to try something else then producing more flavorless "Red Dots."  My peers commented that I may have been a little generous with my scoring.  I can't trash such a flavorful cigar simply because the bunchero may have been missing some digits.  This Nicaraguan beauty- for us us who smoke puros on the regular- should fit in the daily rotation quite well.  The Cohiba Nicaragua N54 pulls no punches.  It is a very true representation of the Esteli and Jalapa terroirs that birthed it.  Also, for those who are strict devotees to CT broadleaf maduro- the Habano Oscuro wrapper on the Cohiba Nicaragua makes for a good runner-up if your local B&M only carries legacy brands. Remember kids, if you, "cant knock the hustle," you cant knock sabor either!
Final Score: 85