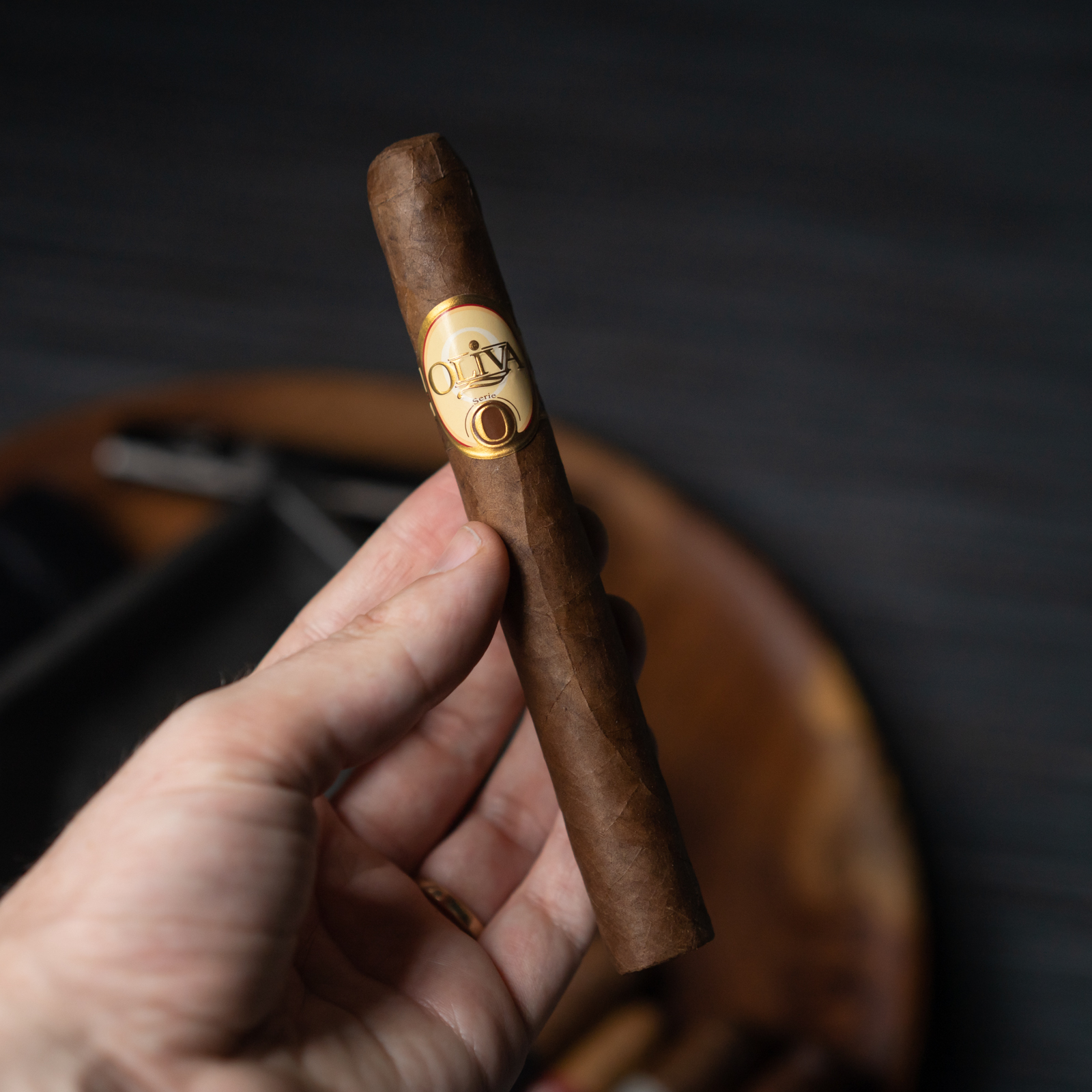 The Oliva Serie O Corona is manufactured by Oliva Cigar Co. at their factory in Esteli, Nicaragua.  Formerly launched in 1995 as an independent cigar company, their steady popularity lead them to be purchased in 2016 by J. Cortes Cigars which has continued the acclaimed production of the brand. However, to this day, all the Oliva family siblings are still at the helm of the tobacco growing and cigar manufacturing. Oliva Cigar co. is not to be confused with the other world-renowned tobacco farming family known as "Oliva Tobacco Co." or the long established cigar brand "Oliveros."
Blend Specifics
Cigar Reviewed: Oliva Serie O Corona
Wrapper: Ecuadorian Habano
Binder: Nicaragua
Filler: Nicaragua
Size: 6×46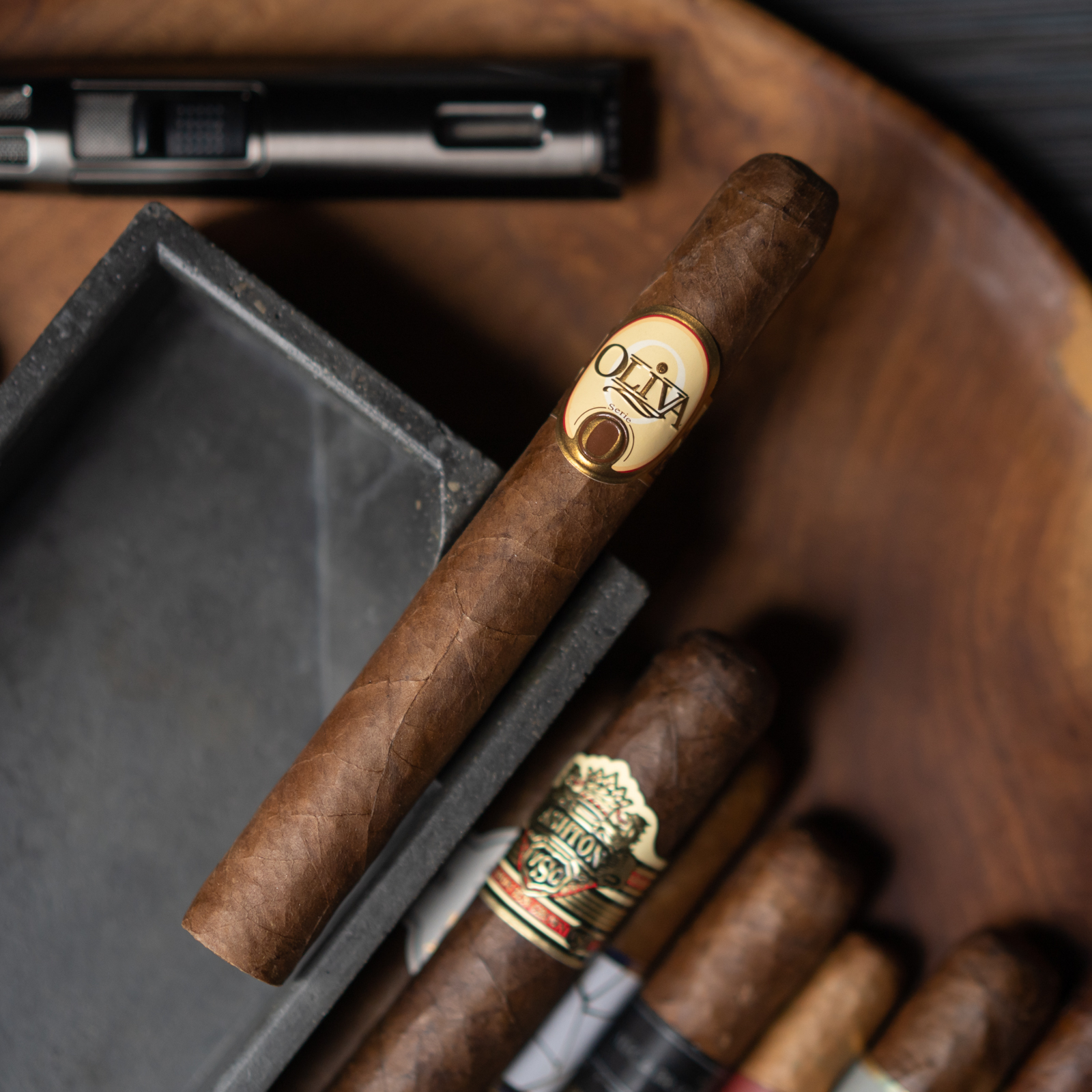 Blind Review Notes: Oliva Serie O Corona
Appearance & Construction:
Whether your a traditionalist, a diplomat, or an egotistical guerilla who's running-and-gunning through the jungles, nothing beats an old fashioned corona vitola. I prefer a petite corona if you ask me, but why not feel like "El Comandante" for a night?  The only thing I seem to notice off the bat, appearance-wise, is that one-half of the wrapper leaf is a shade darker then the rest of the cigar.  This could have happened anywhere out in the fields, barn, or factory and may have an effect on flavor, but not necessarily smokabilty.  Other then that, it is nicely packed and feels weightless.  Let's see what happens.
Flavor & Smoke Characteristics:
The cigar has a very strong and singular cedar smell to it.  I apply a cross-cut and experience more strong cedar on the cold draw. The cigar toasts and lights quickly with a simple soft flame. I mean how could I not go for a soft flame, on such a classic vitola?!
It combusts with charm as would be fitting for this cigar, and all I have to say is…."nnnnniiiicccceee." Nothing but smooth cedar, and a phenomenal creamy draw.  The first third is speckled with notes of salt, perfume, and spice.  The tale end of the first third is chocolatey with a salty retro. Very good smoke production so far.  The whole time, there is that very unmistakable Habano-esque strawberry hard-candy aroma on the palate.  You know?!  Those strawberry hard-candies that old ladies always have on hand in some crystal dish or an ashtray when you visit their house?  You know?!  Because you happen to frequent the homes of old ladies….Anyone?! Anyway, remember how those candies were as fossilized as their owner, but kept that artificial strawberry glory on the palate?  That same flavor is here to greet your nostalgia or current fetish.
The second third is still a flavor bomb,  just less fruity and gerontosexual.  There is chili spice with some sawdust and mahogany.  Leather, potting soil, and cherry-cola on the finish.  Its becoming more refined, like your growing attraction towards peoples grandmothers everywhere.  The retrohale distinctly reminds me of receiving the Sunday Times. Remember how they used to come in those tight blue plastic bags. Now, I never delivered the newspaper myself, I would just smell the inside of the bags….and now I review cigars.  I'm looking for someone to relate to me here!
What we have here is a cigar that just keeps on delivering even in the last third. There are some routine notes, but also heavy whiffs of cumin, hazelnut coffee, nougat, and house plants.  My only complaint is that the cigar starts to pick up heat.  As expected, that might have to do with the last half of the leaf being a shade darker.  The cigar becomes harsher on the palate and its hard to keep the smoke cool.  Some people are into burning their victims alive just so they can see what they smell like.  Not me. Been there, done that, bought the t-shirt…I hung my tough-guy boots up a long time ago.  I smoke it down to about an inch and let the cigar drown out in my ashtray. Oh well.
Conclusion:
Turns out, that I just smoked the Oliva Serie O Corona.  Its been a long time in my personal cigar journey since I smoked one of these.  Definitely better then I remember them.  Except for the construction hiccup I experienced at the very end, I didn't have to deduct any other points.  The Oliva Serie O provides a great smoking experience with tons of mouth watering flavors.  The classic corona vitola is also a perfect fit for anybody grilling, chilling, or finally breaching your oppositions buildings.  Its cloaked in an Ecuador Habano but smokes just like any Nicaraguan corojo on the market.  That being said, you still shouldn't pass up on such a legacy brand like Oliva Cigar Co. The Serie O would be considered their entry level cigar at the price point, and if you have never given the brand a try, I would heavily recommend beginning here. Enjoy.
Final Score: 90