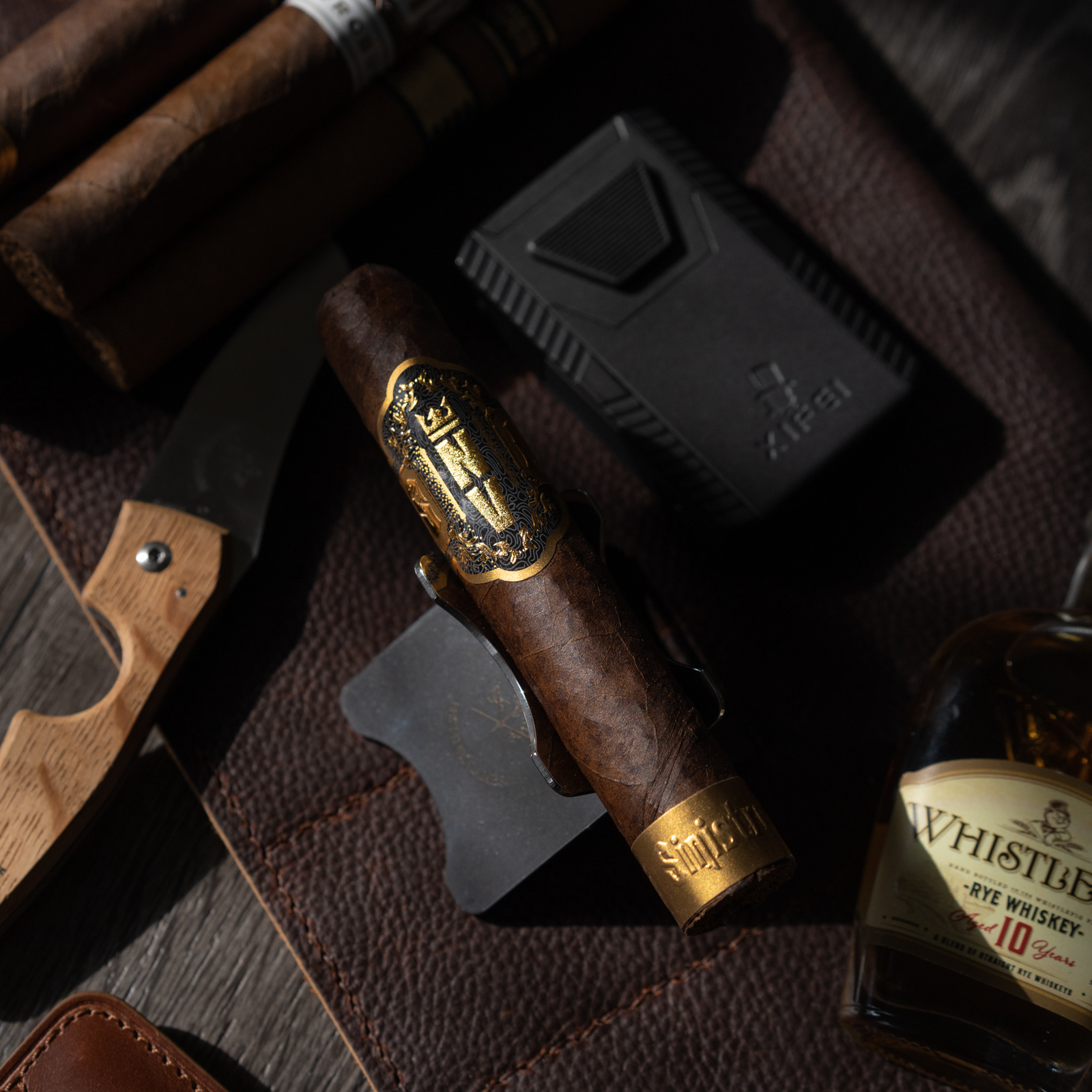 James Agopian and Coleman Fine are the founders of Sinistro Cigars. They are based in Glendale, California, and have over three decades of experience in the tobacco industry.
At the end of 2021, Sinistro released its ultra-premium line, the Sinistro NV. This project started with a Dominican Corojo Maduro leaf as its wrapper that has been aged 10 years. The leaf used is from a small farm in Tamboril, Dominican Republic, which they purchased several years back with Tabacalera El Artista.
In an interview with Halfwheel, Coleman revealed that "the company lost approximately 35% to 40% of the yield during the fermentation process in order to achieve the desired Maduro wrapper leaf." As a result, their debut release was a limited production of 150 boxes of each size, and it was only offered to their top 10 retailers. In the same interview, Coleman also explains the meaning behind NV and why it is so near and dear to both him and his partner Agopian.   "On the cigar band are two gold coins; an Armenian 'N' and a Syrian (Arabic) 'V' symbolizing James' and my heritage." For more information, please visit Halfwheel for the full article, or check out Sinistro Cigars on their website.
Blend Specifics
Cigar Reviewed: Sinistro NV
Wrapper: Dominican Corojo Maduro (10 years aged)
Binder: Indonesian Sumatran
Filler: Dominican (Seco & Ligero), Nicaraguan Ligero, and Pennsylvania Ligero.
Size: Remus (5″x52)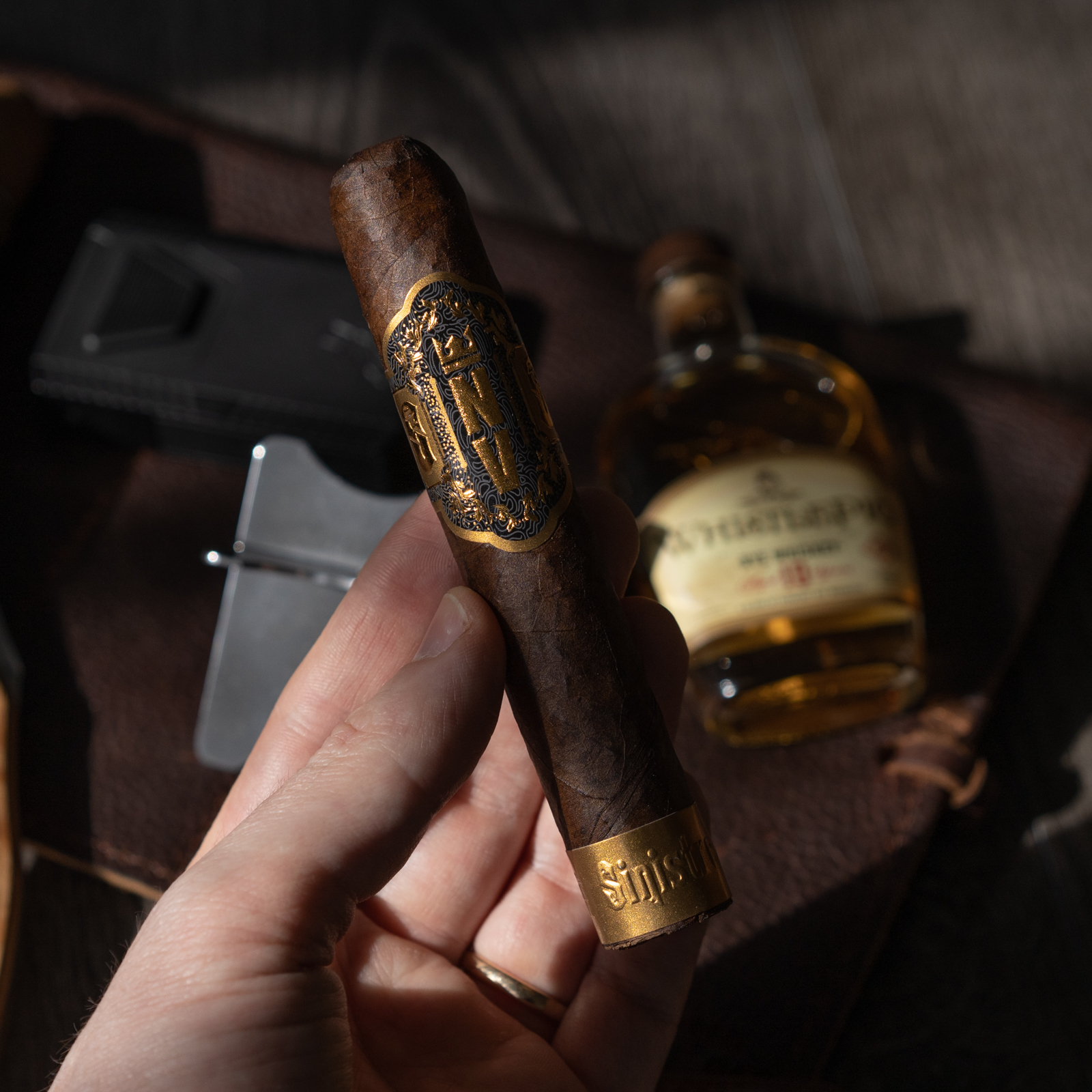 Appearance & Construction
The cigar is in a shade of dark roasted espresso beans. There is a sheen off the wrapper; soft yet sturdy to the touch, and unlike other Maduro wrappers, I don't feel any oil excreted from the surface, yet it is not dry. There are few visible veins, but this cigar is rolled so well that the seam is hidden in between the few visible veins. The cigar felt quite dense. As I squeeze the cigar between my fingers, it feels solid without any springiness.
Flavor and Smoke Characteristics
I get a hint of fruity sweetness and tartness on the wrapper. It is even more notable on the foot of the cigar, along with some white pepper spice. I followed up with a cold draw after shaving off the cap and got pampered with creamy oats, leather, and rock candy. I am thoroughly enjoying everything about this cigar up to this point. I really hope the actual smoking experience can live up to my expectation.
Even while lighting this cigar, a sweetness is transported within the velvety smoke. Once the cherry becomes bright red/orange, I take my first puff and get flavors of creamy oats, tan leather, sunflower seeds, and a profile that made me think of damp mossy wood (not in a negative way; just a combination of grassy bitterness, old books, and wood.) I followed with a retrohale and got warm baking spices, sunflower seeds, and sawdust. The smoke left a creamy film on the top of my tongue. The finish is bitter-sweet. The draw is a 7 out of 10 due to restrictiveness and the ash is holding on past the first inch with ease with a burn line as straight as it can be.
Without notice, I arrive at the second third. I indulge in a rich, dark caramel flavor with highlights of sunflower seeds, tan leather, and cedarwood. The retrohale deepens the profile, and I continue to get warm baking spices, accompanied by caramel and roasted peanut shells. The finish of this cigar is still creamy with roasted peanuts and a hint of sweetness.
The ash held on more than halfway before it decided to let go.
I realize I have to be aware of my actions and prevent myself from constantly puffing on this cigar. The flavors are very addicting, and they continue to intensify with caramel, espresso beans, roasted peanuts, and cedarwood. A hint of spice is slowly creeping onto my palate, and the finish is still sweet. The retrohale consists of baking spice, sweet hay, and oakwood.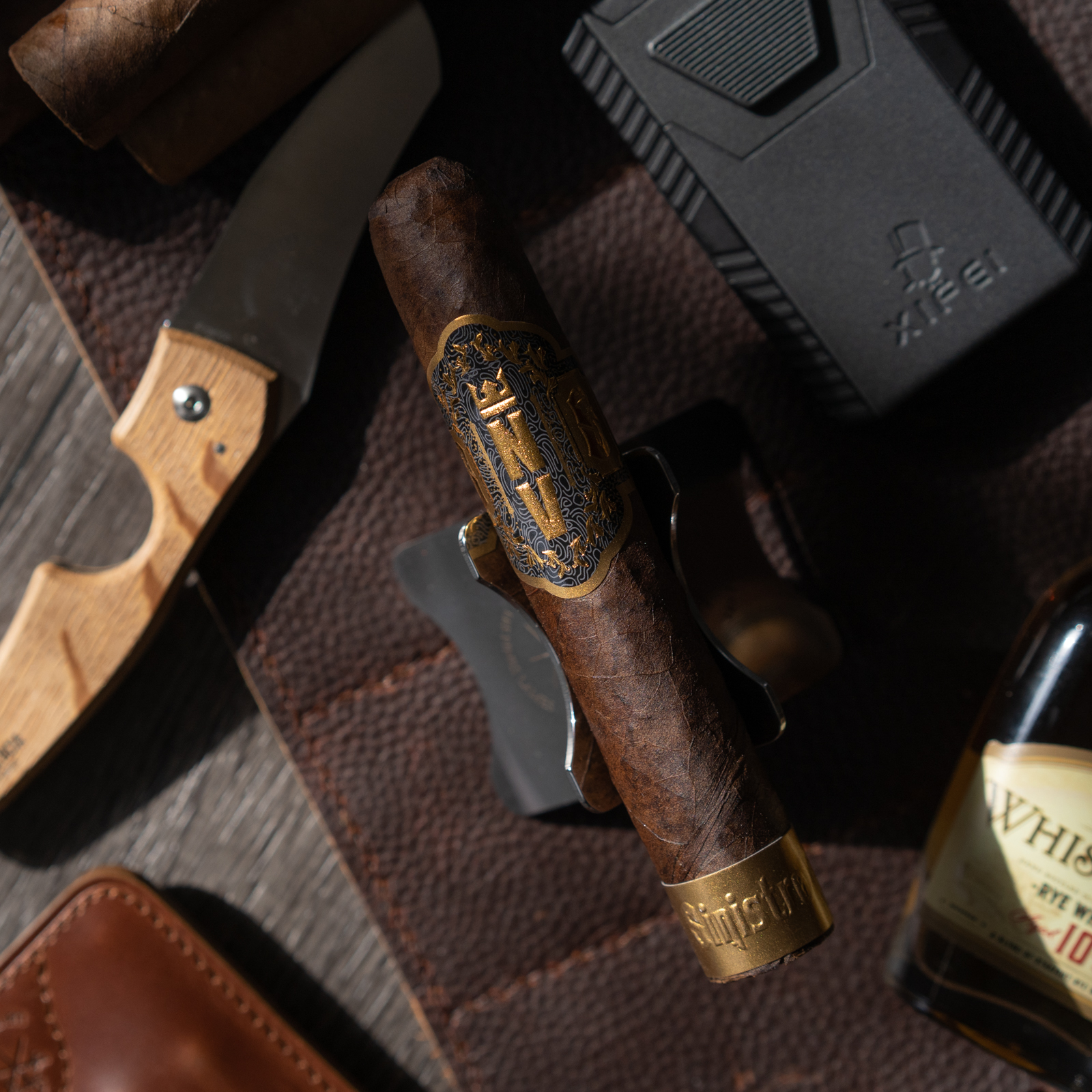 Unfortunately, an unsavory taste emerged, ammonia! As soon as I identified the distasteful note, I purged the cigar, hoping it would push out all the impurity that is trapped and unwanted flavors out of the cigar. IT WORKED!!! The taste of ammonia was expelled through the purge. However, my palate was already tainted by this unpleasantness. Even with a negative experience as bad as ammonia, I still managed to smoke this cigar down to the nub. The sweet and creamy roasted peanuts and a hint of spice is a great combo that kept me going back for more until the very end.
Conclusion
The Sinistro UV was flawless from pre-light until the final third. At a point, I did find myself looking for another profile to cut the everlasting sweet and creamy consistency on my palate, but it kept me going back for more. The construction was impeccable throughout the whole experience. The ammonia taste was probably the only negative I encountered, but it went as quickly as it came. The Sinistro UV would've been a near-perfect smoke if it wasn't for that last part. I encourage everyone to seek out this limited treat and tell me what you think.
Final Rating: 90