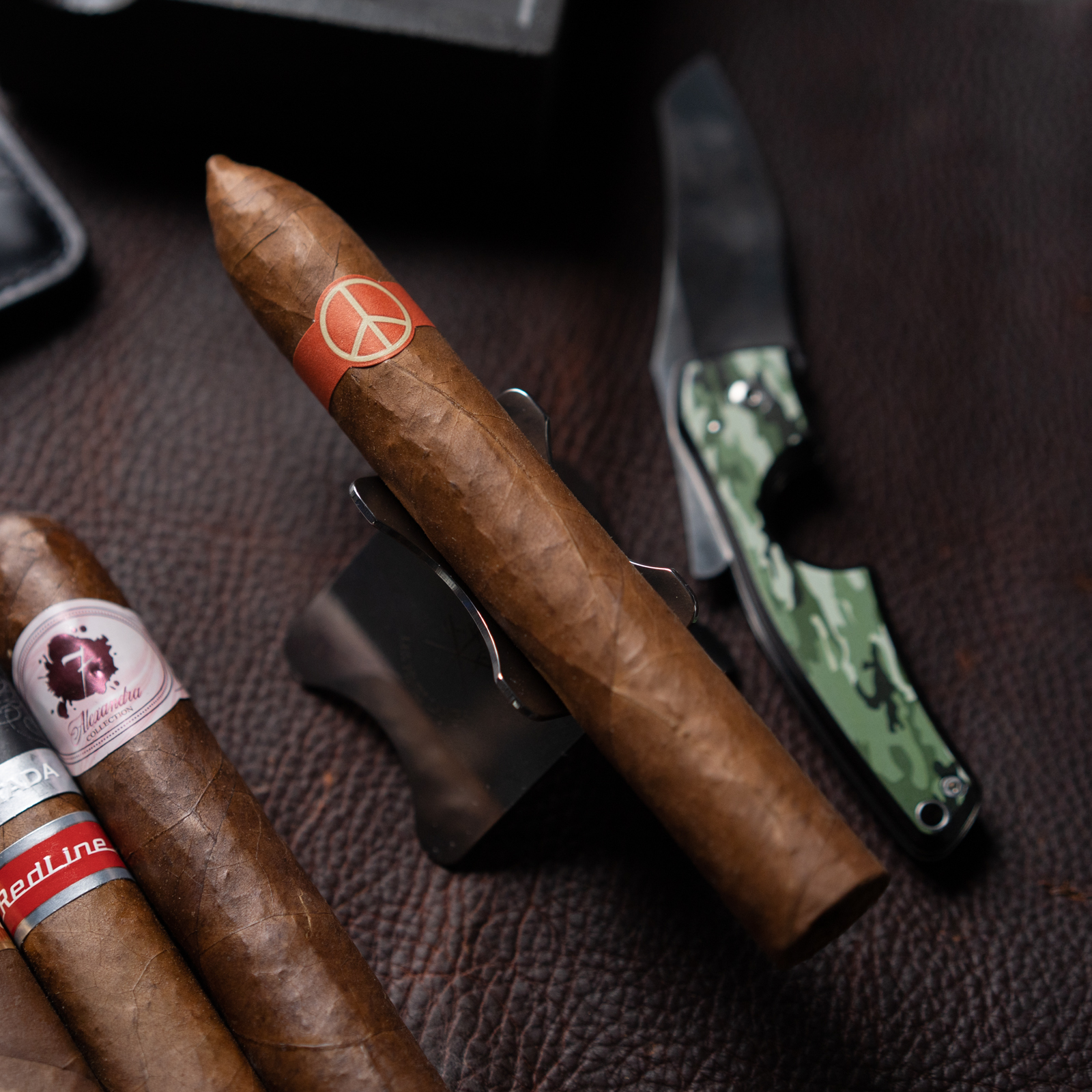 Illusione Oneoff Pyramides are made by Illusione Cigars. They are manufactured in Aganorsas' world renowned factory in Nicaragua known as TABSA.  Originally produced in 2001 by Plasencia for the former airline CEO, Andrea Molinari, OneOff was branded with a very unique "peace sign" logo which also donned his fleet of jets.  When the brand was no more, Dion Giolito of Illusione acquired the mark for one very important reason- OneOff was actually the cigar that inspired him to start his own boutique company which would manufacture similarly unique small-batch cigars.
Blend Specifics
Cigar Reviewed: Illusione OneOff Pyramides
Wrapper: Honduran
Binder: Nicaragua
Filler: Nicaragua
Size: 6 1/8 x  52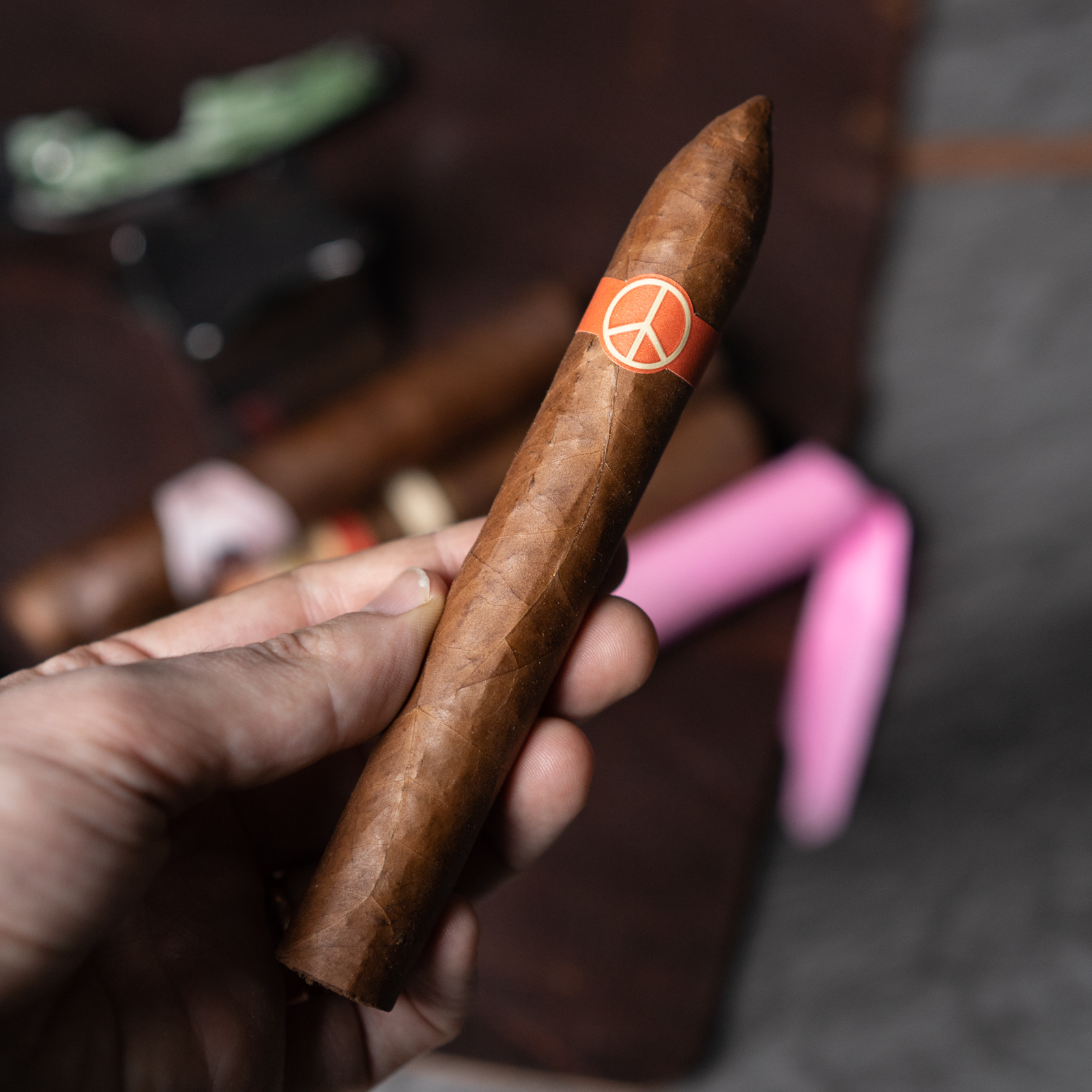 Appearance & Construction
The cigar is a very eye-catching triple-capped pyramides with a traditional tobacco brown hue like my favorite pair of union work boots. The wrapper leaf is very rustic and toothy, scattered with the veins and inner workings of the leaf. A true specimen of botanical glory for any plant lover to geek out over. Because of the lighter shade, you can make out every detail of the tobacco leaf, giving the impression that the wrapper was primed, dried, cured, and rolled for me all just yesterday. It has a very nice weight in the palm of my hand, and is constructed firm from top to bottom. It feels that it was bunched very well.
Flavor & Smoke Characteristics
The whole cigar and especially the foot smells like scattered rye straw that got damp in the rain. It also has the typical notes of cedar but there is also some pine and sweetness present as well.
The cold draw absolutely floors me. I was not expecting this. It was like walking into a well kept humidor at your local B&M. It is that very floral and perfumey dampness that arises when aging tobacco and cedar siding gets married under humidity. If you're a fan of the movie, "Midnight in Paris," and are a sucker for nostalgia- this cigar will instantly inspire thoughts of your first journeys into the cigar world. All this reminiscing makes me very excited to light this cigar up. A simple V-cut and single torch flame, and we're off to the races!
As I toast the cigar the initial aroma reminds me of building a fire. Not that campfire smell you normally come across, but that specific smell you get when you're working with an actual fireplace. It lights and combusts perfectly. First puff is super smooth. Just what the doctor ordered after a hard day's work.
As I travel through the first third, again, the aroma coming off the foot of the cigar is really unique. It is like cotton candy being made in the distance at a state fair. On the palate, there is milk chocolate and the unmistakable flavor of popcorn on the finish. As it progresses and the oils begin to heat up, I retrohale, and notice some white pepper building in the body of the smoke. The smoke coming off the foot is losing the cotton candy, and becoming a more refined and typical scent of wood and hazelnuts. The saliva in my mouth is becoming sweet, and as I rest the cigar in between draws, I can still taste popcorn. The taste of the walk-in humidor reemerges as the first third burns away and I enter the second third. I am enjoying this experience. It is romanticism in the form of smoke. I am also reveling in its solid construction. It has a tight draw, not because of stems, but because of how well packed with filler this cigar is. All that tobacco being siphoned through a mountain-peak-top may also have to do with the tight draw. Needless to say, when a cigar is built like Fort Knox, I find you can just be yourself while smoking it, and don't have to babysit the burn line and temperature too much. As the kids say nowadays, "I'M CHILLIN'!"
Second third still has great smoke production with a nice ash build up. There is more spice like nutmeg and black pepper with the popcorn still in the background. I have to note once more, that what makes this cigar amazing, is the smoke leaving the foot. It has now morphed into a very confectionery aroma, like the frosting on a chocolate cupcake. The retrohale is spicy.
The last third, the draw loosens up a little. As the cigar moistened, I kept massaging the cap between my fingers and this technique has been fairing me well throughout. I notice some harshness and resin buildup, however, and have to purge the last third a few times to keep the love in the air. The purging refreshes a new palate intake of coffee made with heavy cream. I also recognize my abuelita's perfume (for you gringos: it smells like grandma's house!). The popcorn has faded and I'm now getting soil and coffee grounds. The retrohale is all leather jackets and hazelnuts from here on out. The aroma of the cigar fading away in my ashtray smells like a bag of marshmallows. What a trip!
Conclusion
The Illusione OneOff Pyramides was phenomenal. I haven't smoked a cigar like this in a while. The price tag is worth every penny in my opinion. The experience alone is also well worth you're time. I only deducted points for the harshness I had to battle through on the last third. I personally would like to smoke through other vitolas in search of the blend that can go the distance. If you're a hopeless romantic or just flat-out-bored with what you've been smoking in your usual cigar rotation, the Illusione OneOff Pyramides is for you. Lastly, I have to repeat myself: THE SMOKE COMING OFF THE FOOT OF THE CIGAR, MAN! If you're into lighting incense, throw out your whole DIY ashram set-up and just replace it with a couple of Illusione Oneoff Pyramides. Your gods will actually be happy you gave them a more worthy smoke-offering for once. It's one thing when a cigar tickles your palate, but a whole other thing, when you can get absolutely seduced and carried off in a fantastical cloud of smoke. Enjoy!
Final Score: 90