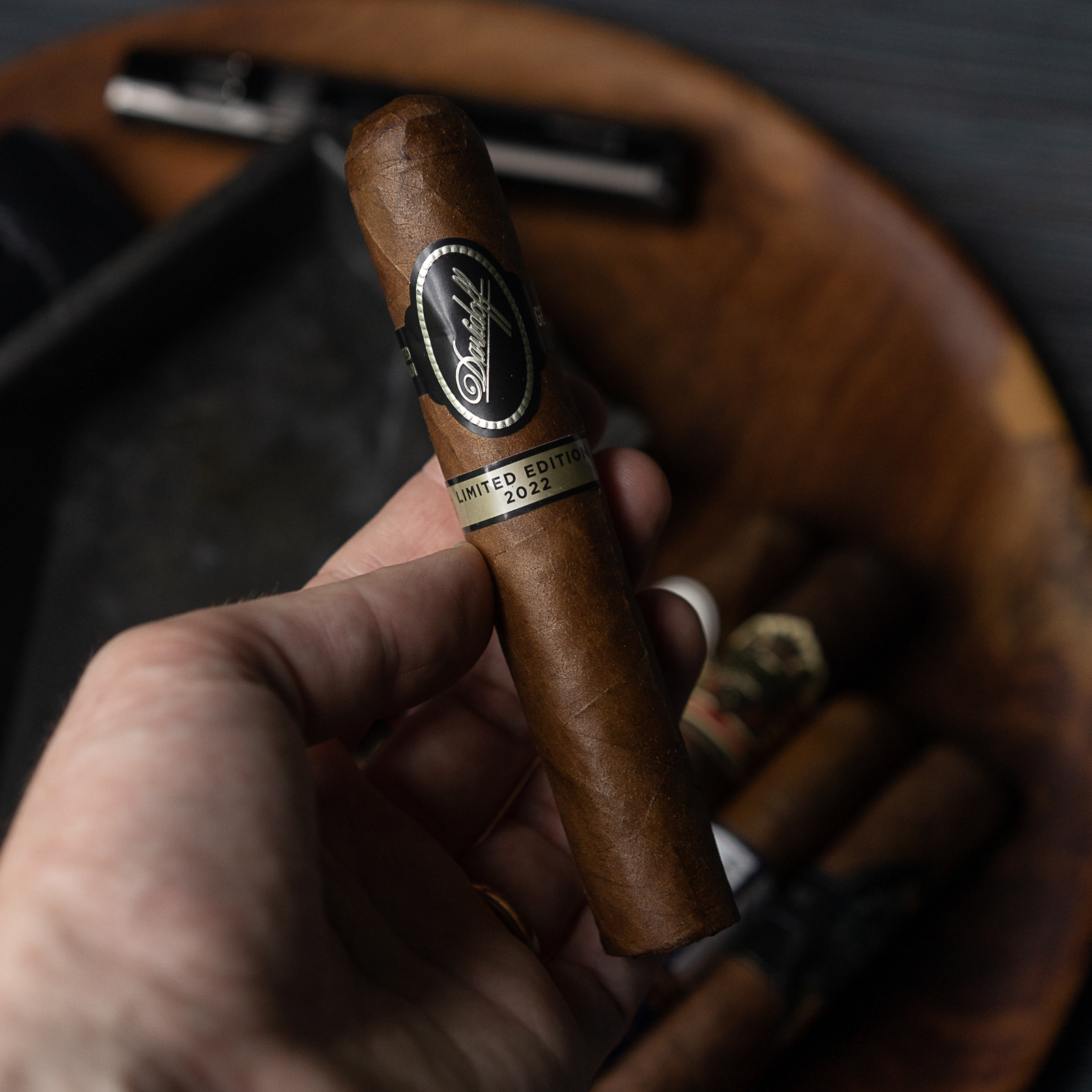 Davidoff's black band series has sought to capture the essence of three unique tobaccos to create a blend that stimulates the palate. The 2022 Edition is made up of Brazilian, Nicaraguan, and Dominican tobaccos.
Blend Specifics
Cigar Reviewed: Davidoff Limited Edition 2022 Gran Toro
Wrapper: Ecuadorian
Binder: Brazilian
Filler: Brazilian, Nicaraguan, Dominican
Size: 5" ½ x 58 (Gran Toro)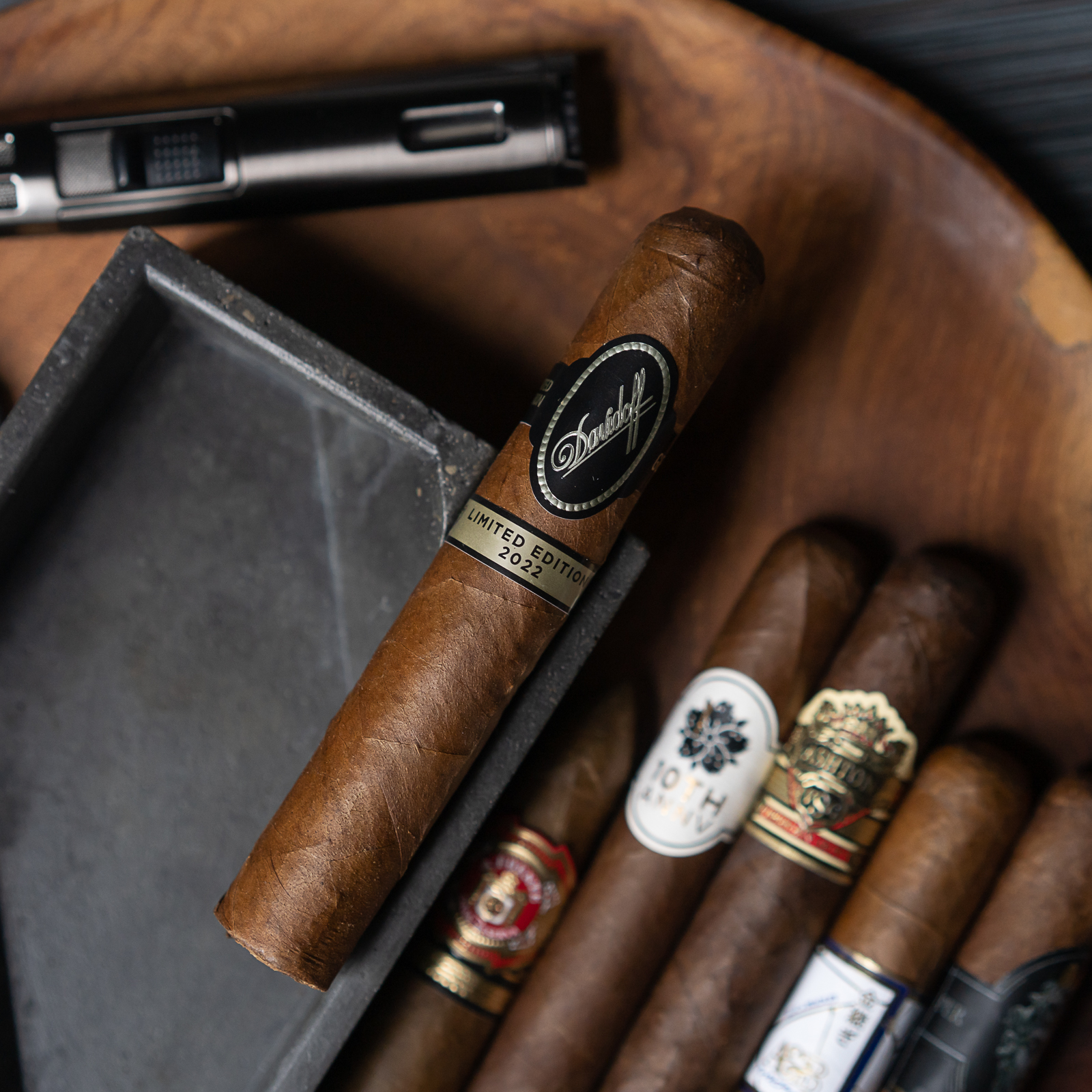 Blind Review: Davidoff LE 2022
Appearance and Construction
This cigar is large in its ring gauge and not the typical size I prefer. The wrapper is silky with veins running along the sides. It's packed with tobacco as I squeeze the wrapper and rolling it in hand the construction is solid. The foot smells of leather, earth, and milk chocolate.
Taste and Smoking Characteristics:
I make a straight cut to the toro and take a dry draw that delivers salt and earth. With my torch lighter I toast the smoke and the first puff is leather and toast with a long finish. There's chocolate and fruits moving in with leather on the back end. With a retrohale I pick up a vanilla sweetness and bakers' chocolate with the exhale. The cigar is in the medium bodied range with a whitish gray ash. The burn line is excellent and I'm getting cedar and nuts as the cigar progresses.
Midway there's peanut surrounded by toast and leather surrounding the insides of my mouth. There's cinnamon and espresso coming through with a finish of leather that dries out the palate. Another retrohale where there's more sweetness and nuts with cedar and cream on the end. The medium body remains right on delivering complexity without the strength becoming too overwhelming. Toast and cream permeate from the cigar as well as the smoke that is all around. Peanut and café au lait intermingle which gives a savory element to this toro as it burns through.
In the last third of this large smoke, graphite and oak develop with oolong tea on the finish. Creaminess returns with red fruits and leather which once again dries out the sides of my mouth. There' a slight vegetal note that hits me which becomes bitter while the burn begins to get hot. I take a slow draw that gives some saltiness along with truffle and earth. The retrohale creates a contrast of spice followed by sweet with citrus that enlivens my sinus on the outro. More leather and wood keep this toro in its ever-consistent medium body. Cocoa powder, cream and peanut comes on strong with another draw. The burn line as the cigar finishes continues to be straight and my last draw closing out the smoke with a blast of chocolate, oak, and leather amongst the long finish.
Conclusion
Having smoked Davidoff cigars for over twenty plus years their quality has never been a question. At worst they can be uninspiring in a blend with little strength or taste. At best they can deliver nuanced flavors in an extremely well-balanced smoking experience with impeccable craftsmanship. The Davidoff Limited Edition 2022 Gran Toro brings medium bodied complexities with flavors of chocolate, cream, cedar, fruit, and leather. All the while the cigar's notes were harmonious and satisfying. I only wish they were even more intense as the combination was enjoyable. For a person who does not love thick ring gauges, this gave so much that I didn't mind the size. If you can afford to grab these, I would pick up one or more or a box as you will not be disappointed.
Final Rating: 91