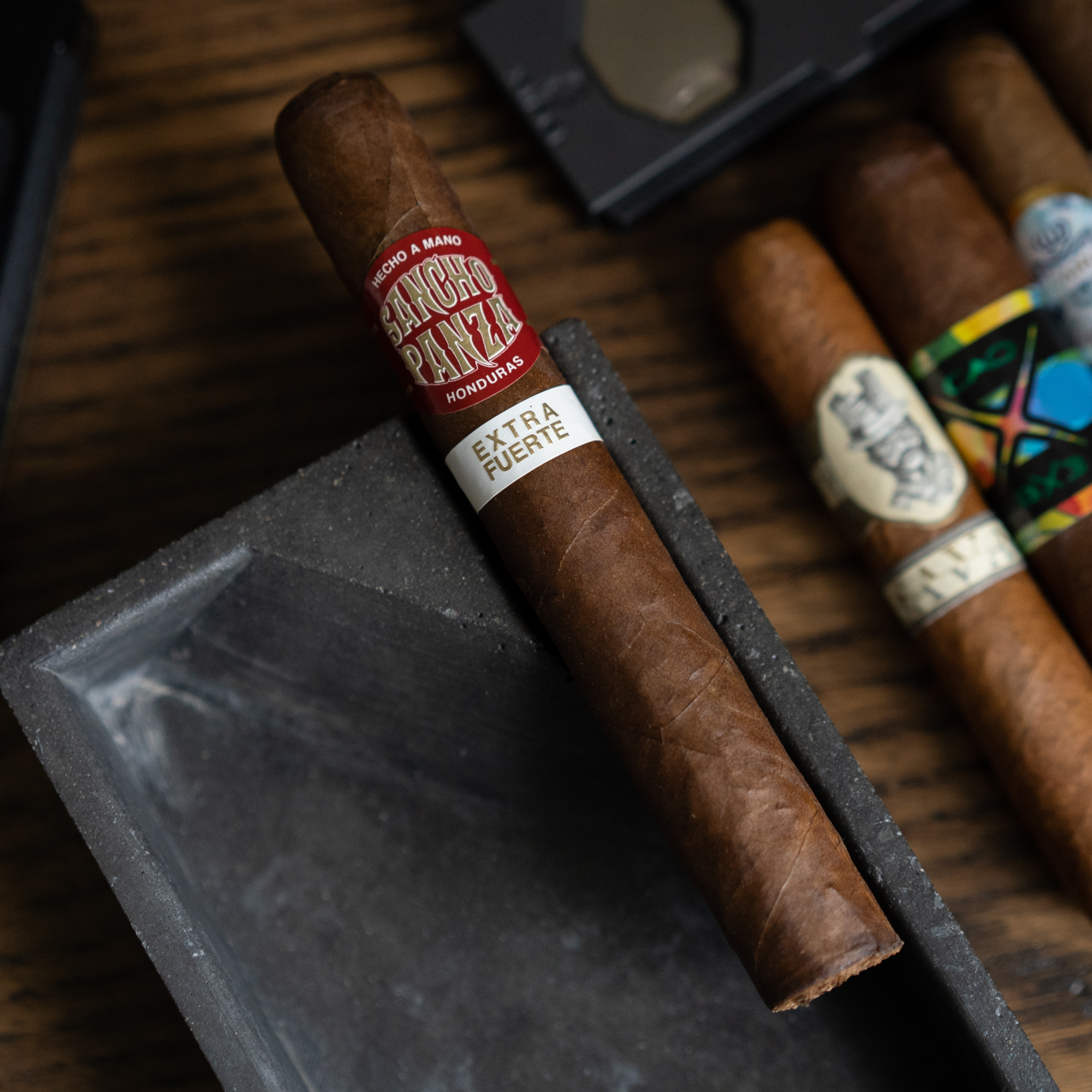 The Sancho Panza Extra Fuerte Toro is manufactured by General Cigar Company at their HATSA, SA factory in Danli, Honduras.  Sancho Panza is a world renowned Cuban value brand, whose trademark was also registered in the USA in 1981.  Sancho Panza was recently revamped in 2022 under Scandinavian Tobacco Groups' new creative director, Matt Booth, of Room 101 Cigars.
Blend Specifics
Cigar Reviewed: Sancho Panza Extra Fuerte Toro
Wrapper: Ecuador Sumatra
Binder: USA Connecticut Broadleaf
Filler: Dominican and Nicaraguan
Size: 6 x 52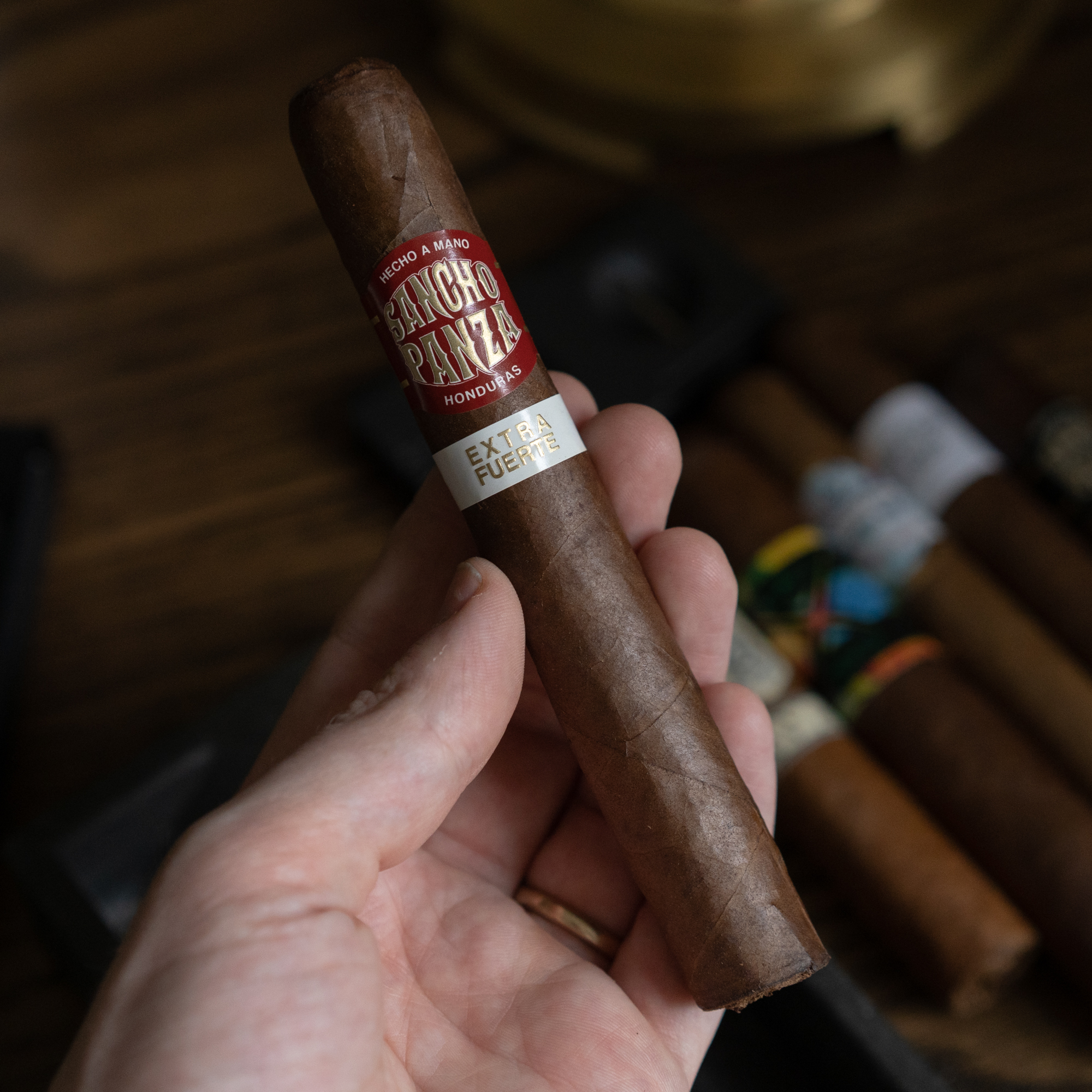 Appearance & Construction
The cigar is a very veiny double cap maduro toro.  It feels very lightweight in my hand, but is packed very well.
Flavor & Smoke Characteristics
The body and foot of the cigar smell of honey and straw bales. The cold draw has some resistance, with baking spices on the breath. The cigar toasts very easily under a soft flame and combusts with ease.
The cigar offers lots of chocolate and graham cracker at first puff.  It has a mild salty and spicy finish. Very tangy.  The retrohale is habanero pepper complimented by a cedary chocolate aroma off the foot.  The smoking experience, however, is really dampened by the tight draw.  I have run into draw issues with lots of toros, and have steered clear of them for this very reason.  They burn well and handle heat well, just like the one I'm smoking today, but I find the draw on toros to frequently be a tug-of-war.  In this current cigar market, the toro is the "new" robusto, and I have seen many manufacturers cancel their more classical vitola formats to meet this current demand.  Many master blenders are also switching from rolling corona sizes, and opting for a 6×52 or 6×54 when they are constructing their samples and protypes.  Anyway, the ash buildup is superb so far, but the heat management requires a steady double puff pace.  Flavors are fainter, yet dominated by straw bales and pepper.
The second third debuts with stronger flavors.  I sense nuances of endive and chicory with pepper on the back end.  The smoke maintains its chocolatey cedar aroma.  The retrohale is now leathery.  More importantly, the draw has developed a little more give, which boosts the smoke production and I can now taste some sweetness on the finish of each puff.  I still find myself having to take two draws to maintain heat.  A perfume note of subtlety shines through.
The last third opens up with cinnamon notes as well as some green bell pepper on the finish.  Other then that, the draw has completely opened up and the burn picks up its pace.  The flavors can be harsh at times and reminiscent of roasted hazelnuts and whole espresso beans.  The aroma is leathery as well as the retro.  Something is telling me I should have tried smoking this stick backwards…
Conclusion
The Sancho Panza Extra Fuerte Toro was smoked a couple days after I had reviewed the Sancho Panza Double Maduro Robusto which scored four points higher.  The difference in rating solely came down to the pesky draw of the toro vitola.  That being said, the last third was spot on with its expression of  Connecticut Broadleaf, which I reluctantly suspected was in the blend.  When it comes to the Sancho Panza Extra Fuerte Toro, I wasn't joking when I said it was better smoked backwards.  I would also like to revisit this blend in a smaller format since I am a big fan of Connecticut broadleaf.  Matt Booth may have hit the nail on the head idea-wise, but I couldn't in good faith hand the Sancho Panza Extra Fuerte Toro to someone else.  The cigar industry has been growing since the last boom, and even the "value" AKA "bundle" cigar market is loaded with lots of better options that are far superior in construction and flavor delivery. Enjoy!
Final Score: 80