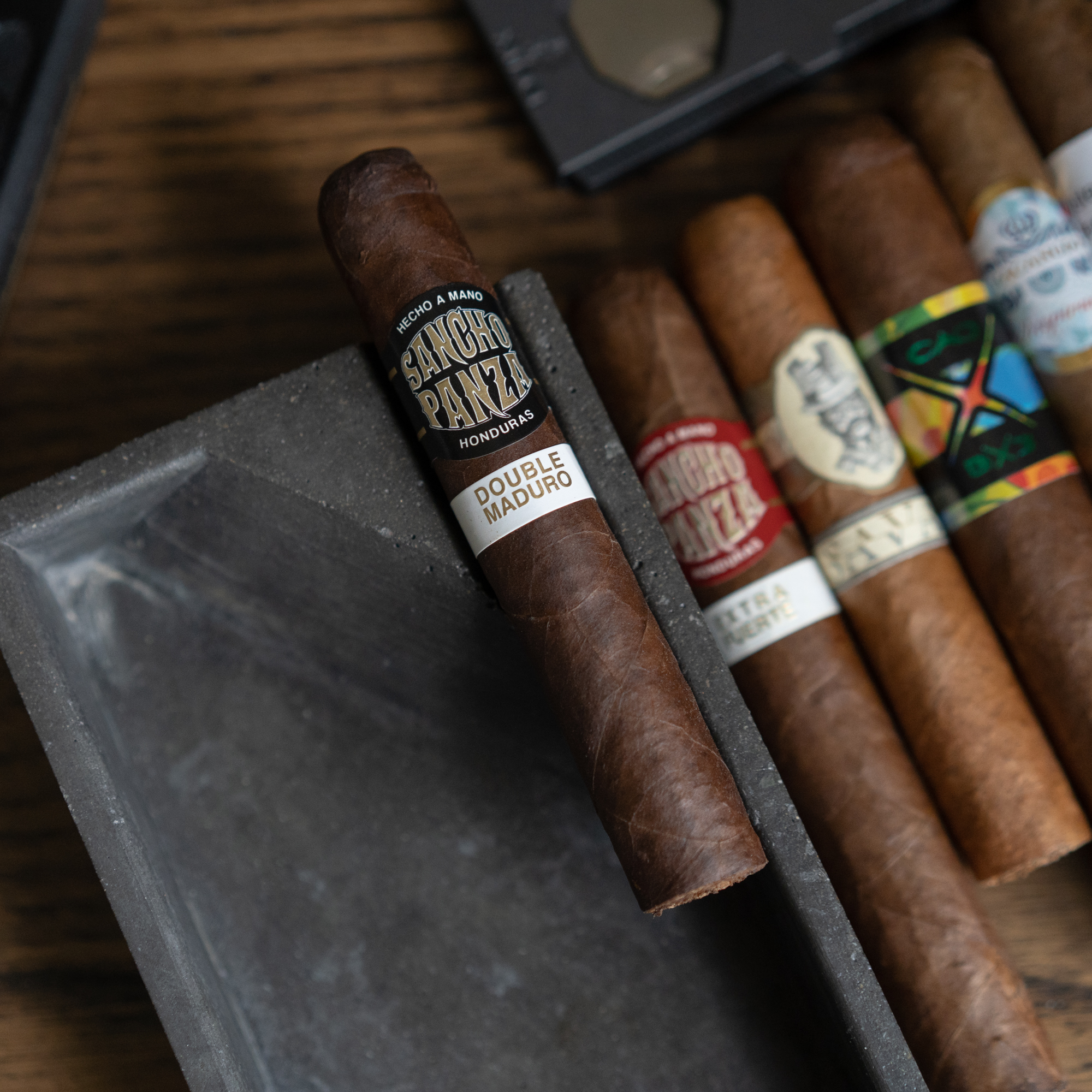 The Sancho Panza Double Maduro Robusto is manufactured by General Cigar Company at their HATSA, SA factory in Danli, Honduras.  Sancho Panza is a world renowned Cuban value brand, whose trademark was also registered in the USA in 1981.  Sancho Panza was recently revamped in 2022 under Scandinavian Tobacco Groups' new creative director, Matt Booth, of Room 101 Cigars.
Blend Specifics
Cigar Reviewed: Sancho Panza Double Maduro Robusto
Wrapper: Ecuador Sumatra
Binder: Nicaraguan (Esteli)
Filler: Dominican and Nicaragaun
Size: 5 x 50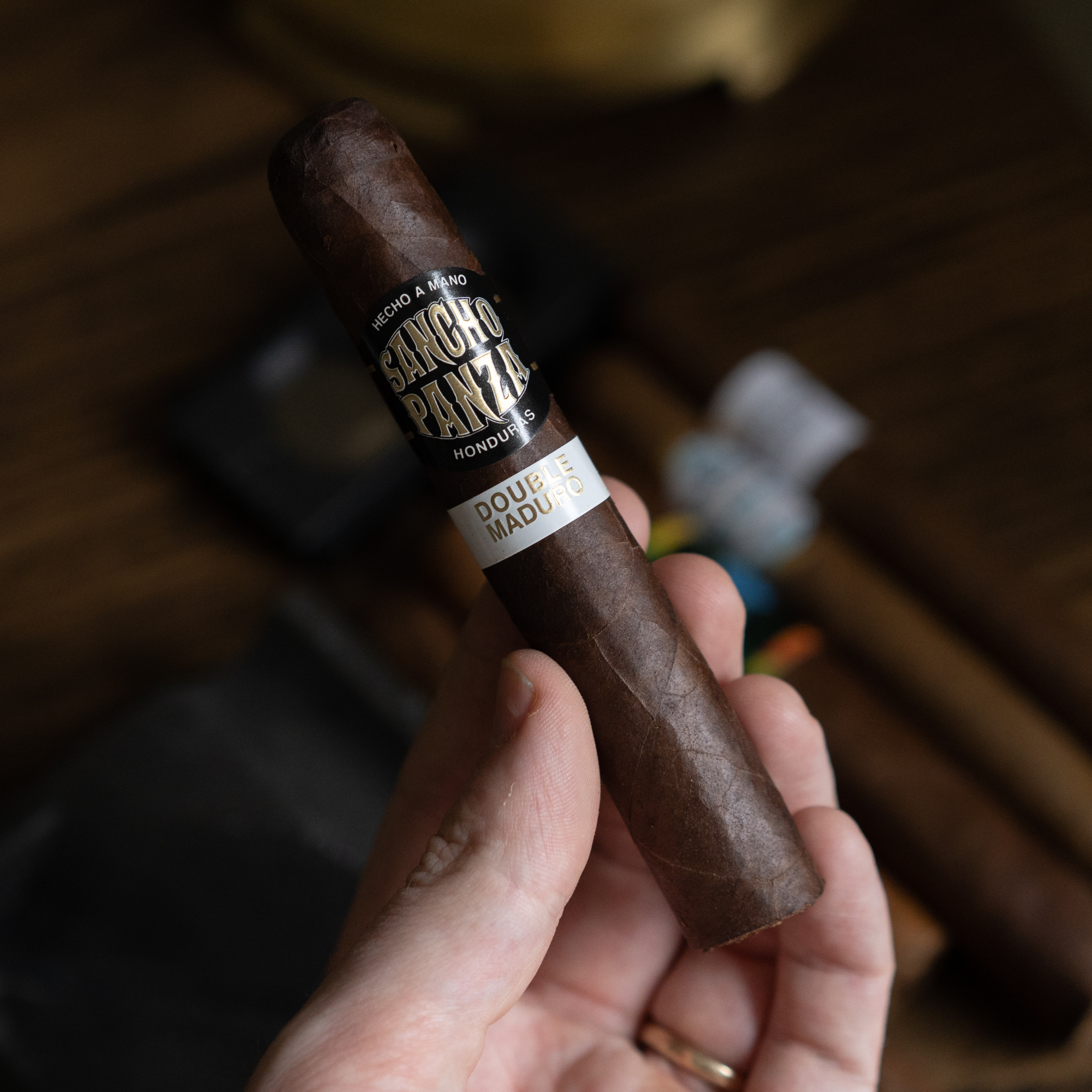 Appearance & Construction
The cigar is a sturdy well built maduro robusto.  It dons a double cap and is draped in a veiny rustic wrapper leaf.
Flavor & Smoke Characteristics
The body of the cigar smells of chocolate.  It has a good cold draw with cedar and hot chocolate on the breath.
It takes a while for the cigar to toast, but combusts quickly.
At first puff the smoke is cedary and salty with a popcorn finish.  The cigar has a very toasty retro.  Lots of thick smoke production.  There is a noticeable graham cracker aroma off the foot of the cigar.  As the cigar heats up, my palate fills with pepper.  It handles the heat quite well.  The ash build-up is flaky.
As it progresses, there are beautiful nuances of cinnamon, clove, and wood.  Smoke production is stellar and leaves a creamy mouth feel, with a confectionary aroma.  The cigar develops a very leathery retrohale that is both savory and sweet. The ash build-up stiffens and looks flawless.
On the second third, the body completely drops out of the cigar.  The smoking experience is still very smooth and creamy with great smoke production.  There is cinnamon and clove on the retrohale with a cedary aroma, but as I said, my palate is left wanting.
The last third of the smoke sees the body of flavors return. My tongue is again coated with baking spices.  The cinnamon and clove also revisits on the retrohale.  The aroma is sweet.  As I smoke it to the nub the flavors become a little harsh with hazelnuts and black coffee.
Conclusion
The Sancho Panza Double Maduro Robusto is a decent value smoke.  Those who know me, know that I have become quite the "bundle cigar" smoker in this current economy.  However, I wouldn't put this specific cigar in my current rotation of Curivari Buena Ventura's or New Cuba Corojos.  The Esteli tobacco in the blend really props the Sancho Panza Double Maduro Robusto up a little, but I would rather spend the extra cash for an Eiroa Classic Prensado if you really like spiced nuances.  Even a Joya De Nicargua Antano Consul will give you the same mouth feel.  Anyway, when it comes to the Sancho Panza Double Maduro Robusto I would likely be looking to spend my money somewhere else. Enjoy!
Final Score: 84