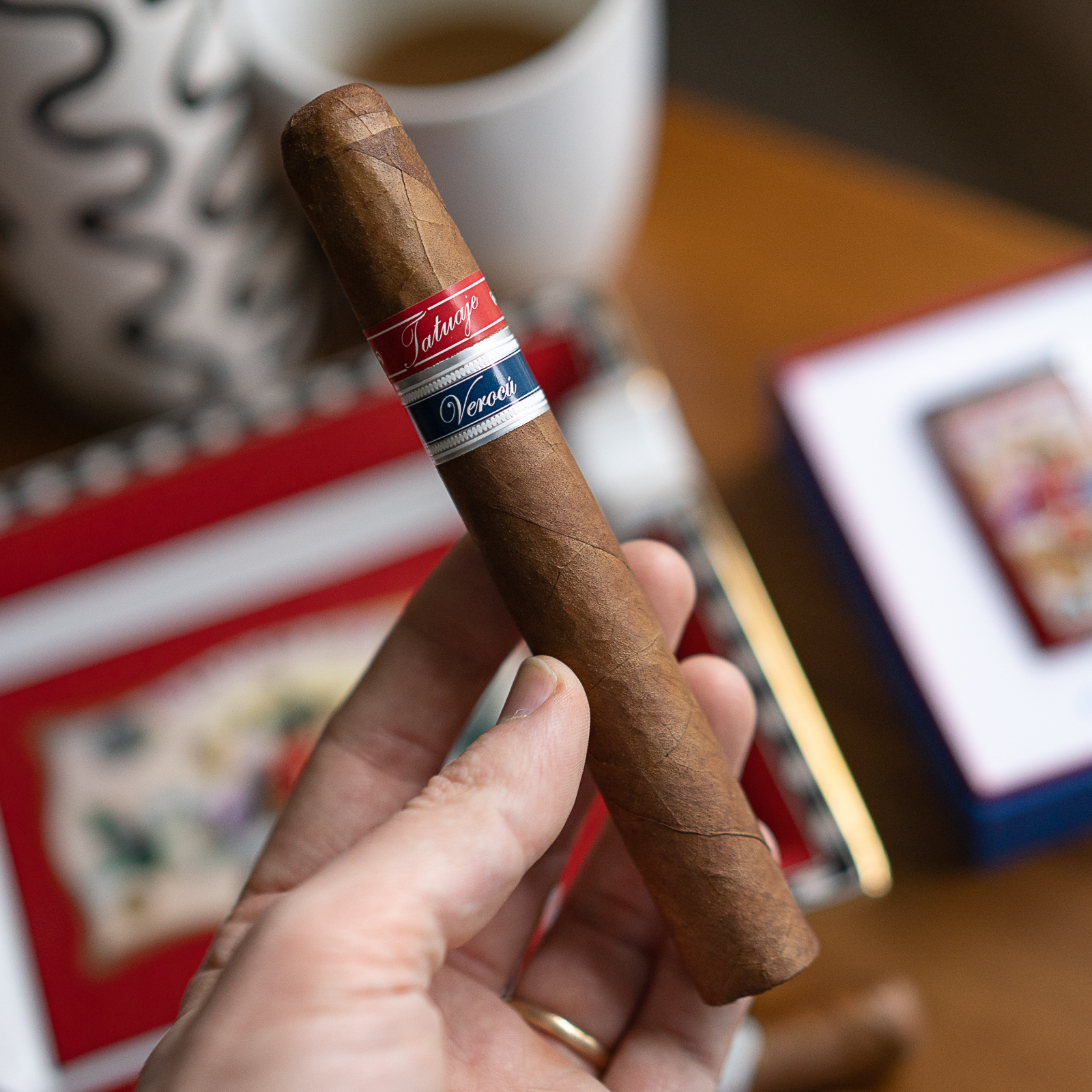 The Tatuaje Havana VI Verocú Blue No. 1 is produced for Tatuaje Cigars by My Father Cigars at their factory in Nicaraugua.  Further more, the Tatuaje Havana VI Verocú Blue No. 1 utilizes all Nicaraguan tobacco that the Garcia family grows personally on their own farms in Nicaragua.  The blend is another extentison to the Tatuaje Havana VI line and is currently only offered in two sizes: a toro and robusto extra.
Blend Specifics
Cigar Reviewed: Tatuaje Havana VI Verocú Blue No. 1
Wrapper: Shade Grown Nicaraguan Corojo
Binder: Nicaraguan
Filler: Nicaraguan
Size: 6 1/4 x 52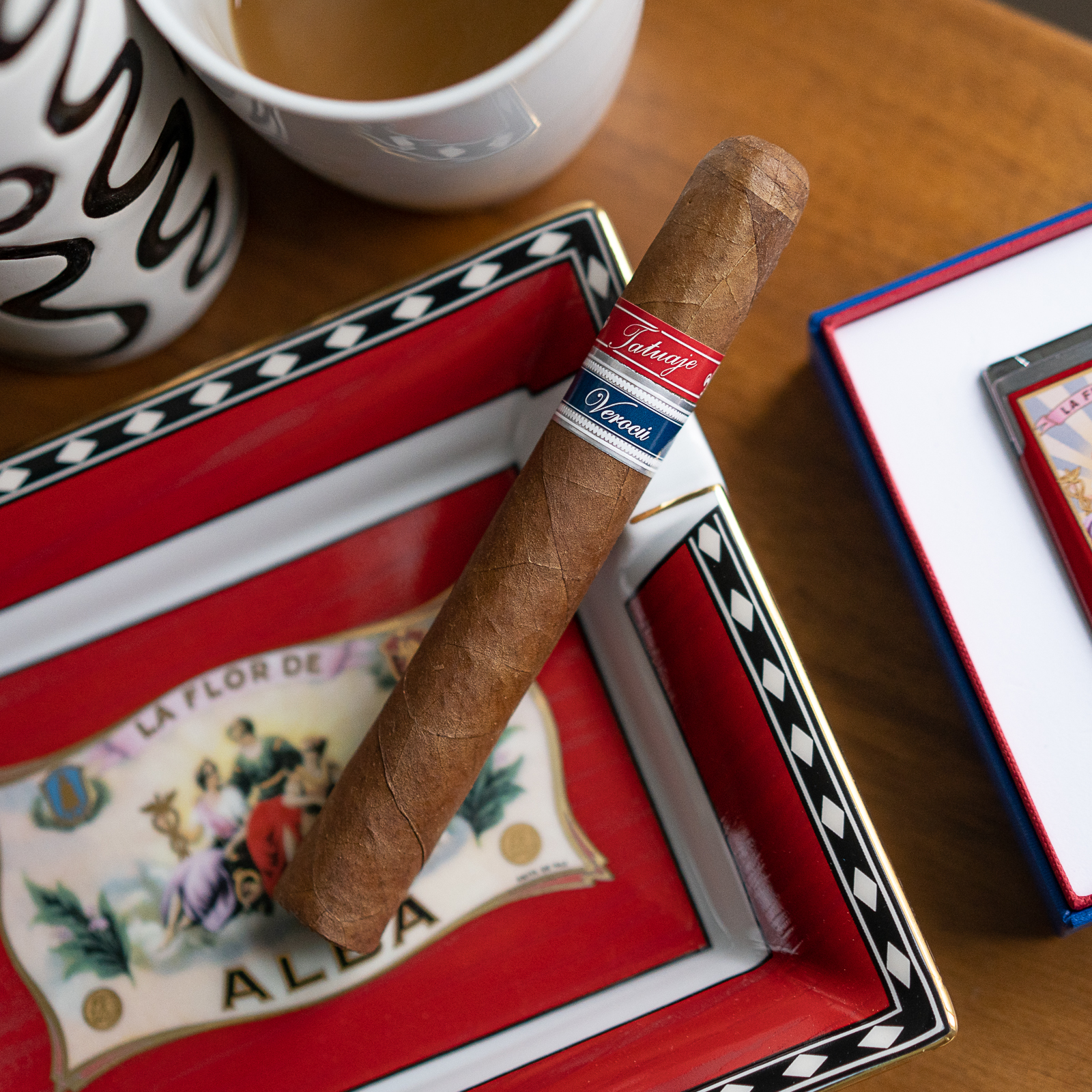 Appearance & Construction
The cigar is softly packed and triple capped.  It is dressed in a speckled natural wrapper.  It isnt toothy, but it has the appearance of a finished sidewalk.  The cigar looks tough.
Flavor & Smoke Characteristics
The body of the cigar smells like raisins and straw.  Very farmy on the nose.
It has a decent cold draw with lots of cedar on the breath.
The cigar toasts and lights very quickly and efficiently.
Lots of wood and choclate greet me at first puff. It has lots of salt and pepper with a choclatey aroma and a salty retro. The biggest take away is steak and onions- VERY SAVORY! The cigar has a sturdy ash build-up.  There is a nice sweetness on the backend of every puff.  Smoke production could be better as well as heat maintence.  You have to employ a steady double draw to keep things in motion.
At the second third the ash breaks off naturaly and reveal a very icy white ash that I've never seen before on the inside of a lit cigar.  It reminds me of husky fur or fresh snow.  The cigar is transitioning into a very light bodied smoke that can still be savory at times, but really holds this very enjoyable sweetness. The aroma is also very sweet, the retrohale is leathery.  Smoke prodution picks up a little bit more, but the draw is a little shallow and the heat maintence is still at an all time low.
On the way to the last third I've had to touch up the cigar a couple times. The wrapper leaf is also a little detached.  After a couple more touch ups the draw opens up even more, offering a little more relief to what tastes like a fantastic lightweight smoke but is not performing up to code.  The flavors, aroma, and retrohale are all the same.  Its very linear. The heat maintence is still lacking. The sweetness is still lingering with a coffee note added into tthe mix.
Conclusion
In conclusion, the Tatuaje Havana VI Verocú Blue No. 1 was phenominal.  It has the potential to be the NEW light smoke on the scene that will make you throw out your old golf course Connecticuts.  Yes, it scored an 80, because the construction made it a huge pain-in-the-ass to smoke, but I do see that Tatuaje also offers the Tatuaje Havana VI Verocú Blue No. 1 in a robusto.  I will most likely be picking that robusto up this week to kick tires a little bit more, simply becuase I have recently been very impressed with the flavor profile that shade grown corojo can produce.  Enjoy!
Final Score: 80