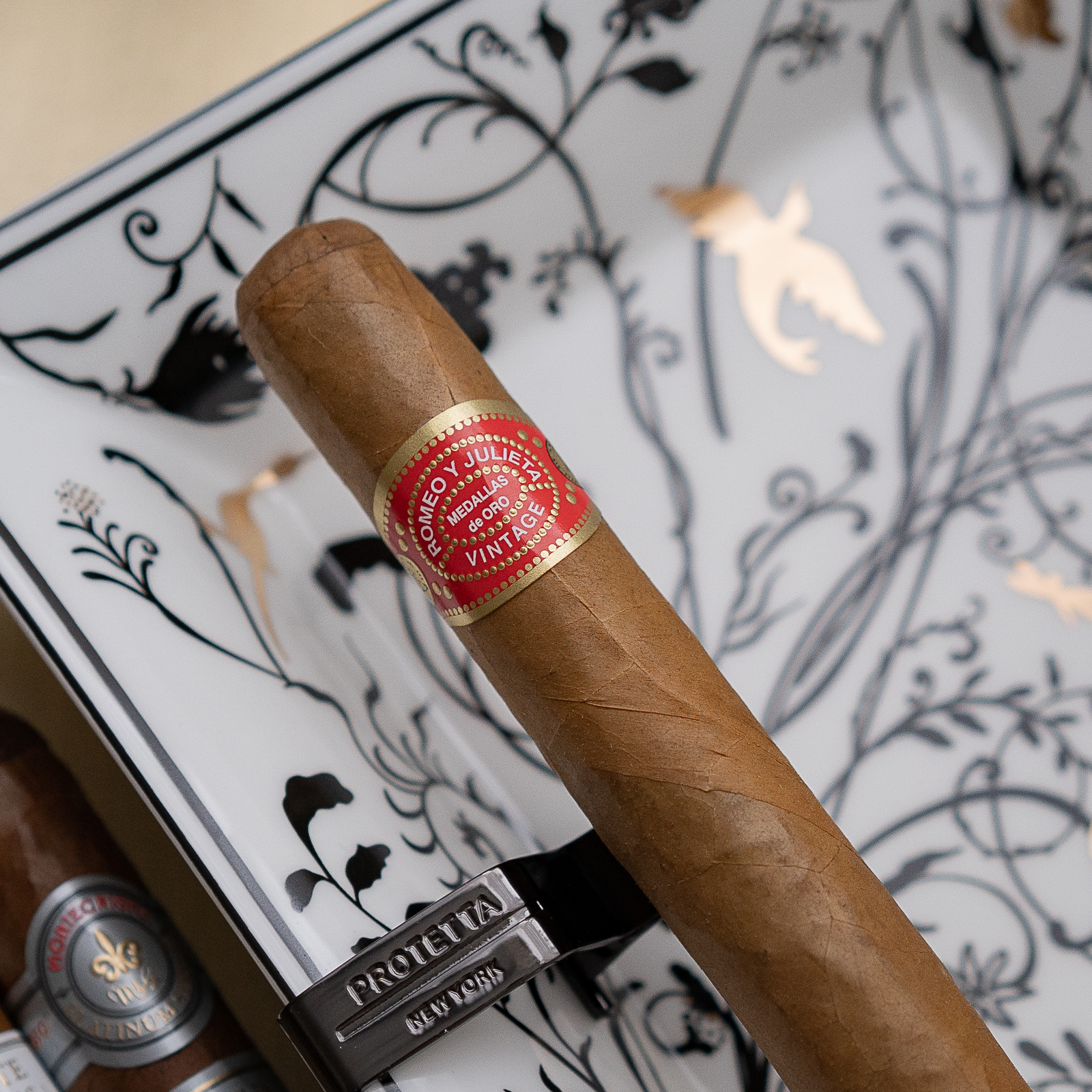 The Romeo y Julieta Vintage Toro is manufactured by Imperial Brands' U.S. subsidiary Altadis U.S.A. in La Romana, Dominican Republic at the Tabacalera de Garcia factory. The Romeo y Julieta marque was established in Cuba in the year 1875 by Inocencio Alvarez and Manin García. It wasn't until the brand was acquired by José "Pepin" Rodriguez Fernández, former head of the Cabañas factory in Havana, and his firm, Rodríguez, Argüelles y Cia, in 1903, that the company truly became world renowned.  Historically known as Sir Winston Churchills favorite cigar brand with its correlating Churchill vitola, the brand was actually more well known for their figurados (perfectos and piramides).
Blend Specifics
Cigar Reviewed: Romeo y Julieta Vintage Toro
Wrapper: Ecuadorian Connecticut Shade
Binder: Mexican
Filler: Dominican
Size: 6.2 x 54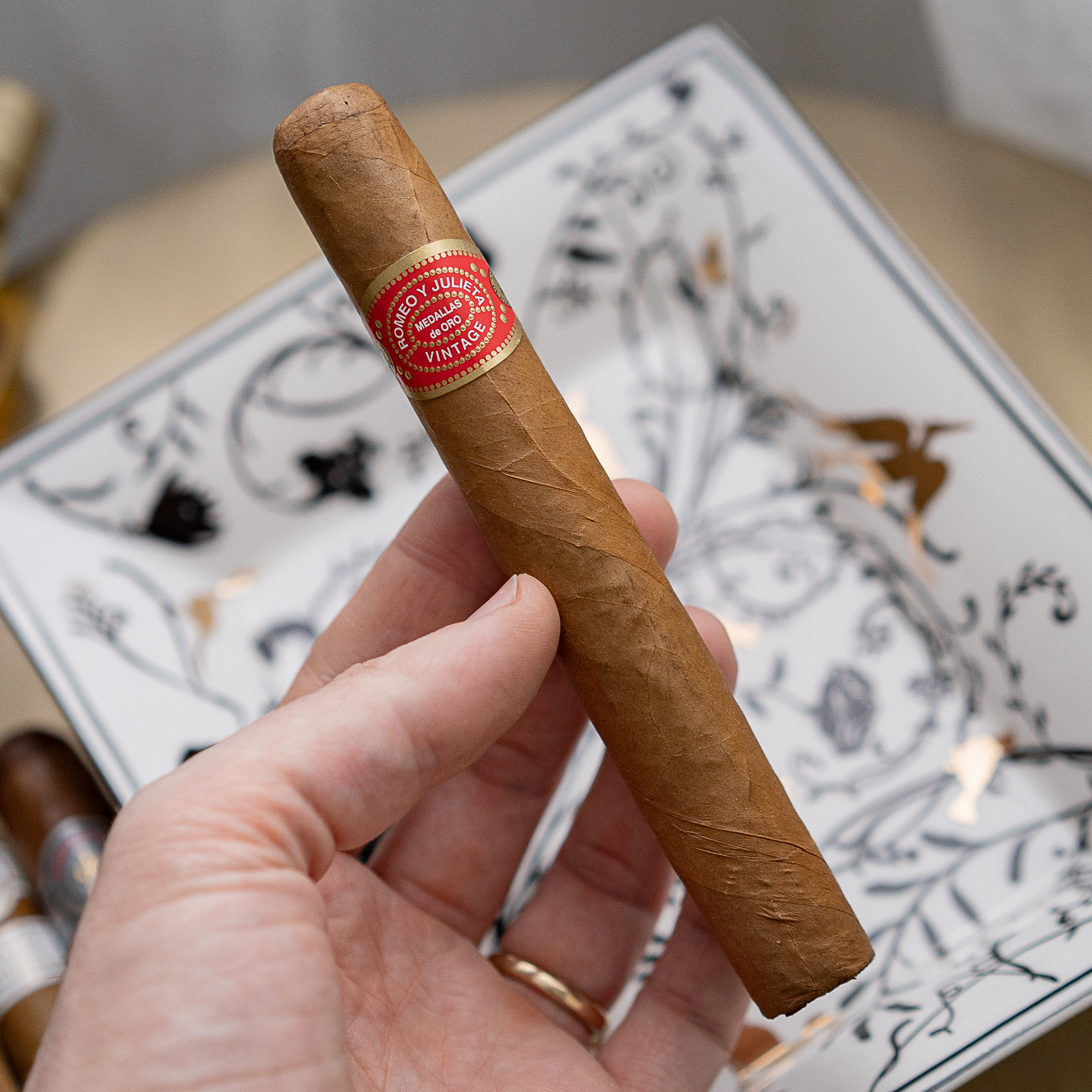 Blind Review Notes: Romeo y Julieta Vintage
Appearance & Construction
The cigar is a "so-so" packed toro with a plaster-like Connecticut wrapper. It has a green tint to it in certain lighting and dons a triple cap. The cigar has an even weight in my hand.
Flavor & Smoke Characteristics
The wrapper smells of hay and and dry urine with cedar and chocolate on the foot.
The cold draw has some resistance with mint, pine, and cedar on the breath.
The cigar toasts and lights beautifully.
First puff is steamed milk with wood and spice. There's also a little graham cracker. A very creamy profile. Tongue tingling spice on the backend. Shitty draw. Shitty ash build up. Burn line needs a touch up. Shitty smoke production. Decent heat maintenence. Leather retro and aroma.
Second third adds some complexity. Sweet leather. Same on the retrohale. Not much aroma. Smoke production and draw still suck. Cigar is a little too hot near the burn line. Tingling pepper on the backend. The ash buildup looks cheap as fuck and is making a mess in my car. The smoking profile dries out a little and is no longer creamy.
Last third completely shits the bed with the wrapper leaf completely tearing off the top. The cigar also goes out. Once relit, the cigar returns to it's sweeter smoking profile with tongue tingling spice. My mouth is getting dry. The cigar gets bitter.
Conclusion
Again, I managed to recognize an x-girlfriend of mine. The whole time I was smoking the cigar I was doodling "RyJ "on my car dashboard note paper as I smoked away on this god-awful cigar. The Romeo y Julieta Vintage Toro, at times sure reminded me of the many Romeo y Julieta's I came up smoking. However, my first love done returned to me, raped, pillaged, and burnt to the ground. For you "RnJ" old-heads out there, this is unmistakably an Romeo y Julieta cigar.  I must have just grabbed the runt of the litter.  Can't win them all. Enjoy!
Final Score: 79