Davidoff of Geneva's Brookfield Place lounge is the culmination of the company's latest efforts to honor their namesake's forward-thinking legacy. Fittingly embedded inside the inspiringly modern Battery Park City neighborhood, it's a living, breathing embodiment of Davidoff's endeavor to both preserve and restyle the cigar experience within the framework of a brave new century.
Upon opening the door, a gentleman in a blue blazer with mother-of-pearl buttons greets me and takes my peacoat and umbrella. He introduces himself as Rudy, a Cuban-American from Miami. He graciously allots me the time to drool over the pristine cufflinks, watches, cigar kits, pipes, and ball point pens prominently displayed in the accessory section.
Having impressed me to the nth degree, Rudy escorts me into the walk-in humidor. Its ceiling is crowned by a row of real Dominican tobacco leaves hanging from the ceiling, which Rudy proudly informs me were delicately and symmetrically laced together entirely by hand. He goes to a special white cedar box set aside on a pedestal and hands me the NYC Downtown, the lounge's own unique signature cigar. It's a gorgeous Connecticut leaf Bellicoso whose flavor profile is so rich and multifaceted that it merits its own separate review.
The lounge proper is a relatively compact space, but it's cleverly laid out to accommodate every type of smoker and smoking experience under the sun; there are big, isolated lounge chairs for the introverted lone wolves, single seats positioned together around coffee tables for friend groups, single seats strategically positioned in front of the flatscreens for the sports fans, and a large triangular couch in the center for the lovers.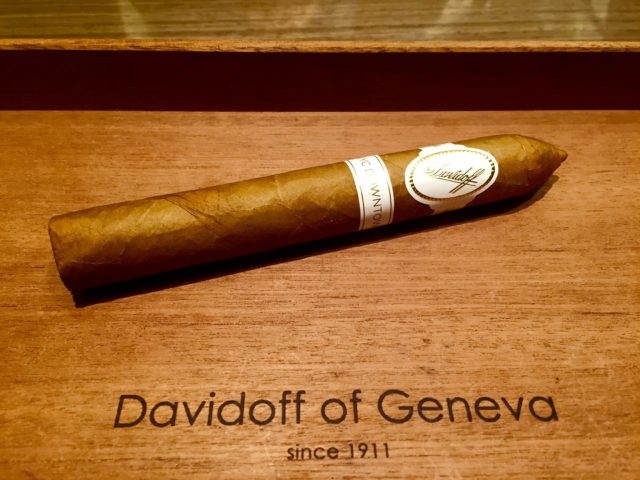 A lone wolf enters and takes his seat in the corner, a Padrón and one hand and the Times in another. Across from me are two middle-aged men and a younger man, gathered together to watch the replay of last week's Heat vs. Hornets game. They're not quiet, but they're not loud either, and we all amicably exchange the occasional joke and story while simultaneously respecting each other's own space. This balance is something of a rarity in my experience, and I'm keen to enjoy every second of it.
The decor is set up to the nines; the furniture is fresh, grey-tinted, and actually comfortable! The walls have mirrors adorned with symmetrical floral designs; the ceiling is rigged with Edisonesque electric lights that radiate a subtle amber tint. It's a style that Rudy's lovely coworker Aynsley describes as "Timeless-Modern."
After a good two hours, I draw the last puffs from the Downtown Belicoso. But the fun doesn't end there; I spend another two discussing anything and everything with Rudy and Aynsley.
The Brookfield Place lounge definitely does its job. This is a lounge that appeals to a diverse crowd and hosts a most respectful clientele, catered to by an utterly professional staff. So don't think twice, head downtown and pay Rudy and Aynsley a visit; you too will be pleasantly surprised.