Lee Ringleheim re-opened Circa Tabac as SoHo Cigar Bar with the goal of melding the best of the old with the best of the new. He succeeded. A few weeks ago, my dad and I made our way downtown to SoHo Cigar Bar for a special father/son smoke and dram. The cigar bar is nestled on Watts St, near the Holland Tunnel and under the shadow of the Freedom Tower.
SoHo Cigar Bar boasts a luminous facade where you can see a Mercedes or Maserati parked on the curb front at any given time. As I pass by a black Towncar, I half expect to see Carlo Gambino emerge from the passenger door. He doesn't, fortunately (but we are in SoHo).
My old man and I open the door and enter into a cozy, dimly lit Art Deco-styled grand room with matching tables and booths, and period-piece artwork, which includes a Warhol-esque rendition of Alfred Hitchcock smoking a churchill-sized stick that's perched upon by a bird. The patrons are all ages dressed in business casual attire. I take immediate notice of one particular patron because he looks exactly like The Most Interesting Man in the World, which makes me wonder if I've accidentally stepped into a Dos Equis commercial. I'm only half ashamed to say I snapped a photo.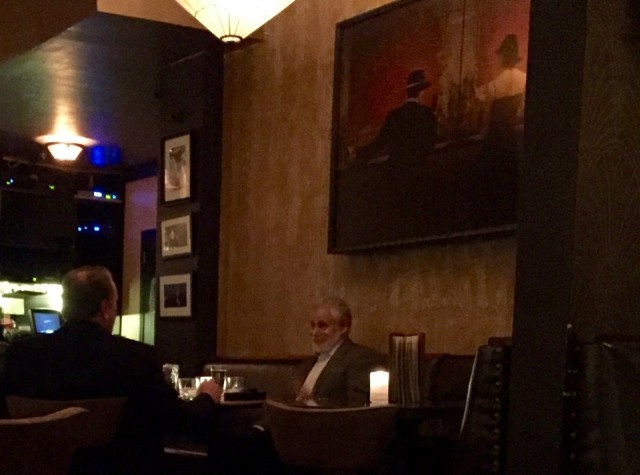 The drone of the air purifiers is quelled by the sound system, which consistently churns out the best hits of the 60s through the 80s. Simon and Garfunkel, U2, the Stones, Queen, Modern English, Jimi Hendrix, Billy Idol and, no less than three times, the Beatles, are all heard within the first hour. Perfection.
Immediately to the left of the front door is a brilliant Deco-style bar that proudly displays nearly every whiskey known to man (really, an impressive collection). From Ardbeg and Glenfiddich to rarer Japanese and American whiskies, even the most veteran of whiskey aficionados will find something satisfactory here.
The cigar selection is equally impressive. In addition to having the greatest hits of all the household names (Padròn, Fuente, Rocky Patel, and even the occasional flavored cigar for beginners), SoHo has their very own house blend of premium cigars, one of which yours truly had the privilege of reviewing last year. There is even a small cigarette selection available to those who aren't quite ready to commit to a cigar. Again, Lee Ringleheim has made sure there's is something for everyone at SoHo Cigar Bar.
By far the most impressive thing about the menu here is the pre-arranged pairings. One page offers drink pairings (such as the Flight Over Scotland, consisting solely of three different Scottish whiskeys). An adjoining page offers a cigar and drink pairing, combining various cigars on the menu with selected rums and scotches. Sold.
A young lady named Fern is our hostess (one of the many lovely young ladies on staff). She gets right down to business and presents us with the menu, which, in addition to a pages long whiskey and wine selection and the aforementioned All-Star cigar selection, boasts a cast old Ringleheim family recipes for appetizers, tapas and desserts.
She is attentively non-invasive and gracefully to the point, happy to answer any questions about the menu and quick with both her pen and her jokes. She was also game for a photo!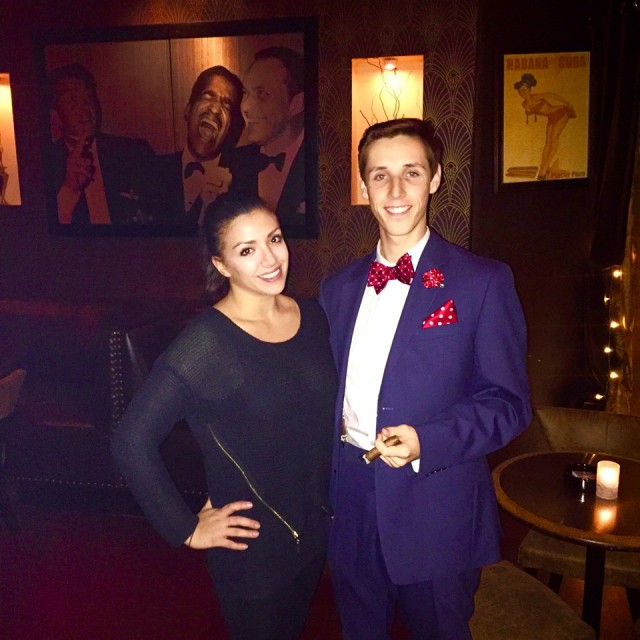 After enjoying a savory three-cheese dip with chips, a gourmet flatbread pizza, and a divine chocolate soufflé (I know. I may or may not have skipped dinner for this…), I'm ready to finish things off with the Eclipse (SoHo's Sol D'Oro house cigar paired with Flor de Cana 25-year rum). Just as I had hoped, my old friend the Sol d'Oro is just as fantastic now as it was last year; the salty graham cracker-dominated flavor profile goes very well with the rum's bitter cherry essence.
After finishing up the Sol, I ask Fern if I can break out my own pipe and pipe tobacco for my old man to try. "No problem!" she says; the cherry is now firmly on top. One shared pipe and a million commemorative photographs later, my old man and I pick up the check and adjourn to the A train, our hearts weighed down by reluctance to leave.
So what is SoHo Cigar Bar? My experience indicates that it is the embodiment of reconciliation between New York City's golden age and modern resurgence. The aesthetics, though, is just the start: amazing selection and service make this one of New York City's finest cigar bars.