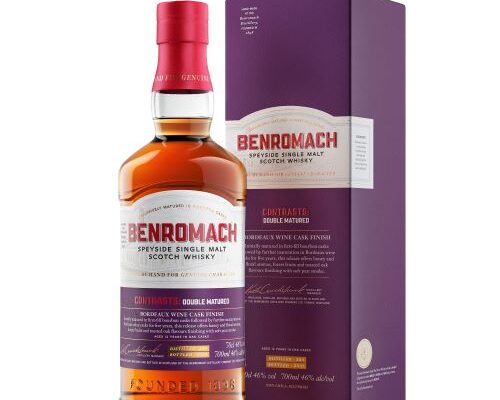 Benromach Distillery, located in Speyside, has introduced a new addition to its Contrasts range, a 12-year-old limited-edition whisky. This release is notable for its double maturation process, which involves aging in both first-fill bourbon barrels and Bordeaux wine casks.
The whisky initially matured in first-fill bourbon barrels before undergoing a final five-year maturation in Bordeaux red wine casks. This process has imparted the whisky with delicate honey and floral notes, along with flavors of zesty tangerine, dark forest fruits, and toasted oak. It also features a medium-bodied finish complemented by Benromach's signature soft peat smoke.
Keith Cruickshank, Distillery Manager at Benromach, commented on the creation of this new release, emphasizing the depth of flavor achieved through the double maturation process. He noted the balance of sweet, fruity notes with the distillery's characteristic soft smoke. Cruickshank also highlighted the influence of the double maturation on the whisky's color, producing a darker, richer dram.
With a 46% ABV strength, this limited-edition whisky is available for purchase through Independent Whisky Specialists, with a recommended retail price of £59.99.
Tasting Notes for the Benromach Bordeaux include:
Nose: Subtle hints of rose, honey, and ripe red fruits.
Taste: Smooth and sweet, balancing flavors of zesty tangerine and dark forest fruits with toasted oak.
Finish: Medium-bodied and fruity, underpinned by subtle peat smoke.