Launched in August of 2009 Berger & Argenti as a collaboration between Don Kiki Berger of Cuban Crafters and Albert and Michael Argenti of Cuban Imports, Inc. The Entubar is their flag ship cigar and it is rolled in the traditional method of entubar, which it gets it name from.  According to Berger & Argenti this cigar is "a tribute to the time-honored Cuban cigar making technique." The process is carried out by "creating delicate 'scrolls' of rich, flavorful tobacco" and bunching them within the binder and wrapper.  On this cigar there is a 1/4″ roll of tobacco extending from the foot.  This is all of the Ligero tobacco used in this cigar.  There is also a footband that warns against not toasting the foot enough before you light it.  Now, on to the cigar.
Berger & Argenti Entubar Robusto
Size: 5″ x 50
Wrapper: Deflorado Ecuadorian Connecticut
Binder: Nicaraguan
Filler: Nicaraguan and Dominican
Pre-Light: The Ecuadorian Connecticut Wrapper on this cigar is beautiful.  It isn't that oily and in fact has a slight dryness to the touch. When I smell the wrapper I didn't pick up anything discernible. Obviously the most obvious feature while inspecting this cigar is the 1/4″ roll of tobacco that is protruding from the foot.  When I smell the foot I pick up a little chocolate and not much else.  The cigar seems well put together and it is just begging to be smoked.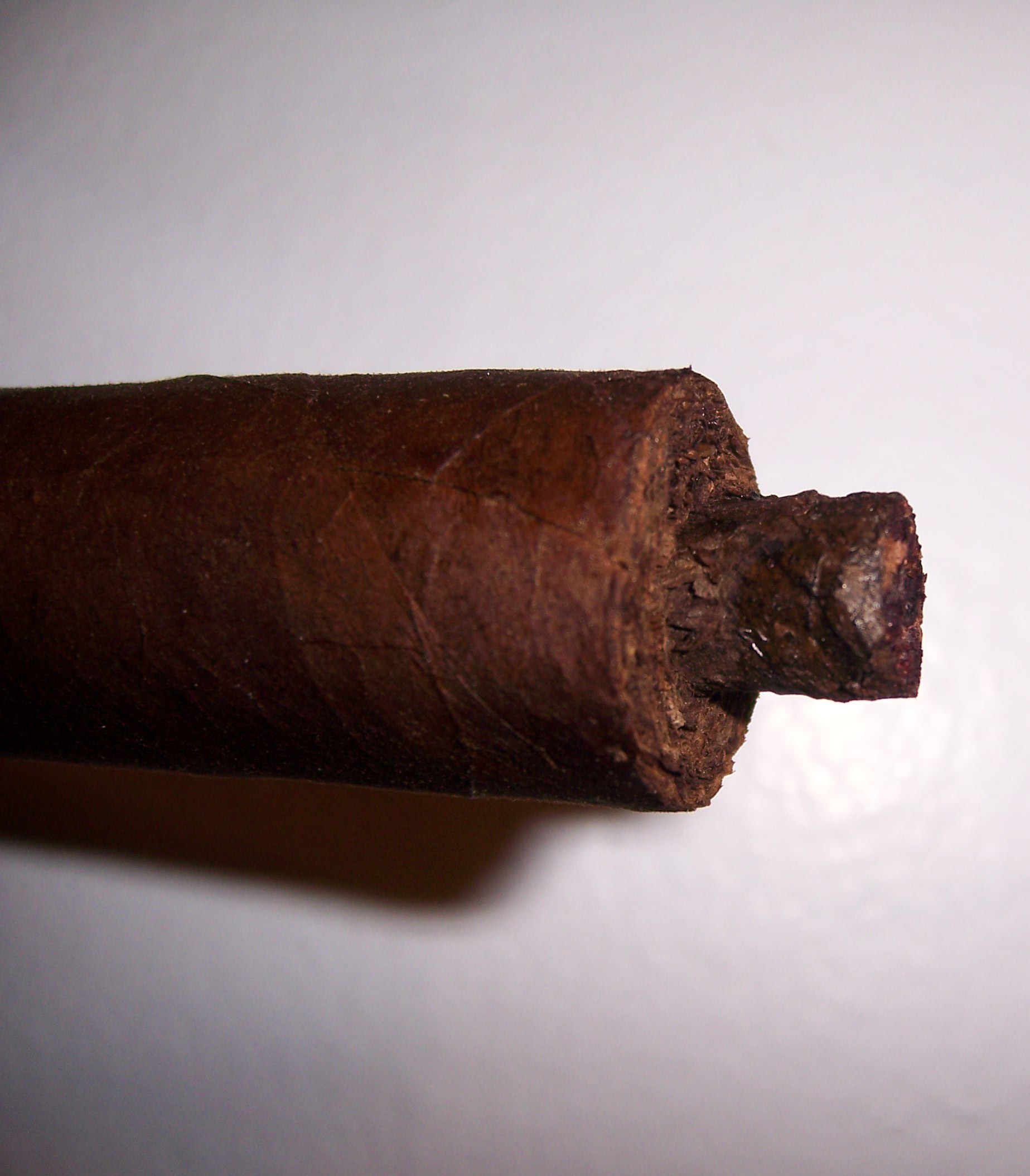 Smoking Characteristics: After thoroughly toasting the foot at the advisory warning on the foot band instructed me to I took my first puffs two things came to mind: 1) The draw is impeccable and 2) the medium-bodied smoke that filled my mouth was very tasty.
Flavor: This cigar is like a three-act play, with definite distinctions and changes as the cigar progresses.  The first "act" started out creamy and smooth with notes of roasted nuts and a little grassiness. About halfway through the cigar there was a distinct shift from the creamy and smooth to a little more spicy.  The roasted nuts was still there but a cayenne pepper type spice began to appear.  The smoke seemed to not be as creamy, instead it had a velvety quality to it that coated my palette.  And finally with an inch and a half to go the Berger & Argenti Entubar became very full bodied and picked up the intensity another notch.  The spiciness came to the forefront of the flavors and was very bold and in your face.  This was a nice way for the cigar to finish.  With only a little bit left to smoke you don't have to put up with the bold spiciness for very long if you don't want to.
Overall Impression:  This is the second size of this cigar that I have tried and I have loved every second of both of them.  You don't come across a cigar very often that has extremely distinctive changes, but this one did.  I am definitely going to be picking more of these up for my humidor very soon and I highly recommend them to anybody.  They can be a little hard to find but if you can don't waste any time in picking up at least one.
Final Score: 9/10 – Amazing Cigar