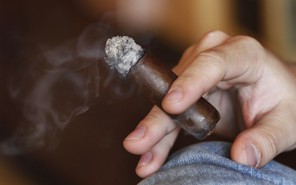 Since the beginning of the summer, a lot of dust has been kicked up around the proposed FDA regulation of the premium cigar industry. In our "Cigar Wars" series, we've been tracking the movement on the blogosphere of discussions surrounding the FDA regulations.
By far, the biggest story to hit the web so far is "Cigar Lovers to FDA: A Cigar Isnt' Just a Cigar" by the Associated Press's Michael Felberbaum. From what I can tell, the story has been picked up by dozens, possibly hundreds of news outlets around the country. So word is getting around.
And now it's beginning to hit some of the more political bloggers, like this post in the Washington Post called "FDA to regulate fine cigars, but opponents say stogies breed bipartisanship." The basic argument is held in the title: protect cigars, because they're the only thing that will bring the two parties together.
Indeed. No other 'great equalizer' seems to work. Maybe that's the strongest argument yet for keeping premium cigars and their tradition protect.
Who knows – maybe the same argument will work for exempting Cuban cigars from the embargo!