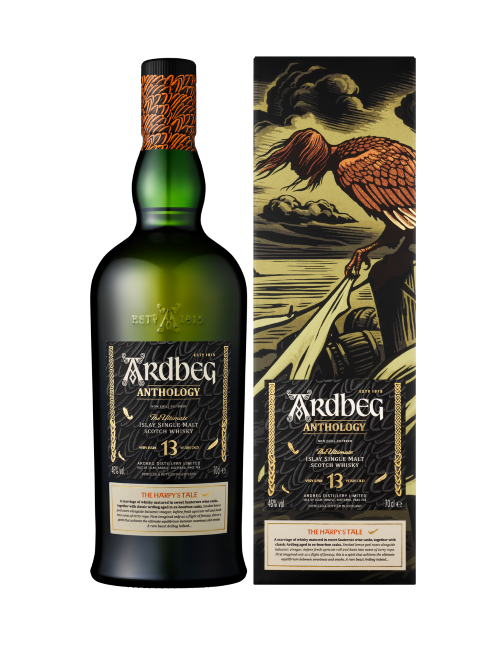 Islay distillery, Ardbeg, has announced a new whisky, Ardbeg Anthology: The Harpy's Tale. This is the first release in the brand's Anthology Collection, which aims to present a series of single malts matured in different cask types.
The Harpy's Tale has been aged for 13 years in both ex-bourbon and Sauternes wine casks. This combination results in a whisky with characteristics from both cask types: the recognizable smoky notes of Ardbeg and the sweetness from the Sauternes casks. The packaging references the harpy, a creature from ancient mythology, representing the merger of two different entities.
Dr. Bill Lumsden, Ardbeg's Director of Distilling and Whisky Creation, commented on the dual cask maturation process and highlighted the whisky's distinct character. He mentioned that the Anthology Collection will include more releases, each matured in different cask types.
Ardbeg Anthology: The Harpy's Tale is priced at £141 with an alcohol content of 46%. It's available on Ardbeg.com, at Ardbeg Embassies, the Distillery's Visitor Centre on Islay, and some whisky specialists.
For further details on Ardbeg and its products, interested individuals can visit www.ardbeg.com/ardbeg/committee. Ardbeg also has a presence on social media platforms: Instagram (@ardbeg) and Facebook (@ardbeg).