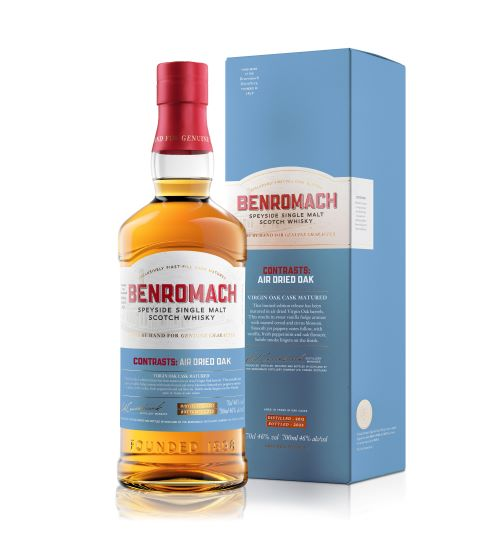 Expanding upon their creative Contrasts range, Benromach Distillery from Speyside has unveiled two novel, limited-edition whiskies, both meticulously matured using innovative drying methods for the cask's wooden staves.
The new additions, Contrasts Air Dried Oak and Contrasts Kiln Dried Oak, distilled in 2012 and bottled this year, are manifestations of Benromach's exploration of the subtle variations in whisky flavor profiles through varying stave drying techniques.
Sporting an ABV of 46%, both whiskies continue the smoky signature style of Benromach, while each offers a unique twist. The Contrasts Air Dried Oak matures in oak air-dried for three years pre-toasting, imparting the whisky with luscious vanilla fudge notes accompanied by fresh peppermint and oak. Meanwhile, the Kiln Dried Oak variant offers a twist – after two years of air drying, the oak is placed in a kiln to expedite drying, enhancing the spirit-wood interaction. This results in a whisky with a sweeter, more malted biscuit nose, mixed tropical fruit flavors, and notes of lemon barley sugar.
Keith Cruickshank, Distillery Manager at Benromach, expressed, "Our Contrasts range is our playground to experiment and discover new flavors. The release of these two new whiskies is a result of a deliberate experiment to explore the flavor impact of different wood drying methods. It's fascinating to witness how small modifications can significantly influence taste – that's the captivating essence of the air- and kiln-dried variants."
While Benromach typically employs virgin oak casks for their Contrasts Organic whisky, this experimentation provided an exciting opportunity to observe how their traditional lightly peated spirit interacts with this cask type and varying stave preparation methods.
Cruickshank adds, "We're eager to see how whisky aficionados interpret the unique character of each dram, their preferences, and their reasons why."