Newcomers to the cigar industry Emmanuel Peña and Claudio Sanchez recently created East Park Cigars. Their first release is a trio of robustos meant to pair with spirits. As its name suggests, El Borbón is meant to match with your favorite bourbon.
Blend Specifics
Cigar Reviewed: East Park Cigars El  Borbón
Wrapper: Habano
Binder: Sumatra
Filler: Dominican, Pennsylvania
Size: 5 1/2″ x 52 (Robusto)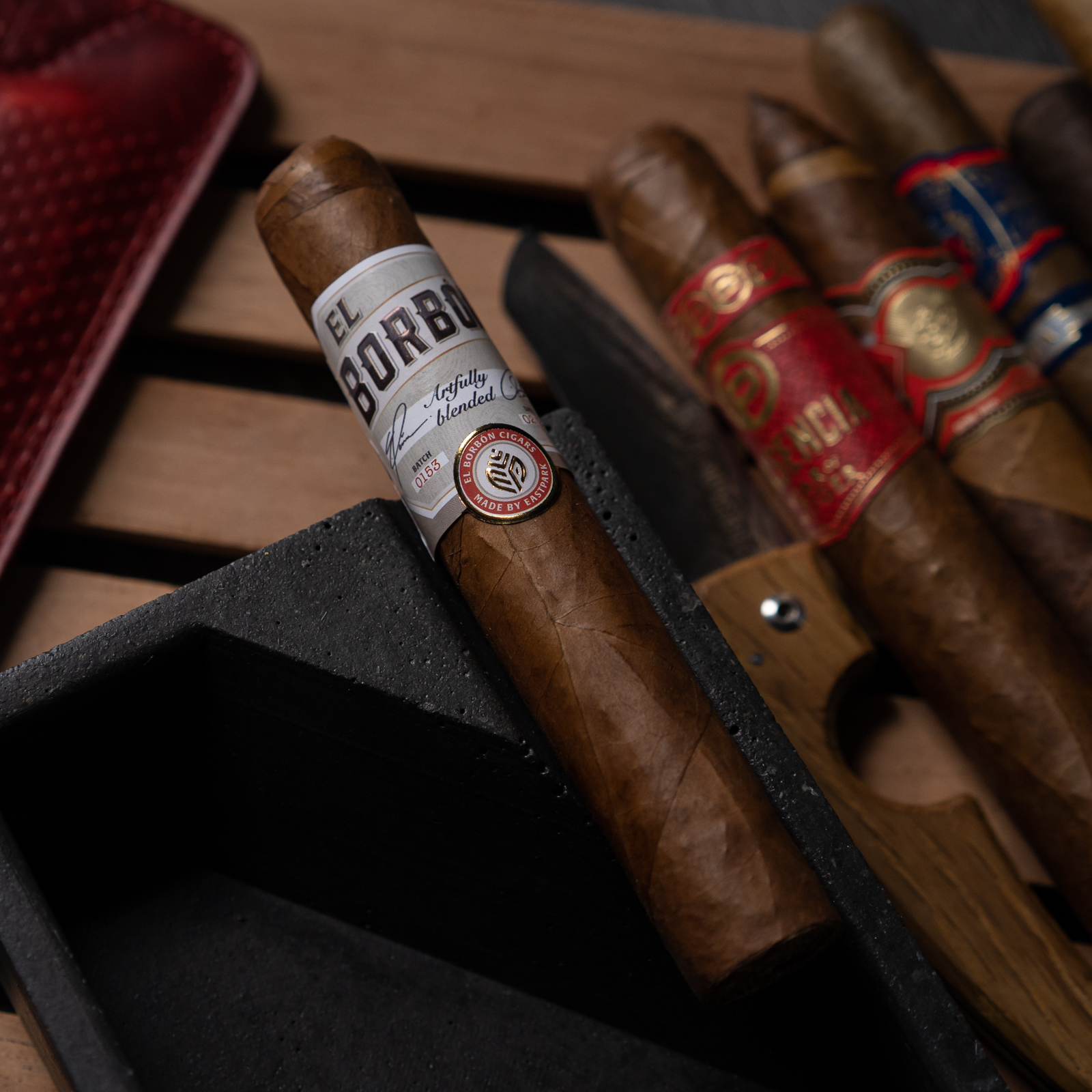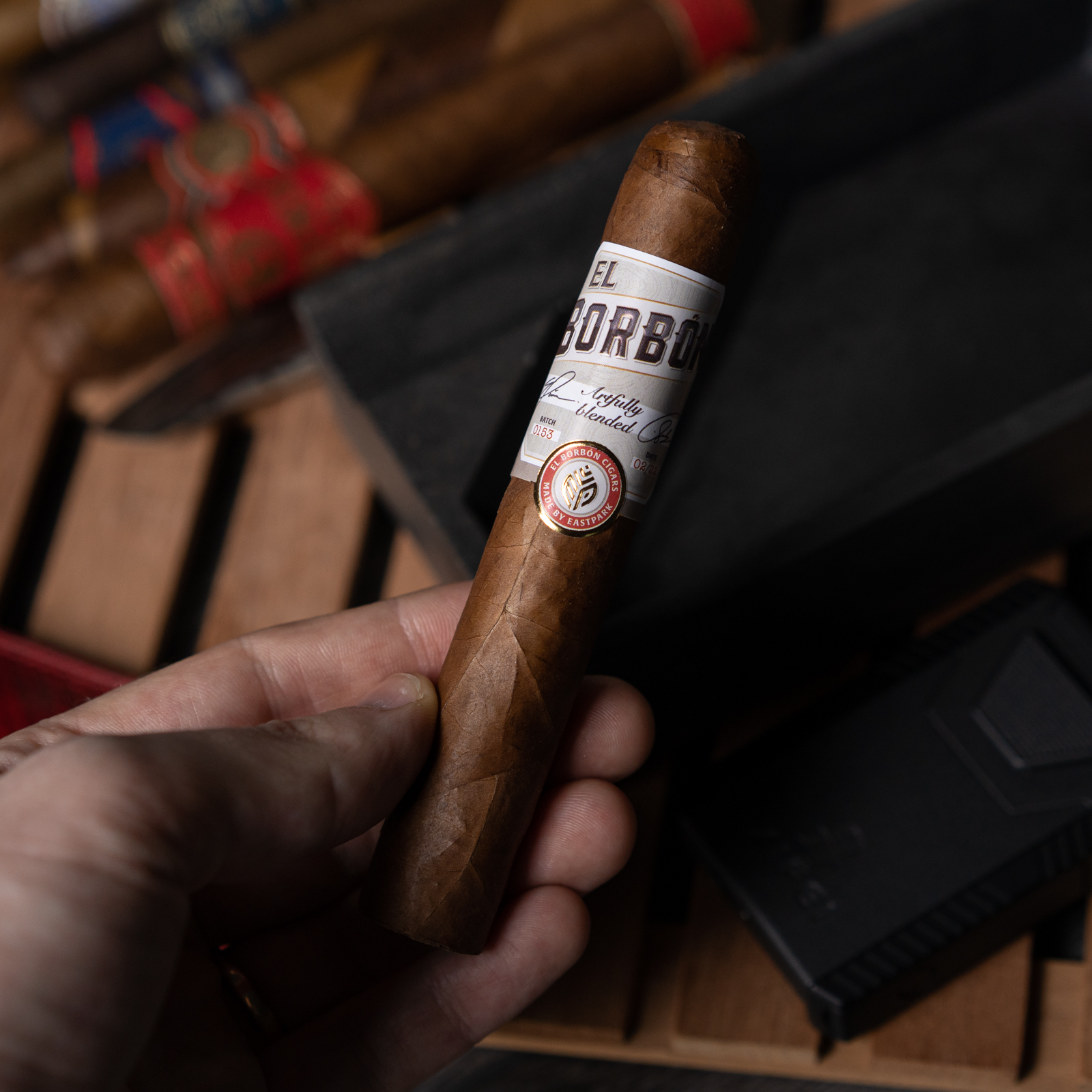 Blind Review: El Borbon
Appearance and Construction
The Colorado wrapper has few veins on the sides. There is some give at the top of the cigar as I squeeze it. The foot smells of barnyard and cashews which comes off strong. While I roll the robusto in my palm it is smooth and effortless.
Flavor & Smoke Characteristics
Straight cut is my go-to and I take a slice off the tip. The dry draw is a bit loose and drying on my lips. There's leather and spice coming off the foot of the cigar. I light the cigar with my single flame Xikar and my first puff delivers wood shavings and leather. The smoke wafts through the air and I am now getting toasty notes with roasted nuts. Taking a retrohale I feel the tingle of white pepper through my nose with barrel char on the exhale. The cigar is currently in the medium to full range with a slightly wavy burn line. The mouthfeel is drying, and an earthiness coats my palate.
Reaching the middle of the cigar the flavors change to cinnamon toast and nuts alongside a sherry like finish. The ash is dark with whiteness peppered in. The draw has become less loose and not as overwhelming as when it began. There's espresso and cocoa powder that cuts short and becomes dusty. The retrohale delivers wood and citrus with some acidity on the back end. The burn line corrects itself from its slightly altered state and I am getting more earth and cocoa now.
As I am drawing on the last third of the robusto it becomes toasty with a creamy finish. The ash is flaky as pieces begin to fall off on their own volition. Some nuttiness has returned bringing cashews followed by leather. Taking a slow draw there is a creaminess along with upfront notes of nuts and toast. With a retrohale there's pepper, some more acidity and coca pushing though. The finish is never quite that long and continues in this trend. Leather returns with a noticeable sweetness that counterbalances the back end. There is a fuller body to this cigar as its winding down which is quite unexpected. With a last few puffs, the initial leather and spice returns with a longer finish surprisingly as the cigar comes to an end.
Conclusion
What began as a cigar that I was concerned had a loose draw, it corrected itself to reveal leather and spice along with toasty notes to start. Midway the nuttiness came through with a sweetness from the sherry finish. The espresso and chocolate I tasted I wished was in more supply as it ended too short that left me wanting more. As the ash developed it went from solid to start then flaky in the last 2/3. The cigar remained consistently in the medium to full range. Having no experience with this brand, which is fairly new, it was a tasty cigar that would benefit with a spirit pairing as that would help to draw out and enhance the flavors. I surmise some aging might help in bringing out some nuances as well. I would recommend picking up a few to pair as well as revisit in the future.
Final Rating: 89