Below is another guest review by Charlie Freeman, a NYC based cigar enthusiast who works at Ash Cigars on Washington St. in Hoboken.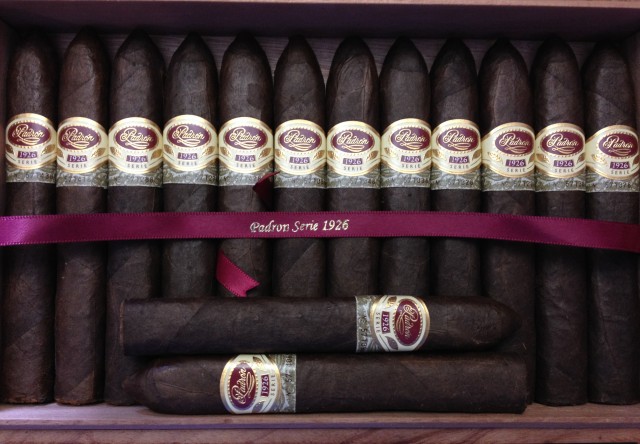 It's a windy Monday afternoon at Ash Fine Cigars in Hoboken as I start my closing shift. One of my two bosses, a full-blooded Cuban-American, is in the mood to smoke and asks me to join him. As an extra incentive, he offers me whatever cigar in the shop I choose on the house. The decision requires little to no thought. I immediately go for a cigar that, substance aside, is positively Cuban: The Padron 1926 Anniversario No. 2 Maduro.
Blend Specifics
Wrapper: Esteli, Nicaraguan Maduro
Binder: Esteli, Nicaragua
Filler: Esteli, Nicaragua
Dimensions: 5 ½ x 52
Vitola: Belicoso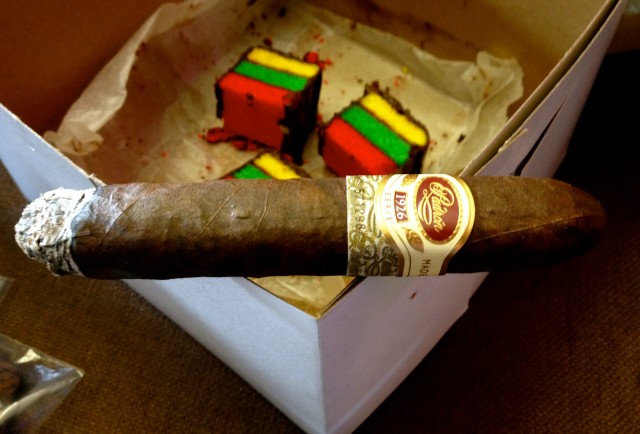 Appearance, Construction and Feel
First and foremost, this stogie bears the name Padron, a name which guarantees consistent precision and beauty in the construction. Thus not surprisingly, the construction of this cigar is impeccable. Yet the '26 No. 2 itself takes the appearance & construction aspect and kicks it up a notch. Though the wrapper is rather rough, there are practically no veins visible on it and there isn't a single soft spot to be found on this box-pressed beauty. The absence of soft spots in particular is a very good sign; guaranteeing that the stogie is fully packed and therefore won't burn out or canoe as easily. What is also worth noting is how the stick holds up after being cut: after being dealt a swift V-cut, there is not a single scar to be found outside the cut itself; it's as if the nub was never touched. This should be good.
Smoke and the Flavor
Armed with a piece of cedar wood as my torch, I light up and quickly find the draw to have such low resistance that it is almost transparent. This causes me to wonder for a split second if I had suddenly forgotten how to puff a cigar. However, my confidence in my long-term memory is just as quickly restored as I am greeted by a thick, smooth and aromatic cloud of smoke. While it's important for a cigar to breathe freely, a certain amount of resistance in the draw is needed in order to create the sensation that guarantees that the stogie is indeed being puffed. For good or for bad, this is the first time that I've had this kind of experience with a premium cigar.
Flavor: another key aspect in which the No. 2 Maduro takes Padron's excellence to the next level. The unusually natural sensations and accents of wood that are typical of a Padron cigar are ever-present, of course. But this little gem has another peculiar note within the mix: a slight sweet sensation that is somewhere between raspberry and cherry. These two opposing forces balance each other out for the entire length of the cigar, making for a well-balanced and most enjoyable smoke.
The Final Verdict
I prefer to give the bad news first, so here it is: I found the draw to be subtle to a fault, which keeps it from earning an A+. However, it should be noted that you can't knock something until you try it. Hence I encourage you, the reader, to smoke it yourself and give your own verdict, for not every smoking experience is exactly the same. That being said, let's hear the good news: This cigar defines excellence in all other conceivable aspects; construction, flavor, aesthetics, aroma, you name it. You know a cigar is good when you end up smoking it all the way to the nub, despite your burned fingertips, with the ash still holding on all the while. I used to be all about the Padron 1964 Anniversarios. But as great as they always will be, I have since found a new favorite Padron.
Final Grade: A
Tips for a Perfect Smoke Experience
No drink required for optimum enjoyment. You can easily enjoy this smoke without having to worry about a dry pallet, thanks in no small part to the subtle draw.
However, pairing this beautiful belicoso with some red wine and some rainbow cookies is no sin either.