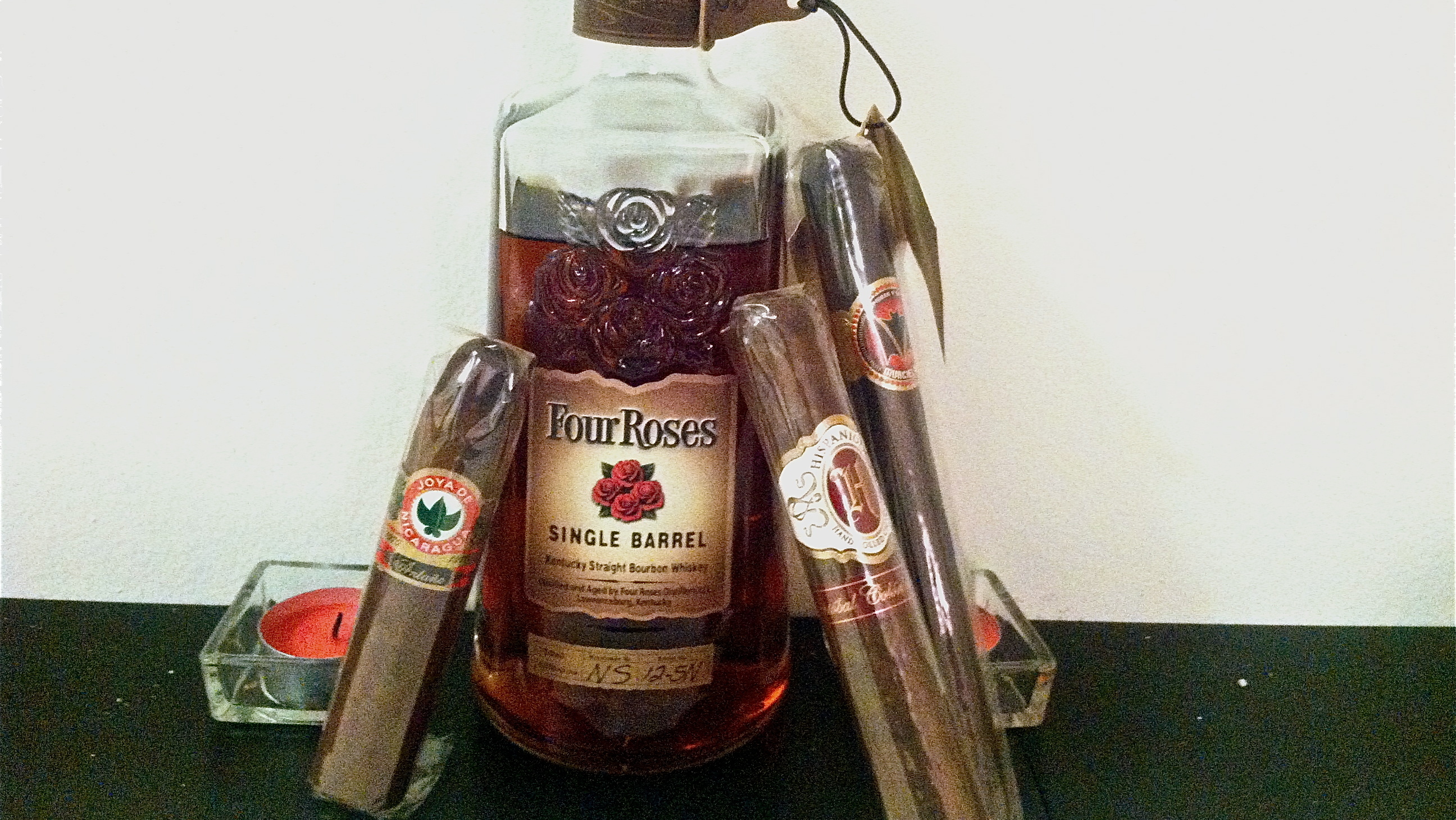 Four Roses Single Barrel bourbon comes in an elegant glass bottle with an engraved four roses. The bottle has a simple yellow label with four red roses. Each bottle has a warehouse and barrel number. My bottle's warehouse number is NS and barrel number is 12-5N. The dram of Four Roses Single Barrel is tawny in my Glencairm glass. When swirling the tawny liquid in my glass the bourbon lightly coats the glass.
Product Specifics
Maker: Four Roses,
Bottled By: Four Roses Distillery LLC, Lawrenceburg, KY
Type: Kentucky Straight Bourbon Whiskey
Website: http://www.fourrosesbourbon.com/
Proof: 100 (50% ABV)
Bottle: (750 ml)
Notes
Nose: I pick up spice, dried fruit, vanilla, floral, maple, and wood.
Palate: Four Roses Single Barrel has a thick velvety texture and is full-bodied. There are kitchen spices: pepper, nutmeg, and clove. Dried fruit, specifically pear is evident as well as sweeter notes of vanilla and toffee. Additionally, there are subtle floral notes that soften the initial spice.
Finish: The Single Barrel finishes clean and smooth.
Cigar pairing:
I would recommend a medium-full to full body cigar to complement the spicier notes in the Four Roses Single Barrel. Here are a few recommendations: Murcielago Hispaniola Cristobal Colon 1492, or Joya De Nicaragua Antonio 1970.
Where to Try: On The Rocks and Brandy Library.
Awards:
2008 Gold Medal, 2009 Silver Award, 2009 Number 1 Bourbon, 2010 & 2009 Double Gold Medal, 2010 Strongly Recommended, 2010 Wine Enthusiasts Best Buy, 2012 Gold Medal, 2012 Ultimate Recommendation.
Conclusion
Four Roses Single Barrel bourbon is excellent. The bottle can be found between $40-$45 in the New York area. I recommend finding this delectable bourbon at a liquor store or sip it at a bar.
Grade: A
Where to Buy
Manhattan (Chambers Street Wines, California Wine Merchant, Winfield Flynn Wine & Spirits, Sherry-Lehmann); Brooklyn (Heights Chateau).