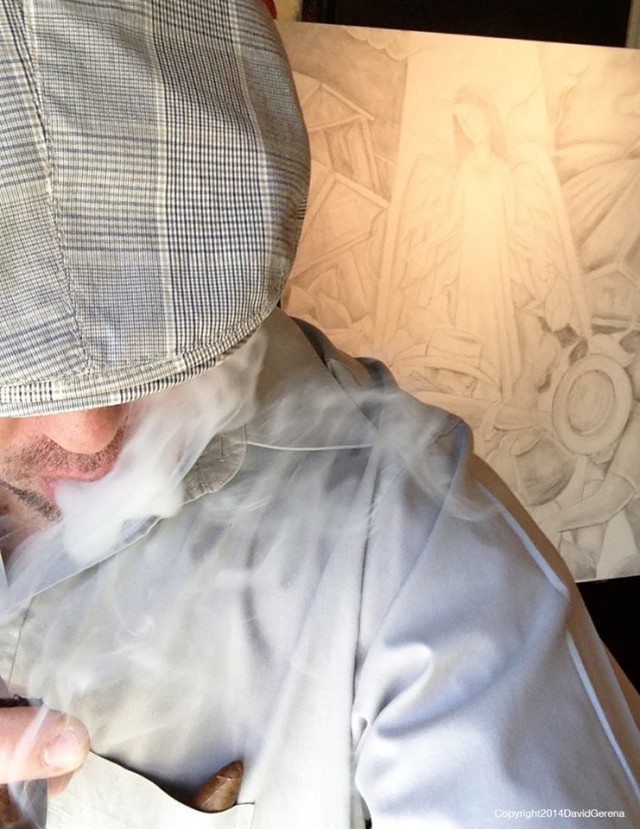 Fine Tobacco NYC is pleased to offer our readers a first look at the newest piece from cigar artist David Gerena.
"Angel's Share" is a 30″ x 40″ oil on canvas that depicts the fire which took place at the Arturo Fuente cigar factory in the Dominican Republic in August of 2011.
In David Gerena's words: "The Arturo Fuente Cigar Company is a 100 year old company producing some of the finest cigars in the world. The message of this painting along with it's purpose is to be a testament to the Fuentes perseverance and charitable efforts".
The "Angels' Share" Painting will be auctioned off with proceeds going to the Cigar Family Charitable Foundation to help underprivileged kids in the Dominican Republic. The "Angels' Share" painting is being donated on behalf of Les Bodwell and David Gerena.
Only 100 Limited Edition prints of the "Angel's Share" painting are being released by David Gerena. These prints are exact reproductions, the printed image measuring 30″ x 40″ as per the original. They are professionally printed on acid free archival stock and come signed, numbered, and with a certificate of authenticity directly from David Gerena. These prints are only available directly through the artist at www.davidgerenaart.com.
A video exhibit of The "Angels' Share" Painting can be seen below by clicking on the image: