The following review is another from Charlie Freeman, a New York City-based cigar enthusiast who, in his relatively short smoking career, has demonstrated an amazing ability to discern quality product and help others find the perfect cigar for them. You can read his first review of the Padron 1964 Anniversario Diplomatico Maduro here.  You can also read my review of the Rocky Patel Vintage 1990 here.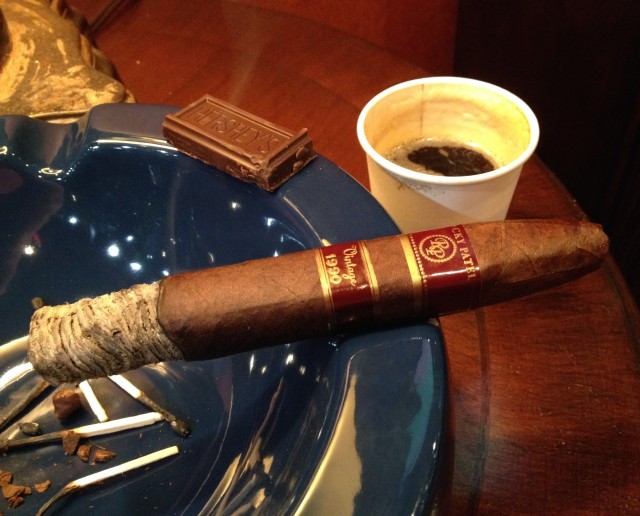 It's a pleasantly mild Friday evening. I recline into one of the many comfy chairs at Cigar Inn's brand new Upper East Side location on 334 East 73rd, coming face to nub with a cigar that has proved itself to be a most polarizing blend. The Rocky Patel Vintage 1990 line has garnered both love and contempt among cigar smokers with very little middle ground. Our own Matthias Clock knows of this story firsthand, having reviewed the '90 Churchill years before. So why review it again? Because the Vintage 1990 is like a great mystery; it's an unusual cigar that rightfully deserves to be looked at from more than just one angle. Thus, I'm taking on the Rocky Patel Vintage 1990 Torpedo this evening.
Blend Specifics
Wrapper: Honduran Broadleaf
Filler: Dominican/Nicaraguan
Binder: Nicaraguan
Dimensions: 6.25 x 52
Vitola: Torpedo Box-pressed
Appearance & Construction
Upon removing this handsome medium-bodied stogie from the cellophane I am immediately struck by the precision of its box-pressed construction. There are almost no detectible flaws in its shape. The edges are so pronounced that I'm almost afraid to touch it, lest I get my fingers cut. I also find that this torpedo is packed to the brim. This stick has no flexibility whatsoever, being able to hold its form no matter what. So what does this entail for the smoke experience? Let's find out.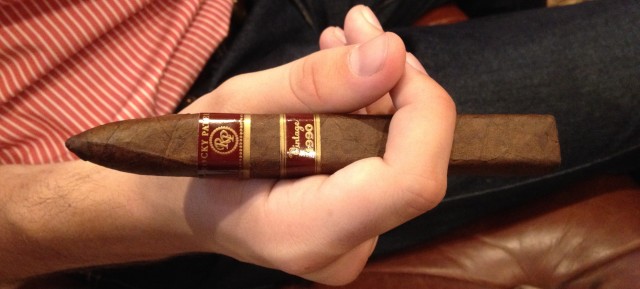 The Smoke and Its Flavor
And we're off! The first couple of puffs come easily enough, with some thick smoke to match. Unfortunately, this easy puffing does not last very long. Soon enough, the draw becomes gradually more resistant and constricted. This makes puffing a more laborious process as the smoke clouds get thinner.
All the while I find my every other thought being centered around whether or not the stogie is going to go out. Not exactly the kind of thing you want to be thinking about when you're trying to relax. Fortunately, the draw begins to breathe much more freely as I approach the nub, ensuring an easy and comfortable finish.
While the draw leaves much to be desired, the flavor is a worthy consolation. Upon lighting up, I am greeted by a lovely touch of cinnamon, which stays at the forefront for the first few puffs.
In the main section the cinnamon takes a back seat to another, more earthy taste that I can't quite put my finger on. I continue to the last quarter of the stick and I'm still trying to figure out this mysterious flavor. Even in hindsight I haven't a clue what that flavor was, except that it drew a picture of hickory wood in my mind with every puff.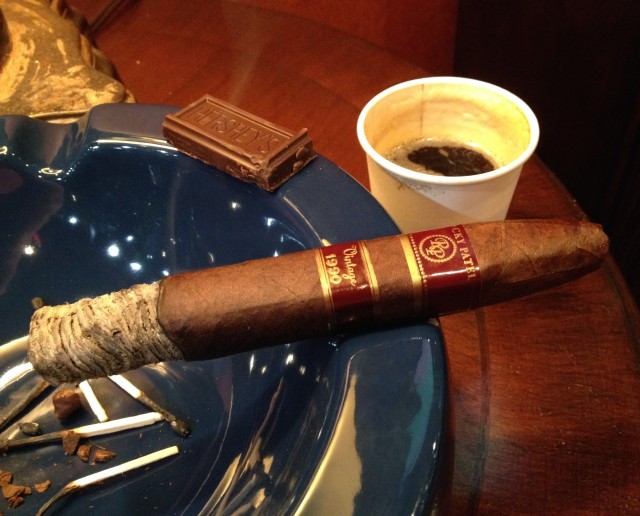 The Final Verdict
At the end of the day, I can easily see why the '90 has garnered such mixed reactions in the market. The draw was a noticeable struggle, and I also lost part of the wrapper on the nub. Yet, the flavor was quite satisfying. And unlike with the '90 Churchill, the '90 Torpedo's flavor didn't change based on how quickly or slowly it was smoked, and its structural integrity held throughout, allowing for the Torpedo to be enjoyed in its entirety. Thus, the final verdict is as follows: If you like a hard draw and an earthy flavor and are willing to put up with losing part of the wrapper because of how hard you have to puff, this is the cigar for you. As for me, I don't always smoke the Rocky Patel Vintage 1990. But when I do, I prefer the Torpedo.
Final Grade: B+
Tips for a Perfect Smoke Experience
No medium to full-bodied cigar is complete without dark chocolate and a cup of coffee, and the Vintage 1990 Torpedo is no exception.
Order of Procedure: 2-3 puffs, one bite-sized piece, one sip of coffee
Espresso in particular will do the trick best.
As with the '90 Churchill, don't take any chances. You are advised to smoke this torpedo slowly and fully to get the best flavor.