Davidoff is no stranger to pitching "Limited" cigars in their portfolio and the Davidoff "Wagner Edition" would seem like some sort of marketing ploy for the masses. This cigar however is unique in its age and availability. Released in 2004 to the European market exclusively this Salomon vitola was created as a nod to the German composer Wilhelm Wagner. As time went on as is often the case with Davidoff there was still stock in the their warehouse.  Over the years the cigar was sold to Davidoff appointed merchants in the U.S. at a $30 price tag. What is interesting to note is that you can still find this cigar if you search and with thirteen years of age on it. I've been fortunate enough to smoke older Davidoffs including some Cuban made versions and most of these cigars are built to last. This one in particular did not disappoint. Enjoy.
Blend specifics:
Vitola: Salomone 7 1/4
Wrapper: Habano
Binder:Dom. Rep
Filler: Dom. Rep.
Appearance & Construction:
Slightly rough and aged looking wrapper. Firm to the touch with seemingly plenty of tobacco. The foot smells of hay, earth and leather.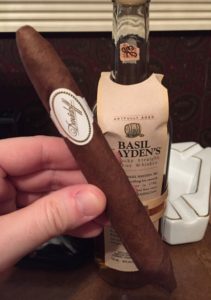 Taste & Smoke Characteristics:
Cold draw is of hay and refined tobacco. First puff is a bit of pepper and spice with a slight earthy mushroom note that Davidoff is known for. As the cigar progresses loads of eastern spices come to the forefront along with an earthy finish. Midway there is a sweet note of hay and delicate tobacco. The burn is solid throughout although a bit uneven however it doesn't take anything away from the cigar. The final third develops further with cinnamon, espresso bean and a long finish of cedar and almond. A completely balanced cigar.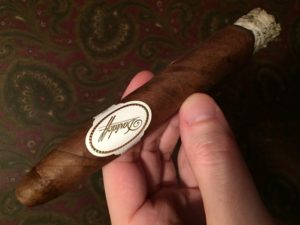 Conclusion:
For such a large cigar I was impressed by the complexity it yielded. This is not an easy feat as with long filler you can fall into the trap of blending a one dimensinal large format if you don't add the right compents to it. I can't say I have ever smoked a fresh version of the Davidoff "Wagner" however for $30 you can get one with thirteen years of age which has done this cigar very well. If you can find one indulge yourself.