Announcement, Blog, Cigar Lounge, cigar news, Cigar politics, Common Questions, Culture, Education, Featured, Images, Lifestyle, Luxury, News, Opinion, Photo, Smoking Location, Updates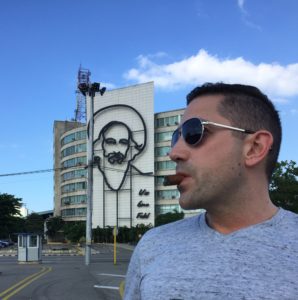 Ah, the mystical Island of Cuba. For the U.S. it's the forbidden country that secured the embargo on September 7th 1962 when John Fitzgerald Kennedy re-instated the Trading With The Enemy act of 1917. Since then U.S. citizens have only be able to travel to Cuba for very strict diplomatic or humanitarian reasons and return with no goods from the country… until now. Last year President Obama repealed the travel ban on Cuba creating more broad allowances for U.S. citizens to travel there. Better still the former president lifted restrictions on bringing back goods from Cuba to the United States. For beloved cigar smokers this was fantastic news. Having traveled around the world smoking Cuban cigars, finally being able to visit the country and farms where the famed tobacco is grown is a cigar aficionados dream come true. In this first report I will touch upon the ease of travel to Cuba and the state of cigars I found in Havana.  Also included is a list of the best places to purchase cigars and where I found some older vintages lying around.
Travel:
Traveling to Cuba was as easy as booking a flight with Delta straight to Havana. You can pay with your credit card through Delta however you can't use any U.S. credit cards when you are in Cuba. Cuba is strictly cash for Americans and you can exchange U.S. dollars for Cuba's CUC's at the airport or any bank in Havana. Be aware that U.S. dollar incurs a 10% transfer fee when exchanging to CUC's. You will also need a travel visa along with one of the twelve reasons you are traveling to Cuba. Most visitors will fall under the "People To People Educational Act" so long as you visit a cigar factory, farm, rum distillery or art  museum. Touring a cigar farm, a rum distillery or viewing art is a pleasure in Cuba and the culture is what you are looking for. You will need to purchase a travel visa as well as book a hotel in advance. I suggest using a third party travel site which takes care of all those things for you. You can pay in advance which leaves you only having to bring money to spend on your trip. I recommend the  Educational Adventures Company as they were excellent in making those arrangements as well as getting you into any factories or farm tours. They will also set you up with a translator and driver if you desire. The prices were very reasonable and their service fantastic. http://www.theeducationaladventurescompany.com/ If you wish to book on your own you need to contact the U.S. Office of Treasury and request a visa for purchase. In booking a hotel you would need to book online.
Havana:
Arriving in Havana I grabbed my taxi and headed to the Casa Particulares I was staying at. The first order of business was to relax on their rooftop have a mojito and view the city as a whole during the early afternoon. Havana is as you see it in pictures; a run down third world country with half built structures, renovated 50's American classic cars and beautiful French/Spanish architecture from the days when those countries ruled the island.  The people are friendly and eager to please in what is now a boom in American tourism. In speaking with the Casa owner he said since Obama repealed travel restrictions they saw a rise in visitors from the U.S. to a million last year and near two million this year. The fear the Cubans have is keeping up with the demand. Before hitting the Casa Del Habanos which are the authorized Cuban cigar dealers and the ONLY place you should be buying cigars, I hit a Paladar which is a restaurant run by the locals and not the government. Stay away from any government run establishments as the food and service are mediocre at best. I had some of the best octopus of my life at a local Paladar and was handed a cigar to smoke with my meal. This was a local farm cigar and the flavors of earth and fresh tobacco where present. It was more of a one dimensional smoke but the earthiness hit the spot with the perfectly cooked slightly smoked octopus.
Smoked octopus with semi sweet glaze: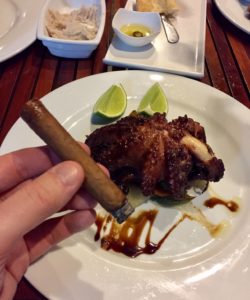 Cigars:
With some hearty fare and a cigar to match it was time to hit the La Casa del Habano. As I said before these are the only official stores that carry authentic Cuban brands. In Havana you will be solicited to buy Cuban cigars on the street for an even cheaper price than the stores. Do not do this unless you want to smoke fakes. If someone tells you their brother's cousins friend works at the Partagas Factory and gets cigars from there they are lying. At best you'll get a cigar blended with fresh farm tobacco which will taste nothing like the brands you know. At worst it can be short filler or scraps from a rolling table floor. Don't waste your money or time on these "faux" sticks. Go to the the La Casa's and spend your money on an authentic selection of smokes as these will be the best prices you've seen as a consumer anywhere in the world. My advice is to flip over boxes and dig deep into their inventory. You may find some boxes with several years of age on them and it is worth the hunt. The proprietors do not mind you rummaging through their stock and will often help you. I was fortunate enough to find boxes with as much as seven years of age on them.
A box of Montecristo Open Juniors from '10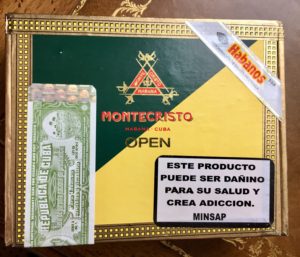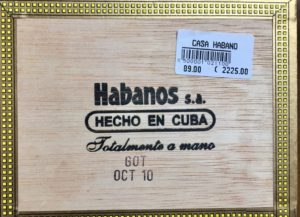 Montecristo #5's from '13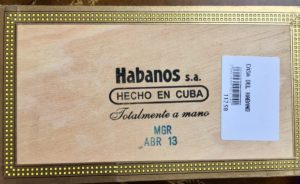 Partgas Super Partagas from '14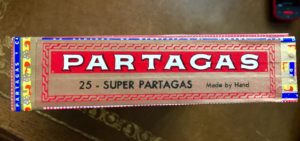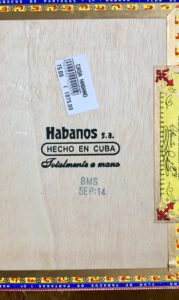 They were fully stocked with most brands from 2016 although there were no Cohiba Behikes or Esplendidos to be found at the places I looked. I stayed away from most 2016 vintages as the past crops in Cuba haven't been great. I did pick up some boxes of '16 Trinidad Reyes and current Vegueros Tapados which smoked well despite being young and will most certainty benefit from age. I feel the 2016 vintages are hit or miss from what I've smoked so be cautious or pick up single sticks to sample yourself. Most La Casa del Habanos carry single sticks although the selections vary. Below is a list of three La Casa del Habanos you should definitely visit.
La Casa del Habano
5th and 16 Av. 5 y Calle 16, Miramar
This is where I found the oldest vintages of Cuban cigars and the staff were most helpful.
2. La Casa del Habano, Club Habana
Av. 5, entre 188 y 192, Miramar, Playa
The place to enjoy a custom rolled "Monsdale" cigar which was created by the late Enrique Mons. It's a thicker lonsdale with a pigtail cap. Flavors of caramel, butterscotch and toast in this unique blend.
3. La Casa del Habano, Hotel Habana Libre
Calle L entre 23 y 25, Vedado
The largest selection of boxes of cigars in all sizes. If you enjoy the hunt this is the spot for you.
End of Day One:
Loaded with cigars and satiated from delicious Cuban fare it was time to watch the sunset with a mojito and cigar reflecting on the first day in Havana. In Part Two I travel to the tobacco fields and the famed Robaina Farm. Stay Tuned!
Sunset in Havana: