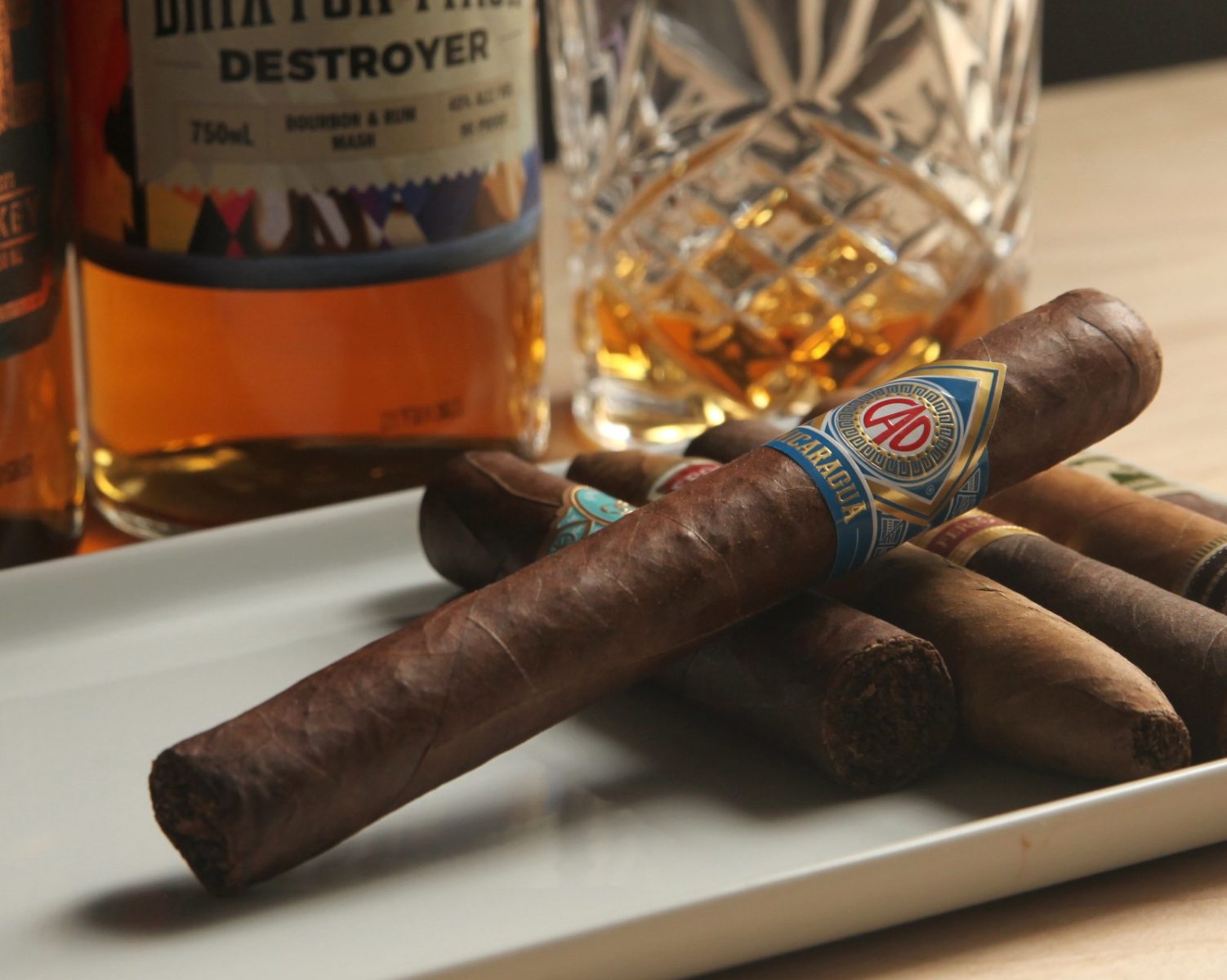 Up for review today is the CAO Nicaragua, a cigar released at IPCPR 2018 that is an extension to CAO's WORLD series that includes popular cigars like CAO Brazilia, America, and more. I don't smoke a lot of CAO these days, but the CAO Italia was one of the first cigars to wow me, and one of my first ever reviews over eight years ago.
One interesting thing to note about the Nicaragua is that—strangely—the tobaccos don't all hail from that country. Both the wrapper and binder are from Honduras, with the filler tobaccos from three regions of Nicaragua.
Let's see how the CAO Nicaragua stacks up.
Product Specifics
Cigar Reviewed: CAO Nicaragua
Producer: CAO Cigars / General Cigar Co
Wrapper: Honduras
Binder: Honduras
Filler: Nicaragua (Condega, Esteli, Jalapa)
Size: 6″ x 50 (Granada)

Appearance and Construction
The CAO Nicaragua is presented in traditional CAO fashion. Lots of strong colors on the band like sky blue, gold and red. The band is nice but a bit much for me (I prefer bands with a bit less of a cartoony feel).
The outer wrapper leaf is a moderately dark wooden brown, with some noticeable veins and a shiny oily sheen. The cigar is packed tightly but has a decent amount of give when squeezed.
After using a straight cut, the draw reveals itself to be fairly restrictive, about a 7/10 in terms of restrictiveness. There's a very faint spice on the cold draw along with raisins and some chocolate. Off the foot, I pick up notes of pepper and dried wood.
Flavor and Smoke Characteristics
The CAO Nicaragua opens nicely and with a good amount of complexity. The smoke sits just below medium in terms of strength and carries with it a bouquet of rich flavors. Strong espresso up front, followed by chocolate, leather, roasted peanuts, with a slight white pepper note on the retrohale. The texture of the smoke is very smooth and rich. Smoke production is excellent.
About 20 minutes in, the straight white ash is holding strong and the burn is straight. Not much changes until a few minutes in to the second third, where the body increases to medium. Flavor wise, chocolate and spice are still dominant, though there are now some additional buttery touches that add an enjoyable creamy character to the smoke.
The final third is interesting. The flavors condense and the strength ramps up, with the smoke producing extremely rich notes of espresso and cocoa powder with cream on the finish. It's a great way to close the cigar, and I smoke it down to the final inch.
Conclusion
I'm a fan of the CAO Nicaragua. It puts forth an enjoyable bouquet of flavors and has enough progression and complexity to keep things interesting. If you're a sucker for cigars that feature notes of cocoa, espresso, and leather, this is a good place to start. And if you're a CAO fan, this isn't a cigar to miss.
Final Score : 90