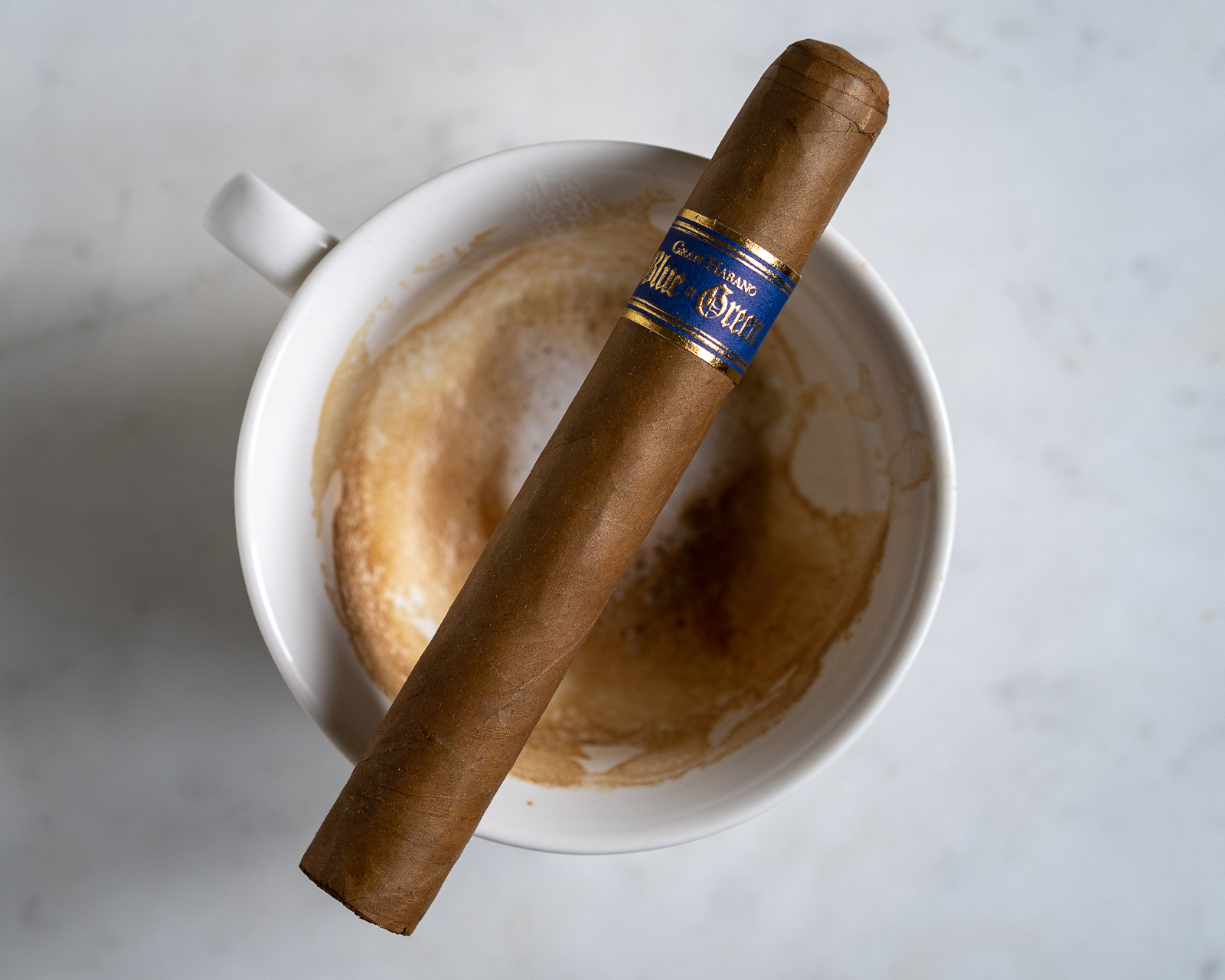 Blue In Green is the latest offering from Gran Habano Cigars. For me, Gran Habano has been a bit hit or miss, though I did very much enjoying the Zulu Zulu White Label earlier this year. But I was a bit surprised when I saw initial announcements for Blue In Green, if only because the name is unique in the cigar world and the packaging looked very interesting. But it wasn't until very recently that I was able to get my hands on one of these. I'm so glad I was, because as it turns out, this is an excellent Connecticut blend cigar.
Blue In Green is offered in three sizes:
7 x 48 – Churchill
5 x 52 – Robusto
6 x 54 Gran Robusto
Product Specifics
Cigar Reviewed: Gran Habano Blue In Green Gran Robusto
Wrapper: Connecticut
Binder: Nicaragua
Filler: Nicaragua
Size: 6 x 54 Gran Robusto
Appearance and Construction
The Gran Habano Blue In Green is a very attractive cigar. It's clear the company didn't cut any corners on the blue and gold band. The gold letters are raised very nicely, giving it a regal, festive sort of look. This part is excellent. One issue I do have with the packaging though is the cedar the cigar comes wrapped in (not pictured). The cedar is fine, but the top and bottom are wrapped in a material I can only describe as looking like it was purchased straight from Michael's or JOANN fabric stores. If this cigar is going to be a regular line for Gran Habano (and it should be, as you'll read below), they should either drop the upper and lower bands on the cedar, or up the quality in some way.
With that (probably unnecessary) aside out of the way, let's get back to the cigar.  The outer Connecticut wrapper is flawless and has a velvety texture. It's so smooth, in fact, that I actually had to boost the detail on this photo just to make the texture on the wrapper pop a bit more.
Off of the foot, I can pick up aromas of hay, dried grass, wood, and creamy vanilla. After cutting using a straight cut, the draw proves to be perfect, a 7/10 in terms of the amount of restrictiveness. The cold draw features some grass and wood.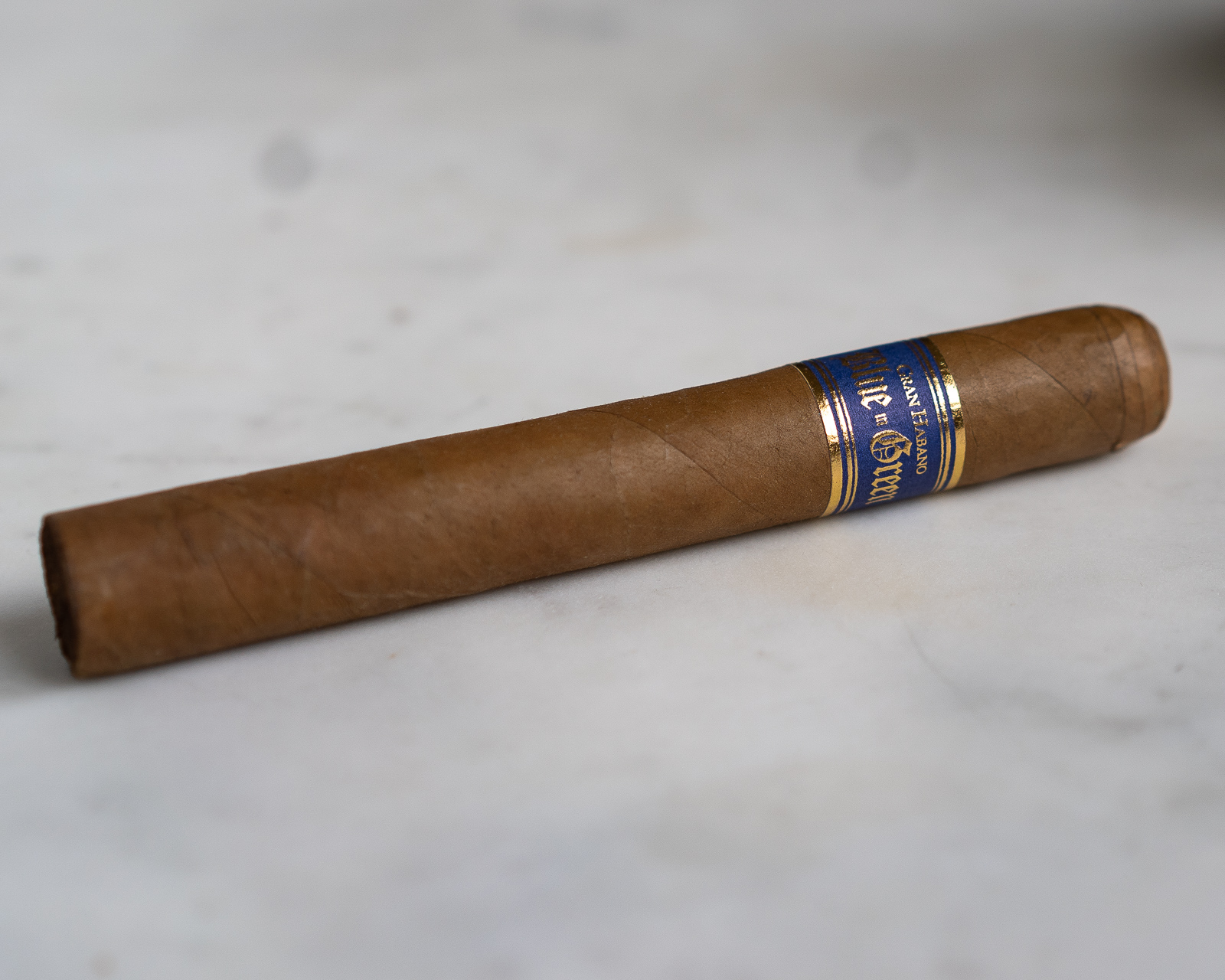 Flavor and Smoke Characteristics
This is where it gets good.
The Gran Habano Blue in Green opens with cool, mild, mostly smooth smoke. Flavors are mostly typical of Connecticut wrapper cigars: wood, hazelnuts, and some cream on the finish. But there's also a nice, earthy spice that adds some additional complexity. Smoke production is excellent, and the burn is straight from the get go.
As the Blue in Green burns past the first half inch, the flavors begin to really marry nicely. Body, strength, and flavor are at or even below mild, but the overall profile is almost perfectly balanced between sweet, bitter, spicy, and slightly buttery impressions. The flavors slowly shift between lightly toasted bread, gentle woodiness, slight spice and cafe au lait. The retrohale complements the palate, with more toasted bread and some light baking spices. It really is marvelous; balance, complexity, and harmony all at once.  Construction throughout the first third is perfect: 100% straight burn, ash holding in over one inch increments.
One note here: it is immediately evident that is important to space your puffs with this cigar. Smoking this like a chimney quickly overheats the smoke, causing the reasonably bitter wood notes to become aggressively bitter, throwing the balance off.
As I smoke past the second third, the strength begins to creep up past the mild mark. Coffee, light black pepper, and baking spices (cinnamon, cloves) take center stage, with toasted bread underneath it all. The burn remains remarkably straight, with a strong salt and pepper ash.
The Gran Habano Blue in Green continues to morph through the halfway mark, with body and strength inching toward medium. Sweet cream, chocolate, fragrant cedar, and an enjoyable apricot note sit harmoniously next to light pepper and spice. The retrohale is still totally mild, and could probably use a bit more personality. Still, an excellent experience overall up to this point.
The final third of the Gran Habano Blue in Green sees a final shift toward more bitterness, with wood, bitter chocolate, and nuttiness in the fore. Lingering spice makes an appearance on the finish as well. Construction remains effortless, with a perfectly straight burn and lots of cool, smooth smoke. An easy end to a fantastic cigar.
Conclusion
The Gran Habano Blue in Green is probably the most satisfying mild to medium bodied cigar I've smoked in 2018. It has a great spread of core flavors and aromas, with toasted bread, coffee, and light spices, and the flavor progression never lets up. It also manages to avoid the bitter final third that ruins so many mild Connecticut blends. I could be wrong, but I think the slightly larger-than-normal Gran Robusto format may have tempered the flavors a bit, keeping the smoke mild and gentle. This is the size I'd recommend starting with for this blend.
I can't wait to smoke this cigar again, and at under $10, I certainly will.
Final Rating: 92