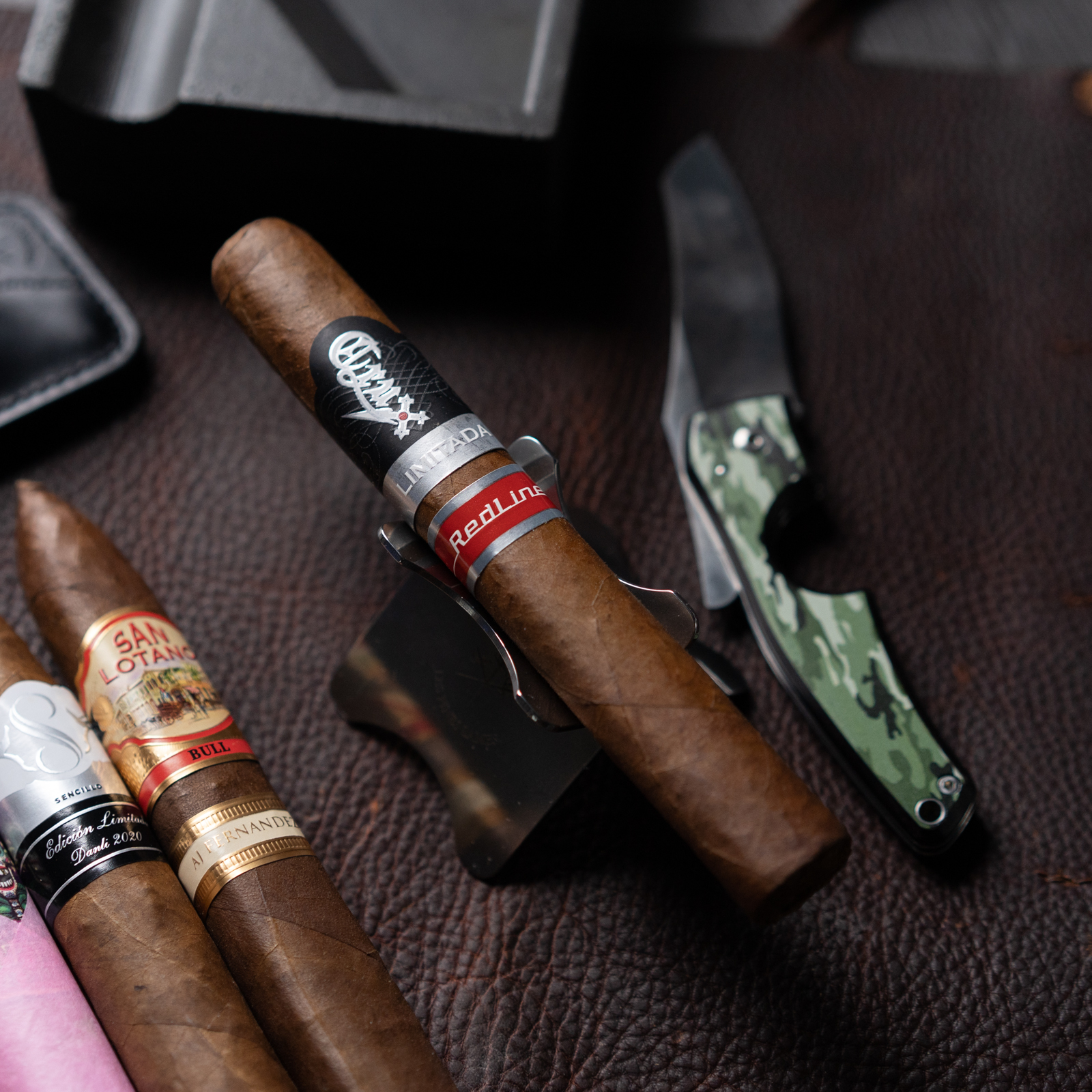 Crux Limitada Redline cigars are made by Crux Cigars and are manufactured by Plasencia Cigars S.A in Nicaragua. Crux only produces 1,000 boxes annually of their Limitada line which features a proprietary Nicarauguan Enganoso wrapper leaf grown exclusively for them in Esteli.  The Limitada Redline is a box-pressed toro size cigar that also consists of a Connecticut Broadleaf binder with a blend of undisclosed Dominican and Nicaraguan filler.
Blend Specifics
Cigar Reviewed: Crux Limitada Redline
Wrapper: Nicaraguan Enganoso
Binder: Connecticut Broadleaf
Filler: Dominican/ Nicaraguan
Size: 6 x 50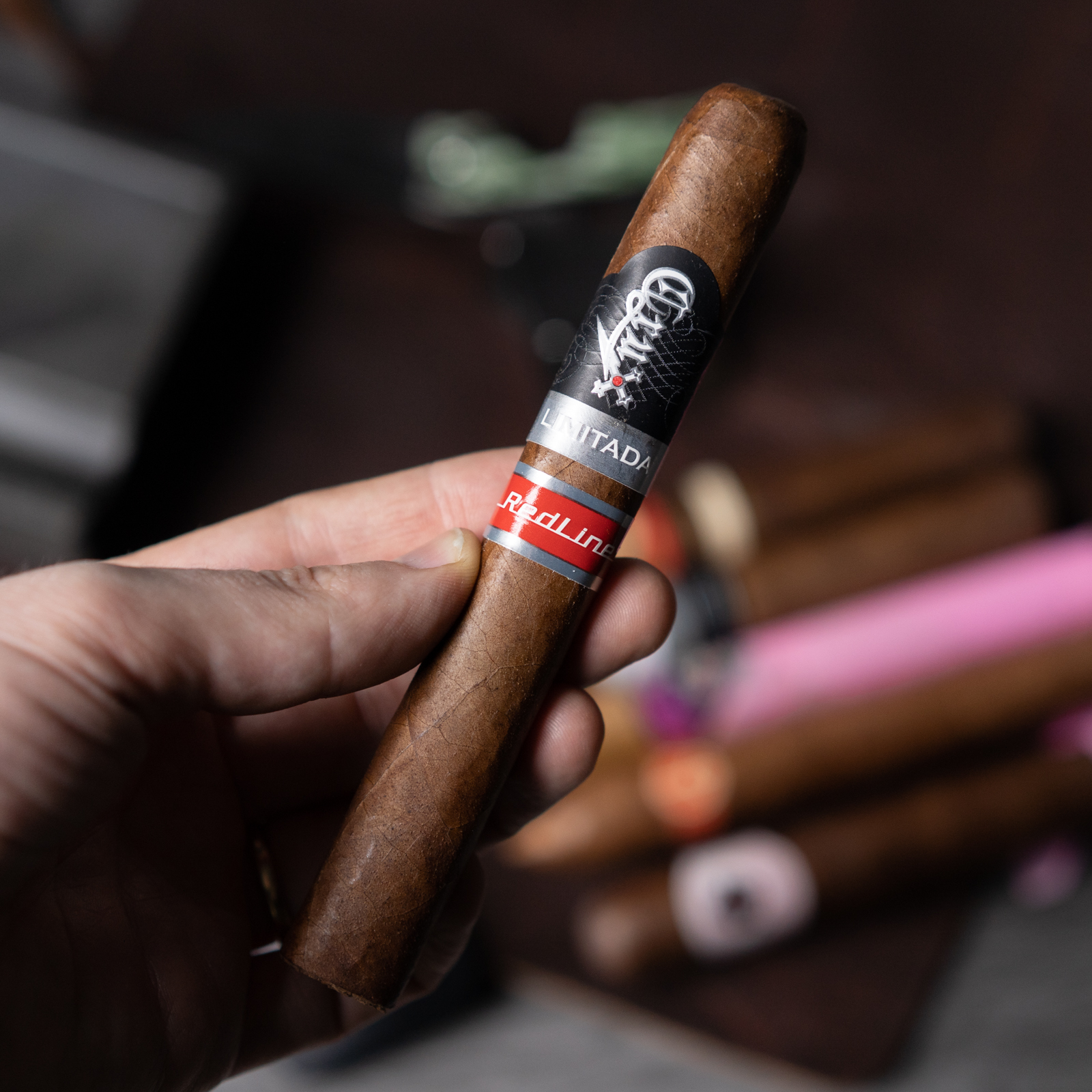 Blind Review Notes: Crux Limitada Redline
Appearance & Construction
The cigar is a more slender box-press.  Almost rectangular. Think: "tampa-style" , "soft-press" or Padron "Series." The combo of color and shape remind me of a UK-issued Cadbury "Flakes" bar.  The wrapper is rich and decadent and appears aged to perfection.  I always appreciate the aesthetics of a box-press. The way the veins in a wrapper leaf and how it was rolled come together to give off a criss-cross double-helix appearance.  It's like looking at a well wrapped gift or even professional origami sometimes. The cigar is packed stiff at the bottom and looser at the top, yet has a good even-weight in my hands. I can actually cold draw through its double-cap without applying a cut. Cederary…
Flavor & Smoke Characteristics:
The cigar itself does not give off a strong aroma on its own.  I have to sniff it like it's the last scene in Scarface and almost lick the wrapper to get the stogie to speak to me.  I can faintly make out straw bales, some honey, and pencil shavings.
I apply a shallow cross-cut (AKA "rose-cut" to you Brits) and begin to take in a more proper cold-draw.  It is now a strong cedar that smacks me back in the throat.  I didn't get that when the cap was unpierced.
As I toast with a single-torch lighter, there is a distinct fragrance that reminds me of a mens cologne from yesteryear.  Think old-school Nautica when we all used to rock bubble jackets and holler at the upper-grade girls in the junior high parking lot…ANYWAY! The cigar is taking a while to heat up, but it combusts beautifully.  Let's GO!
The smoking experience in the first third is nice and light.  There is chocolatey damp cedar on the front end and spicy pencil shavings on the back end. There is some curry powder on the retro as the tobacco oils begin to heat up.  I'm salivating.  The cigar is so far peculiar on its first impressions.  It covers some of the usual flavor profiles of a medium-full cigar, but in a very wistful and airy way. There's chili and grit present, but by no means would I describe it as full-body. For example, even the smoke coming off the foot of the first third is very reminiscent of Swiss Miss hot chocolate packets and Lucky Charms marshmallows. Not really what the local biker gang ordered, but maybe they would, if you know what I mean? I wouldn't. Motorcycles terrify me in a God-fearing way. More on that next time.
The second third shapes up to be a leathery and more creamy experience.  At first the leather note is not drying out my palate like it normally would on other cigars, but is actually making me salivate more. Quite unique.  I then notice that my palate begins to dry out and the body of smoke lends to a more creamy mouth feel. However, this cigar is no Connecticut. Very unusual. It's enough to keep me interested.  I'm also impressed by the construction so far.  Since box-press cigars generally are 1-2 filler leaves less in construct, I often find myself having to adjust my puff speed so as to not overheat the tobacco.  Amazingly, this box-press is staying cool and the burn line illuminates no matter how hard or soft I draw on it. I like that. The second third raps up with the ash build-up being flaky.  My palate is filled with a strong hazelnut note, and from time to time I'm getting the taste of a potting-soil with vermiculite.  It makes me remember how far behind I am on my home gardening.  The retrohale is leather and spice.
The last third is nothing new.  The cigar is still consistent in what flavors it offers.  However, the spice and hazelnuts are less faint now.  It also goes out a couple times.  I had to relight and purge twice.  No big deal.  It helped refresh the experience and brought out some citrus aromas and better smoke production.  To be honest, the cigar, because of its length, was becoming a little boring until I had to apply some damage control.  I smoked it down to the size of a pinky toe.  It ends on a very savory note, like when you crack open a fresh Goya "Sazon" shaker.  There are also more hints of dirt and even espresso beans on the finish. The fragrance as it goes out in my ashtray still reminds me of that same thuggy pretty-boy cologne we used to use to cover up our adolescent acne and daddy issues. C'est la vie.
Conclusion
Aside from all Padron Cigars, Crowned Heads' "Juarez ", and Foundation Cigars' "Menelik," I generally am not a fan of box-pressed cigars.  They often feel clunky and remind me of being on the job holding a carpenter's pencil.  I smoke cigars to forget the day, not to feel like I'm still on the clock. However, because of the more rectangular shape of the Crux Limitada Redline, all the hand and mouth-feel awkwardness wasn't present.  As I smoked the cigar I kept it on its edge, instead of its belly, as well as when I held it between my fingers.  Ergonomic vitolas just might be the future of cigars everybody!
Overall, the Crux Limitada blend was nice. As mentioned, it had the flavors I find to be present in a medium-full body cigar, just in a very muted and passive presentation.  If you're not the morning-type tough-guy, AND need the day to progress to build up your defense mechanisms, BUT still need something to remind you of who you wish you were while sipping your over-sweetened "tall hot latte"…GUESS WHAT!? This cigar may fill that void! As you smoke it, you will look forward to- AND might be better equipped- to handle "A REAL MANS CIGAR!," later on that same day. I only deducted points for the flakiness of the burn and the fact that I had to relight it twice.  I smoked it almost down to nothing, and the changing flavor profile kept me wanting more. I'd personally like to experience the Crux Limitada again in a smaller vitola. At this cigar length, I felt it was a journey that went longer than it should have. Enjoy.
Final Score: 90