La Palina El Diario KB II is made by "negociant" cigar manufacturer La Palina Cigars.  The El Diario brand is a collaboration with the great minds at Alec Bradley and is made out of their Fabrica de Tobacos Raices Cubanas factory in Honduras. La Palina is a cigar manufacturer with roots that trace back to the USA, namely Chicago. Started in 1896 bv Sam Paley, La Palina, was a heralded cigar brand up until the Great Depression when his factory unfortunately closed. La Palina was revived in 2010 by his grandson, Bill Paley. Today Bill is the "principle and chairman" of La Palina with Samuel Phillips and Clay Roberts as the main "stewards" of the brand.
Blend Specifics
Cigar Reviewed: La Palina El Diario KB II
Wrapper: Honduran Corojo '99 Rosado
Binder: Honduran Criollo '98 (Double binder)
Filler: Nicaraguan Corojo '99 and Criollo '98
Size: 6×40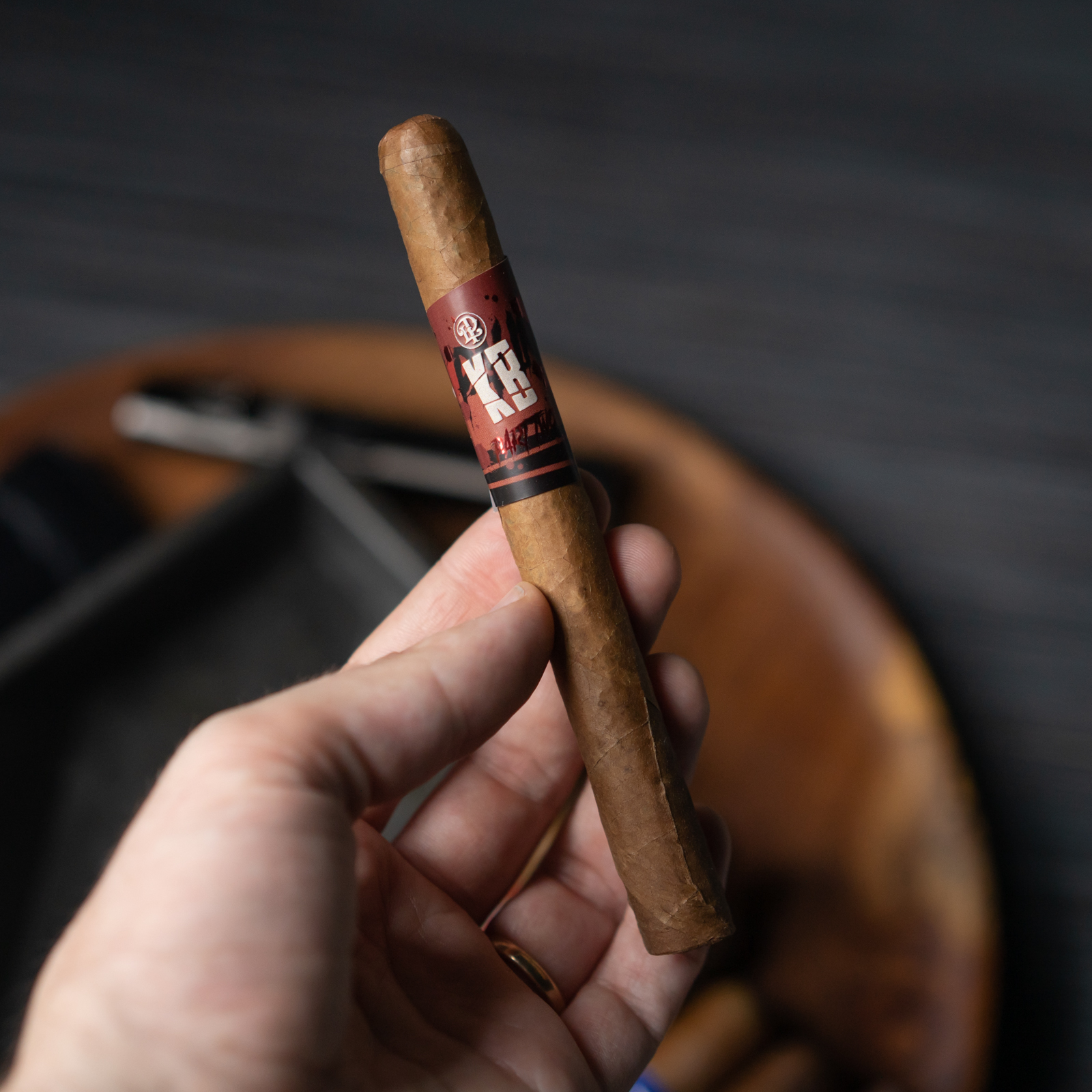 Blind Review Notes: La Palina El Diario KB II
Appearance & Construction
The cigar is a traditional corona vitola with a classy triple cap.  The cigar wrapper is a light beige with some green spotting reminiscent of a not-fully-cured Connecticut shade wrapper.  The wrapper looks dry and delicate. Featherweight in my hands and packed loose.  I have my reservations.
Flavor & Smoke Characteristics
The cigar smells of old cedar.  Like an old dry cigar box that needs to be rehumidified.  I V-cut and cold draw, and experience the same old humidor that is in desperate need of seasoning. I guess that's what they're going for?
My soft flame licks the foot of the cigar and it combusts just fine.  On the palate I am immediately greeted with rod iron, graham cracker and sweet peppers.  Very interesting.  I've never tasted all those notes together before on a cigars' introduction.  The finish is both salty and peppery with some hints of strawberry.  The first third has a nice body to the smoke and it is smooth and creamy.  I find that I do have to watch my smoking speed, as if I'm not already a slow smoker! The cigar is burning hot! Not much of a retrohale.  Not yet, at least- just some cedar steam.
The second third has notes of fried dough, more strawberry and chili.  Altogether it's like you took a jalapeno popper and wrapped it in a fruit roll up, and then ate the whole thing at once without chewing.  I think I just nailed that perfectly in terms of description-PAT ON THE BACK FOR ME!  The retrohale finally emerges with peanuts.  There is a lingering black pepper and peanuts on the back of my palate.  The cigar is still too hot!  For a cigar that was stored properly, its burning like autumn leaves.  If you've ever smoked a dry cigar, especially if its one you've smoked before, you'll notice the aroma coming off the lit foot of the cigar actually smells different.  Since, I have no clue what I'm smoking right now, I have to at least compliment this dried out stick for producing a nice cafe mocha ambiance in the air.  It leaves me wondering what the same cigar fully resuscitated would smell like.
As I enter the last third, I cant thank the cigar gods enough for producing the corona vitola.  It is a great vitola to watch the lightning bugs dance from a screened-in porch as I happen to be doing right now.  If you have no clue what I'm talking about, take one of the waterbugs that are coming out of your shower drain and duct tape a motion sensor LED to it.  SAME THING! Trust me.  The second third was very diverse compared to the last few puffs of this cigar.  This last third is very straight forward with some molasses and general tobacco taste.  The draw is also tightening as I puff away on it. Its still smoking way too hot and finishes harsh.  Nothing but burnt smoke hitting the tip of my tongue.  Not a fan.  This cigar needs to "purify in the waters of Lake Minnetonka." "Purple Rain" was such a good film! You can tell by my attention span that I'm done.
Conclusion
This was my first La Palina cigar, EVER!  After doing some research on the "El Diario" line of cigars they offer, I am amazed to find out that this line is meant to be one of their stronger blends.  In my opinion it was mild-medium.  The La Palina El Diario Kill Bill II is only offered in the corona vitola and I'd love to see it folded in half to make a nice gordo. I think that THEN, we'd have better combustibility as well as the strength that is advertised.  What started out as a very traditional vitola with a very interesting flavor profile, was buried in a smoldering blaze I couldn't contain- EVEN as a world renowned slow-smoker.  I, however, wouldn't mind continuing to explore La Palina Cigars a little more to see if they have something just for me.  It seems that as a remerging company, they definitely hired the right people to bring the best smokes they can to market.  My interest has been peaked.  Enjoy!
Final Score: 85