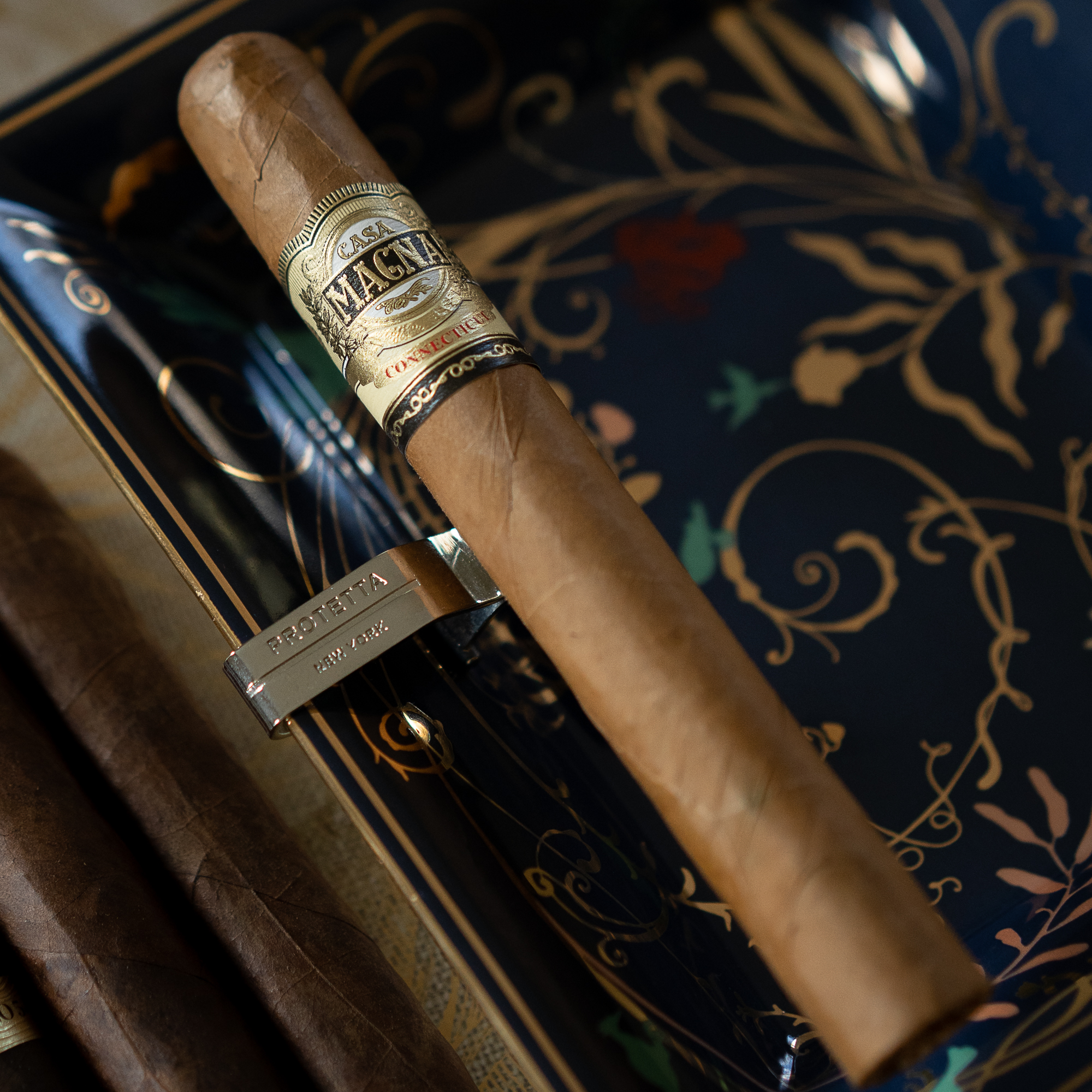 The Casa Magna Connecticut Toro is manufactured by Quesada Cigars at its Tabacos de Exportación factory in the Dominican Republic.  Casa Magna was originally a joint venture between Quesada Cigaras and Plasencia Cigars and rose to prominence when it won Cigar Aficionado's #1 Cigar of the Year in 2009.  The Casa Magna Connecticut toro is the second Dominican made cigar in the Casa Magna line.
Blend Specifics
Cigar Reviewed: Casa Magna Connecticut Toro
Wrapper: Ecuador (Connecticut)
Binder: Nicaragua
Filler: Nicaragua
Size: 6 1/2 x 52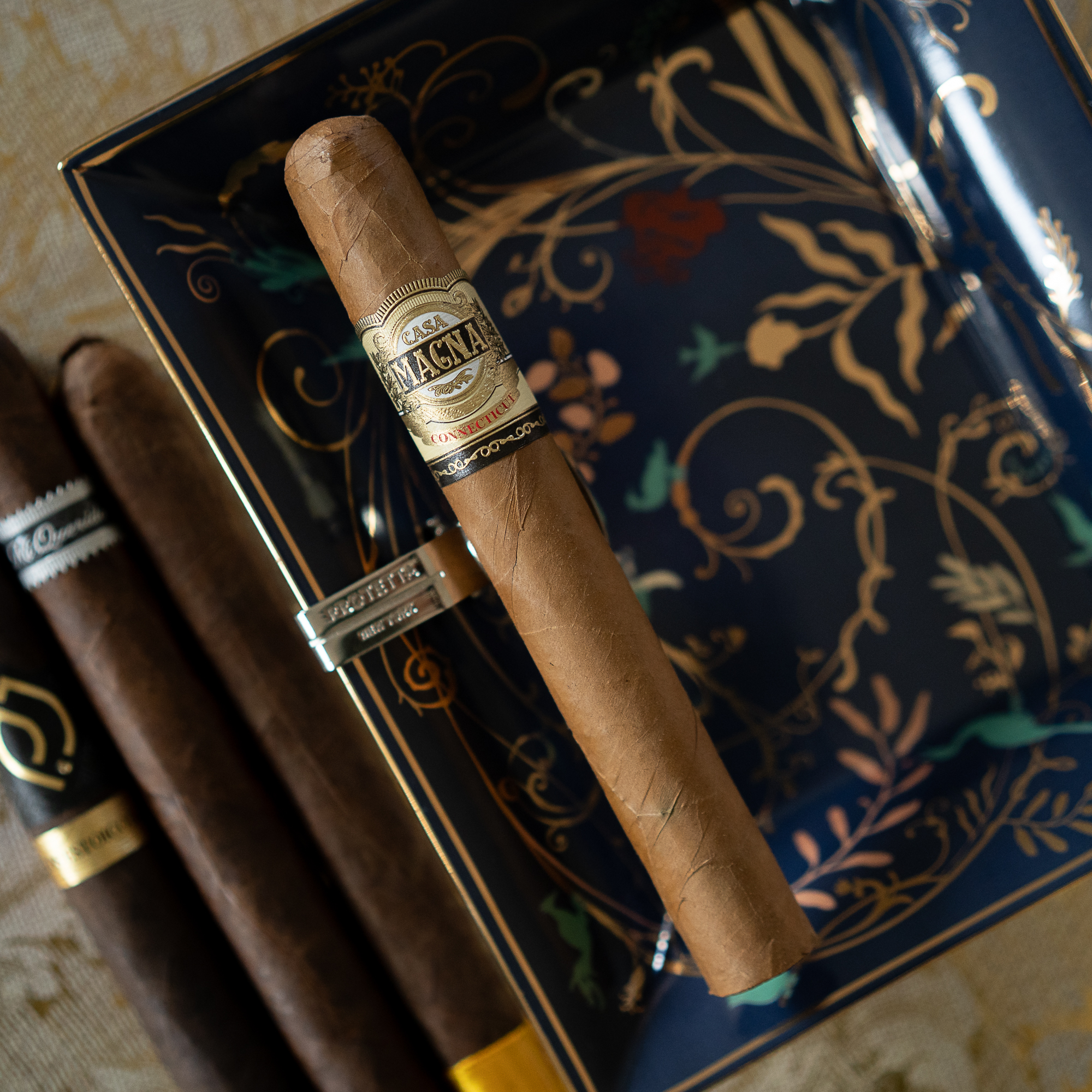 Appearance & Construction
The cigar is a lightweight toro packed loosely with what seems like a triple cap.  The wrapper leaf looks like a papier-mâché project.  Not that impressive or pretty at all.
Flavor & Smoke Characteristics
The wrapper smells of sweet straw bales, honey and dried urine. Not getting much aroma off the foot, maybe a little bit of mint. Nice cold draw with a little give on the inhale, with a cedary breath. Toasts and lights well.
At first puff there's a little chocolate, cedar, and tangy BBQ.  I'm not that impressed with the draw, but I say that about every toro.  Toros are for guys that like to swallow.  WHAT?! Toast with diner jelly packets on the retro, sweet leather aroma in the air. Alright smoke production and alright heat maintenance…straight burn line. Sturdy ash build up.  A little pepper on the tongue after every sip. Slow burn. I would say a very cedar forward cigar on the first third, with light nuances of spice and fruit here and there.
Second third opens up with a light earthy coffee note.  And when I mean light.  I mean light!  The cigar is extremely light bodied.  The solid ash build up also broke off and honeycombed.  The cigar also needs a touch up for a crack line in the wrapper.  The aroma in the air is very interesting, perfumy and earthy at the same time, with a milk toast retro.  Flavor profile has changed to hot chocolate and strawberry hard candy.  A little spice on the throat. Ash build up has regained it's sturdiness, with good smoke output and better heat maintenance.
Moving into the last third, the smoke is definitely creamier and chewier with great output. A lot of light milk chocolate on the palate with the earthy notes on the backend. Still burning slow.  Ash is still stacking dimes, but breaks off again even though I've been less aggressive on my draws. Aroma in the air is leathery but still has this smell I can't put words to. Leathery and chocolatey retro. Tried smoking it down to a nub only to have the cigar go out.  It was turning into a black coffee finish anyway which isn't my favorite.  Two hour smoke time.
Conclusion
The Casa Magana Connecticut toro was a great light bodied smoke.  LIGHT BODIED in every essence of the term.  Not over powering and only demanding on the time commitment it takes to smoke a toro.  It proves to be a loyal soldier in damp winter weather, staying lit even while getting rained on.  Every third provides new nuances that I only wish were more prolific, but I get it… The Casa Magana Connecticut toro is a true Connecticut indeed and perhaps one of the better ones on the market.  So for you lighter bodied fans that want something reliable with an ever changing profile I would totally recommend the Casa Magana Connecticut toro. Enjoy!
Final Score: 89