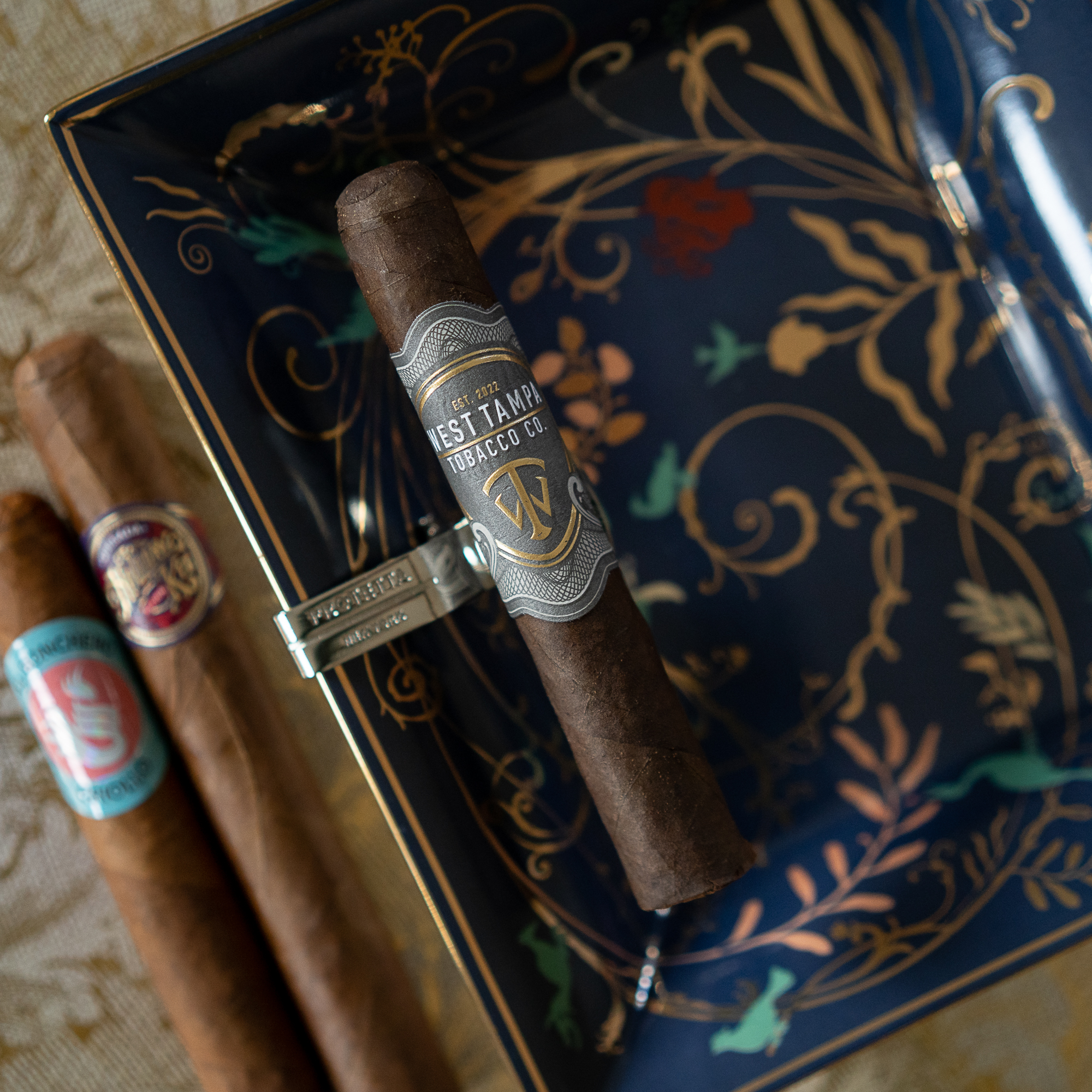 The West Tampa Tobacco Co. Black Robusto is blended by Rick Rodriquez, former master blender and ambassador of CAO cigars.  The cigars are manufactured in Esteli, Nicaragau at the Garmendia Cigars Co.'s factory. West Tampa Cigar Co. was founded in 2022 by Rick Rodriquez and former General Cigar Co. emploee, Gus Martinez.
Blend Specifics
Cigar Reviewed: West Tampa Tobacco Co. Black Robusto
Wrapper: Ecuador (Habano)
Binder: Nicaragua (Ometepe)
Filler: Nicaragua (Condega & Estelí)
Size: 5 x 50
Appearance & Construction
The cigar is a rustic sticky looking oscuro robusto with a triple cap. It is packed loosely and is very light weight and comfortable in hand.
Flavor & Smoke Characteristics
The cigar wrapper and foot smells like straw and hay bales.  Semi sweet.  Loose cold draw with dank cedar on the breath. Toasts and combusts great.
First puff detonates with tongue and nasal coating pepper and cedar.  Chocolate and toast on the backend.  Like a Nutella sandwich. Leather aroma with a toasted pine retro.  Beautiful to say the least. Smoke production could be better.  Heat maintenance, burn lines, and ash build up are all satisfactory. Some baking spices and men's cologne dance around in the back of the palate to round out the first third.
Second third, is dominated by toast and baking spices.  There is a chocolate and leather aroma in the air with more toast on the retro.  Though very singular on the palate the smoking experience is still very enjoyable. The smoke production has improved, and it still handles the heat well.  The ash is developing a brittleness, and it breaks off in predictable form.
Last third is cedary and spicy.  A nice landing if it holds true till the end. There is a nice perfume note in the background.  Throat coating pepper. The draw tightens slightly, which is a bummer.  This undoubtedly keeps me vigilant of the heat factor.  Smoke production is decent.  The cigar is definitely struggling to not crash land.  I have to touch it up and baby sit the heat more then I would like to.  However, I keep coming back for these great nuances of baking spices and chocolate. Through keeping a good and more attentive smoking pace the cigar holds strong to the nub without getting overly harsh. The cigar eventually goes out as I rest it for a minute.
Conclusion
I somewhat enjoyed the West Tampa Tobacco Co. Black Robusto. However, the cigar was very one-dimensional at times.  There definitely could have been more body to the flavors.  When usually picking up an oscuro cigar I'm expecting the smoking experience to be on overdrive, which I know is flat out stereotyping. Shoot me! The smoking experience was a little lighter then I anticipated with some minor construction issues.  I definitely wouldn't pair the West Tampa Tobacco Co. Black Robusto with anything heavier then a cider or a blonde ale.  It's probably better off smoked on a nice walk while you're giving it your full attention. The West Tampa Tobacco Co. Black Robusto may not be box worthy, but it easily worth a try. Enjoy!
Final Score: 86