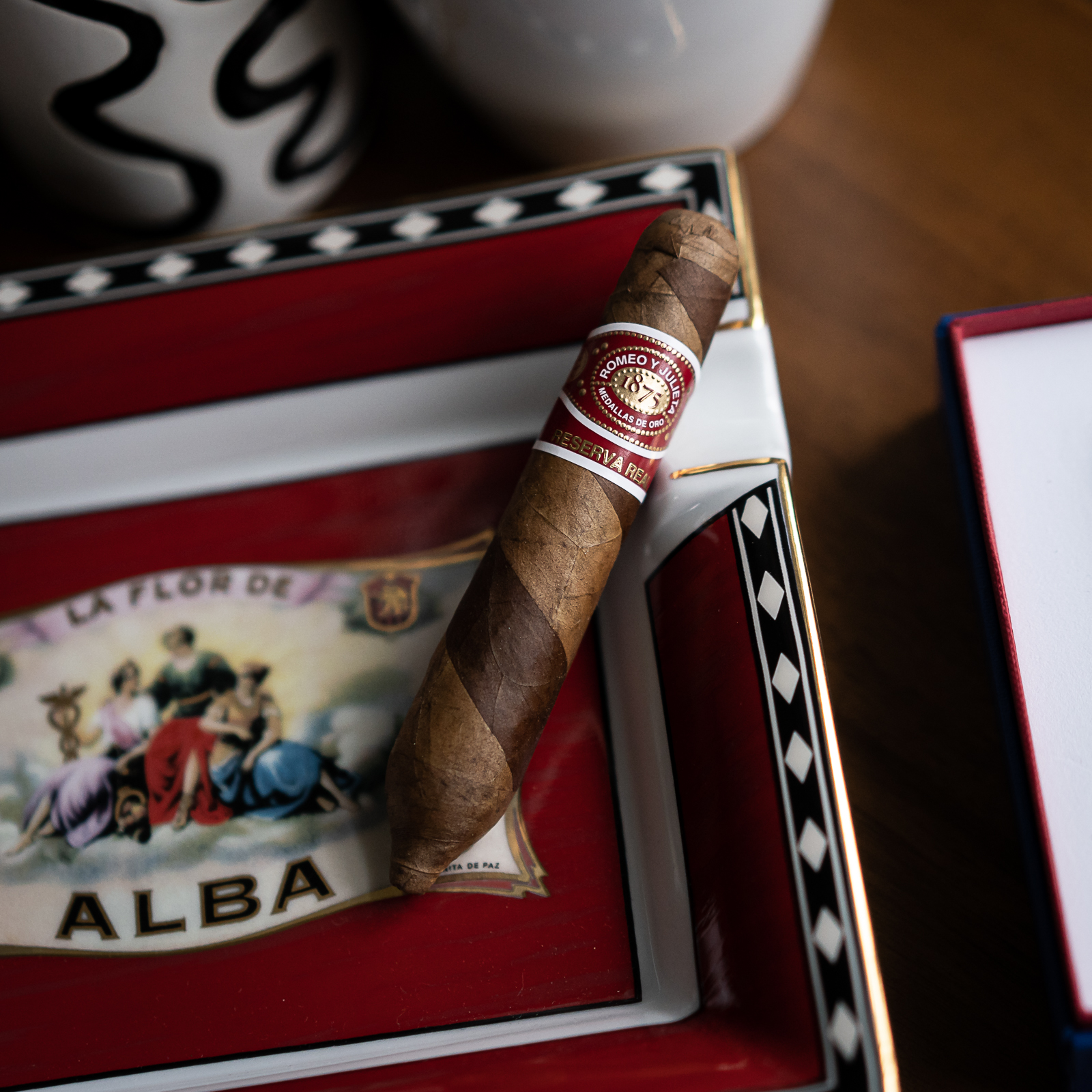 The Romeo y Julieta Reserva Real Twisted Love Story is manufactured by Imperial Brands' U.S. subsidiary Altadis U.S.A. in La Romana, Dominican Republic at the Tabacalera de Garcia factory. The Romeo y Julieta marque was established in Cuba in the year 1875 by Inocencio Alvarez and Manin García. It wasn't until the brand was acquired by José "Pepin" Rodriguez Fernández, former head of the Cabañas factory in Havana, and his firm, Rodríguez, Argüelles y Cia, in 1903, that the company truly became world renowned.  Historically known as Sir Winston Churchills favorite cigar brand with its correlating Churchill vitola, the brand was actually more well known for their figurados (perfectos and piramides). The Romeo y Julieta Reserva Real Twisted Love Story is the company's first barber poll cigar and is currently available in a perfecto and toro.
Blend Specifics
Cigar Reviewed: Romeo y Julieta Reserva Real Twisted Love Story
Wrapper: Ecuador Connecticut/ Ecuador Habano
Binder: Nicaragua
Filler: Nicaragua/ Dominican
Size: 4 1/4 x 46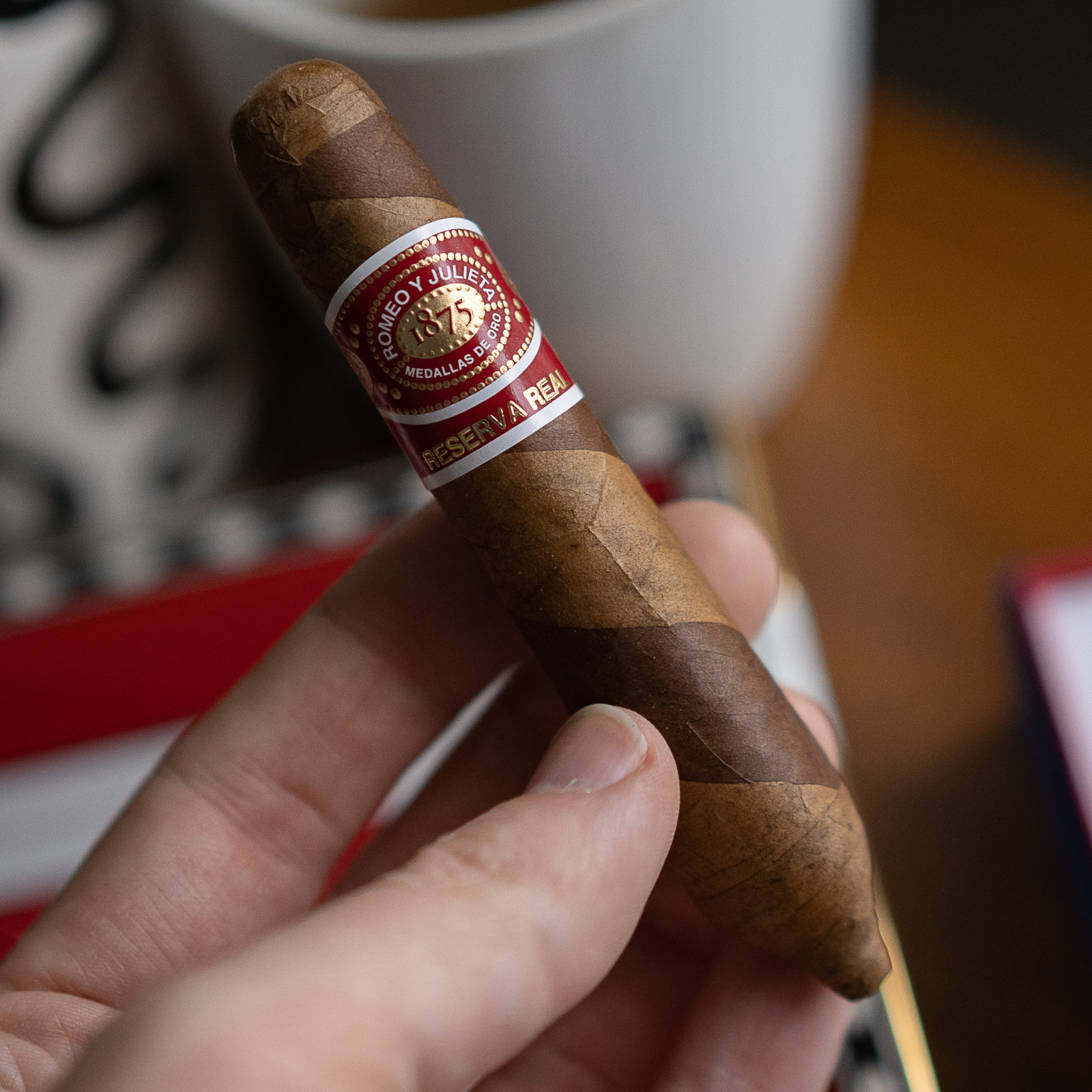 Appearance & Construction
The cigar is a small barber poll perfecto with a salmon taper and a triple cap. It will remind you exactly of a pirouette cookie. It feels very awkward in hand and has a lightweight feel.
Flavor & Smoke Characteristics
The cigars wrapper smells of hay/straw.  The foot is tapered into a nipple with not much aroma.
The cold draw is tight with a slight cedar on the breath.
One lick from a soft flame with a slight draw are enough to combust the tapered foot.
Because of the tight draw and tapered foot, there is not much of a first puff. Not much air flow at all.  As the burnline engulfs the wider ring gauge, I get a very flavorful coffee and cream flavor that is both sweet, nougaty, and cedary.  Also nuances of graham cracker and toasted almond ice cream bars.  As mentioned, the cigar is awkward, and I feel like a freaking cartoon character smoking this thing. As I'm knee deep in insecurities the cigar suddenly goes out.  Hmmm… Two licks from a soft flame with a little draw get the cigar lit again.  Other then this hiccup, the cigar holds heat well with "alright" smoke production.  The draw seemed to have opened up a bit, but not much.  Still tons of flavor. The darker wrapper ribbon, when in combustion, gives a little spice to the smoking experience and really adds to the complexity of smoke that tastes like a dessert.  There is a leather aroma in the air, and the retrohale is nougat and graham cracker.
On the second third, the draw is still tighter then I prefer, yet the smoke production is thick.  I have to touch up a little bit of wrapper leaf detachment, but its no big deal.  The aroma now reminds me of a pipe tobacco or hot cocoa.  There is strawberry hard candy and leather on the tongue with a lingering sweetness. The cigar really reminds me of many of the Romeo y Julieta Churchill's that I came up in the game smoking.  Ash build up was solid up until now, but it is becoming increasingly flaky.
Last third, required a lot of babysitting.  The draw has only tightened even more, and the smoke is hot, ruining the flavors somewhat.  The sweet coffee with cream are still present but with a harsher charred backdrop.  A little bit of a tongue singing experience, but the sweetness keeps you coming back for more. I am still enjoying the smoking experience. As long as I am patient in the last leg of this cigar, the heat maintenance stays cool and I can still enjoy the toasted almond extasy.
Conclusion
What do you know?! I was right! I was smoking a Romeo y Julieta. The Romeo y Julieta Reserva Real Twisted Love Story is soon to be a fan favorite to anyone looking for a light creamy smoke with sweetness and complexity.  A lot of the construction issues I ran into with the Romeo y Julieta Reserva Real Twisted Love Story, were easily ignored because of the array of flavors which provided an indulgent smoking experience.  For those of you who fell in love with the Romeo y Julieta brand during the last cigar boom, and miss how a Romeo y Julieta Ecuador Connecticut shade wrapper used to taste, it seems they were able to recreate it somehow.  I smoke a Romeo y Julieta Connecticut Churchill once a year for old times sake, and though the sweetness is still there, the complexity can be lacking.  The Romeo y Julieta Reserva Real Twisted Love Story was truly a sight for sore eyes.  Did I mention I hate barber poll cigars? Enjoy!
Final Score: 89