Cigar dinner
Just received an email invite/announcement from Alberto Rosario from Davidoff Geneva about an upcoming event celebrating the AVO 25th Anniversary. Take a look below for details.
~~~~~
Good afternoon, this email serves as an invitation to come and join us and celebrate Avo Cigars 25th Anniversary! Hosted by the Classic Car club located in Soho. The event will be a full course meal, a selection of exclusive Avo cigars, premium open bar and multiple raffles.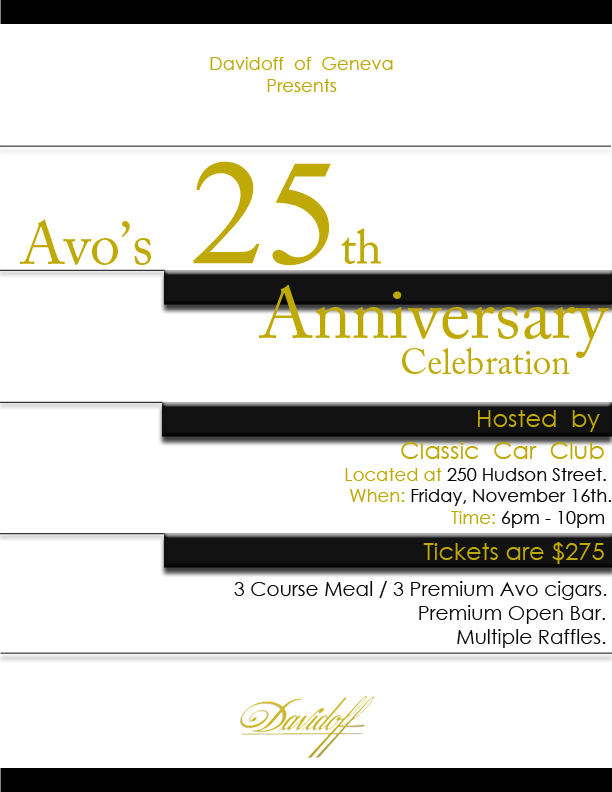 Come join us celebrate the success of a great cigar brand!, the launch of the Avo 25th Anniversary and meet interesting fellow smokers alike. If any questions arise please contact me by email or phone.
Thank you and I hope to see you the evening of November 16th.
Alberto Rosario
212.751.9060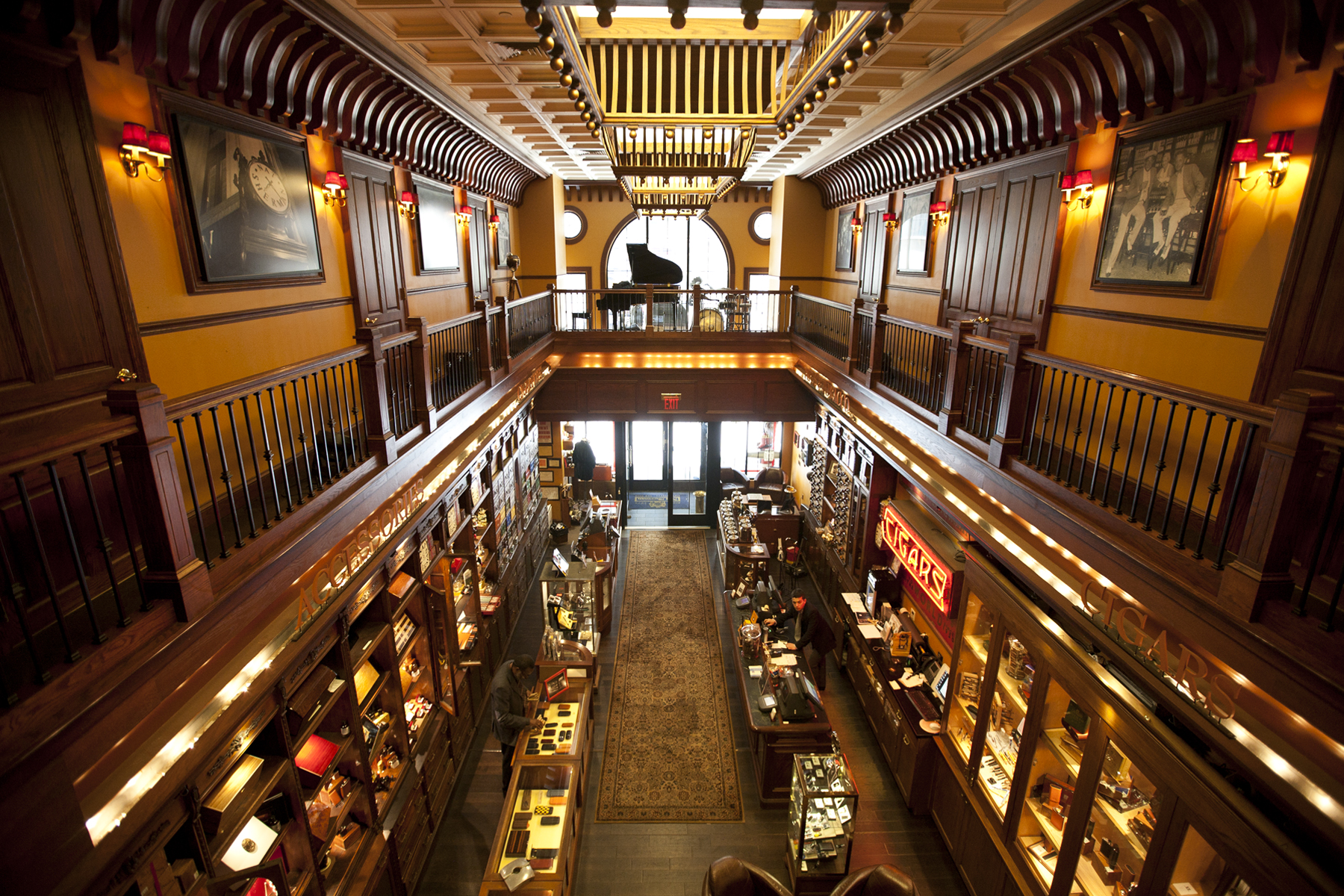 The Nat Sherman team, headed by Michael Herklots, is hosting a unique smoking experience – one of the few remaining cigar dinners in New York and indeed the world. Tickets are not cheap, but for what you get, it is a great deal that will appeal to Manhattan's connoisseurs and upper-tier socialites.
~~~
NAT SHERMAN AND THE CHARLIE PALMER GROUP PARTNER TO OFFER "HERF & TURF"
A Dapper New York Night Out at
the Legendary Nat Sherman Townhouse and Michelin-Starred Aureole
Nat Sherman, Tobacconist to the World since 1930, and The Charlie Palmer Group, Master Chef and Hospitality Entrepreneur Charlie Palmer's collection of award-winning restaurants and hotels, have partnered to offer a quintessentially New York experience – Herf* & Turf. Designed for travelers and locals looking to commemorate a lifetime milestone, or simply celebrate a night out with friends, this package reserves an evening of indulgence at two Midtown Manhattan landmarks.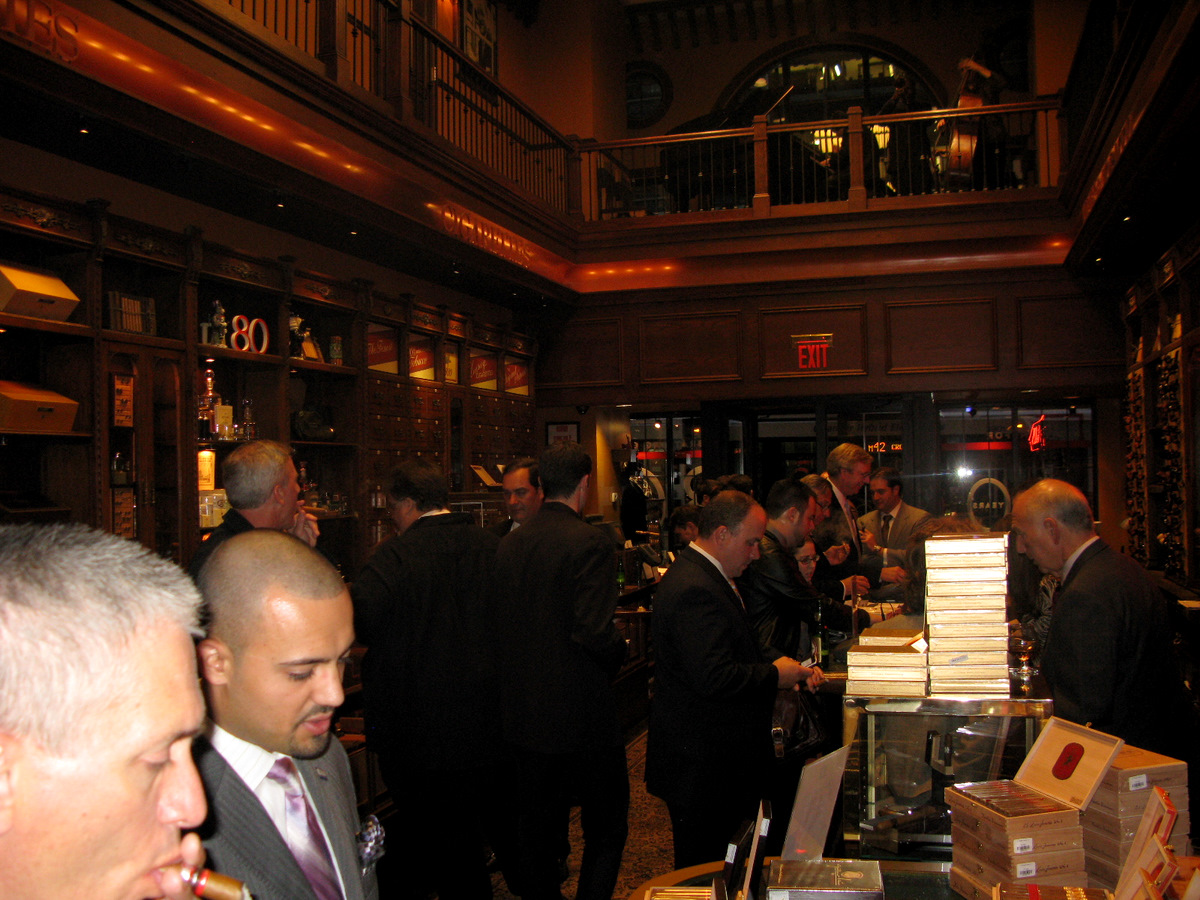 Herf & Turf kicks off with a cigar and spirit tasting at the private club of the Nat Sherman Townhouse, The Johnson Club Room. Named after Nat Sherman's wife Lautia "Johnson" Sherman, the intimate space is reserved exclusively for members. From the comforts of leather couches and chairs, to the selection of letters from luminaries including Sammy Davis Jr., John Wayne and Frank Sinatra, which are framed and on display throughout the store, The Johnson Club Room's old world atmosphere is sure to turn off the city sounds for a New York minute.
The evening continues across Bryant Park at renowned Chef Charlie Palmer's Aureole Bar Room. Celebrated for its unabashed, energetic signature Progressive American cuisine, Executive Chef Marcus Gleadow-Ware has specially created a masculine three-course menu starting with Spring Rabbit and Foie Gras Terrine, followed by Prime NY Strip and Los Ancones Chocolate and Espresso dessert. Each course is sophistically paired with unique wines selected by Aureole's sommelier.
Herf & Turf is offered Mondays through Thursdays for $200 per person (excluding tax and gratuity) to parties of 6-14. For more information and reservations, please contact Yulia Florinskaya (Aureole) by email or phone: 646-392-9172 x20, or Tina Parrish (Nat Sherman) at 646-442-1850.
* Herf (definition of): Fancy term for "cigar party" or a way of saying "let's get together and smoke cigars".
Read Robb Report's Herf & Turf Feature Here