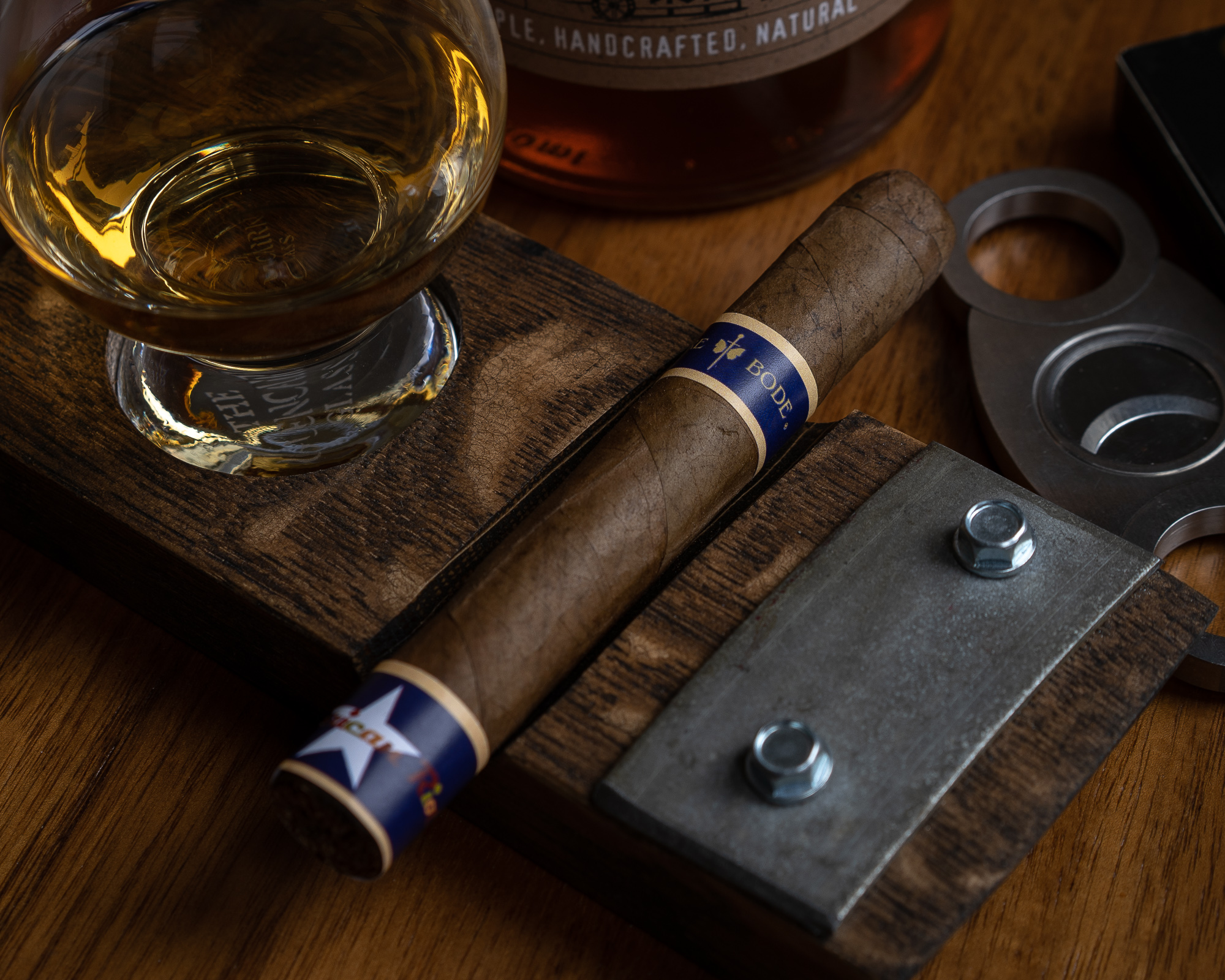 Moore & Bode is one of my favorite American boutique cigar manufacturers. I love recommending the brand to my cigar enthusiast friends for a few reasons. First, they have a track record of thirty years in the business (more than most companies). Second, they go out of their way to experiment with new techniques, blends, and regional tobaccos, often with spectacular results. They produce some incredible product, like the 91-rated Candela, 92-rated American Fire,  and the 93-rated Adelante.
That said, the company does also make a few blends that for the life of me I just do not get, like the Flamboyan Full Brass, a 7 /14 x 82 piramid size cigar that scored a far below average score of 82.
Given all of that, I'm always excited to smoke Moore & Bode product and review it for your information.
Blend Specifics
Cigar Reviewed: Moore & Bode "American Riot"
Wrapper: Asia Sun Grown
Binder: USA Dark Fire Cured
Filler: Caribbean, South America, India
Size: 5 x 46 "Townie"
Appearance & Construction
The American Riot is not what I'd consider an attractive cigar. The main band is… fine. But the coloring on the foot band is an odd mix of warm colors that don't particularly suit the dominant dark blue. The outer Asian wrapper is rugged but mostly smooth, and has an off brown color. 
Off of the foot are aromas of smoked meat, dry grass, hay, and something I can only describe as "old barn." It's a charming combination of aromas, and gets me excited to light the cigar.  The pre light draw features light flavors of some faint spice and maltiness very much akin to smelling a whiff of speyside single malt scotch. 
Flavor and Smoke Characteristics 
The first few puffs of the Moore & Bode American Riot summon a strong, generally bitter character. Specifically, wood pulp, dry cedar, salt, vegetal, and hot spices. There's a healthy dose of red pepper on the retrohale as well that's honestly a bit intimidating. The only sweetness to be found in the flavor profile is in the aroma, mirroring the sweet natural tobacco aroma that was present off of the foot. As the ember burns a ways in, smoke production is decent, though the cigar doesn't seem to want to stay lit for long, causing some waviness to the burn just a few short minutes into the smoke. At this point I'd put body at medium and strength at medium full. Overall, an interesting start, but the cigar feels lopsided toward bitterness which is not my preferred dominant note. 
Thankfully, as the first inch comes to a close, a bit of cream on the palate rounds out an otherwise drying experience. At the same time, smoke production increases markedly, pushing it to above average. On the palate, the initial bitterness gives way to much more balanced cedar, hot spiciness, vegetal, and Graham cracker. It's quite similar (to me) to the Arturo Fuente Reserva Xtra Viejo, which also features a spicy, vegetal core. 
The American Riot continues in a similar fashion until the final third, though it again struggles to stay fully lit, requiring another relight. Flavor wise, the spice really ramps up, mainly activating the tip of the tongue. Other flavors include charred wood, cured meat, grass, and a light, sweet cream. Individually, they are enjoyable notes, but the balance just isn't there, with the smoke being too drying on the palate and dominated by bitterness.
Thankfully, the smoke stays relatively cool up until the end, allowing me to smoke down past the last inch. 
Conclusion 
The American Riot is an enjoyable cigar, and certainly smokes like an experimental blend. It puts forth some really interesting smoky flavors, but by and large struggles with both flavor balance and construction issues that worked against the experience. If you're interested in their use of Fire Cured tobacco, I'd suggest starting with the American Fire. 
Final Rating: 85