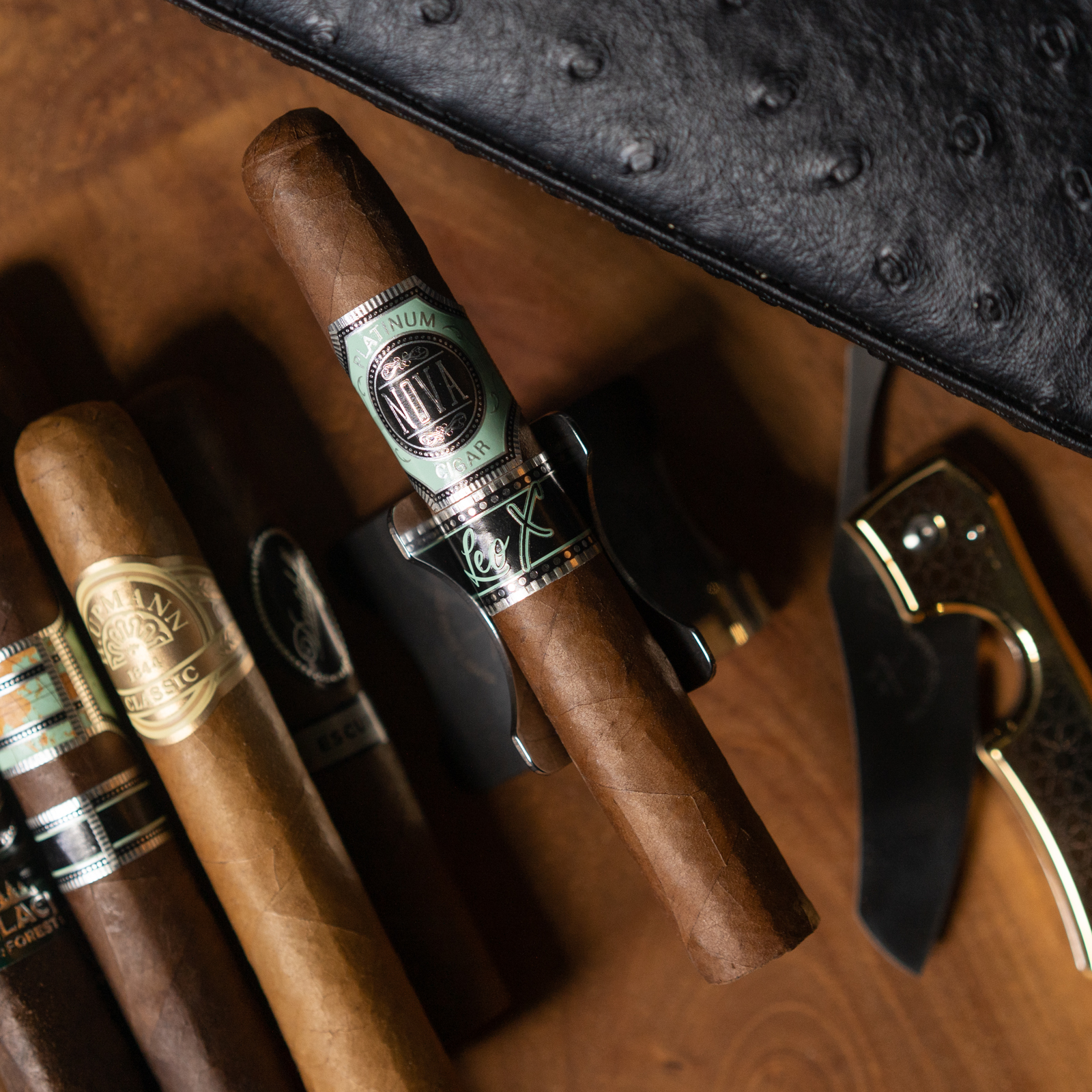 The Platinum Nova Personal Reserve Leo X is manufactured by Platinum Nova Cigar Company at their factory in Santiago, Dominican Republic.  Platinum Nova Cigar Company is owned by Amer Rustom and headed by two cigar retail veterans Leonor "Leo" Abzaradel and Aurelio "Ari" Riego. Their website states that their cigars use 10-15 year aged tobaccos and the cigars then stay in an aging room for a minimum of three years before being released.
Blend Specifics
Cigar Reviewed: Platinum Nova Personal Reserve Leo X
Wrapper: Ecuador Habano 2000
Binder: Dominican HVA
Filler: Dominican 
Size: 5.75 x 50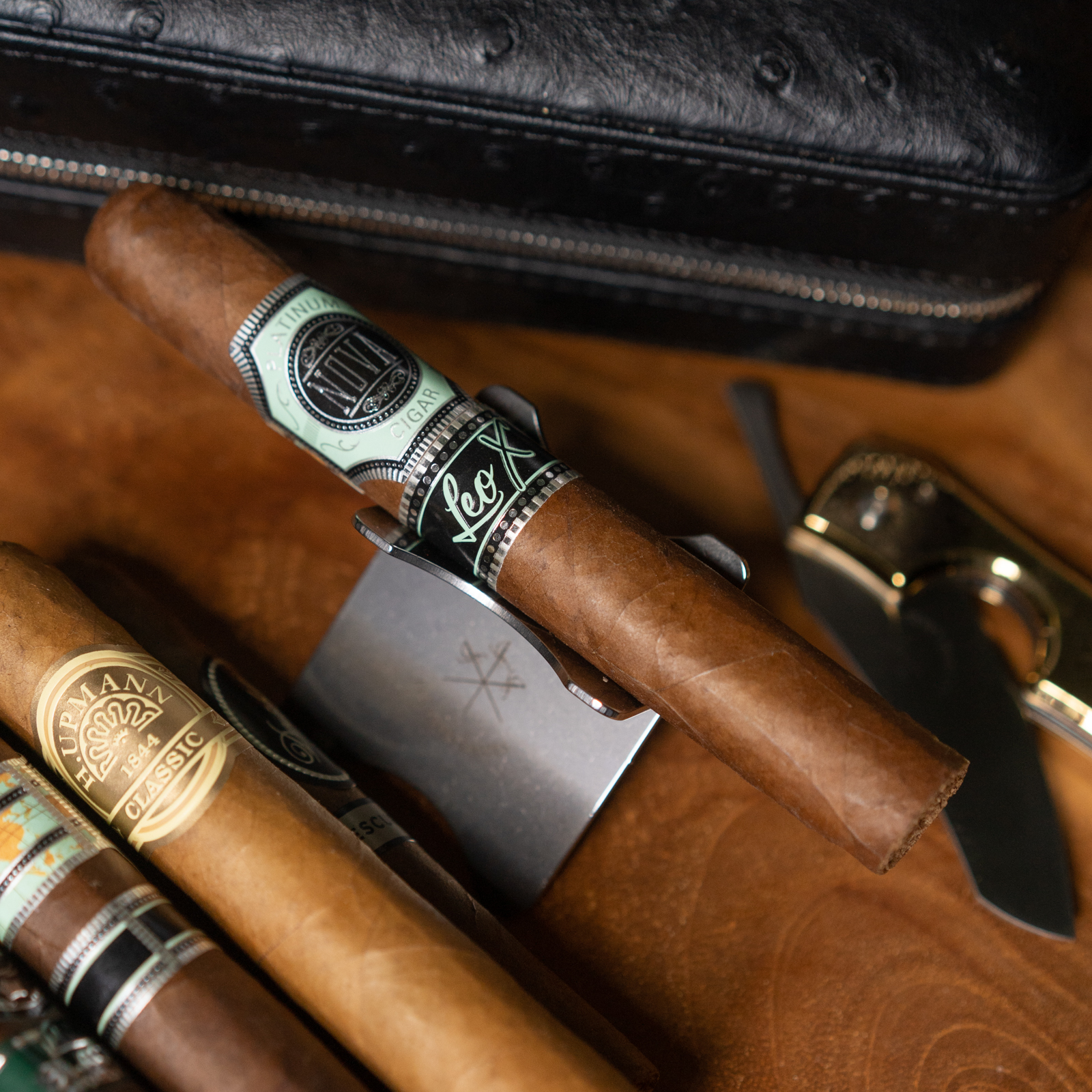 Appearance & Construction
Triple cap rosado wrapper.  Very lightweight in my hands.  Packed not too loose, and not too tight either. The cigar has a nice chocolate and cedar aroma.
Flavor & Smoke Characteristics
The cold draw is on the looser side.  Sweet cedar on the breath.
It takes a while for the cigar to toast and light.  At combustion I can make out the presence of a tiny pinhole tunnel. Hope this doesn't effect anything.
The first third is bold with lots of jalapeno pepper, espresso, and hay bale sweetness.  It is a very pleasant smoke on first introduction.  I find the cigar to be a little delicate, even with my notorious slow smoking pace.  I recommend babysitting the heat factor.  However, there is still lots of flavor development throughout the first third, such as chocolate, hazelnut, wood, and earth with a black coffee finish.  Leathery retrohale. I like it!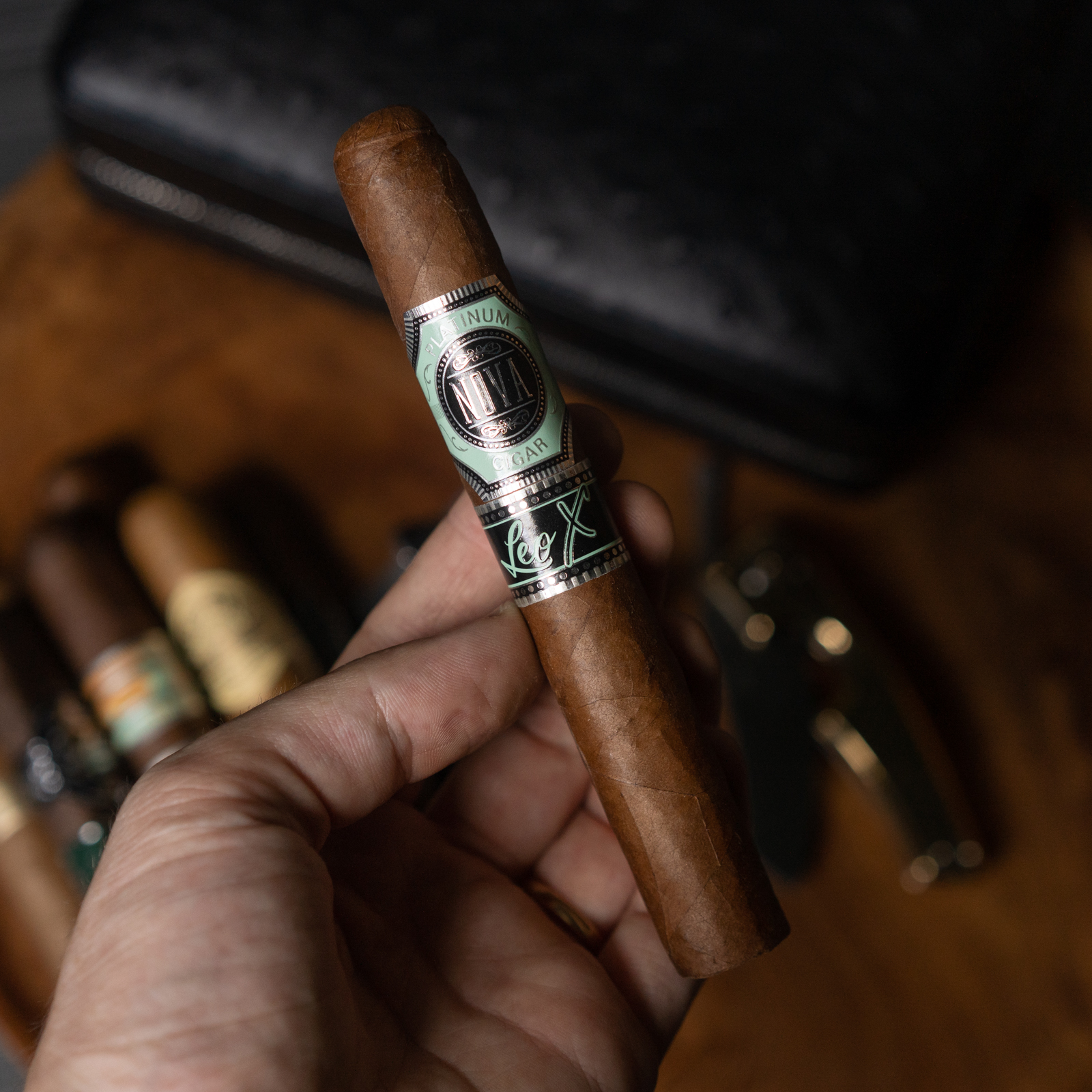 The second third finally reigns in the heat.  I don't have to tip-toe around my puffs.  The cigar is more nuanced with pencil shavings and leather and a strawberry hard-candy finish.  The smoking experience is definitely on the creamy side. There is still leather on the retrohale as well as in the smoke aroma.
The last third is very leather forward.  The cigar is very creamy, but begins to burn hot again.  Harsher flavors begin to develop like espresso and hazelnuts.  The retrohale and aroma are still leathery.  The cigar finishes fairly bitter with notes of raw garlic!
Conclusion
What can I say?! The Platinum Nova Personal Reserve Leo X was a bit of a roller coaster ride.  I love heavily nuanced cigars and flavor bombs.  The cigar blend also concealed some tobacco varietals I had never tried.  To me its worth being curious over, minus the heat problems and nasty finish.  It's a $22 stick with not as much clout as a Davidoff, but if you feel like being a big spender for the weekend- why the hell not?!  If your a fan of leathery flavor notes, or just want to to swap out your usual Ecuadorian shade wrapper cigar for a change-of-pace, I wouldn't hesitate recommending the Platinum Nova Personal Reserve Leo X.  I'm a picky smoker, with picky habits and I usually classify cigars into tow categories: "Boring!," and "Not Boring!" The Platinum Nova Personal Reserve Leo X falls into the "Not Boring!," category. It's also more affordable and more flavorful then the Limited Edition Platinum Nova Toro I had previously reviewed. Enjoy!
Final Score: 84