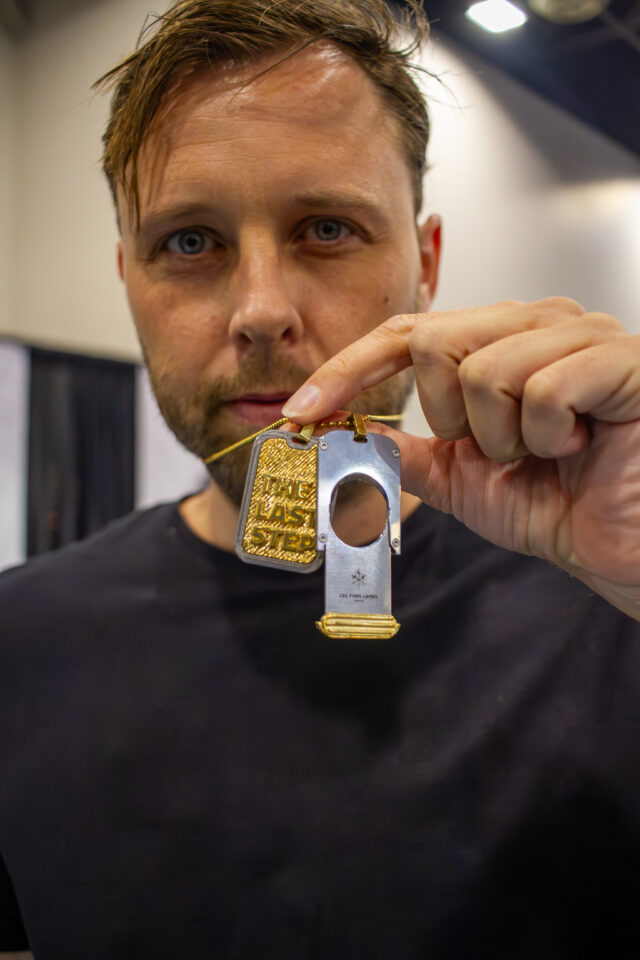 Since 2015, French accessory manufacturer Les Fines Lames (LFL) has lived by two words "creation and innovation." At the 2023 Premium Cigar Association Expo and Tradeshow, Les Fines Lames continue its journey of merging the worlds of wearable fashion accessories and the cigar world. The accessory manufacturer made a significant splash by being a tradeshow sponsor and gifting 500 LFL PCA VIP Exclusive Punch Bracelets to the "Pay To Play" members at the expo. They also showcased the prototype of the La Tag, a wearable guillotine necklace, and announced a distribution partnership with Oliva Cigar Company.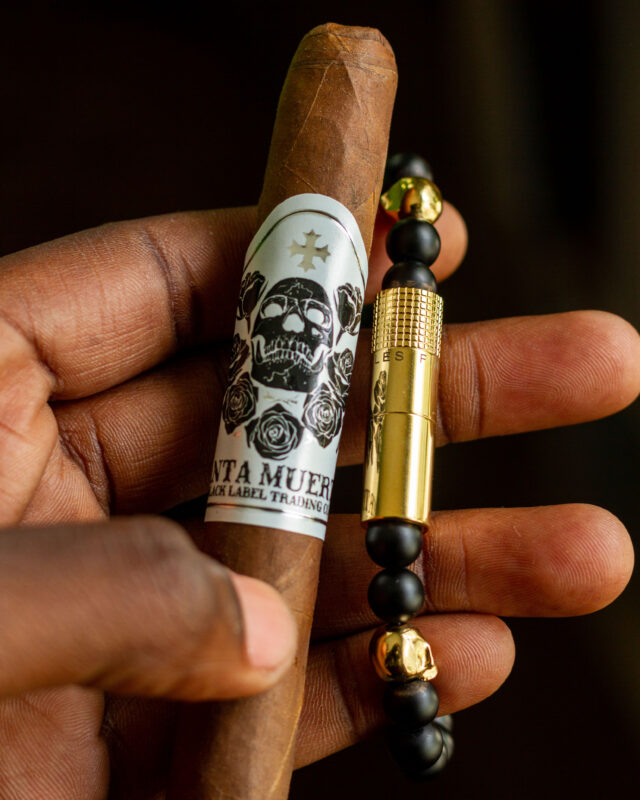 "We are coming from the fashion and jewelry worlds, so we create cigar accessories with French ideals of practicality at the forefront of our minds. Functionality is important to us. The company's motto is fashionable and functional. We are proud of every item being "Made in France," said Fabien Boliver, Les Fines Lames Brand Content Manager.
Les Fines Lames exhibited a few new items, such as their reimaged one-size-fits-all punch brace released earlier in 2023, a couple of new iterations of their famed La Petit Cigar Cutter, and the La Tag, a prototype of the guillotine necklace that will come to market in the fall.
"Many people have been asking us to make a double guillotine cutter, so we listened to our people. We decided to design a guillotine as a necklace," said Fabien. "Even though this is the prototype and there are some details, we are still working out. We ultimately brought the prototype to get retailers' feedback on the necklace, and thus far, the feedback has been extremely positive."
Les Fines Lames designed the La Tag to resemble a set of military dog tags and come in two variations, the T100 & T135. The T100 has two tags; the first is crafted with gold and stainless steel. The gold plate is 100% customizable, allowing consumers to add their brand logos, motto, or patterned design. The second tag is a stainless steel guillotine cutter that can cut cigars up to a 7×70 ring gauge. The MSRP of the T100 is $250. It's wonderfully fashionable and functional.
Les Fines Lames' approach to the T135 is minimalistic. It is significantly larger than its sibling, comprising only a guillotine cutter on a chain. The selling point of the T100 is its ability to cut cigars up to 100-ring gauge, like the recently released JFR Lunatic Madora (10×100) by Aganorsa Leaf. The T135 is more affordable than its counterpart, with an MSPR of $80.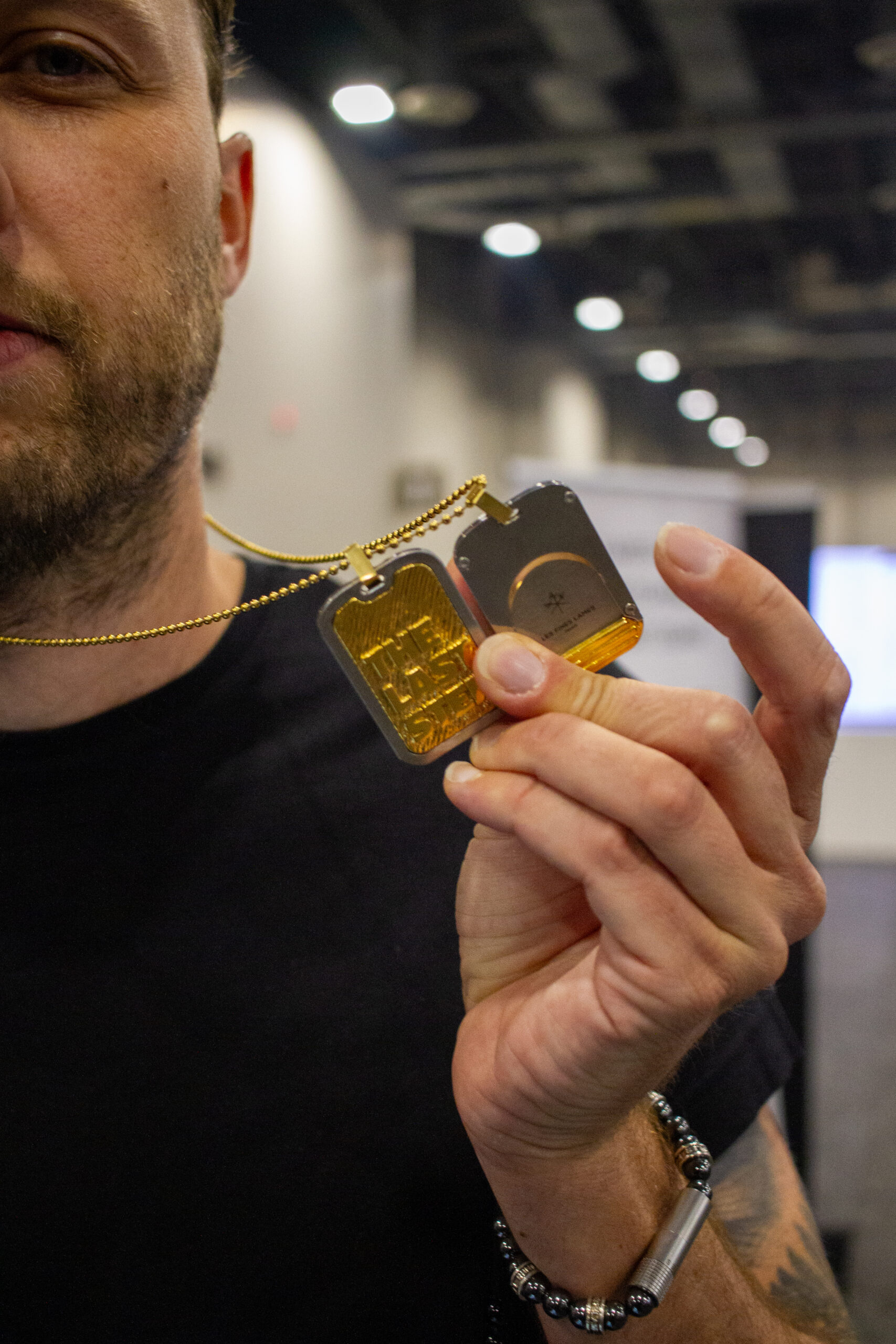 "With the La Tag, you can cut your cigar in three movements," said Fabien, "You can cut your cigar and go on with your life. There is no way you can lose your cutter."
The other groundbreaking news Les Fines Lames announced during the expo was their distribution agreement with Oliva Cigar Co. The partnership allows Oliva Sales Representatives to offer Les Fines Lames products to retailers, thus expanding the manufactures footprint in the United States. Oliva's parent company, Vandermarliere Cigar Family, has also invested in the accessory company.
"Vandermarliere is from Belgium, and we are from France. It was simply a good fit for us. We have been friends for many years, and our entire team is happy about the partnership," Fabien said.