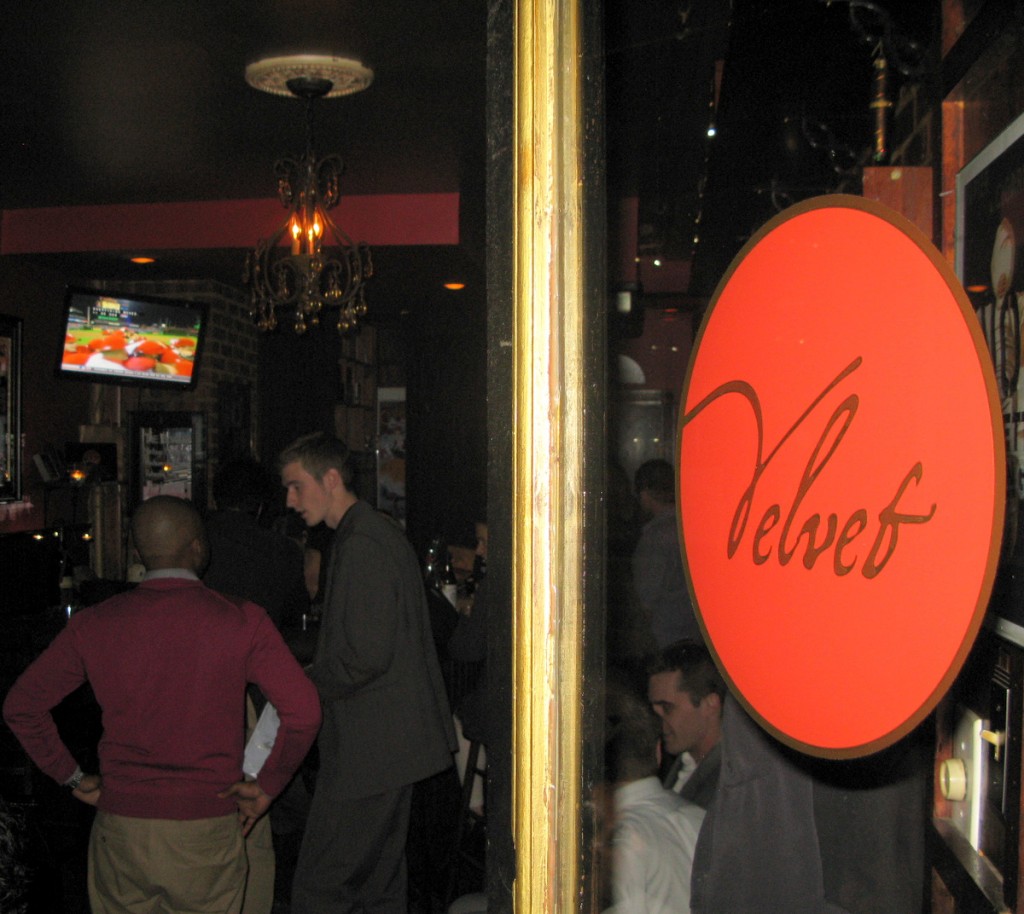 The management of Velvet Cigar Lounge, located in Manhattan's Lower East Side, announced yesterday plans to close and relocate. Management cited unreasonable terms of lease resigning details in their decision to relocate. Though they've had many problems with ventilation and troubled neighbors in recent years, Velvet really is a great location for cigar smokers and was home to many famous cigar smokers. Off the top of my head, I know I met Billy Connolly (Boondock Saints) and John Rich from Big & Rich.  FineTobaccoNYC also hosted a handful of events at Velvet (above).
Here are details from the email:
Dear Loyal Customers and Friends,
We are writing you with the disappointing news that Velvet Cigar Lounge will be closing down on July 31st.  This comes after a year of attempting to have a new lease signed at our current location, but due to impossible terms imposed by our landlord, we have been unsuccessful.  We have had six great years at the lounge, and we hope you also have fond memories of the cigars, friendship and laughs we've all shared.
We need your help to relocate.  We are determined to re-open with a bigger, enhanced Velvet Cigar Lounge, and we need your support in making this a reality.  We've already located and committed to a  new space, and you can directly help in this effort by purchasing one of our many perks offered on our Indiegogo crowdfunding campaign.
All of the funds collected through these sales will go directly to the construction of the new lounge, and will specifically assist in covering the cost of a state-of-the-art commercial ventilation system, essential in providing an experience more comfortable than we have been able to offer in the past and topping the list of priorities for the new space.
You will also be helping keep our amazing staff of five employed, and supporting our cigar suppliers and vendors that rely on Velvet for much needed revenue in a hurting industry.
Keep the Velvet spirit alive.  We've help build a community that mirrors the youthful energy of the East Village, catering to artsy and necktie types alike with the lounge's creative sensibilities and laid-back vibe.  From the actor to the accountant, the unemployed to the overworked, Velvet has become an oasis in our hectic city where one forgets about troubles and meets the most interesting of characters.  Please help us keep one of the few cigar-friendly establishments in New York City open.
Lastly, just as important as supporting our crowdfunding campaign by purchasing a perk issharing the campaign with others.  Please share by posting this link on Facebook, Twitter and forwarding on this email: http://igg.me/at/velvet/x/3723569
With Our Sincerest Gratitude,
The Velvet Team