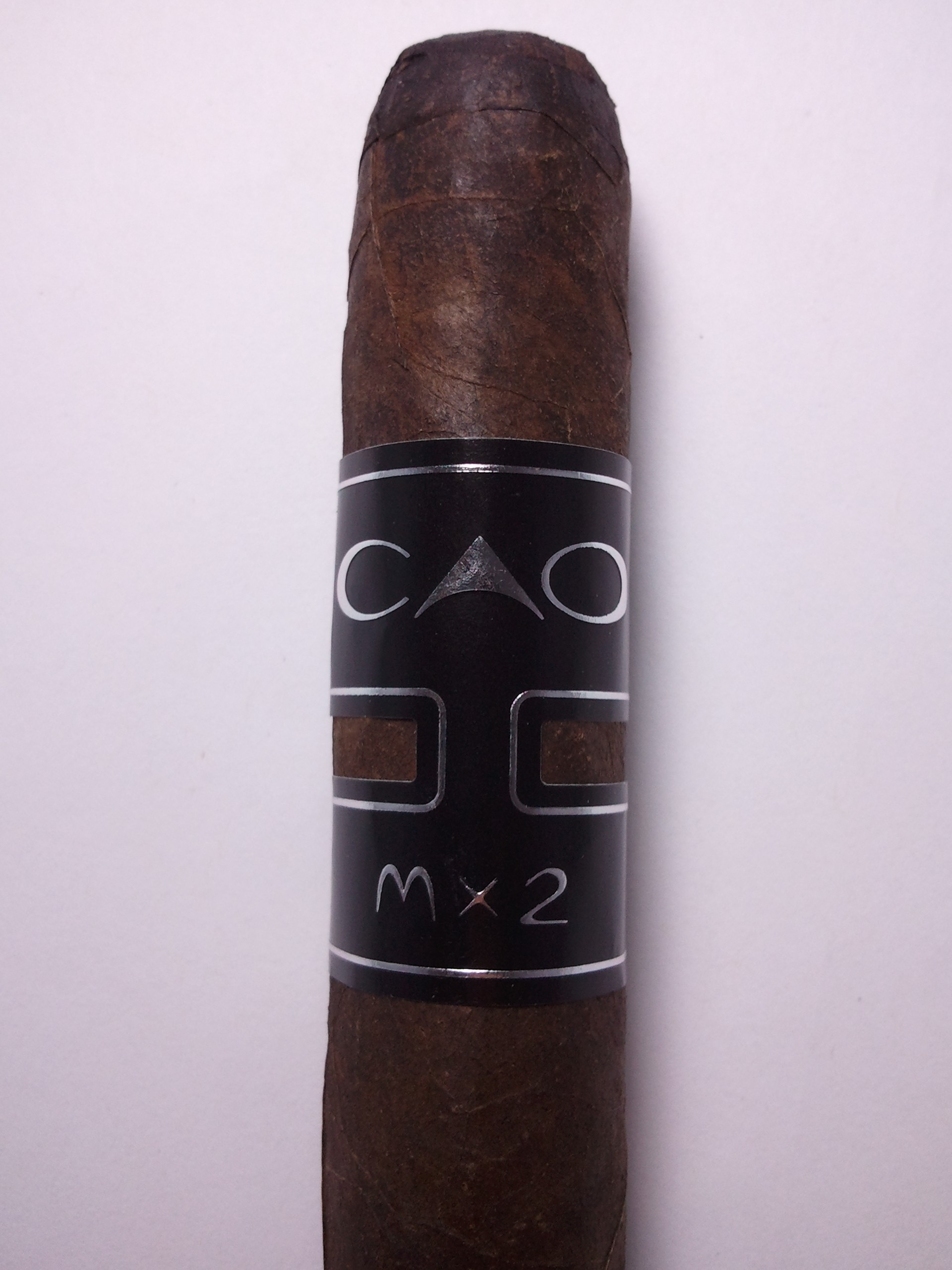 Ladies and Gentlemen, tonight I  enjoy a CAO MX2 while bathing under the 
street lights.  After much time this stick is given a  frolic welcoming. Right away,  
I must confess this is my favorite of the CAO "Trifecta" the other two of which have been  
previously reviewed here(CX2 and  LX2).  In continuation with the "X2" theme, this particular 
stick was named after the double maduro leaf found in the wrapper as well as the binder.
Blend Specifics: 
        Vitola: Toro (6 x 54)
	Wrapper: Connecticut Broadleaf Maduro,
	Binder:Brazilian Maduro
	Filler:long-fillers from Nicaragua, Honduras, Peru, and the
	       Dominican Republic

Appearance and Construction
	This cigar has a blatant dark wrapper that feels very toothy to
the touch, with two very noticeable veins running the full length of the
cigar which I found personally obtrusive.  The color on this stick was
somewhat spotty and appeared dirty.  Although, the pre-light smell was
pleasant the cigar is not very appealing to the eye and a little further
gaze revealed the cigar to be somewhat crooked.The Band looks very different
than that of the LX2 but some what resembles the CX2 without the curves. With
clean lines and its sophisticated look it has a subtle elegance and maturity
that I think is perfectly understated however, it does somewhat resemble the
iconic cat burglar mask.  Accordingly, I chuckled and proceeded to cut and
light. 


Taste & Smoking Characteristics
          Delicately holding with one hand and a quick snip with the other....
easy straight cut.  Test the pre-light draw(perfect).  Pulled out my Xikar
EX lighter and began toasting while rotating the cigar to achieve that
perfect red ring. A sequence that has been practiced often and perfected
over the years. First taste profile that comes to mind is expresso coffee
just like mama makes the old fashion way with the strainer. Shortly after
the spice starts to linger in the background and remains there. As I
continued to puff away the short spice and woody  finish continued and I
tasted what I though was very much like toffee like someone was playing
with an off/on switch.
	Visually, the ash revealed to be a beautiful light grey and tight.
The burn in general was flawless. I should mention that this stick has been
in my humidor for over 7 months.
	By the end of the first third I had a sudden craving for a dark
stout beer so, I picked up a Guinness (all I could find).  The pairing
really brought out the coffee in the stout and I thought paired pretty well.

       Something I picked up on about the beginning of the second third was 
a faint taste of mesquite, BBQ or perhaps Beef Jerky. It was so weak it could 
have been provoked by anything. As I continued the flavors was white pepper and 
wood, spice and BBQ became more pronounced in the finish.  The ash finally lost 
its grip and fell about halfway through the second.

	By the last third the excitement went away and the stick became pretty
dull.  I even got a little unpleasant taste which  I can almost bet it was the
Dominican tobacco stopping by to say hello.  By that time, I was ready to say
goodbye and chucked it in my good ole coffee can that William J. Dawson would
call "My Bin of Mortality".

Conclusion
	In general, I was hoping the first third wouldn't end. That being said,
this stick is fairly popular and I recommend picking one up to try even if for
only the first third or if you like a full body full flavor stick. Cheers!

Final Grade; B